"When the green flag drops, the bullshit stops," goes an old racing expression. Other than having to replace the green flag with five vanishing red lights, that's exactly the feeling in Melbourne as at last, after two months of extrapolating testing data into an ultimately meaningless competitive order, the 2011 season is finally here.
Well, almost. For there was one more day of anticipation, media interviews, wind and rain to get out of the way before the proverb is fulfilled when the pitlane opens for practice shortly after midday tomorrow. There was time for plenty of talk; little surprise given that this weekend's race is one of the most eagerly-anticipated season-openers since, well, since last year!
The biggest talking points heading into the weekend came as little surprise. Questions about the how the adjustable rear wing (or, as F1 nomenclature has it, the drag reduction system) will work - or not, depending on your perspective - and the new Pirelli tyres improve - or ruin - the race bounced around the paddock. That at least proves one thing; that whatever happens, it's going to be fascinating.
But amid the complaints about how difficult it is for drivers to deal with the challenges of pressing various buttons at the same time as dealing with tyres that - horror of horrors - degrade, it was refreshing to hear Fernando Alonso dead-bat the question of impending in-cockpit crises.
"I don't think there is any particular problem with the new rules," he said. "All the things that we need to do on the steering wheel are part of our job. We are professional drivers - if you have no time to do all the things on the steering wheel, you don't do it."
Many thanks to the Spaniard for breathing a little sense into the debate, albeit after Ferrari invested a fair bit of time thinking about the best way to configure such operations for maximum ease. Granted, it will take a little extra effort to manage the extra demands of KERS and the rear wing, but frankly, it's a long way short of having to return to riding mechanics to deal with such things for you.
But the crisis of having a couple of extra switches to deal with pales in comparison to having to deal with tyres that degrade as the Pirellis do. Last year, pitstop strategy was utterly predictable (unless you were on the Ferrari pit-wall in Abu Dhabi), and the variables brought to the racing by the rubber were very limited.
Most expect a three-stop race on Sunday and that is great news for fans watching at home. A few claim it is contrived, but everyone has the same 12 sets of Pirellis for the weekend and will have to make the same judgement calls. After years when strategic computer programs held sway, it will once again be back to the driver to make the right call on a regular basis during races, rather than just when a wet track is drying.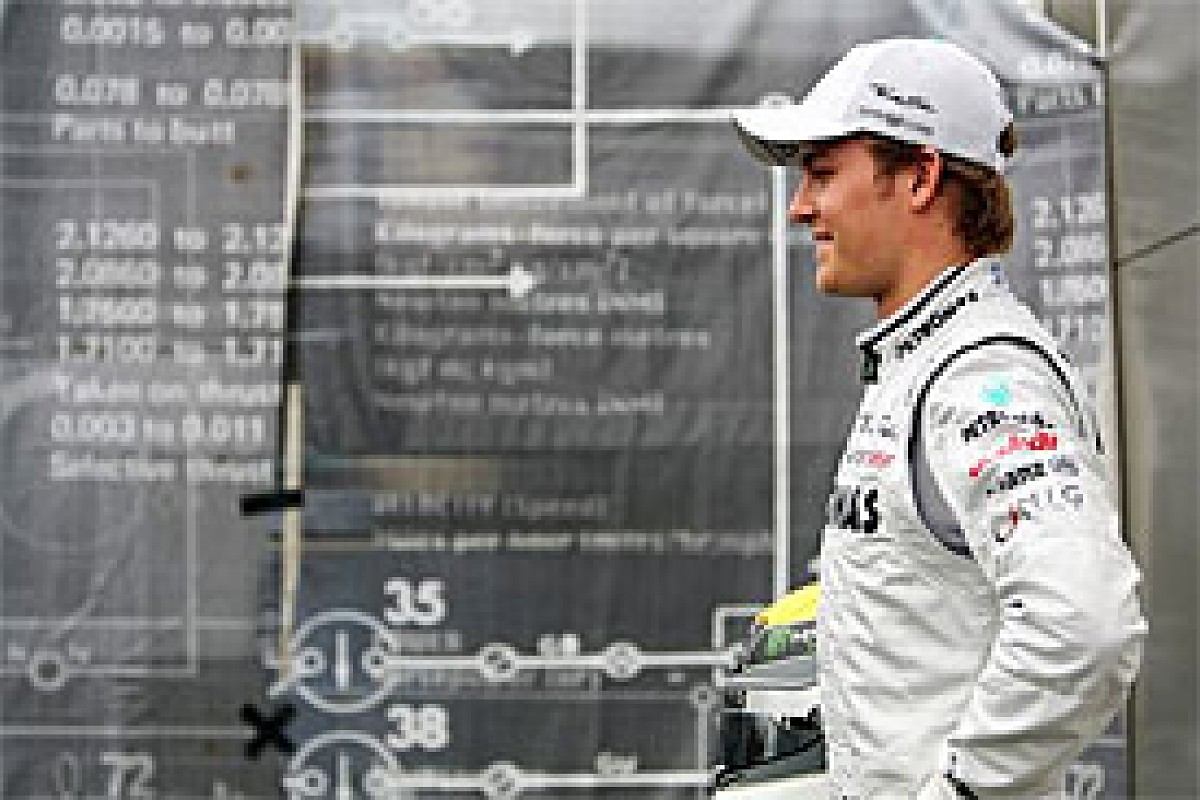 Nico Rosberg © sutton-images.com
As for which teams will be relying on a mixed race to deliver good results, it seems that Mercedes should no longer be considered among them. The most remarkable turnaround in pre-season testing came at Barcelona a few weeks ago.
Despite public confidence, there were those connected to the team all-too-willing to express their displeasure at the performance of the car, but now many anticipate that Mercedes has a realistic chance of being best of the rest behind Red Bull and Ferrari. Even Nico Rosberg, a hard man to please, is impressed.
"It was definitely an impressive step," said Rosberg, whose disposition was markedly sunnier than during much of testing. "The whole winter has been quite difficult for us and we knew that this step was coming, but you start to get a bit concerned.
"They put an amazing amount of work in and thanks to that we made a lot of progress, which was nice to see."
Certainly, there is a more assured feeling of confidence in the world of Mercedes than there is a couple of garages up the pitlane at McLaren. With a new floor and a heavily-modified exhaust on the car, it's into the unknown for a team that gave little reason to back it to qualify in the top 10 with its testing pace. Even a full race distance has so far eluded the team in testing and whether the promised one second performance boost manifests itself is going to be one of the stories of the weekend.
"It's race one and no one knows what other people can do," said Lewis Hamilton. "We don't know the true pace of our car."
As Hamilton, along with 23 other drivers entered for this weekend's race, keep pointing out, it won't be until the end of the weekend that we get the full and complete competitive picture. After months of talking, things will at last get really serious tomorrow and the talking will be done by 2.4-litre V8s screaming at 18,000rpm.