It's always nice to go out for a curry, but you have to choose your mates carefully.
So, for our pre-season Formula 1 round table, we got Red Bull team principal Christian Horner and Team Lotus reserve Karun Chandhok to join AUTOSPORT F1 technical expert Gary Anderson, Grand Prix editor Mark Hughes, F1 editor Edd Straw and magazine editor Andrew van de Burgt to chew over prospects for the coming season (and a bhaji or several).
So what will be the main things to look out for 2011. We run through the Pirelli tyres, those adjustable rear wings, KERS and the new car regulations in our quest to find out.
Mark Hughes - Our top columnist got to Australia a week early, so he headed off to Phillip Island for an encounter with a 105-year-old Grand Prix car.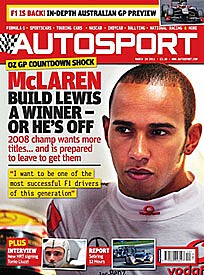 David Coulthard - he had an enormous shunt with Martin Brundle in the first-ever world championship Australian GP at Melbourne. The Beeb will be hoping the commentary-box twins won't replicate that this year.
Why the Australian GP rocks - Edd Straw looks at 10 reasons why Albert Park races are usually special.
F1's big questions - Including who'll win the intra-team battles, and will Schumacher win?
Vitantonio Liuzzi - HRT's new recruit tells Mark Glendenning about his new challenge, and his admiration for... Nigel Mansell.
IndyCar Series preview - Glenn Freeman interviews never-quite-champ Helio Castroneves; Charles Bradley chats to towering Brit Justin Wilson; and we run down all the racers.
Indy 500 history - The third in our series of five features on the race's centenary: Paul Fearnley looks at the three decades from the rear-engined revolution to the CART/IRL split.
GT1 World Championship preview - David Brabham talks to Gary Watkins about his switch to Nissan; plus all the runners and riders.
Sebring 12 Hours - After writing his interview with Brabs, Gary went to Sebring to watch him almost win the Sebring 12 Hours, only to be denied by the ORECA Peugeot. But what happened to the works Peugeots and Audis? Mr W explains...
Curitiba World Touring Cars - Rob Huff leads the championship for Chevrolet after the opening round. Peter Mills tells of a weekend of Chevy domination.
Imola GP2 Asia - Romain Grosjean is champion, and Glenn Freeman wonders if it's going to be a fight between him and Jules Bianchi for the main series this year.
Introducing... - Richard Bradley. He races on a Singapore licence, but he comes from Greenwich. As Formula BMW Pacific champion, he's graduating to Japanese F3.