March: Melbourne, Thursday afternoon: Tall, lithe figure is spotted with Martin Brundle on the approach to Turn 11. It's Usain Bolt giving instruction on how to do 100m in 33 strides and 9.58s as Brundle prepares to make his own bolt - from grid to comm' box.
Nick Heidfeld takes pole position. Brundle grabs him on the grid and asks what he expects in the race. "It's not easy to know where everybody ranks," Heidfeld says. "That's not easy for him to say either..." says comm box debutant David Coulthard, and immediately gets a yellow card.
Lewis Hamilton qualifies mid-grid on the soft Pirellis, overtakes seven cars by Turn 3 but his tyres are shot by Turn 12. "These tyres are dreadful," says Hamilton. Again. "We were told to make it exciting," counters Pirelli's Paul Hembery.
April: Bahrain concedes that it won't hit the May 1 FIA deadline to guarantee stability and the reinstatement of the season opener. Bernie announces a deal with Colonel Gaddafi instead, giving him until August 1 "to get himself sorted out. I always said we should never mix sport and politics and I'm not going to," Bernie says.
Paddock assumes it's an April fool's joke but Bernie says not - he's taken half a million barrels of oil as a non-refundable deposit.
May: Rubens Barrichello presses his moveable wing button twice instead of his KERS button and gets bounced out in Q1 at Monte Carlo. "This multi-tasking business is definitely not man's work, and certainly not for the more mature man," storms Rubens as he hangs up his helmet in disgust. Williams replaces him with Danica Patrick.
The BBC switchboard is jammed with accusations of sexism/fatism as DC points out that the rear end really is so much smaller and aesthetically more pleasing than before. DC protests that he was talking about the car but is red-carded. In a change of direction the BBC announces that it is cutting back on highly paid former sportsmen like Gary Lineker and DC in any case. Martin Brundle saves his bacon by agreeing to talk for the same amount Ron Dennis paid him to drive in 1994.
Rejected by I'm a Celebrity Get Me Out of Here and chasing a cut-price deal, former ITV football pundit Ron Atkinson joins the team just in time to join Jake Humphrey for the Beeb's Insight Into India feature ahead of the inaugural GP. "I've seen better latrines than this place," says Big Ron, "there's no way this lot will be ready in time." BBC Shepherds Bush implodes.
June: Lewis Hamilton's new manager Simon Fuller is spotted with Christian Horner at a Cirque du Soleil performance in Montreal. The press runs another round of Hamilton to replace Webber stories. Horner straight bats it: "We both appreciate top quality entertainment, there is nothing more to it than that. I'm planning a memorable Christmas bash for Mr Mateschitz and I appreciate Simon's experience and input. Besides, in my position it doesn't harm to keep one eye on the future." Webber, reading the quote, says: "I thought that was Helmut Marko's job..."
At Nurburgring, the Polizei show up again at Bernie's big grey bus. "I honestly don't know what they're worrying about. They need to go and catch people driving dangerously on those autobahns," says Mr E. "That's what they're doing back home. Even after they cut 30 per cent of them you can't even do 35mph. Just ask Ron, although I think that was Max dressed up in a copper's uniform!"
Libyan no-fly zone extended to Valencia to defy Mark Webber.
July: Nick Heidfeld wins his third race at Silverstone and sends Robert Kubica a 'Get well not too soon' card. The opposition is now on stream with centre-blowing exhaust layouts.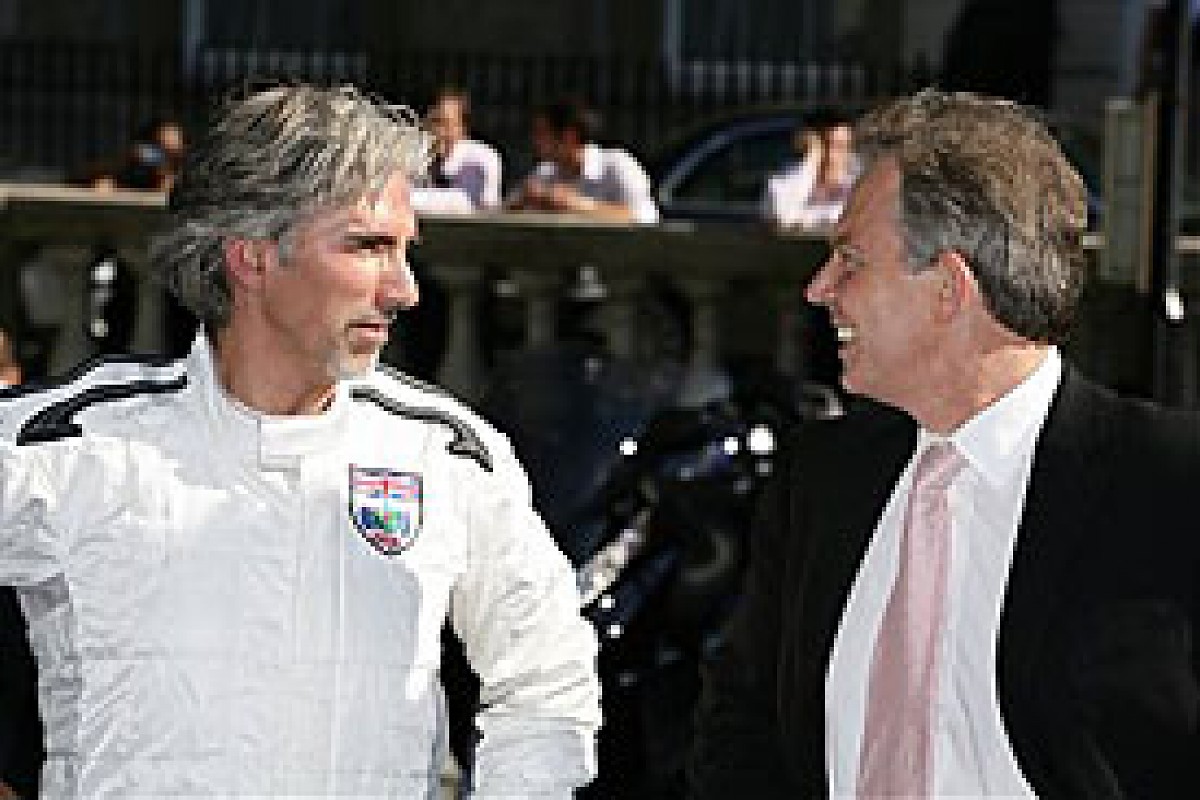 As Renault's James Allison explains the importance of blowing hot air from the centre of the car, so Luca di Montezemolo excitedly announces Ferrari's first British star driver since Nigel Mansell to replace Felipe Massa. Fernando Alonso is about to eject his toys from the pram until he realises it's not Lewis Hamilton, but Tony Blair. Montezemolo has outbid the cash-strapped banks for Blair's services. Jackie Stewart picks up the spare bank gig, asking for only half a typical bonus.
August: Hungary. The Mercedes, like the Ferrari, looks after its Pirellis well. The title battle is a six-way scrap between Heidfeld, Vettel, Webber, Alonso, Rosberg and Schumacher, who desperate to stay in the fight, remembers where he is. He sees a Williams in his mirrors and squeezes it into the pit wall, instinctively thinking it's Rubens.
Post-race, he's inspecting his rear tyres in parc ferme when Ms Patrick arrives and plants her boot firmly into his unmentionables. "If the stewards aren't man enough to mete out the right punishment I'll sort it out myself..." she storms. Michael does miss Spa this time, as a result of his injuries and, in the stewards room, Derek Warwick awards Danica 25 points.
Colonel Gaddafi has missed his August stability deadline but Bernie doesn't care - oil is now $1000 a barrel and CVC is deeply chuffed. He announces a two-race Saturday/Sunday season finale at Brands Hatch on December 3/4 instead.
September: The Ferraris delight the tifosi by taking the front row at Monza. Blair is protecting Alonso's rear into the first chicane when Schumacher punts them both off and goes on to collect 25 points. Blair complains that he is using the Mercedes as a weapon of mass destruction and action must be taken. Bernie offers to sell him some oil.
October: Against all odds, India is ready on time. Emotions run high as a tropical rainstorm arrives and Narain Karthikeyan disappears into the distance with Geoff Willis's functional HRT. Vettel is the only one to get near him but spins off in pursuit. Helmut Marko blames Mark Webber.
December: Brands decider is terrific entertainment as reverse grid is used from Saturday's race for a wet Sunday. Lewis Hamilton wins his only race of year and Alonso takes third title to the bemusement of British fans, who still see him as a villain. Press points out the entertainment value when you don't start the quickest guys at the front. "That's not F1," say the purists and push for a more powerful rear wing and more potent KERS systems.
Bernie tells Jean Todt, again, that frugal, quiet, small capacity turbos are not the way to go. "We've done KERS, so what more do you want?" Bernie says, "in fact, we should bring back V10s and V12s, I've got all this oil to get rid of."
Todt announces electric cars for 2013. Ecclestone and Ferrari form breakaway championship.
Look out for more great preview features and our exclusive 2011 season guide in the next few days