The first race of a new season always brings a focus on the latest crop of rookies. Paul di Resta, Sergio Perez, Pastor Maldonado and Jerome D'Ambrosio are the guys in the spotlight this year, and Melbourne will be a big weekend for all of them.
How they fare over the course of their rookie seasons will no doubt have a big impact on their future careers. Commercial reasons also play a role, but it's worth noting that five drivers made their grand prix debuts in Bahrain last year - and only one of them will be on the grid in Australia.
As good as some of the 'Class of 2011' are, it's probably fair to say that as a group they won't quite match up to what was almost certainly the strongest rookie crop we've ever seen. Ten years ago the Australian GP saw the debuts of Fernando Alonso, Kimi Raikkonen and Juan Pablo Montoya, three men who would have a huge impact on the sport in the following years.
And who could possibly have predicted where they would each end up a decade later, with one in NASCAR, one in the World Rally Championship, and only one still competing in Formula 1?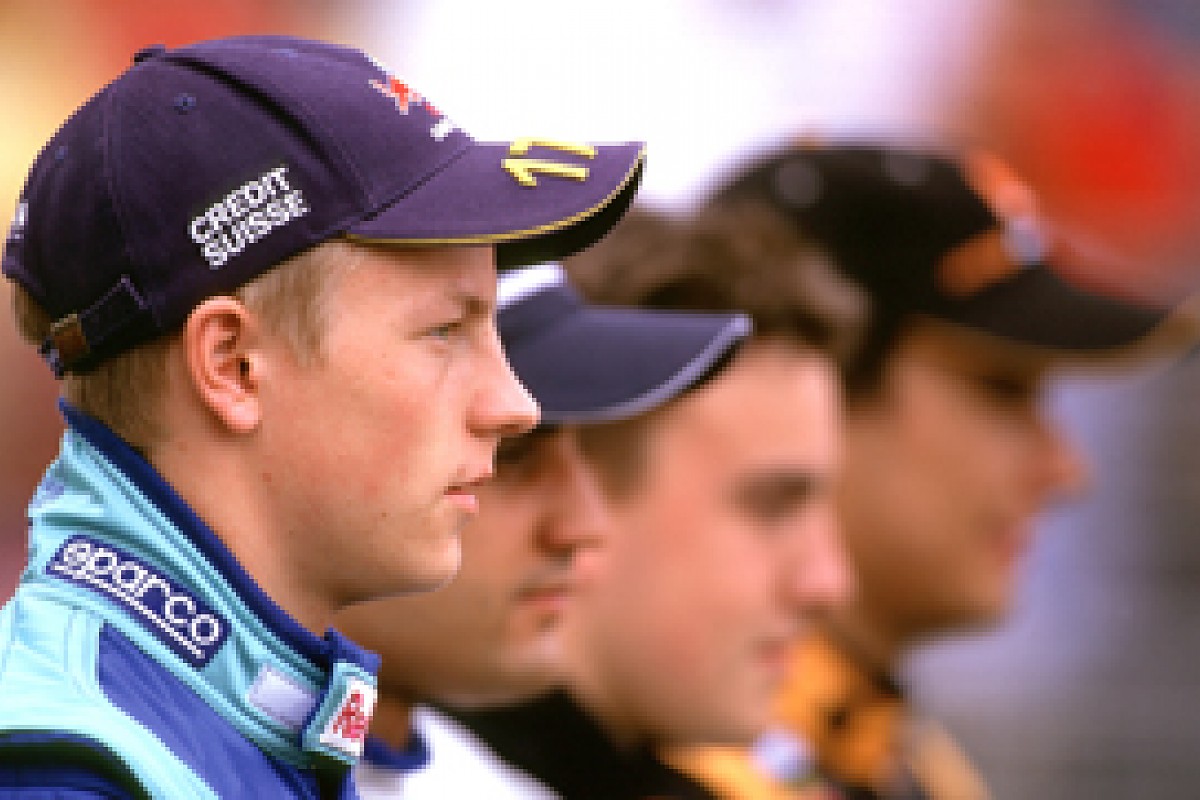 Raikkonen, Montoya, Alonso and Bernoldi pose prior to their debuts © LAT
Not everyone makes it at the top level of course, and I haven't forgotten that Enrique Bernoldi was there too in 2001. He crashed out on his Melbourne debut, and after that, the Brazilian's career had an all-too familiar path to it. At Arrows he had very little chance to make an impact, and when the team folded in the middle of his second season, he ran out of options. There was a bit of testing for BAR before he drifted off to pastures new.
The guys who really caught our attention that Melbourne weekend were Montoya and Raikkonen. The Colombian had been on the verge of an F1 career for several years, but had been biding his time in America while a slot was awaiting him at Williams for 2001. While there in the States he won the Champ Car title and the Indianapolis 500, and became a huge star in the country that would one day provide him with a more permanent home. He arrived at Williams better prepared than anybody since Jacques Villeneuve had taken a similar path five years later.
Much was expected of Montoya, but he started a modest 11th in Australia, and retired with an engine failure. However as the year went on he began to make his mark, taking a couple of second places and threatening the mighty Michael Schumacher before finally scoring his first win at Monza. If ever there was a world champion in waiting, it was Montoya, but it was not to be.
Raikkonen meanwhile arrived at the top level of the sport with unprecedented haste. His jump from Formula Renault to F1 had never been attempted before, and nor has it been done since. The conservative Peter Sauber took one of the biggest risks of his career when he took on the Finn, having spurned Bernoldi, who was being pushed by sponsor Dietrich Mateschitz.
Raikkonen started the season under a form of FIA probation, and had he screwed up, he could have been booted out. He didn't, of course. After finishing an amazing sixth in Australia he had a superb first year, adding a couple of fourths and a fifth to his tally, and earning 10th in the world championship. Using known quantity Nick Heidfeld as a control, McLaren decided that the Finn had star qualities, and he was signed up for 2002.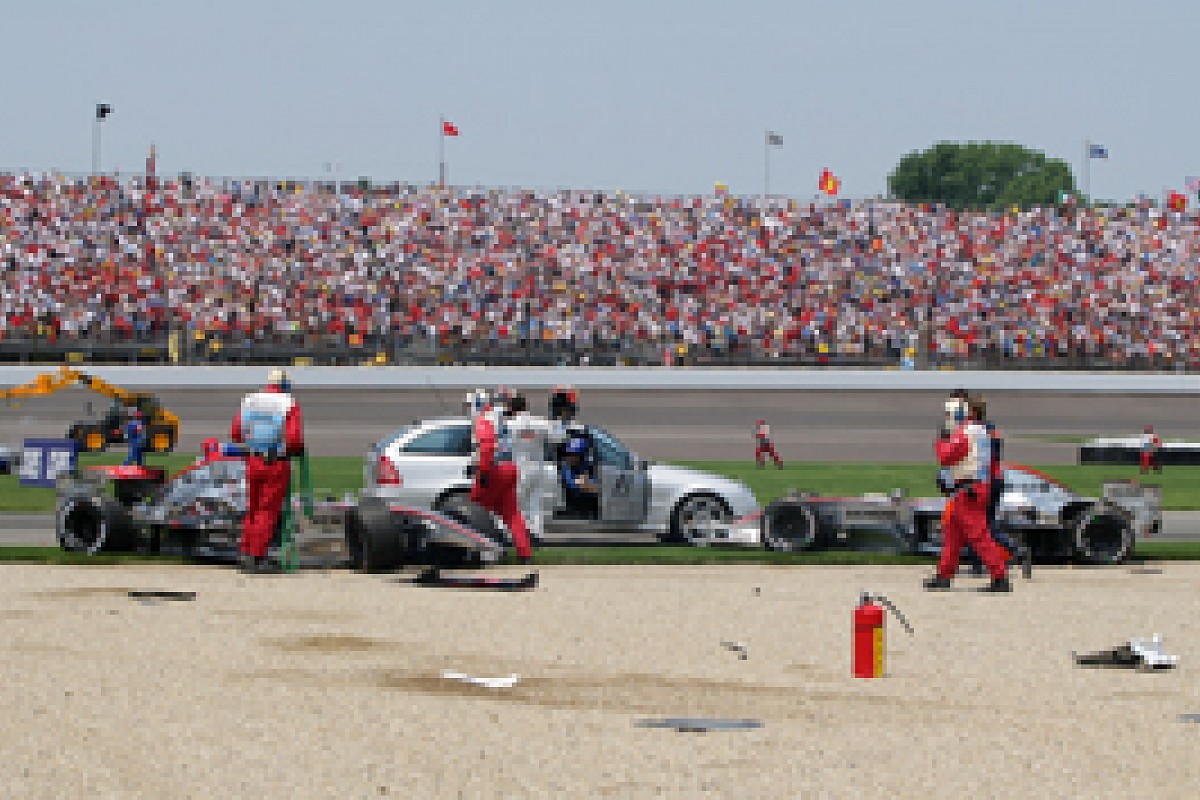 Montoya and Raikkonen would eventually become McLaren team-mates - before both leaving F1 earlier than unexpected © LAT
No one could have predicted that Montoya would later end up as Raikkonen's McLaren team-mate, or that both men would ultimately become disillusioned with grand prix racing and make unprecedented moves to other branches of the sport. Or indeed that Schumacher would one day find himself pressured into a premature retirement decision to make way for Raikkonen.
Unlike Montoya, Raikkonen did at least fulfil his potential by taking the crown with Ferrari, before he found himself no longer the flavour of the month at Maranello. And the man he had to cede to for 2010 was none other than Fernando Alonso.
The Spaniard didn't score any points in 2001, but given the equipment at his disposal, he arguably had as an impressive rookie year as Montoya and Raikkonen.
Indeed at the end of that season Minardi boss Stoddart made his thoughts on the subject clear: "People talk about Raikkonen and Montoya being the stars of this year," he told me. "But for me Alonso was the revelation of 2001. He's just been fantastic, doing what he's done in our cars..."
It's important to recall that Minardi at the start of 2001 was a little like HRT is today. Stoddart's involvement had come relatively late in the winter, and there was a mad rush to get two cars ready for Australia. The fact that there were no other 'small teams' left meant that Minardi, with a modest budget and old spec Cosworth engines, was always destined for the back of the grid, stranded behind the likes of Arrows and Prost.
Stoddart's lead driver that year - at least on experience - was supposed to Tarso Marques. Still only 25, the Brazilian had driven a couple of races for Minardi at the start of 1996, and then returned to contest most of the 1997 season. He later had a spell in Champ Car before finding his way back to Minardi after three years away from F1.
Alonso was the junior. He came with a great CV - a string of titles in karting, champion in the Open Fortuna by Nissan series (forerunner of what eventually became Formula Renault 3.5), and fourth place overall and a Spa race win in Formula 3000 in 2000. He also carried the stamp of approval of Flavio Briatore, who had taken over his management. But he was still only 19, and there was a feeling that he still had a lot to learn. Very little was expected of him given the car he was driving.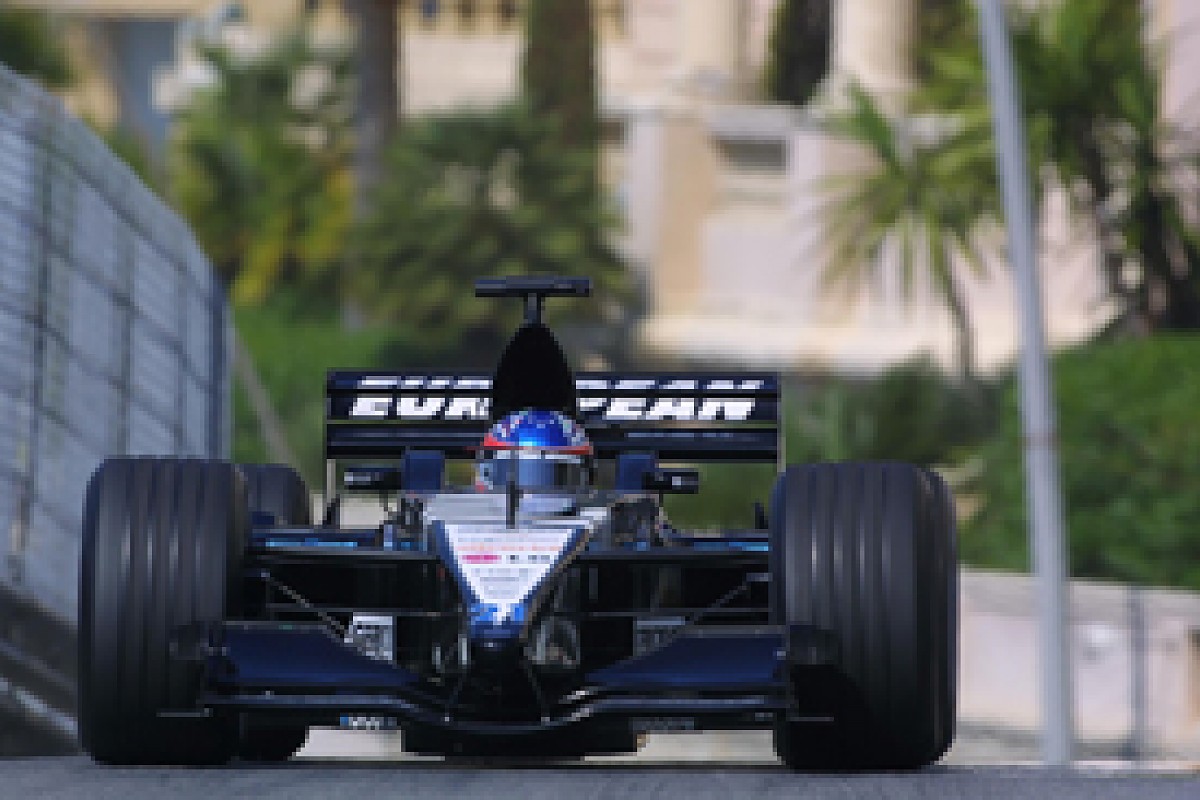 Alonso's talent was obvious in Monaco © LAT
In fact those who were paying attention soon realised that he was the real deal. One little episode that stuck in my mind came during Thursday morning practice at Monaco, while I was watching from the inside of the Loews Hairpin. Momentarily stuck facing the wrong way after a spin on the exit, Alonso booted it, flicked the back round without catching the barrier, and was gone. It was a manoeuvre performed with the deft touch and confidence of a veteran.
He never even came close to the points that year - this was still the days when only the top six were rewarded - but every time he got in the black car he made you sit up and take notice. He finished the career of the bemused Marques, and totally destroyed the hapless Alex Yoong when the Malaysian took over the second seat.
On race day in Barcelona Alonso even out-ran the Benettons of Jenson Button and Giancarlo Fisichella, giving his mentor Briatore food for thought. By the end of the season Alonso had been confirmed as a test driver for the rebranded Renault team in 2002, and it was clear that he would just be biding his time awaiting a race seat.
So what did Alonso himself think of his rookie year? Getting hold of him now to talk about it would not be the work of the moment, but fortunately he was a lot more available back then. I caught up with him at the final race weekend of 2001 at Suzuka, and we talked while sitting on a Minardi packing case behind the pits.
"For sure I'm very happy with it," he said of his season. "The first year is always interesting, always difficult, especially in one of the small teams. Because the budget is really poor and you don't have many tests, you must learn everything in the races. To be always in front of my team-mate, with Tarso and then with Alex, was a good feeling. And for a young driver like me it's always important to have confidence.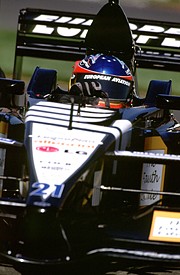 Minardi only just made it to Melbourne © LAT
"It's hard for the people to understand, to realise the difficulties that we had this year. The first time that I tried the new car was in Australia on Friday. Then it was Malaysia, Brazil and Imola, and the first test was before Barcelona! It was incredible, very difficult. But anyway, we did a good job."
With no testing, and with the team only just making it, Melbourne was never going to be easy for the youngster.
"It was very difficult. I arrived, a young driver first race in his career, with a new car that nobody had tried, with the new team staff, the English people. Everything was new. We had two cars and no T-car for the first race. So it was a crazy time. But I qualified 19th, and finished the race without problems. It was perfect."
He soon made a habit of getting ahead of one or two cars that should really have been quicker than the Minardi: "It was strange even for us, because we also expected to be 21st and 22nd. But I tried to qualify well, and we did sometimes. With low fuel the car seemed quite good, but afterwards in the races it was a little more difficult because you feel the lack of power a little bit more, because we didn't have enough for the weight in the race. But it was better than expected."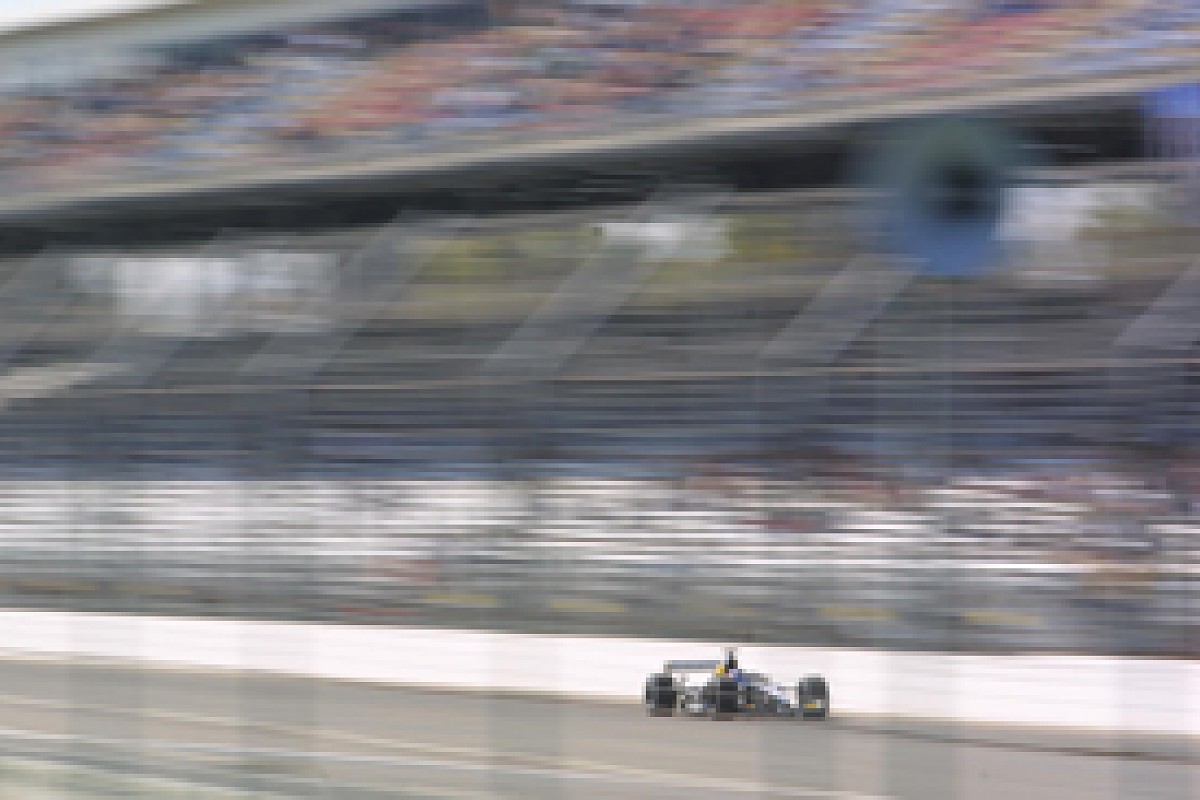 Alonso's best race of the year came at Indianapolis © LAT
In the penultimate race at Indy he qualified an astonishing 17th. That may not sound much, but in addition to his team-mate, four other drivers were behind him, including Villeneuve. He also started 18th on six other occasions.
Nevertheless, knowing that even on a perfect day he could only move two or three slots ahead of the standard 21st was frustrating.
"A little bit. Sometimes in qualifying you make a perfect lap, an unbelievable lap. You cross the line and think, 'F***ing hell, that was a good one!' Then you arrive in the pits, see the TV screens, and you are only 19th or 20th. So yes, it's a little frustrating.
"I don't know the experience that Raikkonen, Button or [Felipe] Massa have, but if you see their career, it's quite short. I started in a very small team, but with a very short career, if you start in a bigger team like Sauber or Williams, you do well. It's normal, you have a very good car and it's easy to finish in the top six in all the races, and you are a big star. So if you arrive in F1 with a short career, it's better to start in a big team."
He had the intelligence to realise that hard results didn't matter. The year was about gaining experience, and filing it away for future use.
"I know my job this year was only to learn the tracks, and finish as many races as possible, do some running in F1, and nothing more. If you had another idea or another objective for this year, it was wrong, because by the middle of the season your head will be very frustrated.
"I learned a lot. F1 is very complicated, and for new drivers, it's very difficult. You have only two sessions on Friday and on Saturday, and then the qualifying. In qualifying you must try to go in the right moment, in the last minute, with no traffic. All these things you must race in F1 to learn. If somebody tells you about them, okay you have an idea, but it's not exactly how it is."
Before Pedro de la Rosa and Marc Gene came along in 1999, Spanish interest in F1 had been minimal, and there were few if any journalists from the nation. That had begun to change, but for all his potential Alonso's lack of results meant that his profile remained low during that first year.
"The Spanish people, we are strange. In Spain only the football players are important, and the motorcyclists! We always try to win and the patience is very short. But they knew this year was a year to learn, and to get experience. For the future maybe I have more pressure from the Spanish journalists, but anyway, it's my job."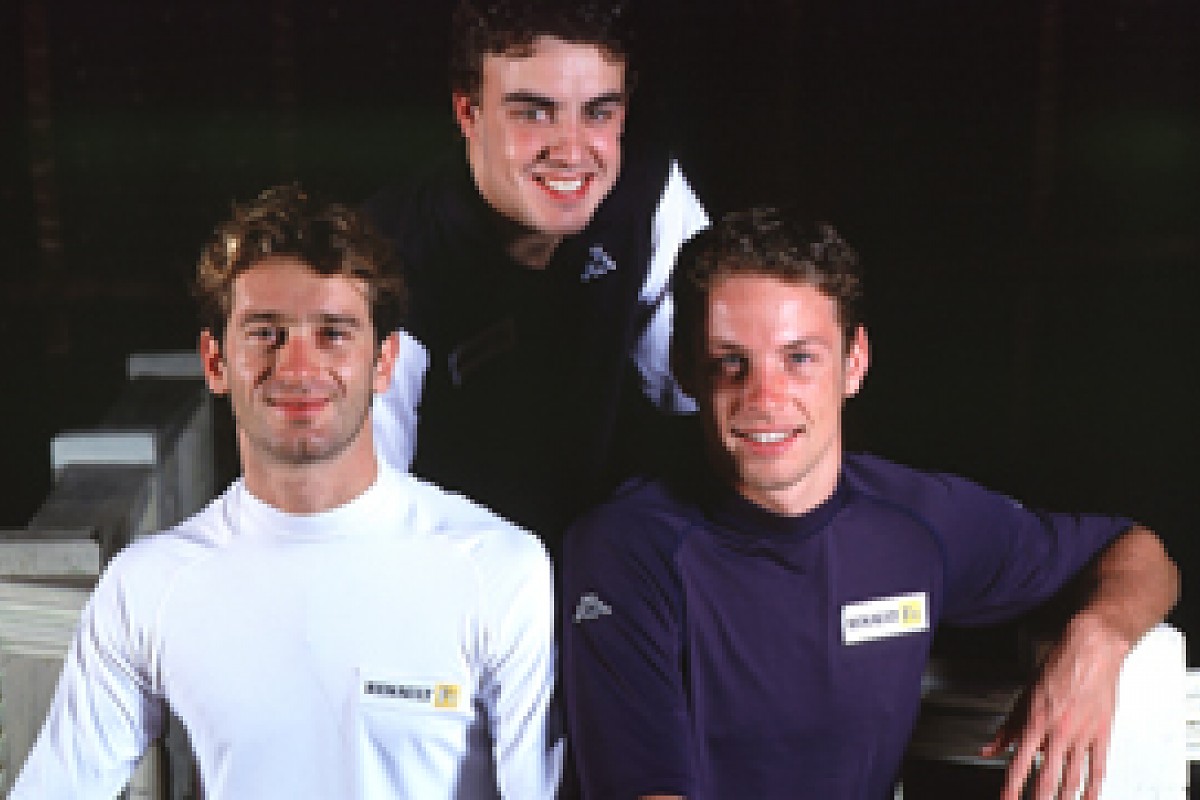 Trulli and Button would have Alonso looking over their shoulders in 2002 © LAT
With his Minardi education coming to an end, Alonso could turn his thoughts to 2002. He knew that he'd get thousands of testing kilometres, and he knew too that he'd keep race drivers Button and Jarno Trulli on their toes. And most importantly he knew that a race seat awaited him for 2003.
"If you test a lot with many miles then it's a good thing. If I test with Renault then I can start to know the team and the engine and have a good feeling for 2003. Next year is an important year, but 2003 is more important."
The day after our chat at Suzuka Alonso crossed the line 11th of 16 finishers, just behind Villeneuve and ahead of the veterans like Heinz-Harald Frentzen, Olivier Panis and Jos Verstappen. He had arrived...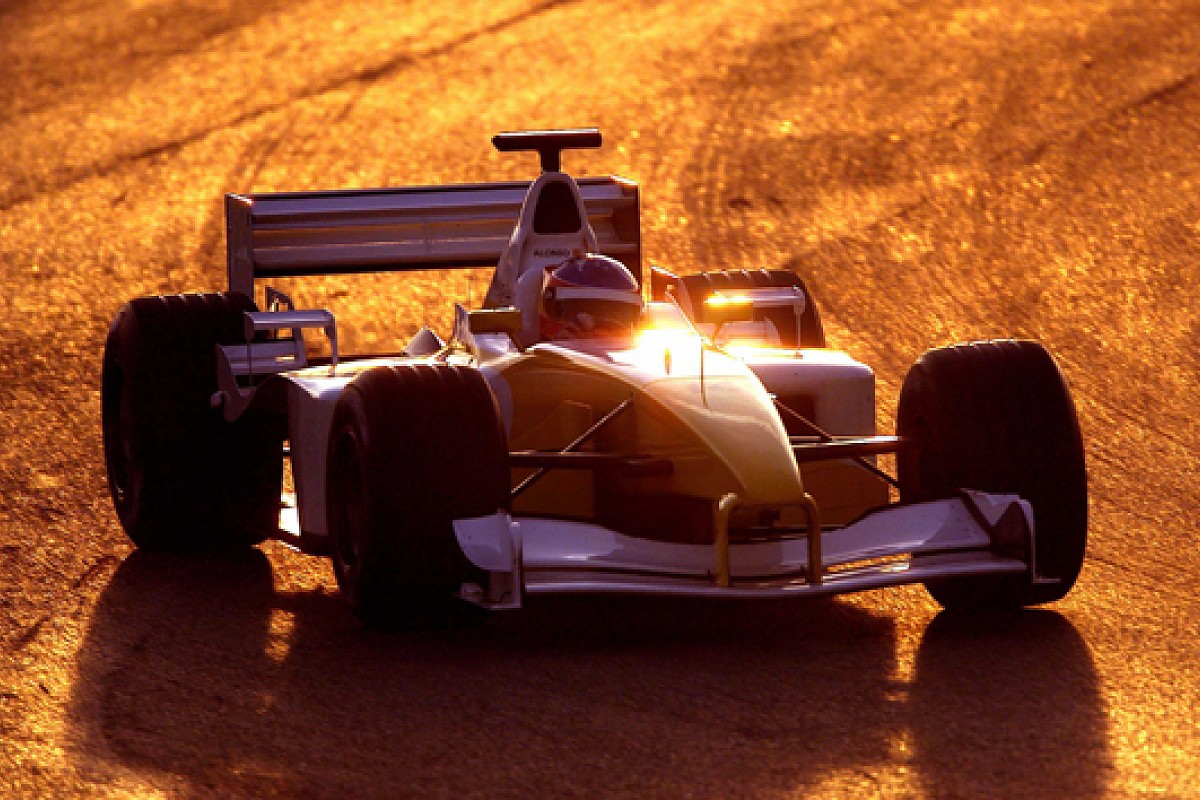 Look out for more great preview features and our exclusive 2011 season guide in the next few days