Sebastian Vettel's title defence will start in just a few days' time © sutton-images.com
F1 season preview - Don't miss our traditional and in-depth, 63-page preview to the new Formula 1 season, which kicks off - finally! - at Albert Park in Melbourne next weekend.
With pre-season testing at a close, the exact state of affairs regarding the competitive order is undecided. Red Bull and Ferrari look to have an advantage, with McLaren, Renault and Mercedes all playing catch-up.
But who knows what will really happen in Australia next weekend? And how will the new-for-2011 moveable rear wings and marginal Pirelli rubber fare?
The 63-page preview to what many believe will be another cracking season contains facts, figures, opinions and technical analysis:
David Coulthard - The GP winner-turned BBC commentator stares into his crystal ball.
Lewis Hamilton - Tony Dodgins wonders if the new rules will boost the Brit's chances of a second world title.
Passing problem - Overtaking has declined dramatically in the past 20 years. Mark Hughes examines why.
Wing and a prayer - How will the moveable rear wings work. Edd Straw plays science teacher.
Di Resta Q & A - The Scot is fired up for his maiden season of F1 with Force India.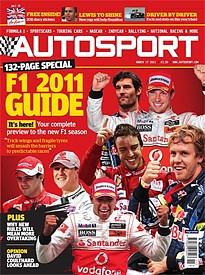 The science of tyres - Mark Hughes dons his white coat to explain the way tyres behave, physically and chemically.
Pirelli picture special - Highlights of the Italian tyre firm's previous love affair with F1.
McLaren M26 v MP4-26 - Gary Anderson compares James Hunt's 1970s winner with the 2010 machine raced by Jenson Button and Lewis Hamilton.
Team by team guide - Analysing each of the 12 teams and their drivers on the 2011 grid.
Circuit guide - Facts, figures and maps of all 19 F1 venues.
Indian GP progress - Indian racer Karun Chandhok gives us a progress report from the New Delhi venue.
Plus Mark Hughes - Our grand prix editor examines why McLaren has struggled in pre-season testing and suggests there could be some exhaust-blown diffuser trickery up its sleeve.
*This week's AUTOSPORT magazine is available in shops now, or can be read in digital form here.
Keep an eye on AUTOSPORT.com in the coming days for the website's package of F1 season preview features and analysis.