The winter is a scary time for racecar designers. Everyone disappears off the radar to pursue their own ideas. Until they all put their cars down on the track the following February, you don't know what you're shooting at.
If wholesale rule changes render existing cars obsolete, unless your name is Newey it's all the scarier, but even for 2011 there are significant differences: no double-deck diffusers, no F-duct, adjustable rear wings, different front wing endplates and, most significantly, new tyres.
Renault's technical director James Allison was quite open about it. "Personally," he said, "I live in a state of perpetual fear that everything isn't going to be good enough. I find it's better to feel that way so long as you don't get ludicrous about it." This time around, with risk and radical exhaust treatment, the Allison fear factor was no doubt multiplied somewhat!
No one was expecting anything from Brawn in 2009 - until its car turned up and stunned the paddock © LAT
Once in a blue moon a team finds it has a McLaren MP4/4 on its hands. Straight out of the box it laps Imola two and a half seconds a lap faster than anything else. And when you add Ayrton Senna and Alain Prost to the equation you know it's Game Over. Or, if you're Brawn GP amid the internet age in '09, you send it out for the first time with a tankful of fuel to confirm your feelings, haul the bloke out of the cockpit so that everyone can get their money down while they're still 80-1 for the championship, then take the fuel out, send him out again and let the cat out of the bag.
It's not nice to be on the receiving end. I remember talking to one of the McLaren lads about how optimistic they'd been at a pre-season Imola test, if memory serves with the MP4-17 at the beginning of 2002, until Michael Schumacher arrived with the new Ferrari F2002 and went around in something ludicrous as soon as they'd unpacked it.
"We had a beer and played some pool that night," he remembered. "Nobody said much at all. Very flat we were..."
Pre-season testing is scary because it certainly used to be a truism that you couldn't make a silk purse out of a sow's ear or, in much more base paddock lingo, you can't polish a turd. If the car oinked or barked when you first put it down, it would be a pig or a dog for the whole year.
But now, so intense is the development war and so sophisticated the tools at teams' disposal, that a certain degree of turd polishing is achievable. Two years ago, in fact, McLaren's was possibly sparkling by the time they had turned the MP4-24 from the device which relegated the reigning world champion to testing tailender into a car that won the Hungarian and Singapore Grands Prix and sat on the pole four times.
It means that you write teams off at your peril. Especially experienced, well-funded ones. Only a couple of weeks ago the doomsayers were worrying about the state of Mercedes. Then it turns up with a huge upgrade package at Barcelona and Michael Schumacher sets the fastest time seen there this year.
You might see it as risky to leave things quite that late but crash test issues may have dictated delays. Others call it optimising time available. Whatever, Mercedes certainly seems to have made a big jump and perhaps it's not altogether surprising. The front wing, barge boards, pods and floor are all fundamental to the aerodynamic performance and they were all very different.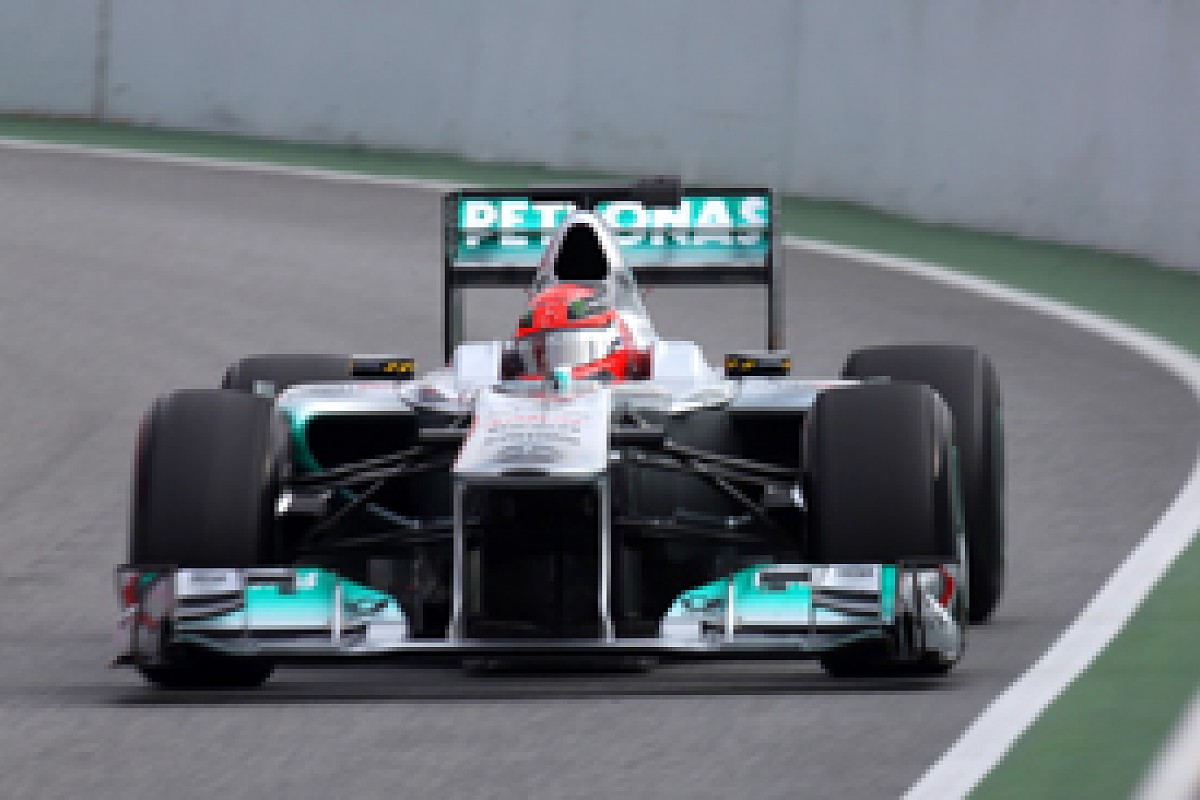 Mercedes has already pulled off a turnaround in form just in testing © LAT
Another concern had been the rate at which Mercedes was wearing tyres but that, again, is a function of the aero package. Give the car more rear downforce and that characteristic will be significantly eased. The team did not do enough in the way of long runs with the definitive package to allow decent gauging of progress there, but it would be a surprise if a Ross Brawn-led design team with a decent lead time produced a bad car in that regard. Being relatively easy on its tyres has been a Ferrari design characteristic for years and Ross will know all about why. He will also know that given the tyres Pirelli has been asked to produce, it will be a more significant characteristic than ever in 2011.
Lewis Hamilton and Jenson Button will be hoping that McLaren can achieve something similar when it gets to work with those polishing cloths. Last week, Martin Brundle was widely reported saying that the MP4-26 was a 'mess' and that Hamilton was all at sea with it. Non-specialist radio stations were reporting in sports bulletins Hamilton saying he couldn't compete for the championship with it.
I was busy painting my basement ceiling when this nugget of information reached me via Steve Wright in the Afternoon on Radio 2 (apologies Five Live chaps, the better half had been listening while she did the ironing).
"Hmmm," murmured a perceptive Wright, showing a good degree of F1 savvy, "bet the hard-working guys back at base will be delighted to hear that..."
Bad news is always a good story and, in fairness to Lewis, all he probably did was make a current state of the nation address to the assembled press in Barcelona. If you're not honest you tend to get hung. And if you are - you still get hung.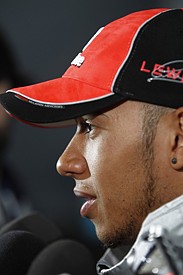 Lewis Hamilton tells the press about McLaren's situation © LAT
Faced with an uphill task in 2009, apart from a slight blip over the Davy Ryan affair (in my opinion), Hamilton, publicly at least, was exemplary. He didn't slag the team, didn't throw his toys out of the pram and, on track, as ever, gave 110 per cent. Teams appreciate that and it's never as important as when you find yourself in the mire.
It should not be underestimated how important a role a driver with a strong, positive personality can play in such circumstances. It's fair to say that McLaren does not remember Fernando Alonso with fondness just as it's fair to say that Alonso did not get along with Ron Dennis's style of management. Despite all that, there are those within the team who still regret that, despite an explosive situation fuelled by Hamilton's genius, they failed to gel with Fernando and would even like, whisper it, another go.
Last year, despite a season in which Ferrari was fighting a significant mid-season deficit, technical director Also Costa said of Alonso: "It was like he'd been here 10 years. As soon as we started working with him there were no issues at all. He was the most positive bloke in the team - always pushing, always optimistic. He was a real asset, in the car and out of it."
At Renault, Allison said: "We're very fortunate to have Robert Kubica. If we give him a car that's even half capable of a championship, he'll get one. Not everyone can say that about their drivers. He expects a lot from everyone: he's positive, demanding and always pushing." You get the sense that they knew exactly what they had and thought, sod it, let's go for it, push every corner of the envelope and, like Schumacher or Alonso, this guy can win us a title. No disrespect to Nick Heidfeld but the fate that befell Kubica is a crushing blow to the team.
Michael Schumacher's leadership qualities are, of course, legendary. Formula 1 is an all-consuming business. The drivers are the ones the public sees but the design staff, factory staff and race teams are the ones putting in the graft. The sport tends to demand silly hours and with 20 races that's truer than ever, often at the expense of families. When you're in trouble, it demands silly hours, plus.
It's hard enough when you're winning but to keep doing it without reward, is tough. Modern development potential means there's always hope, which is why it's more vital than ever that the guys in the cockpit keep smiling, keep pushing. Keep leading by example. Easy to say, harder to do...