Andrea de Cesaris in the Jordan 191 at Monaco in 1991 © LAT
Jordan 20 years on - It's two decades since Jordan Grand Prix first rocked up at a race, when it arrived in Phoenix for the 1991 season-opening United States Grand Prix.
Adam Cooper again produces one of his great historical features, detailing that turbulent opening weekend. Andrea de Cesaris failed to pre-qualify, but Bertrand Gachot was classified as a finisher. And Marie Jordan (Mrs EJ) kept everyone going on sandwiches.
It was the start of an amazing adventure that continues even today, with EJ's eyebrow-raising taste in flashy shirts and disco trousers and his former team's multiple metamorphoses into what is today known as Force India.
Mark Hughes - Our top columnist describes a nightmare Fernando Alonso may well have had, about the unpredictable racing ahead caused by the new Pirelli tyres...
Pirelli assessment - ...and then for good measure Mark explains, over five pages, just why the racing will be different.
Exhaust-blown diffusers - Edd Straw examines why they've made an impact, and looks back at when they were a novelty - on Alain Prost's Renault.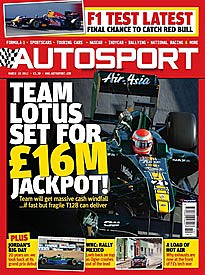 Overcoming a bad start - How do you recover if your F1 car is born slow? Gary Anderson explains.
Intercontinental Le Mans Cup - With the Sebring 12 Hours just over a week away, sportscar doyen Gary Watkins salivates over a classic season in the making.
Rally Mexico - David Evans takes a look back at all the action from Central America, although Sebastien Ogier would probably prefer not to be reminded of it.
World Touring Car Championship - Rob Huff talks to Mark Glendenning about Chevrolet's prospects; Robert Dahlgren updates Charles Bradley on life at Volvo. And we look at all the runners.
Aaro Vainio - Remember this Finn's name. He's racing in GP3; he's managed by Nicolas Todt. So we thought we'd better tell you about him.
*This week's AUTOSPORT magazine is available in shops now, or can be read in digital form here.
*For those of you who buy or subscribe to the print edition of AUTOSPORT, you may be pleased to hear that the much-loved diary stickers will return for 2011 in next week's bumper season preview issue, courtesy of Air Asia.