They say there's no such thing as a free lunch, but they're wrong. Last week there were supposed to be two - one at Williams on Thursday and another at McLaren on Friday.
But, at 36 hours' notice, McLaren's, which was to have been a sit-down with technical director Paddy Lowe, was cancelled. The last time something was called off that late it signalled Honda's Formula 1 withdrawal!
The previous day, at Williams, some of the big players didn't show up either - chiefly Sir Frank himself and Rubens Barrichello. Frank, fair enough, had much bigger fish to fry. He was accompanying prime minister Cameron as part of a trade delegation in Qatar.
Rubens? Well, it was his 14th wedding anniversary apparently. Pathetic, son! What's wrong with a box of choccies and a bottle of bubbly? You don't have to actually be there! I jest. He'd gone back to Brazil after the Barcelona test and it would have been a long way to come just to see us lot and a new livery on a car he'd already driven.
Traditionally, a Williams pre-season lunch was a sit-down with Frank and Patrick Head, who would come out with some pre-season observations before launching into all sorts of irreverent stuff while kind of trusting you not to embarrass them.
Michael Caines prepares lunch for Williams and its guests © LAT
This time we were advised we were being 'live streamed' before being handed over to a suited Sam Michael for a technical briefing. Showing admirable awareness of media priorities, Williams then allocated a similar time frame to the new partnership with star chef Michael Caines, MBE - now an integral part of the team's hospitality, not to mention the guy making our lunch!
Chairman Adam Parr was not so much Adam Ant as Adam Rant - eloquently, of course - when he got stuck in to certain individuals who have recently been negative about both the team and its recent IPO. It sounded like a pretty exhausting schedule he's been on trying to attract well-heeled investors but things are apparently looking good for the offering on March 2.
Williams has always been the much-loved British 'independent', second only to Ferrari in terms of F1 championships won. The IPO, you can't help but feel, signals changing times and there was no P Head in attendance. Parr, however, made the point that the IPO was precisely about maintaining that independence, retaining Frank as the majority shareholder and not selling out to, say, a manufacturer.
Sam 'everyone likes a tight rear end' Michael - reference the extreme gearbox and driveshaft architecture of the new FW33 - is a good fit at Williams where, unbelievably, he's now been for 10 years. He wanted to know why McLaren had cancelled their press lunch. Because, someone said, the MP4-26 seems to have been oinking its way around Barcelona chewing up tyres without much grip and Paddy Lowe, ex-Williams of course, is probably a bit too busy to waste a couple of hours talking about it...
"You lot are a bunch of bastards..." Sam smiled. "On another week you'd all have been off down there telling Paddy, 'you should see all the junk Sam's got on that Williams!'" Methinks he does confuse the world's motor racing press with a band of people who understand engineering!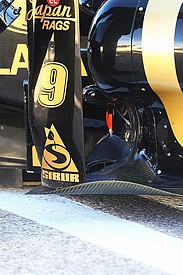 The Renault exhaust has aroused plenty of curiosity © sutton-images.com
Sam though, clearly does, and his observations on the cars and testing to date were illuminating. On Renault's trick mid exhaust system, he explained: "It does two things. It injects high-energy air underneath the floor and it pushes out the tyre wake from the front tyres, which is damaging. All the barge boards, sails and stuff are all designed to push that out as far as you can. The exhaust does it more.
"Because of blowing right at the front of the floor Renault will have a lot of front downforce, which gives you a good front end so, in slow-speed corners and wherever you might have understeer, it will be a very good car to drive. But they potentially don't have as good a rear end as a rear blown floor from all the studies we've seen.
"And remember, when you put geometry in like that, when you are off-throttle it's going to lose you. Not only do you not have the downforce but you've got something that's much worse than a standard piece of geometry (because it's in the way of the airflow). That said, if Renault goes out and wins the first three races, everyone will have to do it!"
How quickly could others respond? And how costly would it be?
"We could do that. It wouldn't be as nice as the Renault system because they've done it from scratch. We'd have to move our radiators around and get across the top of the side impact structure because they've lifted their lower side impact structure to create a nice route there for it. It's a bit of a monster because it needs to be heat-shielded all the way up because it's running at 1,000 degrees. But they've obviously made it reliable."
You do wonder, given the siting of the Renault exhausts, what cockpit temperatures might be like at places such as Malaysia and Singapore.
Sam, smile on face and tongue firmly in cheek, says: "The drivers' core temperatures are going to go up disastrously - it's so dangerous. They might even asphyxiate the mechanics in the garage as well. Outrageous. Ban it! Immediately!!"
Re-routing exhausts may need two months' lead time, which can be six races on an F1 calendar, but you would still be better off to have the system if it proves to be an advantage. "To develop a whole new exhaust system changed completely from what we have at the moment is about £120,000," Sam says. "You can buy a house for that but in F1 terms it's not a deal breaker at all."
The other great pre-season talking point has been the moveable rear wing, both in terms of its likely effect on the racing and whether it's putting too much load on the driver.
On the first point, Michael thinks it's going to make little difference and that, come Melbourne, we probably stand to be thoroughly underwhelmed.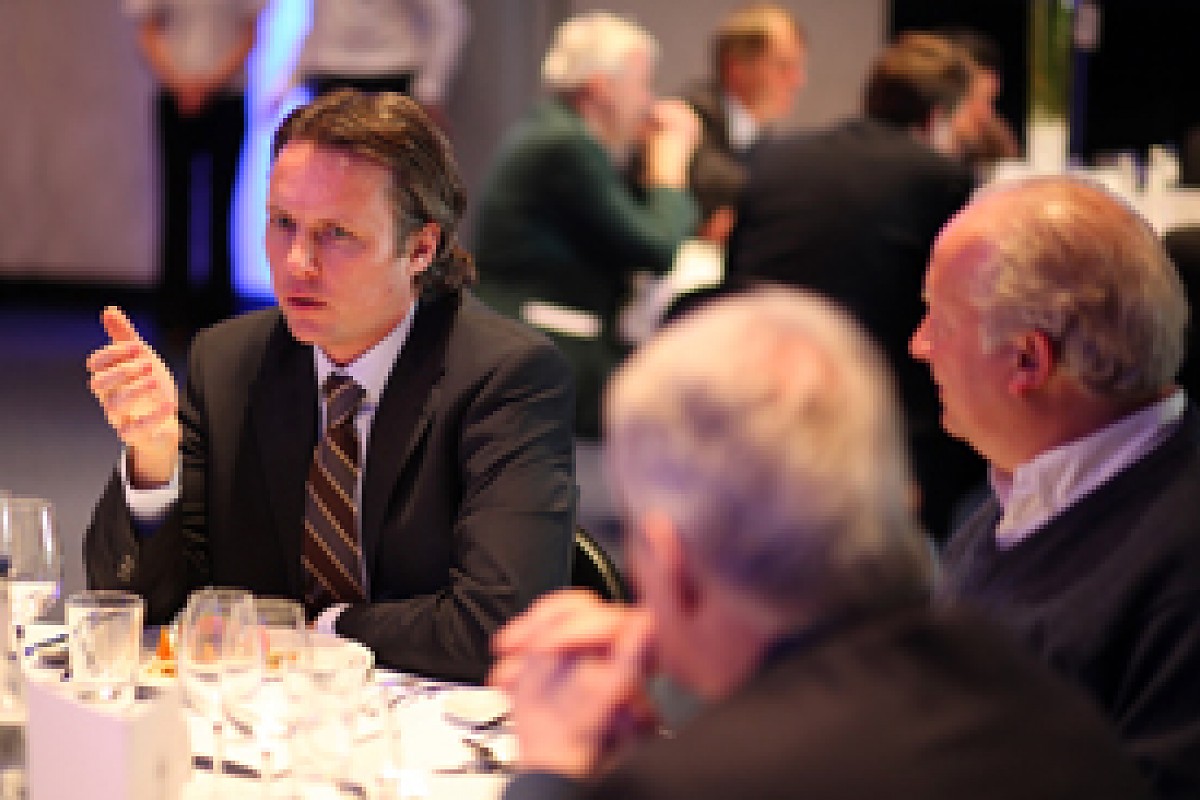 Sam Michael shares his thoughts on 2011 © LAT
"The way it's geared up at the moment I think the effect is going to be tiny, if anything," he says. "After one or two races they can change it but I think to have any sort of effect it is going to have to be fully enabled down the entire straight and probably three straights around the lap. Then it might do something. The speeds just aren't big enough to get that delta.
"I think what it will do at the moment, is when you've got really marginal situations with a car that's almost overtaking but hasn't got quite enough, it will enable those overtakes. But there's no way it's going to enable people to just fly past each other - it's just not powerful enough to do that.
"The FIA may free it up to try and make it do something and I would predict that will be to make it active down every long straight. They said they wanted to come at it from that direction, which is fine, because worst-case scenario is that the racing is no better than it's been. They're happy to creep up on it over two or three races.
"At Melbourne it's going to be on the pit straight. I proposed having it between T2/3 as well and even on the back straight coming to the high speed chicane, but it looks like it's just going to be pit straight at the moment although they might revise that now we don't have Bahrain."
Even some of the drivers have been wondering about the reasoning behind using the moveable wing in qualifying but the answer is quite simple - if you didn't, the gear ratios would be wrong.
"The system is very tunable and the FIA can respond very quickly, which is why I'm not particularly concerned about it," Sam says. "To be honest I think tyres are going to dominate everything. If you have degradation like we're seeing in tests at the moment, you won't need any rear wing, you'll be able to drive around the outside of people."
Michael admits that the mental loads on the driver have increased significantly.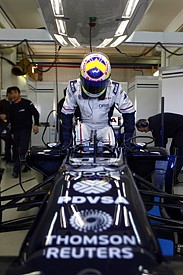 Plenty for Maldonado to get to grips with in the 2011 Williams cockpit © LAT
"He's taking care of his tyres, getting heat in on the out-lap without over-stressing them - qualifying is worst - he's warming his brakes up, shifting the brake bias front and rear to get them going, he's charging the KERS because KERS is charging on the out-lap as well. You can leave it fully charged but if you change out of KERS charging state to non-charging state, you've got to change the brake balance again. Then he's getting ready to use that on the start-finish straight and he's also getting ready to use the rear wing. And he can't do that until he gets full throttle.
"Basically, if you're going onto the main straight to start your qualifying lap and you get that wrong, you're not going to make it through qualifying because it's that much lap time. It's something we're discussing at TWG (technical working group) level at the moment - whether there's too much load on the driver."
By way of illustration Michael mentions new Williams rookie Pastor Maldonado - who has impressed him with both his pace and determination - at the first test in Valencia.
"He came out of the last corner, pressed to activate the rear wing, then he was meant to press the KERS button but something got confused and he pressed the rear wing again, so he had no KERS and the rear wing had gone back to high-drag state. No problem at a test but if you did that in qualifying you'd have lost 0.5 seconds by the time you got to Turn 1 and you'd be out. It was the only time he did it!
"The point of debate is that there's probably a guy who could handle 10 times as much but he can't drive a car very quickly, so where do you draw the line? Do you want a driver to be a naturally talented steering wheel/brakes/throttle guy or, do you want a guy who's Einstein who can cope with lots of different buttons and numbers? There's obviously a balance to be hit but I think there's a feeling that we might have gone too far towards the academic side.
"Nothing is going to change this year because you need unanimous agreement and some teems will think they've developed better method of coping and aren't going to agree to change."
So, F1 2011-style is all about multi-tasking and, as we all know, blokes can't do that. Danica, your time has come!
Michael also made a very valid point about circuit design that, although hardly new, still seems to be almost universally ignored, witness the Abu Dhabi layout.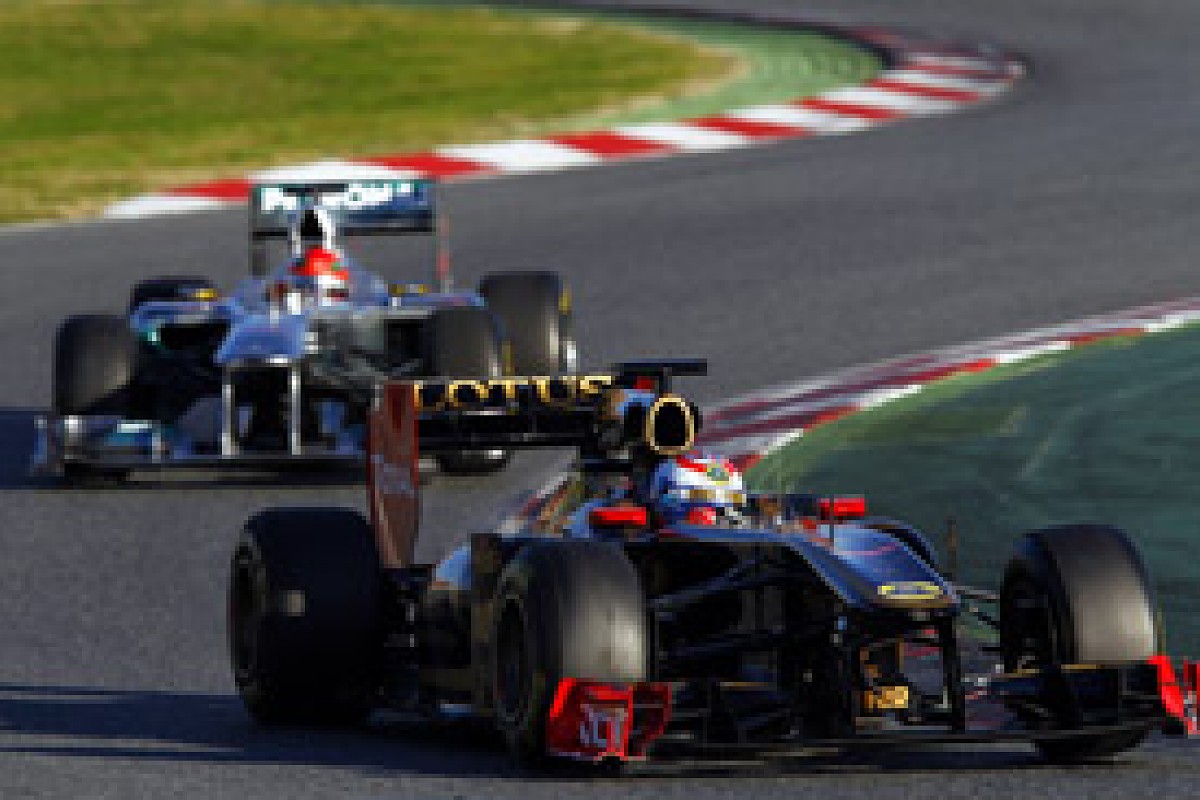 The moveable wing aims to stop cars getting stuck behind each other at tracks like Barcelona © LAT
"People know you're not going to get overtaking at somewhere like Monaco and they accept that, but people do expect to be able to overtake on tracks like Barcelona, which is just a joke to be honest. It's so obvious why, because you've got a long straight followed by a high-speed chicane and as long as that stays there you will never be able to overtake at Barcelona. Abu Dhabi is the same with the chicane at the end of the back straight.
"Chicanes are the bane of F1. They destroy any chance of overtaking because the guy in front can just go into the apex, protect the corner and not hurt his exit. You can't do that with a hairpin. If he protects on a hairpin he loses on the exit but with a chicane he just backs the guy up, sorts himself out and off he goes again. They should just ban chicanes."
The $64m question at this time of year, of course, is the pecking order.
"Very subjectively, I'd say you've got Ferrari and Red Bull at the front at least four tenths faster than anyone else, then I think you've got a pack which is Renault, Toro Rosso, Williams and even Sauber, then another three or four tenths back to Mercedes and McLaren, then another step back to the last three. That's definitely what the picture was in Barcelona.
"The regulations are forcing people into these extreme concepts. When we started having standard diffusers and all these restrictions I was thinking it was getting really dull and dumbing down F1 but, in fact, it's doing the opposite.
"By not being able to work on the diffuser you say right, here's something that might give you two tenths but it's so high risk - whether it's Toro Rosso's double floor, Renault's exhaust or our gearbox. But you've got to differentiate yourself because if you don't you're going to be at the back. This is the most standardised set of regs F1 has ever had but the cars look completely different. I didn't predict that."
Whether Paddy Lowe, Tim Goss and the troops down at Woking share Michael's sentiments right now is a moot point. But, as Sam said, for F1 to have an extra two weeks at this time of year is probably akin to three months in the real world. We'll forgive Paddy for not wanting to spend it having lunch!