It will be some time before we know whether surgeons in Italy have won their battle to save the functionality of Robert Kubica's right hand and, hence, his career.
Fate can be cruel. Just three days before his catastrophic rallying accident in Italy, Kubica left Valencia with the fastest time of the first three days' 2011 Formula 1 testing. Those that know what they are looking at were impressed by the new Red Bull RB7, its traction especially, but the new Renault R31 looked close. It's early days, but far better to come home quickest rather than slowest.
First and foremost, you just have to pray that Kubica's injuries do not end his career and sentence him to a lifetime's angst at a talent as glaring as his going relatively unrewarded.
Robert Kubica is expected to have a long lay-off following his rally crash © LAT
Inevitably though, the accident once again focuses attention on the wisdom of top drivers indulging in dangerous extra-curricular activity.
The sport's history is littered with examples of drivers doing themselves all kinds of mischief pursuing dangerous pastimes. Relatively recently there's been Juan Pablo Montoya's infamous motorbike-assisted 'tennis' accident in which the only volley he had to contend with was no doubt a stream of abuse from Ron Dennis. As things turned out, it was the beginning of the end of Monty's F1 career.
Pretty small beer though in comparison with some of the men of yesteryear. The late Patrick Depailler, who died in an awful Alfa Romeo testing accident at Hockenheim's Ostkurve 30 years ago, did it twice.
He was given his debut by Ken Tyrrell in the 1972 French Grand Prix in a third car alongside Jackie Stewart and Francois Cevert. Ken invited him back the following season but Depailler was indisposed, having broken a leg coming off one of his motorbikes, which were always ridden at eleven tenths.
Cevert's fatal accident at Watkins Glen in '73 gave Depailler a full-time drive with Tyrrell, for whom he won at Monaco in '78. The following year, more by luck than judgement, he rocked up in a championship-contending car when Gerard Ducarouge came up with the Ligier JS11. Jacques Laffite won the first two races in it but retired at the next three, so that when Depailler won round five in Spain, he shared the championship lead with Gilles Villeneuve.
In the five-week gap between Monaco and Depailler's home grand prix at Dijon, he went hang-gliding near his Clermont-Ferrand home.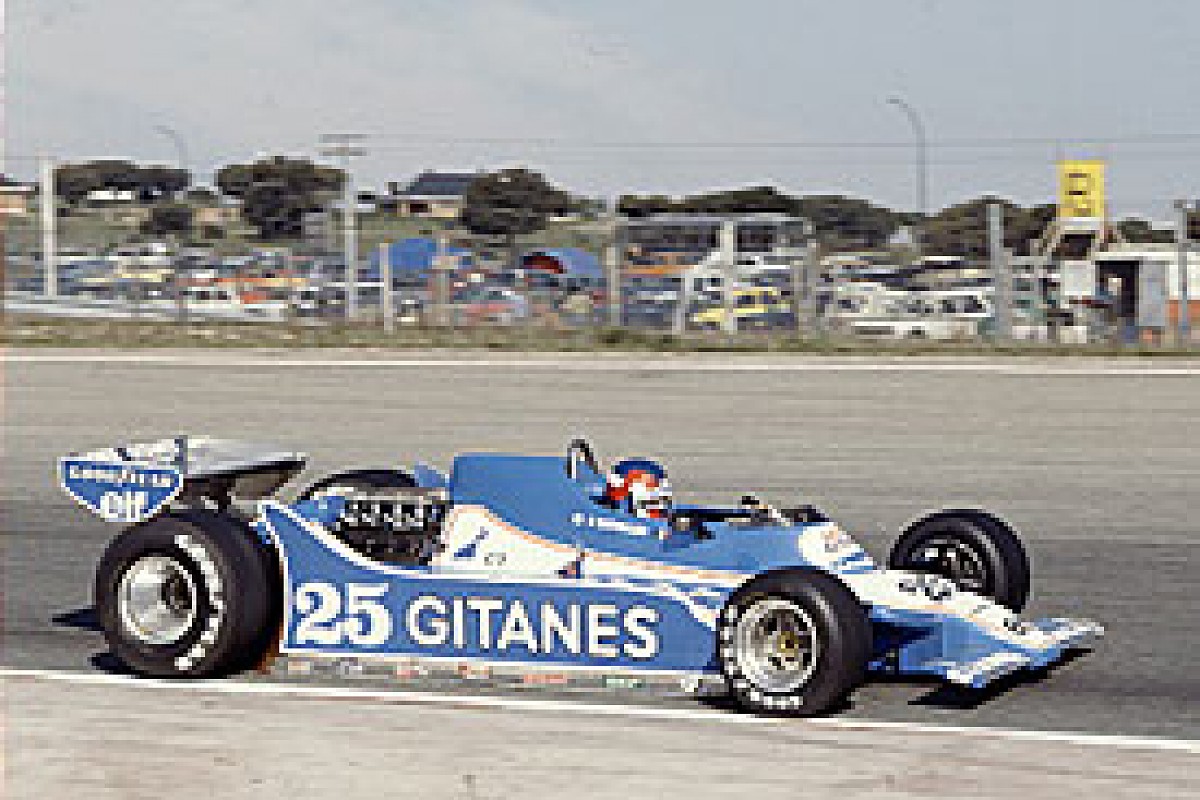 Patrick Depailler was in contention for the title in 1979 when he broke his legs hang-gliding © LAT
Many fancied the exhilaration of the sport but were sobered by that old hang-gliding maxim: take-off is optional but landing is compulsory... The stats at the time reported one fatality per two thousand participants, per year. A man like Depailler would have regarded those as laughably favourable odds but, of course, he wouldn't have known about them because men like Depailler aren't into risk analysis.
When he hit a rock face and broke both legs, ending his season, Ligier took a pretty dim view and that was the end of the association.
Alfa Romeo salvaged his career by putting him in alongside Bruno Giacomelli the following season but, despite qualifying third at Long Beach, Depailler raced in constant pain from his legs up until that dark August Friday in Germany. Poignantly, his fatal accident, after a suspension failure, came just over a fortnight after an awesome Brands Hatch pole and British GP drive from Didier Pironi, his Ligier replacement.
Pironi himself was another one. After sustaining multiple leg fractures at the same Hockenheim circuit in a Ferrari two years later, he never drove in F1 again but satisfied his speed craving in offshore powerboat racing until, in 1987, he reportedly stayed at full bore crossing the wake of another vessel off the Isle of Wight and crashed fatally, also killing a friend and a journalist.
Then there was David Purley, a man who personified courage and had a well-developed sense of humour. A former paratrooper who saw active service in Aden, the first time he jumped out of a Hercules transport plane his parachute declined to join in. He descended to earth atop the canopy of a fellow trooper who, one imagines, can't have been too enthusiastic about that...
I later read an interview with Purley in which he was asked his thoughts at that precise moment. "I figured I was probably going to overtake a lot of people!" he said.
Purley won the George Medal for his brave if ultimately fruitless attempt to rescue Roger Williamson from his burning car at Zandvoort in 1973. Four years later I was excitedly preparing to visit my first grand prix. I rang the Silverstone telephone information line, a relatively new concept back then, to discover what had happened in pre-qualifying. It told me Purley had been injured after crashing his LEC, which turned out to be something of an understatement.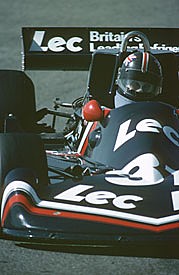 David Purley in his LEC © LAT
The son of LEC Refrigeration founder Charles Purley, David, at 32, was having a crack at F1 with a car designed by Mike Pilbeam and run by Mike Earle. He'd gone off at Becketts and the accident put him in the Guinness Book of Records as the survivor of the greatest recorded G-forces in an accident - momentarily 179.8g!
The LEC had decelerated from 108mph to zero in just 26 inches. You don't need much imagination to consider the implications for Purley's legs, pelvis and rib cage.
The remains of that first LEC chassis, all 26ins of it, could be viewed at the Donington museum. Later, I got to know Earle and he related how they had been removing bone fragments for some considerable time. Purley's recovery was agonizing and he apparently urged nurses and medical staff not to be sympathetic but rather to set him difficult targets and even goad him, because he would respond better.
You might have thought that would be it for the derring-do but, no, he took a second LEC chassis to the Brighton speed trials and then competed in the '79 British F1 Championship with a Shadow. A keen pilot, he also took up aerobatic competitions...
In 1985 I was in my first year with AUTOSPORT. In those pre-computer days there was no separate production staff and four of us, three of whom were also journalists, did whatever subbing there was and stuck the whole thing together with pots of glue and spatulas on Monday/Tuesday. Absolute deadline was 4pm Tuesday, by which time, if you were lucky, you might have seen a bed for about eight hours since leaving for a circuit in the small hours two and a half days earlier. There was a natural empathy with racing mechanics!
By Tuesday tea time you were running on empty a little and I distinctly remember the call coming through from the office at 15:45 Tuesday, July 2, 1985, to say that Purley had crashed his Pitts Special into the sea off the coast of Bognor and was believed drowned.
We had 15 minutes. Plan A was to rip the half page on an Argo sportscar off page 10 and bash out an obituary. But a proper appreciation of one of Britain's most popular drivers in a quarter of an hour was asking a bit much and Marcus Pye, the fellow who would have been tasked with it, said that Purley was the last man on the planet he would feel comfortable about writing off without a body! We went with a mug shot and a 'feared drowned' five liner instead, with a full appreciation the following week. Purley's death was confirmed later that same evening.
The point about Kubica and all of these guys is that risk-taking is in them, part of their make-up. Purley did not decry those of his generation who were pro-safety, he just wasn't especially interested in it. "I simply believe," he said, "that people obsessed with personal safety should never become racing drivers in the first place."
It's a fair point and I was interested to see the comments of Eric Boullier, Kubica's F1 team boss, last night. "Whether it's a Lotus, a Renault or a Skoda it doesn't make any difference," he said. "It's nothing to do with business. We've let him do it because rallying is what he loves to do. Rallying is vital for Robert and his sanity. Besides that, there is a reciprocal agreement. We knew the risks and so did he. We didn't want a robot or corporate man for a driver."
There are two very distinct ways of looking at it. The defence barrister will side absolutely with Boullier/Kubica and say that Robert is as good as he is because of the way he is and you don't get one without the other. People have to be allowed to live their lives and you have to accept the consequences.
The prosecution barrister will counter: rubbish, F1 has moved on, he's paid millions as a vital part of a 500-strong group spending six figure millions of dollars. At best he's got a 10-year career window and he's 27, not 15. He needs to grow up, focus, be professional, appreciate that his day job is risky enough and get his kicks later if he still needs them."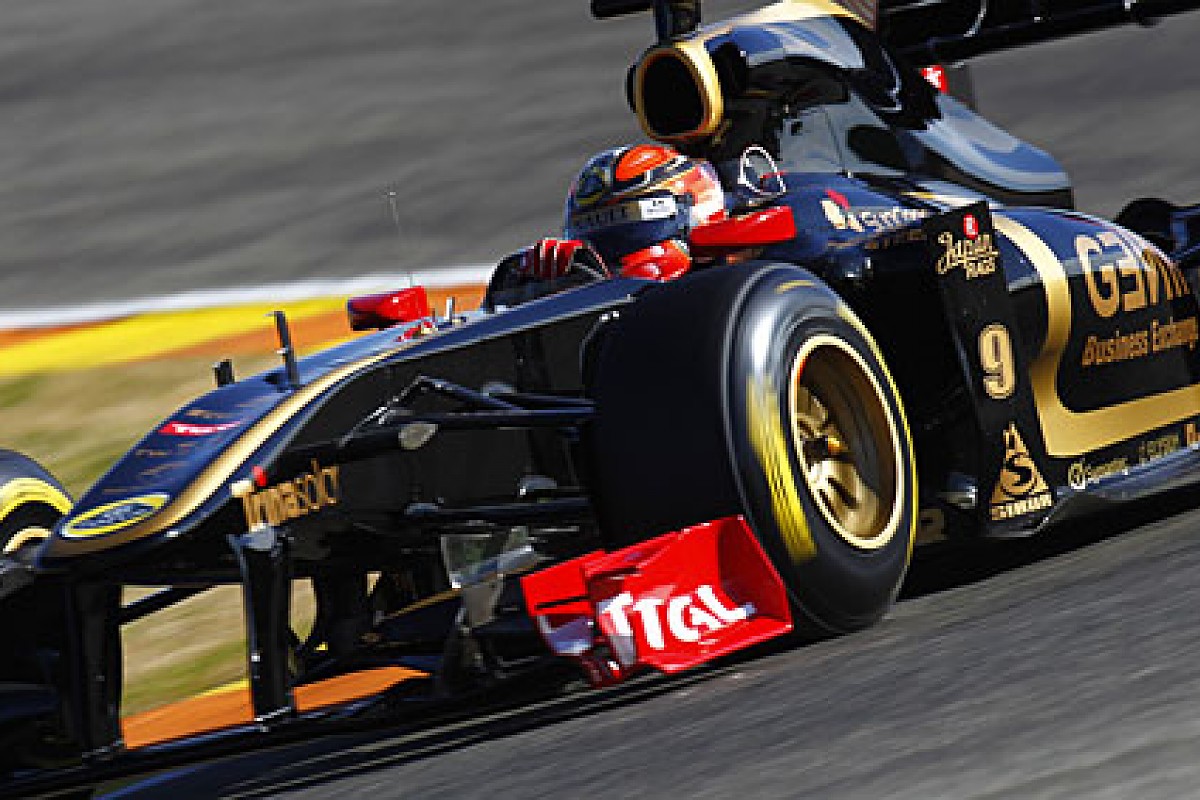 The two arguments are at opposite ends of a scale and I guess the one you lean towards depends on whether you're closer to being a card-carrying gambler or an accountant. At one point yesterday I'd almost convinced myself the prosecution had the stronger case, when I was accused of hypocrisy.
"Look at yourself," someone at home said. "You've got a snapped cruciate ligament, cartilage damage and arthritis in the same knee, you've been told that if you fall your upper and lower leg will likely go in different directions and you're going skiing five weeks before the start of a racing season from which you need to earn a living.
"You're too fat, haven't kept yourself fit and stand a decent chance of going over. You've got a non-working wife, a mortgage, two young kids, no income insurance and a bank balance a long way south of Robert Kubica's. So who's more irresponsible? It's just a matter of degree."
A bit of a brutal assessment, I thought. If you're thinking that only a wife or mother would put it quite like that, you'd be right, and the wife wants to go...
It's this question of degree that is a problem for F1 teams. First off, really top drivers like Kubica have big value to teams, recognise that, and often won't be dictated to. A journeyman by contrast, will sign anything to get his bum in a car. And you can write whatever you want into a contract but, as Montoya proved, chances are the guy will go right ahead and do it anyway.
And what do you actually include? Stopping them from competitive rallying might seem prudent, but what about the other stuff: riding motorbikes, hang-gliding, skiing? Take skiing. There's skiing and skiing. You or I might be happy swooping down a few red runs with the wife and kids, avoiding moguls with the crap knee, but a racing driver is probably going to pull on a pair of super-stiff boots and see how quickly he can hack down the Hahnenkamm.
Two very different things.
Whatever you think, Boullier and Renault clearly now has a massive problem. At such a time one of the most significant benefits of the Red Bull/McLaren approach - having two top guys in your team irrespective of potential management hassle - is crystal clear.

Everyone at Enstone and Viry must be feeling pretty sick this morning. Never underestimate the motivating, galvanizing effect brought about by having a guy like Kubica in your car.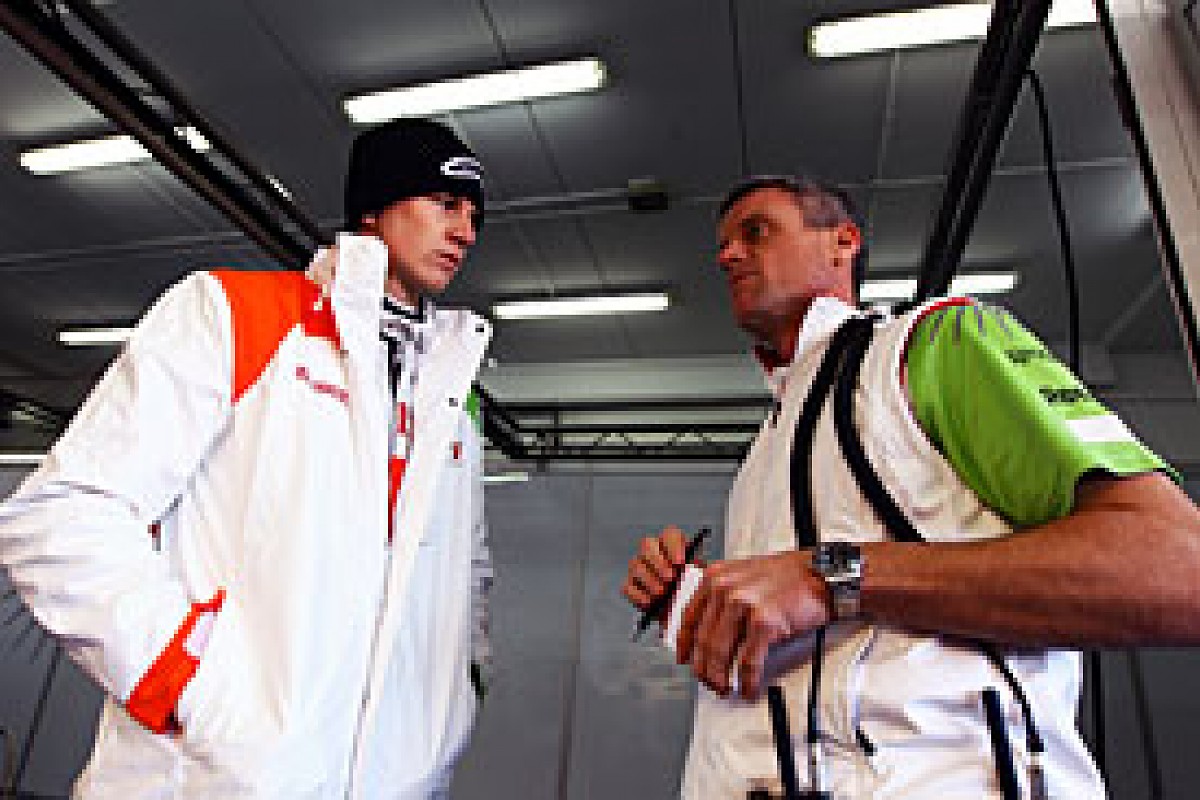 Could Nico Hulkenberg be the man to take over Kubica's seat? © LAT
They know all about it having had Michael Schumacher and Fernando Alonso in one of their cars previously. While we all wish Kubica the very best, nobody will know Robert's recovery prognosis for some time. On television last night the chief surgeon was talking in terms of 12 months. Without wishing to sound insensitive, Bahrain is less than five weeks away and Renault needs drivers in the R31 at Jerez this week.
So what does it do? I have no idea. All leading teams will tell you that you should have at least one experienced driver to avoid going down blind alleys, especially with limited testing. It's one of the reasons Williams fell in love with Rubens Barrichello, whose feedback is renowned to be among the very best.
Sauber put Pedro de la Rosa/Nick Heidfeld in one car alongside a rookie Kamui Kobayashi last year but has taken a bit of a punt with Kamui/Sergio Perez this time around.
Heidfeld, of course, is still around and would probably do you 98% of a job. Ditto, Pedro. The idea of Bruno Senna in a potentially front-running car will make the marketeers go all gooey and it's hugely ironic that only seven days ago, his manager Chris Goodwin was telling me of Bruno's need to be patient...
It would be great for Senna to be given the chance but will Renault go with two guys with a year's experience each? Willi Weber will no doubt be on the phone putting the case for Nico Hulkenberg, who also has just a year in F1 behind him, presuming that Force India can be squared away. It's a tremendously tough call.
If I was in Boullier's shoes I might just think back to that Interlagos pole and take a stab at that. I'm just glad I'm not...