Back in December 2009, when the news first broke that Eric Boullier was to be appointed team principal of a shell-shocked Renault F1 Team - at the time still dealing with the traumatic aftermath of 'Crashgate' and persistent rumours that parent company Renault was about to exit the sport - the then-36-year-old declined to confirm his appointment as team principal. But, he told this column, "if there are any developments in that direction, you'll get the first interview".
True to his word, within minutes of his appointment being announced a few days after New Year came a call from the team's PR department. 'Eric would like to offer you an interview,' was the gist of it.
Despite being an intensely private man, Boullier opened up sufficiently to provide an insight into his management style and motorsport background, plus his plans for the once-proud multi-championship-winning operation that had recently lost its way. From back-to-back titles in 2005 and '06, Renault slumped to a distant third in the hunt (fourth if disqualified McLaren is factored into the equation); from there it went from bad to shocking: race fixing.
Thus in early 2010 the man with the Tintin-esque kuif realised his major challenge lay in returning Renault to respectability by restoring morale. This was no easy task considering what had gone before and that he was stepping into an office most recently occupied by Flavio Briatore, formerly categorised by many as the best man-manager in the business even if the flamboyant Italian's reputation was to become indelibly tarnished. Two more different individuals one could not imagine.
A year on it is time to take stock. Respectability has been achieved, as proven by Renault's fifth place in the constructors' championship, and two podiums from Robert Kubica who finished ahead of Michael Schumacher in the overall classification.
We meet in the team's black/gold hospitality unit after lunch, on the day after the first Renault F1 car designed entirely during Boullier's tenure was unveiled.
Cars are pounding the Circuit Ricardo Tormo nestling in the low hills north-west of Valencia, and the (former Toyota) motorhome is a hive of activity as Russian media folk interrogate all and sundry on Vitaly Petrov's championship chances.
First off a nicety: Having launched the (Lotus) Renault R31 (despite a wholesale change of ownership the team retains its name through to the end of 2012 to comply with the terms and conditions of the 2010-2012 Concorde Agreement - the tripartite covenant which governs, amongst other aspects, distribution of the sport's $1bn annual revenues. Lotus of course denotes the sponsorship of the team by the sportscar manufacturer.
How did Boullier view the big day? "Interestingly, we had a lot of changes in the team, so a good launch yesterday, I guess. Well organised, well covered, and I think it was good in the end. We have other things to announce, to tell, new livery, new sponsors...' he summarises before explaining the role Sir Jackie Stewart will play with in the team.
"He came as a business partner on (team owner) Genii (Capital), so he's not related to this team actually. But as he is related to Genii, which owns this team, he will be coming [to the races] from time-to-time."
The clarification provides an ideal opportunity to establish the ownership of the team, which has been much speculated upon of late, particularly by folk who would not know the back end of an F1 car from a barn door.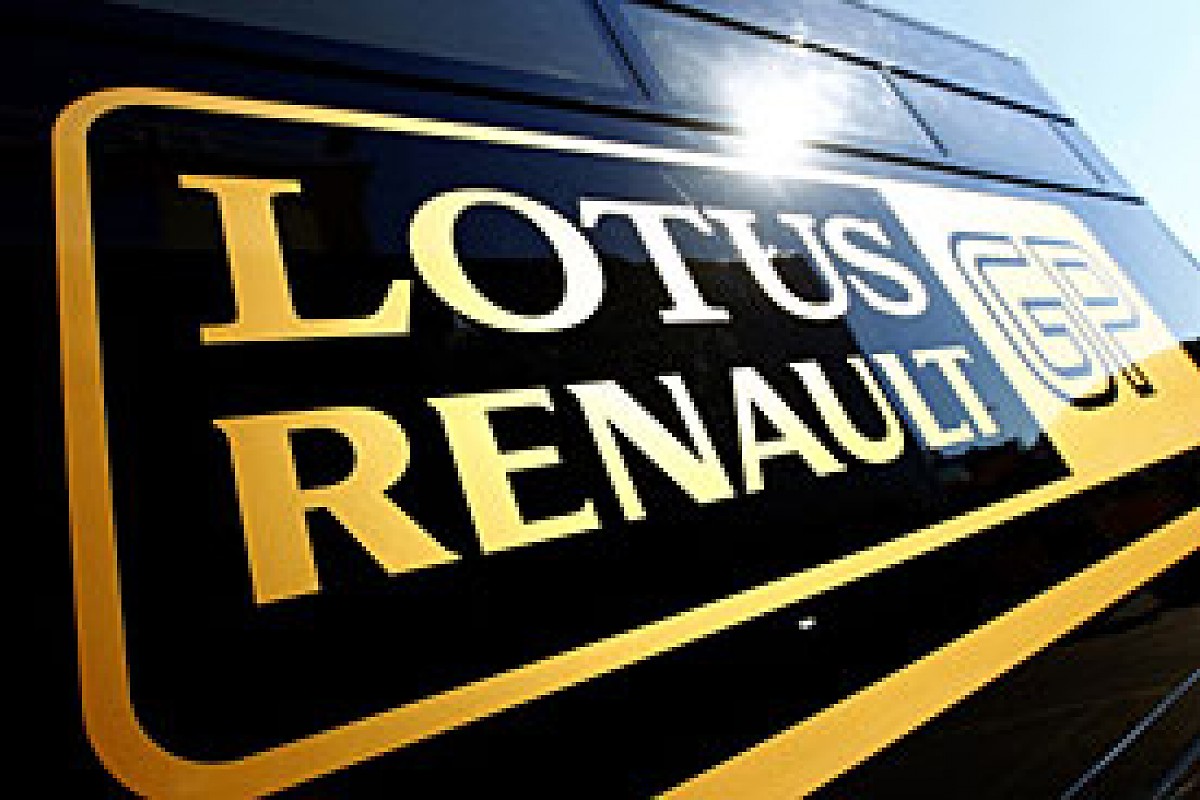 Lotus Group sponsors Renault in F1 in 2011 © LAT
"Genii now owns 100% of the (Renault F1 Team) company," says Boulier, an answer which does not, though, provide clarification as to who owns the Luxembourg-based venture capital company, and, therefore, the ultimate owners.
"Gerard (Lopez) and Eric (Lux), yes, they own it," he confirms, referring to two venture capitalists and (F1 nuts) who have accumulated a multi-billion portfolio of (predominantly hi-tech) investments. They own Genii Capital, and Genii Capital owns 100% of the team?
"Yes, exactly."
And (Group) Lotus has an option on a percentage on the team?
"Yes, (but) It will not be a majority."
Never?
"Never. For the option, I don't know in five years, but... That's it (for now)," he allows, before confirming that the option expires at end-2012 - concurrent with expiration of the 2010 - 2012 Concorde Agreement and indicating that Group Lotus, currently embroiled in much-publicised litigation with Team Lotus, could officially assume full naming rights to the team should Genii so permit.
The Lotus position opens interesting possibilities, for Group Lotus is as respected for its engineering services as for road cars. Is the intention for the Group to consult to the F1 operation?
"So far we have not... We have raised the point, but we have not discussed anything related to this," says Boullier. "It is never easy to mix, let's say, the normal engineering from road cars with Formula 1 specific technology. We will see how it is with the relationship... but it could happen."

Interestingly the team's engine contract with Renault Sport F1 (as the revised engine operation is now known) runs to end-2013, i.e. a year into the FIA's new low capacity, hi-tech engine regulations, raising the possibility that Renault could depart at the end of 2012 rather than commit to an engine programme for just one year. Boullier is, though, confident the partnership is rock solid.
"The new engine is coming in 2013. Renault are clear that they are coming for the new engine. In our contract, the first paragraph is always about duration. So there is a duration to our contract," he says.
Renault was one of the prime movers behind KERS, yet, somewhat ironically, was one of the first teams to drop using its (Magneti Marelli-sourced) device in 2009. Now that the hybrid energy device is back, will Renault be using it full-time throughout the 2011 season?
"Yes," Boullier confirms before making clear the team believes maximum benefit will be derived during qualifying and the start, rather than during races. "Because the change of regulations compared with 2009, the KERS system will not be a strong asset during the race, mainly for qualifying and the start.
"I think that I have to praise the guys, the design of this, and our designer, because they did a very good job of integrating this KERS without affecting too much the car balance or the car weight," he says, conceding that the fixed weight distribution as mandated by the FIA has certainly been a help, even if the regulation was introduced for a different reason. Namely to assist car designers firm up their 2011 cars before the precise characteristics of Pirelli's tyres were known.
Retaining the robust Kubica always was a given; however the retention of the at-times erratic Petrov raised eyebrows in certain quarters, particularly given the availability of such as Adrian Sutil and Timo Glock. Boullier's rationale?
"I think Vitaly, maybe... he had more downsides than higher during the season," comes the frank assessment, '"but he definitely had a couple of occasions with performing very well, especially Abu Dhabi," laughs Boullier as Fernando Alonso is mentioned... "It took us, me, actually, some time to make sure he understood what he needed to do to be able to race every weekend like Abu Dhabi. It needed some time for me to be confident he understood. Today I think, and I trust myself... I'm convinced, basically, that he will be doing it.'
It's ventured that certain team principals would sell their wives if it led to a tie-up with a motor manufacturer, yet this operation sports no less than three car company logos: Renault, Lotus and Lada. Boullier responds: "It's a fact of life, I mean, two of them, already - one belongs to one of them, so... We are now finalising a new, let's say, commercial structure which will make us even better for the future.'
He admits that SNORAS, the Lithuanian bank thought to have held a lien over the team after providing bridging finance, has severed its relationship ("it was not expected to last for more than 2011"), and that HP, too, has no presence on the car, but adds that there are sound reasons for the latter.
"Basically, for the last 10 years manufacturers were in F1, and most sponsorships were related to the business-to-business manufacturers could bring. HP was an example of this, where they came here because of Renault - the car manufacturer.
"With the change now since one year, with the manufacturers changing their F1 strategies, a lot of teams - especially a team like this - have to face some renewal of portfolios. So HP, in fact, wants to stay with us, and we should announce soon in which way they will, but it will be a different sponsorship model."
The upside, though, is that the team is able to leverage companies via parent Genii: "Actually... Genii activation, let's say, has really, really worked thanks to Formula 1. We have a lot of discussion now, and Lotus is an example - Genii was talking to (Lotus owner) Proton about technology for Lotus, and it ended in Lotus title sponsorship for us. We have some other contacts, which could add up, mainly another big one, another big sponsor thanks to Genii activation." An announcement is expected, he adds, "not for Bahrain, but Malaysia".
The end of this month sees all teams face their day of reckoning: In terms of the Resource Restriction Agreement they are required to provide audited figures to the Formula One Teams Association to ensure compliance with the document. Is Boullier comfortable his numbers stack up?
"110%, no stress at all," he says. "Because we have... Our biggest strengths, let's say, are our external expenditure. We are working a lot on improving the process internally - manufacturing, communication internally... And thanks to this we will be able to improve our productivity in terms of development a lot. Which means we will make more components in-house a lot, which means at the end less external expenditure, which allows us to have more headcount. So the balance should be fine."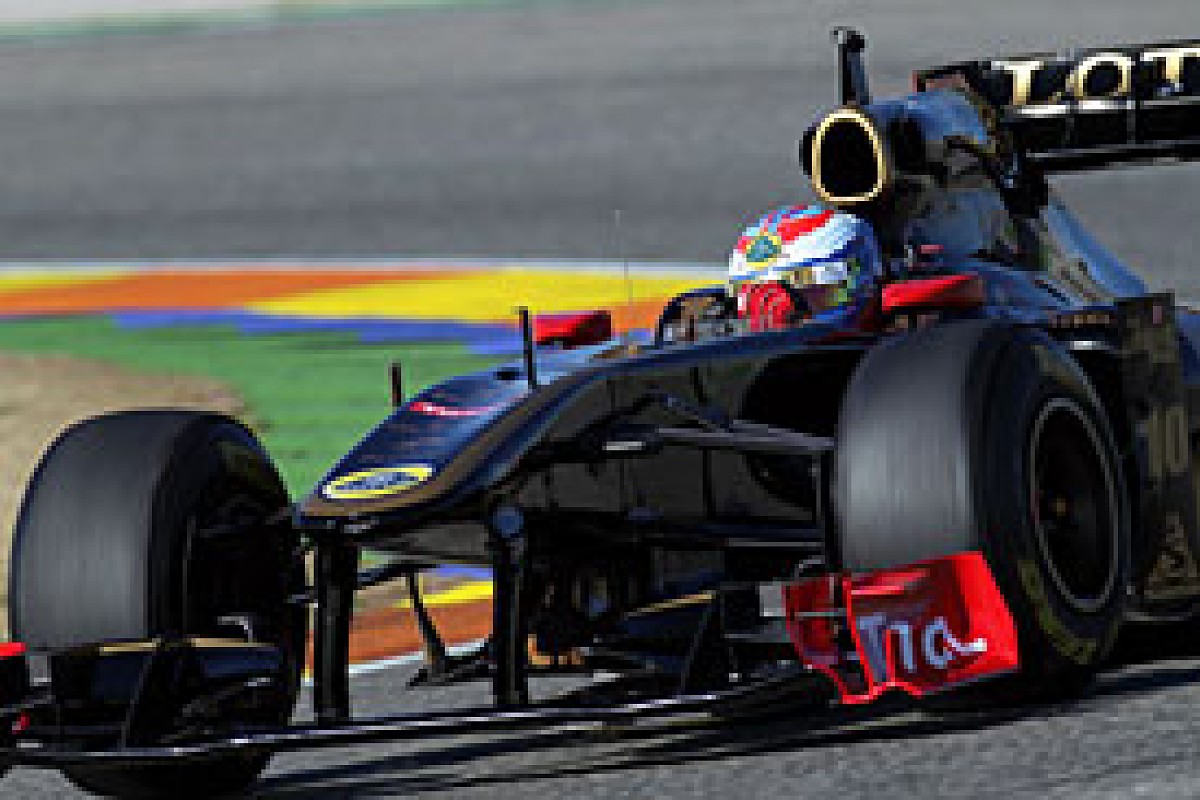 Vitaly Petrov drives the new Renault R31 at Valencia © LAT
At present the team known as Renault produces approximately 60% of its car in-house - excluding engines, but including most transmission components. Are there plans to ramp this up?
"We can improve up to maybe 80%," he says, adding this figure presents "no problem" within the RRA. "What we are saving in, let's say, the external expenditure..."
And can be put into headcount?
"Maybe, maybe not. I mean, we have a limit on headcount now. Depending on what we will achieve in terms of efficiency... Depending on what we are able to achieve, that will define our headcount.
"Today we are at the right number of people. We will then see how much we can play with the numbers if we need to. If we need to improve the number of headcount, if we can do it under RRA conditions, then we will do it."
It's put to Boullier that, due to the RRA his opposition has turned increasingly to outsourcing. Is insourcing thus the way to go?
"I believe this is, yes. Because you can have better quality control, better reactivity. If you have a good process between the design office and the production floor, you can increase your efficiency, and definitely your flexibility as well. So for me we should go that way,' he says, adding that sufficient space at the Enstone factory is available for such expansionist activities. "We just need to readjust some departments."
Readjusting, redefining, realigning, resources - as much part of Eric Boullier's job description as is winning. Yet, a little over a year ago his only access to an F1 paddock came courtesy of a GP2 pass...