The 2011 Formula 1 season will officially get underway on Friday when Ferrari becomes the first team to pull the covers off its new car. After that, attention shifts to Valencia in Spain where a host of other teams will reveal their challengers.
Valencia will also be the first occasion when world champion Sebastian Vettel will get to drive with the official #1 on his car - as Red Bull Racing returns to the track for the first time since that triumphant evening in Abu Dhabi last November.
For team principal Christian Horner, the forthcoming test marks the start of what looks set to be yet another fascinating battle for title glory - and one that fans hope will throw up as much drama as 2010 delivered.
So, as excitement builds up ahead of that Valencia test, AUTOSPORT caught up with Horner for a final look back at his title-winning 2010 campaign - where he reflects on the success, the troubles of Turkey and Silverstone, the strengths of Vettel and the challenges that he faces for 2011.
Q. The 2010 campaign is a distant memory, and all the focus is firmly on the season-ahead, but how do you look back now on what Red Bull Racing achieved last year?
Christian Horner: When you look back on 2010, it was a phenomenal year for the team and for Red Bull the company. To have won both world championships, nine grands prix, 15 pole positions and four 1-2 finishes - it was a remarkable achievement. And what people forget is that we haven't been around that long. The progress we have seen in a very short space of time is quite unique. Some teams we are up against haven't won championships for more than a decade, so to have come in and achieved that is something special.
Q. When did you get a first proper understanding of just how good the RB6 was going to be? Throughout testing, for example, many people thought Ferrari held the edge.
CH: I think that is the danger of testing. We adopted a policy in the last couple of years where we have really just focused on ourselves, and that meant we went about our business in a low-key manner, doing our homework. There are no prizes for testing times - and it is obviously easy to get carried away. At one point even the Sauber looked to be very quick in winter testing.
The most important thing is what you do during a race weekend. That is where the points are. We obviously turned up in Bahrain, qualified on pole position by a comfortable margin. It was only in Q1 that you got to see the car's true potential.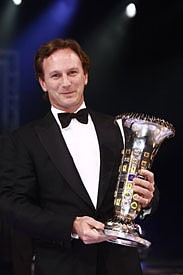 © LAT
Q. Was the team totally sharp and ready to make the most of the machinery it had at its disposal when the season started?
CH: I think, yes, the team was. We took an aggressive stance on launching the car late. We were then delayed by wet weather that seemed to follow us around Europe, but I think the team was absolutely ready. We finished as the team to beat in 2009 and we carried that into 2010.
At the beginning of the year we were very, very unlucky with a spark plug failure in Bahrain, then the wheel nut in Australia, but I think from an operational point of view the team absolutely delivered.
Q. Why do you believe many of your rivals were unwilling to accept that you had done a better job - as from the very first qualifying session the sniping started as you were accused of running a ride height control mechanism? Then followed talk about your suspension, the flexi-wings and now your spending...
CH: Unfortunately it is a trait of the sport that if a competitor is quick, and people don't understand why they are quick, then they must be cheating. We obviously had several accusations raised against us during the year, and even post-season, but I take that as a compliment that our guys have done a very, very good job. We tend not to pay too much attention to it because it is a distraction more than anything else.
Q. By Barcelona/Monaco-time you were well into your stride and it appeared that you were well on your way to the title. But then you had internal setbacks with the politics of Turkey and Silverstone. How hard were those moments to deal with?
CH: Obviously we went within two weeks from having the best result the team had achieved in Monaco, with a 1-2 finish at what is arguably the biggest race on the calendar. Then we had a major low.
But it is inevitable when you have two guys who are allowed to race each other going for the biggest prize in the sport, that they push each other to the limit. Unfortunately, on that day they pushed each other too far - and there were probably a few comments that were made after the race that should not have been. If that accident had have happened and they had been fourth and fifth, it would not have been such a big deal. And let's not forget that the Ferrari drivers touched at Silverstone a few weeks later - and because they were further down the order then it didn't matter.
So, it was a challenging time but the most important thing was to deal with the issues head on to get the relevant people around the table and confront the issues. I think that is the most important thing. We then had the terrible accident of Mark [Webber] in Valencia and he was very, very lucky to walk away from that totally unscathed.
Webber and Vettel's collision in Turkey © LAT
Q. What were the key lessons that came out of Turkey for you, because it was not just what happened on track, there was the post-race reaction and the mixed messages coming out of the team from Helmut Marko and yourself?
CH: Red Bull is a young team. It gives more access to its drivers and personnel than other teams do. I think that is one of the strengths and appeals of our team to the fans and followers that we have. Inevitably at every grand prix you can learn something. On track the drivers learned, and the team learned. Everybody learned, but it was a headache that some people would have dreamed to have had.
Q. The Silverstone front wing issue blew up very quickly in the minutes before qualifying. Could you have handled that one a bit better?
CH: With 20-20 hindsight - there were a combination of factors that led to that decision being made. Adrian Newey and I made a decision based on logic and with hindsight, but I think both of us perhaps assumed that the other one had spoken to Mark before qualifying. That didn't happen and I regret that that didn't happen, but we took a lot of time after qualifying to explain the rationale behind that - and felt that it had been dealt with. A bit more was made of it, and it achieved far more attention, than it ever should have done.
Q. While you were dealing with the difficulties that came from trying to keep things equal within your own team, was it not a bit frustrating that Ferrari threw all their weight behind Fernando Alonso in such a blatant fashion in Germany?
CH: We didn't change anything. We have always treated both of them equally, so nothing changed in the way that we wanted to treat the drivers. Since the day that Mark Webber joined the team in 2007 and Sebastian in 2009, nothing has changed in principle.
Q. How much were you having to lift Sebastian's spirits up during the late summer then - with Webber suggesting about favouritism towards him, what happened in Hungary when his plan to help Mark backfired and Spa when he collided with Jenson Button?
CH: Sebastian has got very broad shoulders. At the end of the day, everybody is human and he came under a lot of criticism - a lot of which was unfair in the latter part of the summer. But it is testament to him and his character, that he never lost belief or sight that he could win the championship.
He felt that he had got the support of the team. And, he had so much bad luck at different stages of the year - some of which was self-induced. Races like Bahrain, Australia, and Korea - they were all races he should have won, or was in a position to win, and things beyond his control or beyond the team's control in two of those instances, cost him the victory.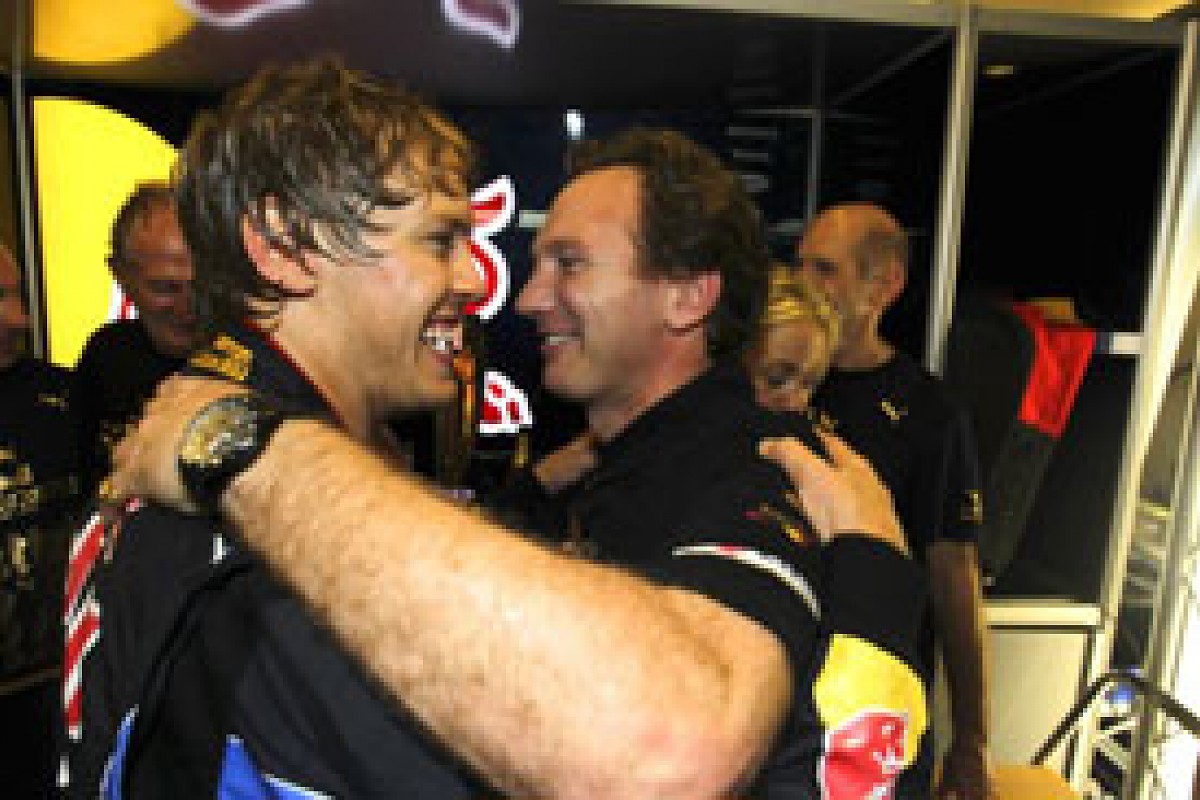 © LAT
Q. Even after Spa, people were saying his championship was over and he kept saying: "I am going to win this title". There is a steely determination there, isn't there?
CH: Absolutely. He never, ever gave up. And while there was a chance, he was pushing and fighting. I came under a bit of pressure to effectively nominate a driver, and the media were expecting us to nominate a lead driver, but while both drivers had a chance we elected to back both of them absolutely equally.
Q. Mark certainly played a good game in the press of trying to play up that situation. Inside the team, was it difficult juggling what he was talking about and wanted against keeping Sebastian happy too?
CH: I think the most important thing is to play a straight bat - and give both of them the best chance that we could. We did a good job of doing that and, as the championship demonstrated, if we had have backed one over the other, then it would have been wrong. So I think the approach that we took ultimately delivered.
Q. What was the secret in the end to Red Bull triumphing when all the cards appeared to be stacked in Ferrari's favour on race morning in Abu Dhabi?
CH: A lot is made of that one race but a championship is won over a season. At the end of the day, we decided to take a more risky approach with Mark because he had nothing to lose. He was running in P5 at the time, and he came on the radio and said he felt that his rear tyres were starting to go. So we said, okay, let's take the early stop and go for it.
We did not expect Fernando to cover that. It was always the far more risky strategy, but for whatever reason they elected to go that route and it obviously worked out fantastically well for Sebastian, who had a perfect weekend.
Q. Sebastian's reputation and image turned totally on those last few races - and the weight of the world seemed lifted from his shoulders afterwards. Do you agree that he seems back to the smiling, happy bloke we knew at Toro Rosso and in the early RBR days?
CH: I think he went into the last flyaways with the view of, 'I am going to try and win every one of them'. And he very nearly did. Singapore, were it not for a slight mistake in qualifying, he would have been on pole position and would have won it comfortably.
In Japan both drivers dominated that event, and in Korea he was desperately unlucky having got himself into a very commanding position. You only need to look at the state of the tyres of the leading guys to see that he was in very good shape. Then, obviously, in Brazil and Abu Dhabi he was great. He hit a stellar patch and top form at just the right time.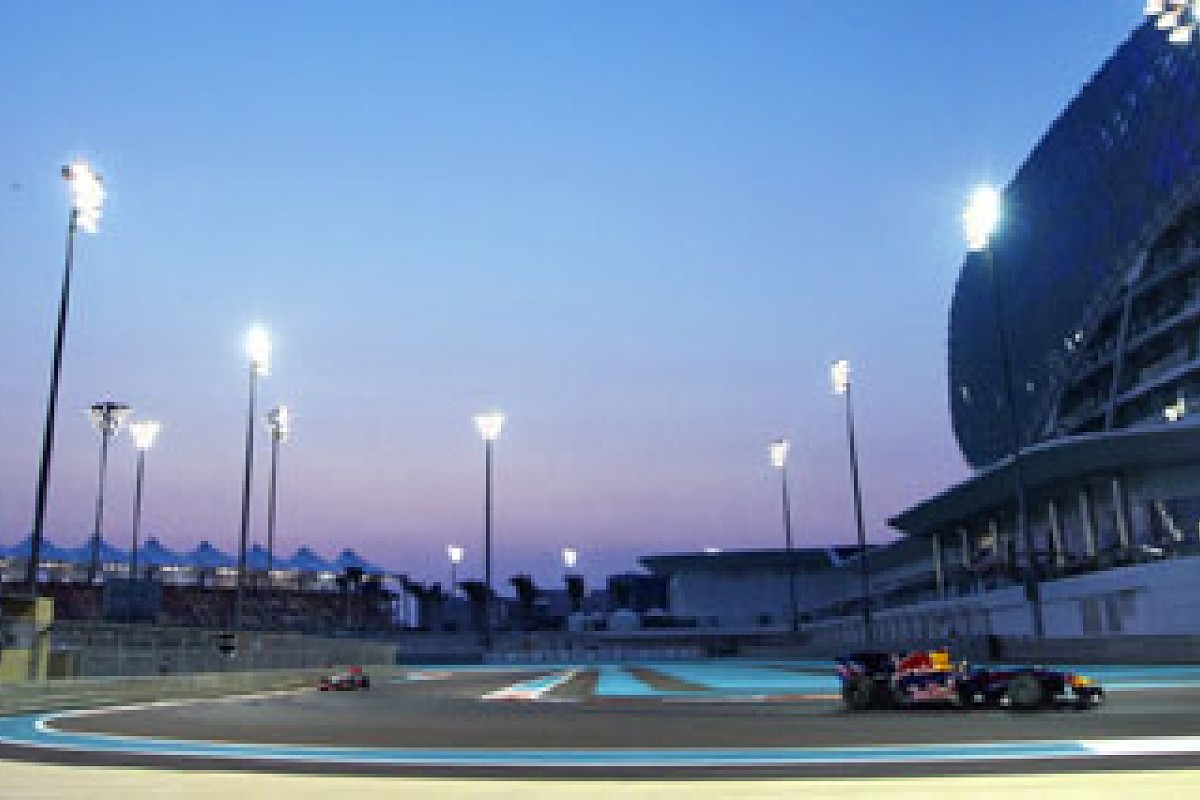 Q. Can you see the momentum he built up at the end of last year carrying forward?
CH: I think with Sebastian, he is such a young guy, so it is inevitable that he will get stronger and better. For sure, he improved and improved during 2010 and I think now, even at such a young age, having a championship on a CV means that you will see him continue to grow as his experiences does.
I think he will continue to develop. He has a very strong work ethic. He works and takes his preparation to the sport very seriously, and I think we are still to see the best of Sebastian Vettel.
Q. What about the team itself? Do you feel it is ready to take another leap on in 2011?
CH: I think what we achieved in 2010 is phenomenal. We go into 2011 as the reigning world champions and, of course, the target is to try and defend both of those titles. But we must not underestimate the power of our rivals - and the heritage of teams like Ferrari and McLaren who are teams with great histories. Mercedes too, you cannot forget them.
We don't underestimate the scale of the challenge. Who would have thought that an energy drink company would take on the might of Ferrari and McLaren and win the world championship? Well, we've achieved it, and the motivation is sky high within the team. I think we have a unique spirit within the team, a unique atmosphere - and 2011 is going to be a challenging year with 20 races - but our target is to repeat and better what we did last year. We accept that is going to be very, very difficult to achieve.
Q. Do you feel personally that you have grown more into the role of a title-winning team boss and you will be better prepared the next time there is a Turkey or Silverstone-type incident?
CH: You are always learning. When I came to Red Bull at the beginning, there was a very clear target. There was a vision that Dietrich [Mateschitz] had and I have managed to deliver on that. What we have achieved in a short space of time is quite unique, but it is not about me. It is very much a team effort and it is down to working as a team that we have managed to achieve what we have.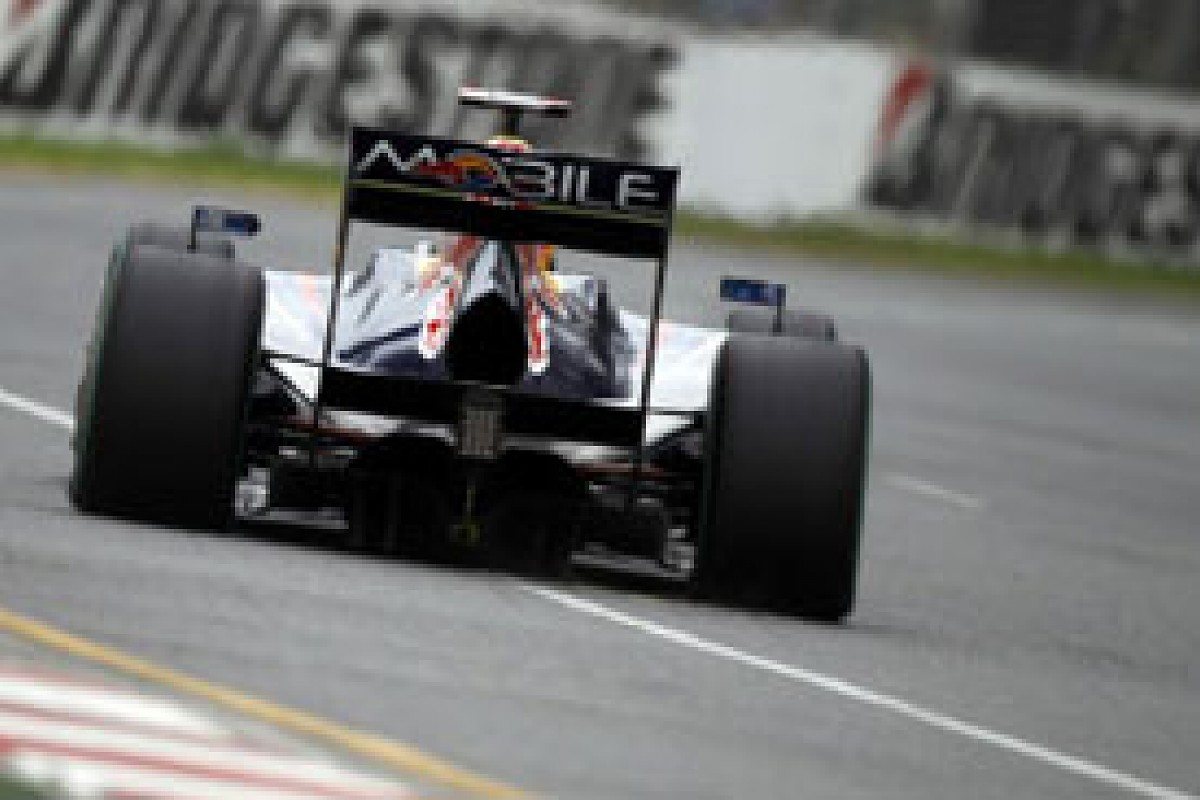 © LAT
Q. Do you think the sniping against Red Bull will continue in 2011?
CH: It is inevitable while we are quick, and that is unfortunately a trait of being successful. So you have to put up with it. We tend to take little notice of it. We will focus on ourselves.
Red Bull is the most exciting team in F1 at this point of time. With what we managed to achieve, with the drivers we have and how we go about our business, it is different to others. It is that spirit that has enabled us to achieve what we have so far. And obviously, there is a big difference between thinking you can win and knowing you can win - it is like a driver winning a grand prix for the first time. Red Bull Racing goes into 2011 having achieved that benchmark.
Q. How wary are you of the new regulations and the impact they could have on the order?
CH: There are some big variables, and there is no guarantee that form will continue from Abu Dhabi. Perhaps we should have had a chassis freeze! There are some big variables with KERS, moveable rear wings and tyres in particular - they are all things that are big unknowns at the moment. It is not going to be until we get to Bahrain that we see what the pecking order looks like. Then, as development changes through the year, different teams will have different strong periods.
Q. Away from just your team, last year was quite quiet politically as FOTA made progress. 2011 has already started with controversy over the Resource Restriction Agreement, the HRT row, and talk of rising tension between Jean Todt and Bernie Ecclestone. Are we in for a more troubled year?
CH: I don't think so. There have been some stories creating headlines because there wasn't much more news. Once the cars start running again, then we will be back to the racing. The great thing about 2010 was that 90 per cent of the focus was on the racing. It was one of the best seasons that F1 has had racing-wise for a long time, and all the ingredients are pretty much the same for 2011.
So I think it is going to be a fantastic season. Inevitably if we are quick, there will be a bit of sniping - I think people are just uncomfortable that Red Bull Racing, in such a short space of time, has managed to achieve what it has. But that is what happens when you run at the front.