Pat Symonds may never be able to totally escape the shadow of the events that took place at the 2008 Singapore Grand Prix - but for him, the fallout of it has at least served as a reality check to help him appreciate the Formula 1 world even more than before
As part of an agreement reached with the FIA after the Singapore case, he is not allowed to work for an F1 team until the start of 2013 - but that has not stopped him keeping close to the world of grand prix racing.
The high-regard he had inside the paddock, the vast experience he gained through more than 25 years of motor sport engineering, and his huge databank of knowledge - allied to the remorse he expressed about whatever role he played in Singapore - mean he is far from being shunned by the F1 world.
His own engineering consultancy - Neutrino Dynamics - does work both inside and outside of motor racing, and he is keen to expand his involvement in F1 in the future, even though a full-time return is not on his radar.
And while Symonds may still be the subject of intense debate among fans, one thing is certain - his intelligence and passion as a racer means he remains hugely qualified to offer informed opinion about the state of F1, especially when it comes to the intricacies of F1 regulations.
AUTOSPORT caught up with Symonds to discuss his views on current F1 - and gauge some fascinating insight into overtaking, why he believes FOTA has delivered huge positives for F1, the sport's culture of secrecy, why he enjoys writing on F1 and whether he would like to get to return to a paddock job.
Q. So, what have you been up to since we last saw you?
Pat Symonds: I've been working as a consultant during 2010, and doing quite a broad range of things. I am doing some stuff for a sportscar team. I have done some work on a hydrogen engine. I've been looking at valves in oil rigs and I've been talking to companies about how to put their teams together.
Pat Symonds and Flavio Briatore © LAT
I've also looked a lot at innovation - telling companies about how to get a culture of innovation. They are the things that I like doing. I did a little bit of work with one of the teams that was trying to get into F1, but unfortunately that came to nothing. And I am hoping to do some more F1 work.
So really I'm doing some quite varied stuff. It is quite enjoyable, and I am actually spending some time at home as well - which is nice.
Q. Has it been a bit of an eye-opener for you, stepping away from F1 and viewing it a little from the outside?
PS: Absolutely. It is very interesting. When you are involved, certainly when you had the sort of role that I had, I felt that I was getting a good overview of things. But in reality, when you step away from it - you realise that you are too involved in everything. You get a much better overview sometimes just by stepping away. So that has been quite enlightening.
Q. And I guess you've seen firsthand how engineering skills developed in F1 can be used beyond just making racing cars go fast?
PS: I still keep up with my engineering - and basically I still do my race analysis in the same style that I used to. I have written programmes over the years to help me do my analysis. I have my notepad and my computer - and things like that. I certainly keep up - and that is what I do with some of the technical pieces that I write. I regard my writing very much as my hobby, it is nothing else. But with it, I try to push the boundaries, and have to research things a lot. So I am continuing to learn and that is great fun, of course.
Q. Is there anything particular about F1 that has surprised you being on the outside?
PS: It is quite interesting watching it from the outside, without having all the knowledge that is available. I have a lot of friends in the sport, so I watch a race and often on a Sunday night I can phone up somebody in just about every team and talk to them about certain things - especially those elements that haven't really got across.
I really don't think F1 does anywhere near enough to publicise the semi-technical things. I am not saying everyone wants to know the ins-and-outs of every team's nuts and bolts, but I think there are some aspects of F1 that we don't self promote very well. So I hope I am doing a little bit of that and understanding it a little bit better.
Q. What are the things that you believe the teams could do a lot better for fans?
PS: Basically the teams are too secretive - and unnecessarily so. If McLaren developed the F-duct over 2009, then of course they have got to keep it secret. But once things are out there - and by Spa [last year] I think everyone had an F-duct on the car - why are they so reluctant to talk about it? I could figure out how it worked, I could write about it and I did.
Maybe it is going to come, but the 2013 powertrain regulations are the result of a really, really excellent job. I think the guys who put that together - the engine group and the FIA - have done a super job. But, they should get out and talk to people about it. Publicise it. It just seems to be so under wraps, and that is such a great shame.
Q. Is that simply the result of the intense competition in F1?
PS: Oh yes, absolutely. That is exactly what it is. But there are certain things that are key to that competition. Of course people want to keep things confidential, but there are other bits that everyone [within the teams] knows about - so why not pass it on and say: 'look, this is how it works.'
A classic example of this was a few years ago when we were qualifying with fuel. I suggested that we publish the fuel weights so the journalists would know what the real situation was. But there was a real reluctance to do that. I said to everyone, 'look, we are all calculating what each other's fuel is. We all know, within a lap, what the answer is. So what is the difference to publishing it - other than it would save us all a load of work anyway?' There was a reluctant, 'Oh, yeah, I suppose so.' And that was for information that everyone had!
Q. Do you sense an element of this attitude changing now that FOTA exists, and changes are no longer dependent on getting a unanimous verdict?
PS: Absolutely. I think this is the most fundamental thing that has happened in F1 in years. There used to be this terrible thing where one team could veto rule changes, and it happened time and time again. When we had 10 teams, you would have nine teams in agreement about something and one would veto - and it meant things were stagnant.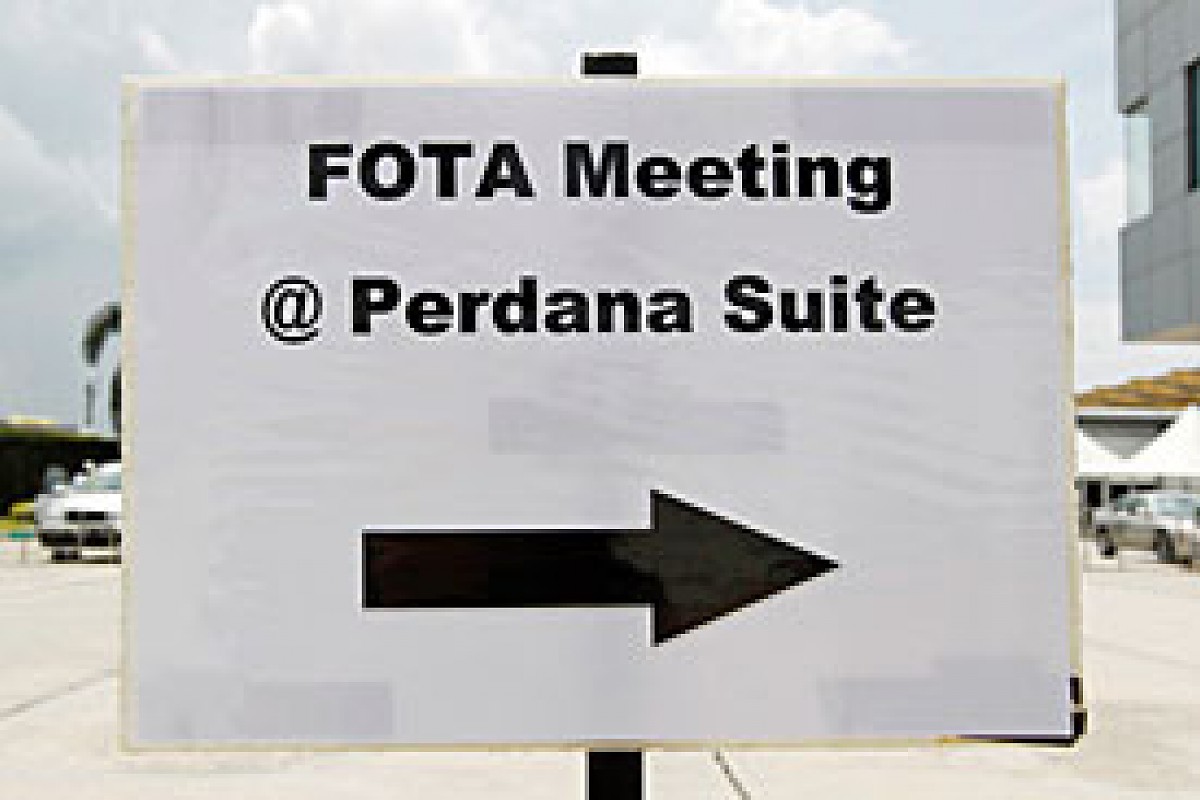 Symonds reckons FOTA is working better now © LAT
With the new 70 percent rule that FOTA has - in that if there is that vote in one of their meetings then it will be taken as a unanimous view to the FIA - you will get change. And that is a great thing. FOTA is doing a super job I think. It is taking a very pragmatic view on resource restriction; it is getting the balance about right.
There is a huge amount of good trust in it, and I know there has been a bit of an argument about whether Red Bull Racing did or did not break the RRA [Resource Restriction Agreement] and I honestly don't know whether they did or didn't. But what I do know is that the time I was in there, we were self regulating wind-tunnel time and CFD time - and that was absolutely straight down the line. There was absolutely no thought about fixing it, and it was self-policing. I think the teams are due a lot of respect for that.
Q. Do you think fans nowadays are more educated about what is going on, because there is so much information being pumped out there, or it there an overload?
PS: There is a lot more information - and a surprising amount of misinformation. I am very surprised about some of the things that I read on the Internet that are really stated as fact but are clear speculation. And, on occasion, I know that they are incorrect speculation.
The trouble is, if you say something often enough it becomes a fact, and there is a lot of misinformation. But that is because there is no control of the information. There is no-one co-ordinating it, selling the brand - and saying this is how it should do.
AUTOSPORT does a good job, but some others are a little bit more scurrilous...
Q. You became a technical writer for AUTOSPORT's sister publication F1 Racing last year. How much did you enjoy that?
PS: I've always enjoyed writing, and it was always my intention to make that my hobby - and I do regard it as that. But I found it a lot more difficult that I expected.
You really have to think - particularly in my case when there is anything up to a month's delay before something comes out. Also, not just the race reports, but the masterclass I do - getting things across in a simple manner and looking for a different angle on things has been quite difficult.
Q. So has that been the biggest challenge then?
PS: Yes. It is not just the conveying of it, but it's deciding what to convey. I will watch a race and I do an analysis of it, look at all the salient points - and I make a list of them. But then I think - okay, well everyone will have picked up on the obvious elements, some of the points will not be too relevant - but perhaps one topic is more interesting. Then those are the things that I will write on.
I don't want someone picking up F1 Racing and reading about something that took place two or three grands prix ago and they have read about before. I want it to be fresh.
Q. Do you watch every race live?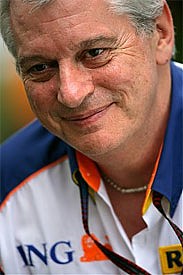 Symonds during his stint at Renault © LAT
PS: Yes. I certainly watch every race live, and qualifying live. I sometimes watch practice live, but if I don't I will always watch it later on BBC iPlayer. I have a system of co-ordinating all of my timing information onto iPlayer. When I watch it I have the live timing and the GPS data - so it is like being on the pitwall but without people talking in my ear all the time!
Q. How much have you kept in touch with people in Formula 1?
PS: A lot. In fact, that is one of the pleasant things. Within the industry people are still very happy to happy to talk to me - and in some respects more than they did before. So there are people in most teams that I can talk to. And I would never ask them to betray a confidence, and I would never betray a confidence.
I obviously know a hell of a lot about things that went on at Renault technically, and I could write about them. But I am not going to - I will wait until other people know about them in another way, because I still have a lot of affection for a lot of the guys there, and I would not want to do something that compromises that.
Q. Talking theoretically, now that you are no longer linked to a team, if you had to make some simple rule changes to improve F1, what would they be?
PS: I am personally a great believer in budget caps, and less regulation. But the thing is the budget caps would have to be all-encompassing. You cannot have this idea of having a little bit of spending here, but don't bring marketing in and IT costs should be exempt if they are not for technical work. You have to do the whole lot because then it is much easier to control.
Everyone has to produce accounts for Inland Revenue - well, those same accounts could be for FOTA. In those accounts, you have to include benefits-in-kind, so if Hewlett Packard are giving you a load of computers you have to put them down as if they are money.
So if you did that, and had a proper budget cap that was properly regulated, then you don't need so many rules. That is a very simplistic view, and there is more to it than that - and there are a lot of things I would do along those lines.
One other thing I believe is that if you have a budget cap then you should do it in stages. So say, up until March, you can only spend this amount, because you don't want everyone spending all their money early on and then being stuck in an homologated hell at the back of the grid. You have to allow money for development and things like that.
Then the rules could be simpler. If there are less of them, then they are more simple. They encourage innovation and they will get people talking about it again. At the moment, there are too many rules and there is too much to go through.
Going back to the secrecy thing, there are so many complications in the rule book - which is 60-odd pages. You know, for example, that you are not allowed traction control in F1 - but can you find that in the rules? The reality is that there is a technical directive, and it is eight pages long, that tells you what you can and cannot do with the electronics. So why isn't that in the public domain? People want to know about it - so why can't they see it? I just cannot understand these things.
Q. Overtaking is still the subject of huge discussion among F1 fans, and there have been endless attempts over the years to improve it. Do we need tons and tons of overtaking?
PS: No. We don't need tons and tons of overtaking - but maybe we need a little bit more than we have got now. Only maybe though. But to be honest, if you look at 2010, maybe that was about right. It was significantly more than we had before.
I've said it many times before, but overtaking should be like a goal in football and not a basket in basketball. That is the sort of level you want.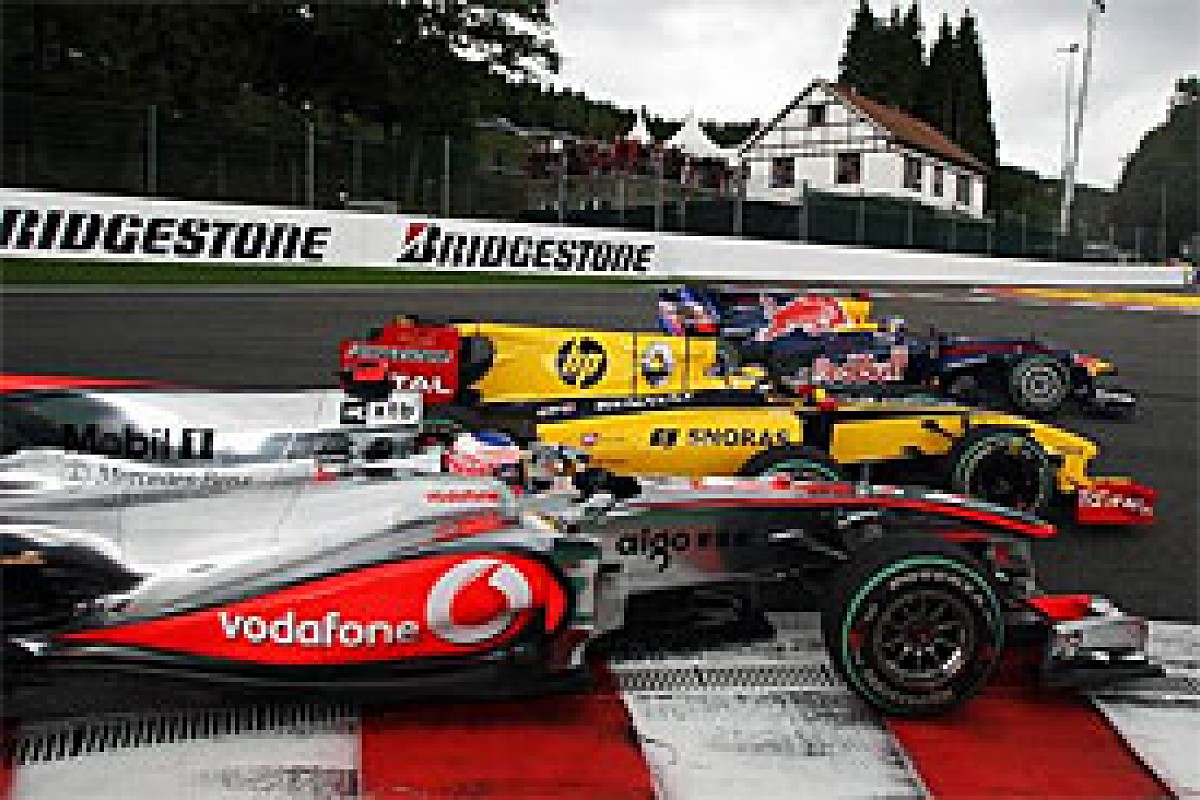 Symonds reckons there was enough passing in 2010 © Sutton
But one of the interesting things is that, having worked on one of the Overtaking Working Groups [OWG], and even last year looking at it - no-one has ever said, 'this is exactly what we want.'
One of the best surveys that was conducted was done by FOTA, because they actually contacted people outside of motorsport. FOTA went out to the world and they went to the shopping centres and things like that. People said they wanted more overtaking, but it wasn't as strong as you might think. So I really don't think that a sophisticated audience wants to see cars swapping every lap.
"If we are going to improve overtaking then we need to know what our target is - and if our target is to have half as much again as we have now, then sure we can work on it. If it is three times as much, we can work on it. We need a target, we need to dispel some of the myths - and we need to put some money into it to research it.
Now, one of the things that I think would make a big difference, is that it is all very well saying, 'this is what we have got to do to help overtaking' and then giving over the little bit of independent research that has been done by the OWG. The job gets finished, it goes back to the team - and the teams have a totally different agenda.
If you are a team working on a car then the only thing you are trying to do is make that car as fast as you can. You don't give a damn about overtaking. You want to make it fast so it doesn't have to overtake.
If you had something like a reverse grid, then part of your performance would come from overtaking. So you would assimilate it, and you would work on overtaking. You will work on making your car better to overtake than another car. You would also work on making it worse for the guy behind you, but you would do the work. And when the teams do the work it is fantastic.
At the OWG, we did as much wind tunnel testing as a team would do in a week. That was the sum total of the OWG. You need to make the rules such that it encourages something to happen. Whatever you want to happen, you want the sporting rules to make it work in that way. And I guarantee that if you had reverse grids, teams would work in the wind tunnel on overtaking.
Q. The 2013 chassis regulation changes that Patrick Head and Rory Byrne have worked on to change the influence of underbody air and see the return of ground effect have prompted a positive feedback from fans. Are they right to feel like that, or is that viewing an era of racing with rose-tinted spectacles?
PS: Firstly, I was saying earlier, if you say something often enough it becomes fact. There are loads of people who say that ground effect is better for overtaking. But I would love to know how they know that, because no work has ever been done on it.
The only wind tunnel work that has been done on overtaking is one lot by the OWG quite recently and one previous to that by the GPMA (Grand Prix Manufacturers' Association). Both of those bits of work suggested that if you tried to produce the downforce from the bodywork then it was going to be badly affected by the wake. So what little evidence there is suggests it is not such a great thing to do.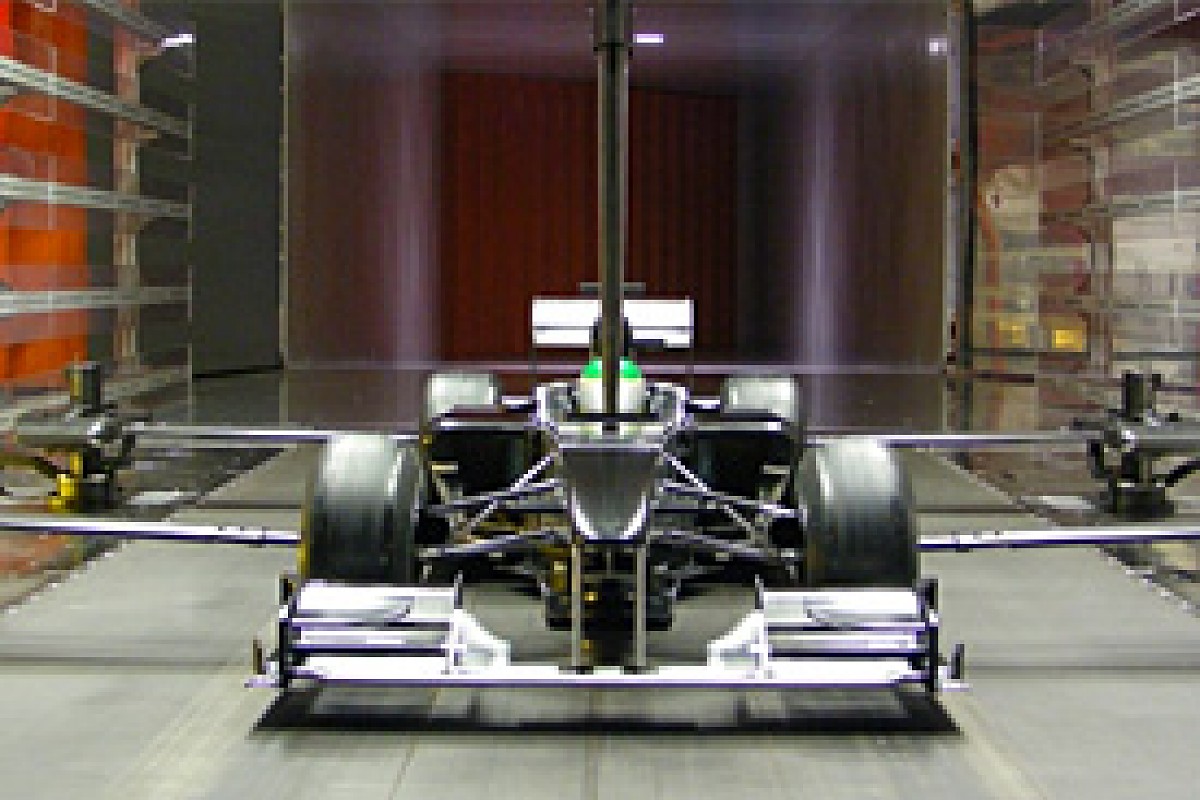 Wind tunnel work is vital to improve F1 - Symonds
I have spoken to Rory in great, great detail about the work that he and Patrick [Head] have done, and we have spoken for many hours on the phone about this. But it is all being done on CFD and there has been absolutely no work done on overtaking at all. Nothing. Therefore it is quite worrying, isn't it?
There is a lot less downforce. So it stands to reason that if there is less downforce then there is less effect, so that side of it is good, but the rest of it - absolutely nothing to suggest that it will be better and perhaps some evidence to suggest it might even be worse.
So, in my view, it would be negligent to introduce those regulations without looking at the effect of overtaking. And, that is quite a big job - because I don't believe you can do that in CFD, not when you have a car that is so different.
The one thing that we suffered from in the last OWG was we could only work with quarter-scale models because of the size of the tunnel. Someone needs to put the money up and say, let's go to Mercedes and use one of the big tunnels that is not in use, let's have bigger models and let's do the work properly. It is going to cost money - but F1 has got money. It is time it invested in itself.
Q. Would it make sense to go to an experienced engineer like yourself, who has no vested interest with one team, to try and get this sorted out once and for all?
PS: I am absolutely open to do it! Seriously though, yes and no. You cannot go to someone who is out of touch with everything. I quite like the way that the OWG worked. There were three of us who were quite intimately involved. None of us were actually aerodynamicists as our primary role, but we had very good aerodynamicists that we could talk to every day. I don't think that was a bad idea - maybe you want an independent guy to head it up because of the amount of work involved but then, having some input from the teams, is quite good.
Q. Having been outside of the sport for a year now, do you feel there are elements to F1 that you have learned that if you went back would make you better for your role?
PS: Absolutely. There are so many things now that I understand that I didn't before. When I was at Renault, I thought I had a bit of an overview on the company and I could stand back and look, but I realise actually that I was too involved. Now, I can look back on how things happen with a much, much clearer view and a much less biased view, and it gives me time to think.
That is the thing - when you are involved in the sport you just don't have the time to think. I used to really try to push myself to give myself time to think, but it wasn't enough. So when I go back - although I won't go back in the same way I did before -I can certainly say I've learned a lot.
Q. So are you happy keeping your involvement at your current levels, or do you want to do more?
PS: I don't want to go back full-time. Times change and you never know, but there is a lot to be said for acting as a consultant.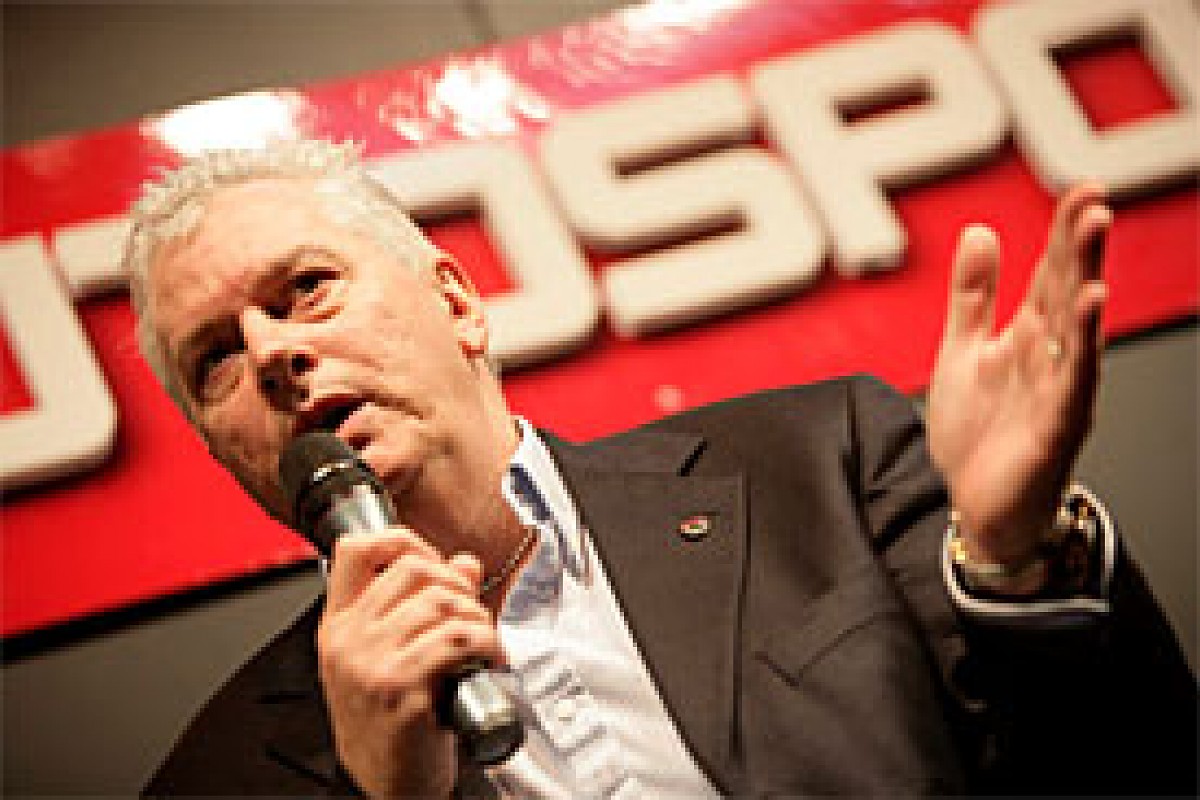 Symonds is not ruling out a return to F1 © LAT
All good companies have non-executive directors and use them properly. A consultant is not a non-executive director because you have to have an executive role, but you need to keep in mind what an NED does. And that is something that is missing within the teams.
They really, to my knowledge all of them, are missing this slightly aloof view of things - and if you are working six days a week then you don't have time to do that. As a consultant I can actually offer an awful lot to teams just by having a little bit more thinking time and giving direction and help, rather than getting into the detail.
Q. There were rumours last year linking you to Williams - but there was nothing gong on there. Have you had any approaches about a return?
PS: I don't want to say that as there are some things happening at the moment that I would rather not talk about.
Q. But you can see a bigger involvement in F1 in the future?
PS: I had been working towards retirement, but it wasn't what I intended to do now. I feel I have a lot more to offer F1.