He may have lost the championship in the final race of the 2010 season in Abu Dhabi, but Fernando Alonso insists his first year at Ferrari could be considered a big success.
The Spaniard, however, is hungry for more and wants the title to be his in his second season with the Maranello-based squad.
Alonso officially kicked off his season on Thursday during Ferrari's Wrooom event at Madonna di Campiglio, and he spoke to the media at length.
Q. An obvious question to start off with: How do you feel ahead of the season?
Fernando Alonso: The last championship was quite interesting, we were able to fight for the championship until the end, and it will be nice to repeat this in 2011. We're all focused on working well, and should we have this possibility we hope to be able to grasp this possibility. And hence the goal is that of fighting for the two championships, the Constructors' Championship for the team and the drivers' championship on an individual basis.
Q. Yesterday Stefano announced that the new car is going to be presented on the 28th of this month. What do you know about this new car? Is there a part of this car which comes from your input? Did you contribute to the car of this year?
FA: Well not very much, because when cars are born they have all been developed by our technicians, by the designers, by the experts in aerodynamics. They work for months so as to have a competitive car. Now for sure, as against last year, I came to Ferrari on January 1st of last year, the car was ready, and we started with the tests in February.
Now this year after the entire championship, with the small adjustments, within the cockpit, but also the philosophy of car development has changed during the season, my driving style is different, is that these things are going to have an impact on the car of 2011, much more so than it was for me at the start of last season.
Q. This year do you feel like a leader within the team?
FA: A leader within the team, yes; the leader within the team, no.
Q. So one of the leaders, but not the leader. So let's have other questions. You spoke about driving style, and changes, and the contribution of the driver. So this year, we're going to have cars which are going to be quite complicated. KERS will return, you didn't use it much at Renault two years ago, there's going to be this new device for the movable rear wing, so we do know that last year you tried to simplify certain controls, because we used a different way of managing the car. What do you think you are going to do this year? Are you going to have to make a further adjustment to a car that's going to be complicated to drive, or are you going to have to make some changes?
FA: First, you're right - I think that the cars of next year (2011) are going to be more complex, we're going to have more things to do, and this inevitably makes you lose a bit of concentration when you drive. So we have to find a way to be able to activate all these controls on the steering wheel and, you know, become, have, develop a sort of automated, to be automatic in how we manage these controls, which have to be as simple as possible.
As of, let's say, as against 2009, okay, now we do have the possibility of using a simulator, an extremely well developed simulator, which is the simulator of Ferrari, and this really helps. Every day when we do some simulations, whenever we do some tests on the simulator it helps us, because we get used to using all these controls. Then when you go on the racetrack everything seems simpler. And this (is) one of the reasons for which we do use the simulator. Especially now, during the winter months, which is good training for the driver.
Q. I want to go on two issues, on two topics. The first one is perhaps for the last time to go back for a second on Abu Dhabi. Some say it is not possible that a charismatic driver as Alonso is, he did not take that decision which then revealed itself to be wrong. Okay, without saying the usual 'we lose and we win together', can you tell us for the last time how it went? Second, apart from being more complicated, we believe that the cars of this year should favour overtaking. In your opinion is it going to be so? And do you feel aggressive enough to be able to exploit these new characteristics of the cars?
FA: As for Abu Dhabi, there's not much else that I can add. As you mentioned, and this is not just to say it, we win and we lose together. I think that we had an incredible comeback during the second part of the season, and then in Abu Dhabi we were unable to win the title. Surely after the race it's easy, with hindsight, to say that this strategy was better or this was worse, but we believe that the decisions that were taken at that specific moment were, for us, they were the right decisions. Then the degradation of the soft tyres, some things were some surprises, and then they went up to Lap 33, 34. But with my car there (was) something which was totally unexpected before that.
So I do not want to think about that any more, that let's say one week after Abu Dhabi no one within the team is no longer thinking about it. Each extra minute that we dedicate to Abu Dhabi is an extra advantage we give to our rivals for 2011. We won't focus on this any more. As for next year's car, I have to say that all the regulations go in the direction of trying to favour overtaking, this takes place almost every year and not always do (they) improve the show.
So let's cross our fingers hoping that finally these changes may really make a difference. I'm quite optimistic, both with the KERS and with the rear moveable wing, you can make a difference speed-wise with the car in front of you. And so theoretically this is going to make, you know, improve the show. If I feel aggressive enough to take advantage of all these changes for my overtakings, well yes, sure. Of course it's going to depend also on the situation - if you need fourth place to win, maybe you do not have to overtake. It will not be necessary to overtake if you are in a good position.
Q. Your second part of the season was almost perfect, while during the first part you did have some problems. Did you analyse your year from beginning to end so as to, you know, be able to exploit what you learned for next year?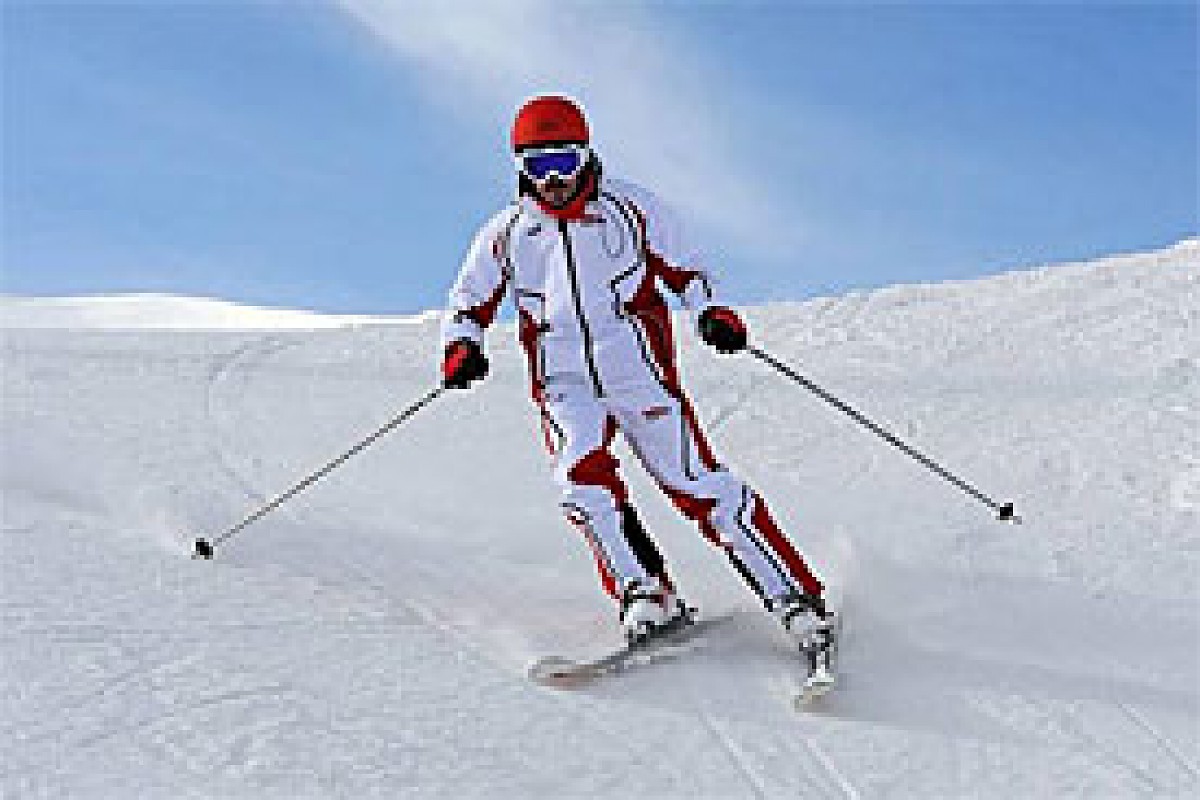 Alonso will hope to go quicker than this in 2011 © Sutton
FA: Yes. Of course always at the end of a season you always try to analyse and to see how it went in general. So you do not focus on a single race, of course. We do know that we to improve. During some periods of the year we did make some mistakes, we lost too many points. So we want to make a perfect year; this has to be from March to November. We are ready, you know, to improve on our mistakes, and to improve on our strengths. So we do hope to be successful, and we'll see if it's going to be possible.
Q. Do you feel your 2010 was successful?
FA: Well, yeah, probably. Yes, because the emotions and the feelings that you have there doesn't make you think the general view of what happened or what can improve next time. You have seen, probably, to look much deeper in details, and you are better next time. But probably you ask this about Abu Dhabi?
Q. In general.
FA: In general, yes. Last year, for me, was a success. Last year.
Q. You seem to be fairly enthusiastic about KERS and the movable rear wing. But don't you believe that it's possibly a bit too gimmicky, too many buttons? Particularly the rear wing, where you as the potential overtaking victim can't actually react to the rear wing because only the person behind you can use it? How do you feel about these sort of gimmicks?
FA: Well, they are all ideas from the Technical Working Group, from people that have been working for the show, for the results, for the overtaking for a long time. I think they came out with this solution, which is unknown for everybody at the moment, because we never test something like that, so I think it will work. If after big research of new solutions they came out with this it is because simulations, and all the work they do, this is some positive results.
So I am confident that it will work, the only difficulty, as you said, will be buttons on the steering wheel and a very short time you have to make some decisions, to react to buttons and still drive the car. So in some of the cases in wet races, poor visibility, things like that, we need to check. For sure, innovations, new things in Formula 1, are always welcome. This is one of those - if everything remains as last year, we know our difficulties, our problems. As I said, all the changes are meant to improve Formula 1 sport, Formula 1 show, so I think at the moment, without trying, we need to be very open and very positive.
Q. My first question is on Pirelli tyres - how do you think they are going to be? And as for rivals to the championship, who's going to be the toughest rival?
FA: Well, with the Pirelli tyres, I think that I can feel good, I think comfortable, so to say. We did one test, and everything went well. Surely, the tyres are different, so one has to adjust one's own driving style, you surely have to do winter tests. We are going to make tests with the new tyres as well as used tyres. We still have to test the wet tyres, that we did not try in Abu Dhabi, so some interesting test days are ahead of us. But surely the driving side is going to have to change a bit.
Q. Speaking about the new strategic organisation within Ferrari, do you think that it's a step forward? The strategic department of the team - what do you think about it?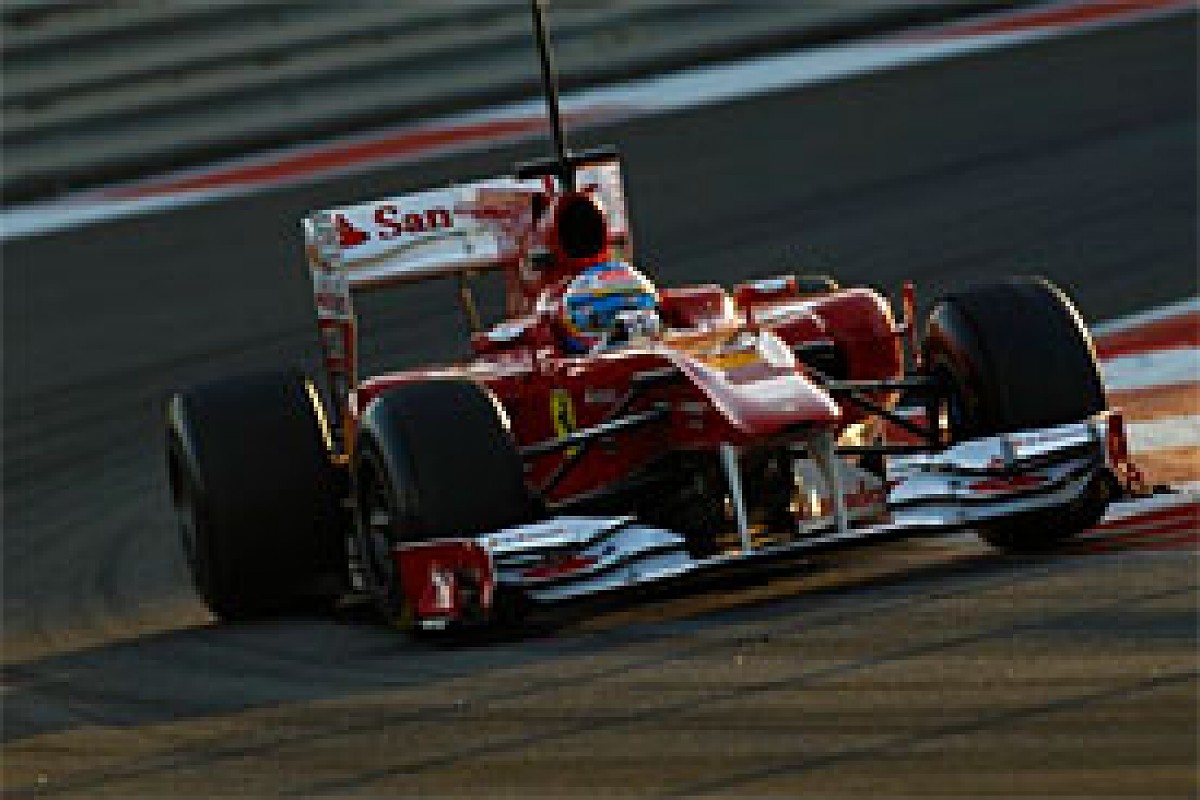 Alonso during Pirelli tyres testing © LAT
FA: I think that the team has made some changes in its structure and in its organisation, I am, I always agree - all the changes which are being made within a team, within an office, within a bank, wherever, usually these changes are made to improve the company. So I'm calm, and I think that all these changes have been done to improve the organisation, to have more possibilities.
I know very well Pat Fry, from the times in McLaren. He is a person with plenty of experience in that specific position, that function and I think that he can give us a hand. So we'll see if everything is going to work. But, as mentioned, on my part all the changes that are being made are usually done to improve.
Q. Two questions. The first is that you had said we would have seen you leaner in Madonna di Campiglio, and I cannot assess if you have lost weight or not. But I ask you, apart from the joke, have you changed your physical training? Because you had said that vis-a-vis such a long championship you will have had to remain constantly in shape. The second question is if the changes in the regulations, hence the rear wing and measures to favour overtakes, there's also the different tyres, can this make the qualifying less important, since Ferrari last year went better on race pace and less on the qualifying lap? Could it be an advantage for you if it were so?
FA: Well as to be leaner, the championship starts on March the 13th, and there I'll be leaner than this year. Now I'm more or less the same, perhaps some grams less, but not many grams less. Over the last ten days I've been stopped, so to say, eight days on a sofa because I had a little injury on my leg, so unfortunately this stopped my training. But everything is perfectly under control.
It's going to be a long championship and so the physical training is going to be a bit more important, not for what you need to drive, but especially for the length of the championship. To maintain a good physical and mental training from March 13th to November 27th is impossible for an athlete. So this means that we have to try to have three, four peaks, you know, of our physical shape and to remain constant from a mental point of view, especially there where you have more races together.
As an example, in the second, third, and fourth races of the season, in Australia, Malaysia, and China, these are races with transfers outside of Europe, you know, with also physically demanding races such as Malaysia with dehydration, and then next week in China, also with the jetlag. So if you get there at 80% in Malaysia, then in China you will be at 50% in physical condition. So this means that you have to be at 100% of your physical condition in Malaysia.
So you have to be very careful with our training, and we're working of course on this. Then as for the, okay, these overtakings will surely, let's say, favour what you do during the race. This is true also for the KERS. Let's hope it's also if the, you know, the qualifying lap is going to be less important, well we still have to see this. It's difficult to answer you know - we have to see how the first races go.
If we should see some overtakings then clearly, the qualifying lap will be result in less important. But it is still, of course, going to be, you know, a critical part of the race. So the start, the first curve, are still going to be extremely important. So the qualifying lap, the good start, and the first curve. Should things still be like last year, we shall have some question marks, of course.
Q. You said recently that you considered Michael Schumacher to be your main rival in 2011...
FA: Yes, well the question was simple. Five world champions next year, which of them I think will be main rival, which of them I trust will be a title contender. Now in January, before I started, if I have to choose one name, I say Michael. Because he is seven-time champion, he has nothing to prove.
He did a difficult season in 2010 with completely new cars, new style, new way of Formula 1, but he still, he is a champion, he cannot forget driving. He has nothing to prove. He will be always super class; if the car is right, he will be a contender that we will fear most.
Q. Now during the tests that you did on the simulator, could you perceive any differences using the KERS and the mobile rear wing?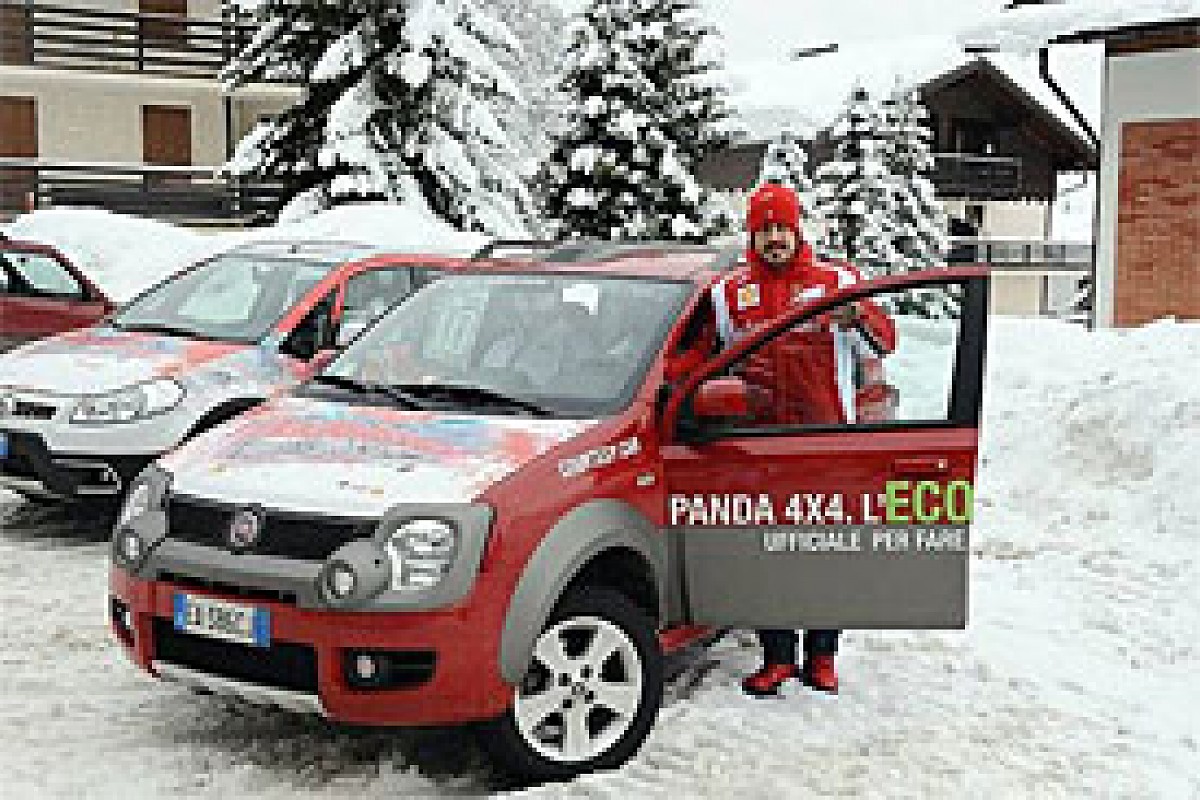 Alonso during Ferrari's winter retreat © Sutton
FA: Well, with the simulator for the time being we have been working, let's say, on other areas, on other ratios, so as for the rear wing, let's say, you do not feel a difference, it's not activated on the simulator. You press the button on the steering wheel to get used to it, but it does not work, so to say, on the image.
It's not active, so I do not know what the real effect is going to be because they're still working on it, they're still doing some simulations. So, but I can simply confirm, based on (information) that it's going to be a bit more difficult to drive because you have to make, you know, all these changes on the buttons, curve after curve, corner after corner.
Q. Now Valentino spoke us about you, and he made his compliments to you. Can you give an assessment, you, about Valentino and about your meeting? Is there finally going to be this challenge that which, let's say, have been talking about over the years, and how could it take place? Some spoke about karts, motorcycles, cars... What's your relationship also with motorbikes?
FA: Well as for Valentino, I've known Valentino for quite some time. But more so especially starting from mid of last season. We met in Maranello; he was there for a visit and I think that he's a nice youngster, an exceptional youngster. As a rider, you know, when you win nine world championships, there's not much else that you can add. He's the best bike rider in history, the best bike rider that probably there's ever going to be, because I do not think that it's going to be easy to repeat what he has done. He's loved throughout the world, he's nice throughout the world, seen as a nice man, you know, throughout the world.
And this has a great value, not just the championships that he won, but the passion for Valentino that exists throughout the world is like another title, so to say, on his part. So following this, okay, many spoke about this possible race between us in the past, and we laughed a bit about this, about this clash that you are writing about and now speaking a bit more seriously during these days. We're working now, so I cannot tell you anything at 100%, but before the end of the season, before December, it may be possible that there may be a surprise on this issue. It must be with two-wheelers, four-wheelers, six-wheelers, whatever people like. So I'm not going to say anything about how it's going to take place.
Q. How important is noise in a Formula 1 car to a driver?
FA: Well, for drivers, the noise in the cockpit, with the helmet, etc., it is maybe 10% or 5% of what you hear on the outside. So, it will not make a big difference if the engine regulations change completely. For the fans, I think it will be a big change, unfortunately.
I love Formula 1, and I love the maximum power, the maximum speed, lap records everywhere, the tyre competition, the electronics, more developing the car is, I think, beneficial for Formula 1. It is the maximum sport, technology, so, motorsport technology, so if the engine regulations go in that direction for 2013, I am sure that the noise, the exhaust system, or whatever, they can work on to make the noise sexy and fast.
Q. You've now had a couple of years with no in-season testing, and we're also facing 20 races. Which do you prefer - no in-season testing and 20 races, or do you prefer more of a balance: less races, more testing? And then following on from that, Stefano Domenicali said yesterday that if there's no rain during testing, there is a chance that you may have your first wet race with Pirelli tyres, your first wet experience with the Pirelli tyres during a race. How do you feel about that?
FA: I like 20 races. I like racing, I like competition, so to have more races is, I think, welcome in my case. But also I like testing, so I would like 20 races plus testing, that would be a better solution. Also because drivers now, if I was in Formula 3, or GP2, GP3, you have to arrive in Formula 1 now, you need to win the small championship, you need to... You have one test at the end of the season and then in one day you have to, to replace one of the official drivers, you have to become a Formula 1 driver, like Maldonado this year, or something else. It's not easy, so I think this is unfair for the new drivers that come in, that they cannot test a medium amount of days, or something.
And that makes it difficult for young drivers, which is never a good thing for our sport that has to continue to change drivers, and to innovate. For Stefano, what Stefano said, I think it's right - there is no secrets that we have only 15 days testing in the winter. Normally some of them will be wet, for sure as soon as we see some drops of rain we will go out of the garage, because maybe it is the only opportunity to try the Pirelli wet tyres, so we need to be ready for this. Because to arrive to a Grand Prix with completely unknown tyres will be difficult for all the teams. So hopefully at least one day of rain we can have this winter.
Q. You're a great representative of, you know, Spanish sport, meaning, you know, the Lorenzo, the Contador, the tennis players, that you won the world football championships, the soccer championships. So in your opinion, who is the number one today in Spain, including also you within this ranking? And would you exchange the victory of Spain in the football world championship with your victory in Formula 1 last year?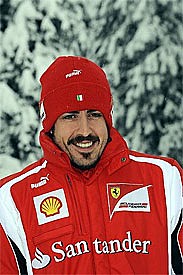 Alonso, a happy man at Ferrari © Sutton
FA: Number one in Spain, now, would be impossible for me to say it, it would not be right to say it, because there is an entire generation of sportsmen which is incredible - all the names that you mentioned. There are also, let's say, national teams that are winning - the European swimming championships, for example, which has never been a great sport for us in Spain.
Well, this year we had many, many victories. We had (Pau) [Gasol, two-time NBA champion]. To choose one would not be right. Nadal, surely, is one that is perhaps most known, is the youngest, and is surely going to become the best tennis player in history in a few years. So he is perhaps the one who represents us most.
Q. You said you considered Michael Schumacher your toughest rival this year; what do you think about Sebastian Vettel for next year?
FA: I will answer all that, and a second clarification. I didn't say that my toughest rival next year (2011) would be Michael. The question was of the five world champions, which one of them do you think will you fear more? With five of them, you will say like the strongest title contenders. If the ten cars of the five drivers, or the five cars of the five drivers are the same, in January, then I think Michael has the capacity, the experience, and the speed to be the toughest one. Hopefully, our car is superior to all of them, and then my toughest rival next year is Felipe. That will be a very welcome news for us, for that means that the Ferrari is the best car.
Sebastian, no doubt, will be a contender, will be one of the favourites, or the favourite to start the championship. I think in 2009 he was vice champion - with the Brawn it was the best car, but he managed to win some races and to be very competitive. 2010 world champion, with all the problems he had, without those Sebastian was world champion three or four races before the end. And next year he will have experience, he will have a calm in some moments because, again, when you win one world championship you have nothing to lose, so Sebastian will drive, I'm sure, better than this year. So that make him very bad news for us.
Q. Yesterday Domenicali spoke about the difficult season for Felipe, but now he's extremely motivated. He's sure that both drivers are going to help for the Constructors' Championship. What do you think about Felipe's championship?
FA: Well, I see him extremely well as well. With Felipe there has always been a very good relationship, much better than what people thought, or what people wanted to believe. So this year we are here again, in Campiglio skiing together, playing poker together every evening, doing, you know, the normal activity that people can do between two professional drivers of the same team. We know that each one of us needs the other.
Without thinking now too much, of course, we're thinking about, you know, the tests ahead of us, seven for one and eight for the other. I have to give 100% of course to help the team to develop the car, and in the days, during the days that I'm going to be behind the computer to see the results, so when I'm not going to be driving I must have the entire trust on the driver who's going to drive the car. So I have to then follow up on what other, Felipe, has done this before me, or he's going to follow up on what the team has decided, you know, after me.
So this is like having only one driver, even if there are two drivers, if you want to develop the car properly. So I think that with Felipe, we can be sure that he is going to give his best, as he has always done. We know that this year also he is going to be among the contenders for the title.
It has been mentioned, I hope, that our car is going to be superior to that of the others, that we may be able to fight for the title among us two, like Red Bull did last year and like other teams have done in other years. So we start with the same conditions, we start from zero like, you know, every season. We, the team, the Ferrari team, as you know, is over the drivers, the interest for the team is the priority, we know this. The team comes first, in other words, and this is in also our philosophy. And we're also very proud of this.
Q. In the last decade, the feeling, the sensation is that the tyres are decisive. Now, for 2011, okay we speak about KERS and the moving wings, but perhaps we have forgotten about the tyres. The tyres do have an impact on the results, and so perhaps we have put aside their importance. Okay, you have mentioned that you're going to have to change your driving style with these new tyres, but I want to ask you to expand on this issue. How decisive are the Pirelli tyres going to be for the success of a car?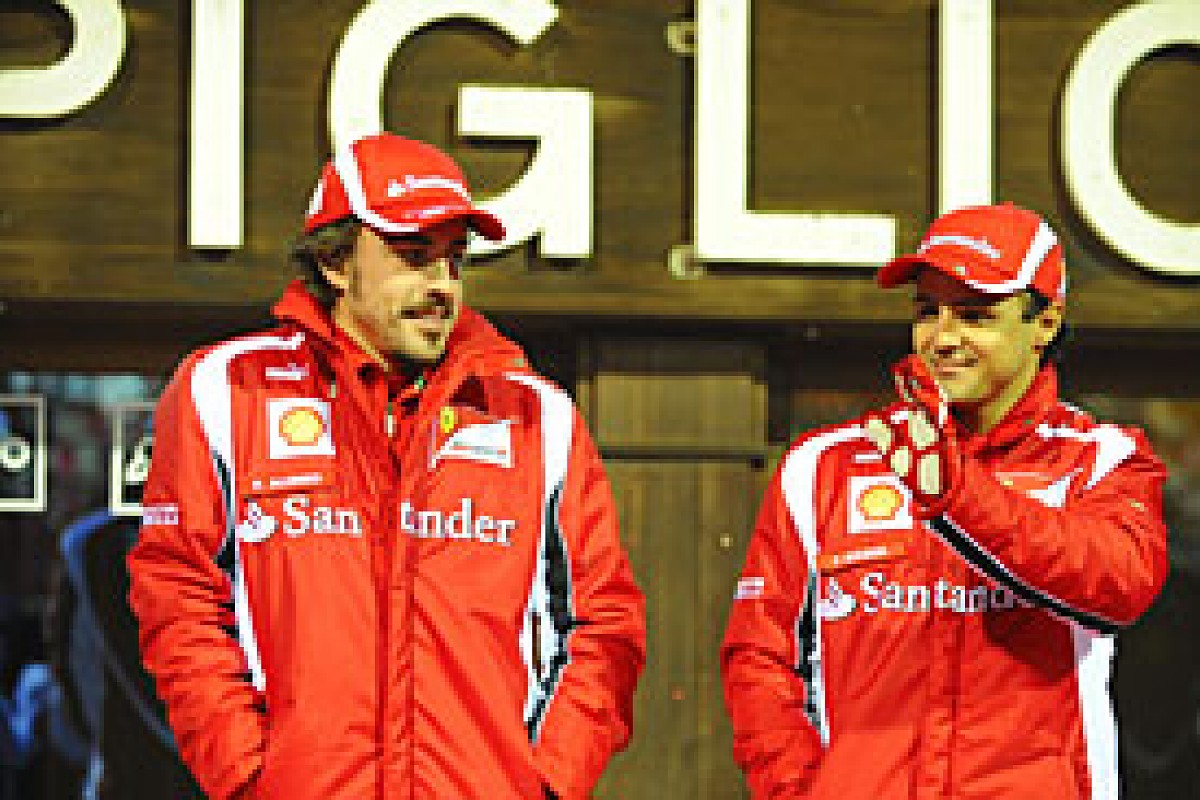 With team-mate Felipe Massa
FA: Well for sure, the tyres are the biggest change that in reality is going to take place in 2011, I agree. We speak about the KERS, we speak about the wing - the rear wing - because this can help us in overtaking, and this is what people expect, it's what people want to see. They want to have a better show. But for us, for the teams, for the drivers, for the performance of the cars, it is true that the change of the tyres is the biggest change for 2011.
And here we're going to have adjust the driving style of the drivers, as well as the engineers are going to have to change, to modify the car so as to have a better performance vis-a-vis those tyres. The only reason for which we do not speak so much about tyres is that there's a single brand of tyres. They're the same tyres for everyone.
So we speak a bit less about this because for the teams and for the drivers, they're simply going to have to adjust themselves as quickly as possible. At the beginning, for sure, there are going to be some problems. But starting from race three, race four, I am convinced that all drivers and teams will have resolved all the problems vis-a-vis the tyres, they are going to be very similar, let's say, vis-a-vis the tyres, so we speak less about the tyres as against the KERS and the wing.
Q. Before you mentioned that the start is going to be a key issue also for 2011. It has been said that some of the starts, the bad starts, that you did last year were also due not only to a technical factor, but also to a psychological factor, because after the jump start in Shanghai you were a bit worried. So perhaps you were a bit more careful at the start. I want to ask you, what are you doing now to improve on your starts?
FA: Well, there is always to improve, of course. And the starts went up and down - sometimes they went very well, sometimes bad. And at the end, I think that after one year of having studied all the starts, and having looked for the various solutions, I am convinced that, okay, now we have some ideas about how to improve in 2011. This from both the strategic point of view, so - let's say - what the technicians can do, but also as far as what the drivers can do.
So this is one of the factors that we're focusing on, that we're training on. And of course, we're going to see that if in 2011 we're going to better, and we hope so, but we're not that worried in reality. We simply want to be, let's say, more consistent throughout the season, and to have continuously good starts, and not to have the ups and downs that we had last year.
Q. I wanted to ask you if the fact that the Pirelli tyres are initially going to be more aggressive, so with greater wear of the tyres - is this going to be positive for those cars that wear out tyres less? So maybe an advantage for those teams?
FA: Yes, it could be. Okay, surely, going back to Abu Dhabi with the tests we know that with Pirelli the approach is going to be more aggressive vis-a-vis the tyres, and vis-a-vis the degradation of the tyres, the wear; this is to make the races more spectacular.
But we're going to have to see if we're going to be able to take advantage of the historical advantage that Ferrari has always had in terms of tyre wear. So should this be possible, we will of course try to take advantage of this. But as mentioned, tyres are going to be totally different, so we're going to have to see. But Pirelli is working a lot on the tyres.
Q. Two more questions. What do you think of the British rivalry for next year.
FA: I think McLaren have two champions, this year, in 2010, both did a fantastic job. I think that the car was up and down in some parts of the season. They fight for the championship until the last moment, so they prove their strength, their quality, and their talent. For 2011, no doubt, with Red Bull and Mercedes and Ferrari, McLaren will be (a factor) and with the champions there they are very strong, as they were last year.
For the rest of the grid, it is normal, so for the rest of the other ones, I think all of them - are there any other British drivers on the grid this year ... no (after negative answer from floor) ... all of them, they will try to win the championship. Germans, Spanish, Indians, we will see what happens. But for the McLaren guys, I see very strong again.
Q. Last question. Going back to this last question, since you know very well Italian racers, why is it that Italy cannot express any, let's say, top level drivers? And even of course you cannot say so, should Ferrari do something more vis-a-vis this, since you live this from within?
FA: Well, historically Italy has always had major drivers. Now, let's say, for those who race in go-karts, they all come to Italy to take advantage of the Italian championship because it is one of the best in the world. So all the go-karts, all the brands, I say, the makers are Italian. For go-karts. And with (Jarno) Trulli and (Giancarlo) Fisichella, you have good drivers - I still consider them as two drivers with an incredible talent. One of the two, luckily, is with us within the team - Fisichella. As for (Tonio) Liuzzi, he is also growing, he is a major talent, but perhaps he did not have yet the possibility of having a car which can allow him to express his talent.
As for Ferrari and Italian drivers, well, I think that Ferrari, with its Driver Academy, and let's say, the basis of my experience, in my opinion, I've never seen something similar in other teams. I've never seen this same level of support given to young drivers. There is the Drivers' Academy, which is an idea, a proposal, which wants to take advantage of the talent of youngsters, which wants to help those youngsters who deserve so as to arrive in, to drive in Formula 1. All being done in an intelligent way, in a simple way, but only perhaps in a way in which Ferrari can do it. There is no doubt that this is something indeed unique. Of course, then, you have to simply wait...