Another week, another grand prix project...
With Ukraine and Vietnam during the last fortnight of 2010 announcing plans for the construction of Formula 1-standard circuits within their borders, and news about a Thai venue breaking shortly before that, the statement that starts this piece certainly has legs, particularly as the new year opened to (seemingly unfounded) rumours about not one but two grands prix on islands in the Mediterranean.
During the year just passed, Bulgaria and South Africa reaffirmed their intentions of hosting grands prix in the near future, while the long-rumoured Sochi event moved a step closer to realisation with the inking of a seven-year contract (2014-2020) for an F1 race on the Black Sea. Add the Austin, Texas deal announced in May and the recently-confirmed Indian Grand Prix to Romania's stated aspirations, constant rumours about a return to France, and plans for a supposedly F1-standard track in Argentina, and it's one for every month in 2010.
More of the same can be expected in the year ahead, with whispers about one or more circuits in North America being in the offing, while Down Under there is talk of no less than two permanent circuits vying to take over from Melbourne's Albert Park should Victoria's state fathers tire of propping up the Australian Grand Prix.
Admittedly the number of F1 projects mooted during the past 12 months fell short of the 52 required to average one a week, but still the sport seems to have an embarrassment of riches in terms of planned ventures - with no end to all this optimism in sight.
The new US GP venue in Texas already has its calendar slot secured
Given that turn-key projects invariably run to a minimum of $200 million (£140 million) per venue (and double that in some instances), that pans out at two-and-a-half billion bucks' worth of aspiration for grand prix real estate developments in one year alone. Throw in the £35 million race promoters' fees per event, and a potential half billion annually is added to the total in one easy move.
Of course, not all circuits which may (or not) come to fruition will be graced by calendar slots, but - at first glance - this indicates all is swell in the world of grand prix racing, for why else would new projects be announced at the rate of an average of one a month? After all, the folk hatching said plans and making the announcements must possess at least a modicum of business sense for local media outlets to have taken them even half seriously in the first place.
In reality, though, that does not appear to be the case, for virtually every current circuit, from Australia to Turkey, faces major financial challenges driven by mountains of debt - mostly public - with letters U, V, W, X, Y and Z being debt-free only on account of no host countries currently having such initials. (However, the US is rapidly building its own pile; there is, though, no truth in rumours that Vanuatu, Western Sahara, Xanadu, Yemen or Zimbabwe have designs on grands prix...)
One of the latest grand prix venues - namely Abu Dhabi - conspicuously failed to fill its 50,000 capacity last time (swathes of empty grandstands were kept from sight only through ultra-tight video footage cropping) despite its second race being a four-way title showdown, and already there exist rumours of massive cut-backs at a circuit at which employees seemingly outnumber punters.
In Australia the losses keep mounting and are destined to hit around £25m in March, while Bahrain has yet to host race-day crowds larger than 40,000 despite having among the lowest ticket prices - making a mockery of the kingdom's claims that the race annually pumps £350 million (an average of £9,000 per attendee!) into the local economy. Over in Belgium local politicians recently reconfirmed their refusal to carry the race after the expiration of the current contract (in 2012) due to losses which this year hit an estimated £6 million.
Brazil's grand prix remains viable only through being underwritten by Sao Paulo city, the seventh largest in the world, and a combination of some of the highest ticket prices about coupled with almost non-existent investment in non-essential track facilities - hence a paddock which reminds you of the poverty-stricken favelas found just beyond the circuit's borders, and somewhat ancient grandstands. This despite the venue finding itself in a 220 million-strong country whose inhabitants are, according to F1 broadcasting legend Murray Walker, breastfed high-octane by their mothers immediately after birth.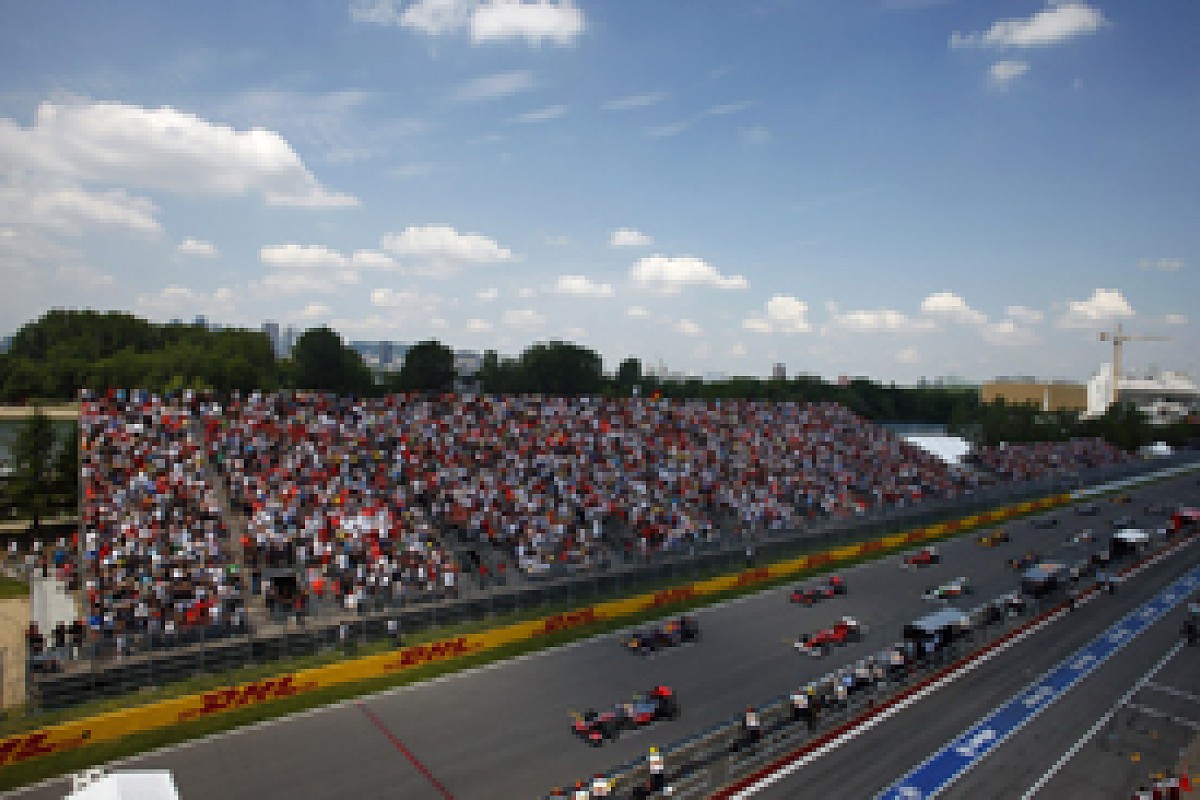 Montreal made a welcome return to the F1 schedule in 2010 © LAT
Canada was off the calendar for 2009 after the previous promoter proved unable to settle his bills, and only the intervention of Montreal's city fathers secured the race's return. True, the circuit on the Ile de Notre Dame was packed to the gills on three days this year, but against that balance the fact that it hosted the only Formula 1 race on the entire North American continent. Add in a race or three in the USA, and the picture could alter rapidly.
Shanghai has lost Yuan by the year, and doubts will continue over the 2011 edition of the Chinese Grand Prix until the venue's F1 licence is renewed. This is likely to cost the place a small fortune (possibly as much as £50 million) as allegedly the polystyrene foundations (really) of the space age circuit built on reclaimed swamp land require total replacement to eradicate the bumps which now abound. Given the paltry paying crowds of recent years and a window of just three months to complete the job, what chance the Party pulls the plug after just seven races?
In Germany, millions of Euros were spent on redevelopments to both its tracks and their surrounds, only for spectator numbers to fall conspicuously, while in Great Britain millions were spent on making Donington Park unusable. Even if reports that control of Silverstone could soon be ceded to F1 commercial rights holder Bernie Ecclestone can be filed under 'sensationalist', the fact remains that the circuit owned by the British Racing Drivers' Club is burdened by debts incurred in its recent upgrading after Donington's raid on the rights to the British Grand Prix came to nought.
The Hungaroring has recently enjoyed an upswing in attendances only through the demise of Austria's race and Robert Kubica's popularity in former Comecon states, having previously been sustained by Michael Schumacher's red riding hoods and legions of Finns flocking to a country with which it shares linguistic roots to root for the Mikas Hakkinen and Salo. For various reasons Heikki Kovalainen has not enjoyed the same pull, which illustrates precisely how circuits' fortunes are tied to those of the sport's stars.
The history of Germany's two venues not only underscores that statement, but provides a superb case study in duplicate in how NOT to manage grands prix, for both are losing money despite there being no less than five Germans (peaking at seven, including Schumacher) on the grid in 2009/10. Having spent fortunes in revamping their circuits, the respective owners of the Nurburgring and Hockenheim (in both instances the local borough plus province) have seen audience numbers dwindle from a combined peak of over 200,000 per year a decade ago to under 60,000 via the rotational deal they struck with Formula 1's commercial rights holder.
Italy sustained grands prix at both Imola and Monza up to 2006 © LAT
With Italy having lost one of its two grands prix through the demise of Imola's San Marino event, the finances of the grand prix at Monza are back on an even keel despite the hallowed track having singularly failed to play to a full house since the halcyon days of Schumacher in a Ferrari. Then, just as the circuit's accountant considered it safe to venture outdoors, news of Rome's grand prix hit him.
Japan, too, tried a two-year rotating scheme, but it was dead before it could fly: after Fuji had hosted its brace of races the Toyota-owned circuit withdrew from the deal, saddling Honda's substantially remodelled Suzuka with the Japanese Grand Prix for the foreseeable future. Ominously, where once tickets were sold via a ten-fold subscribed lottery (even when the proprietor's brand was absent), the last event played to row upon row of empty seats.
Much has been written in these pages about Korea's inaugural race, which occurred just three months ago, but one wishes one could share the promoter's optimism, for, apart from the fact that more than a few million are required to bring the venue up to scratch, it is difficult to see how this private venture could ever turn a profit given its location, distinct dearth of inhabitable accommodation and £35 million hosting fee. Already there is talk of a need for massive national and local motor industry support despite Kia, Hyundai and such like having to date totally shunned F1.
A Malaysian Grand Prix promo in the latest copy of AUTOSPORT's sister journal F1 Racing screams 'Get your race tickets for as low as £7' before listing all Early Bird prices, with a seat in the top (Ruby) stand coming in at £123 and the F stand at £41. Given that the circuit has lamentably failed to attract 50,000 punters on recent race days and attracts an annual hosting fee estimated at £30 million, the terms 'Sepang' and 'sustainable' are surely mutually exclusive. (To save you the maths, at £123 per head the circuit would need to attract 240,000 bums on the day to cover the 'Bernie' fee.)
Monaco last year ran to just 53 per cent of weekend capacity (68 per cent on race day), and although the Automobile Club de Monaco thereafter extended its contract with the CRH through to end-2020, negotiations are thought to have been fraught, with the ACM refusing point blank to pay a brass bean in hosting fees, and the CRH demanding upwards of £10 million per race after suggesting the sport could do without Monaco. Allegedly the ACM won by dint of the race's blue riband status, coupled with pressure from the Formula One Teams Association despite its members sharing half of F1's underlying revenues.
Singapore's night race plays to capacity crowds despite charging top dollar, but the cost of its lighting system will take many years to amortise, and, if anything, the event has jeopardised Malaysia's income stream, particularly at the top end, which cannot be healthy for a sport busy establishing itself in the region. It is also unlikely the business model could be successfully replicated elsewhere, as Spain discovered with Valencia, which dismally failed in its quest to establish itself as an alternative to Monaco, hitting the endangered list after just one race.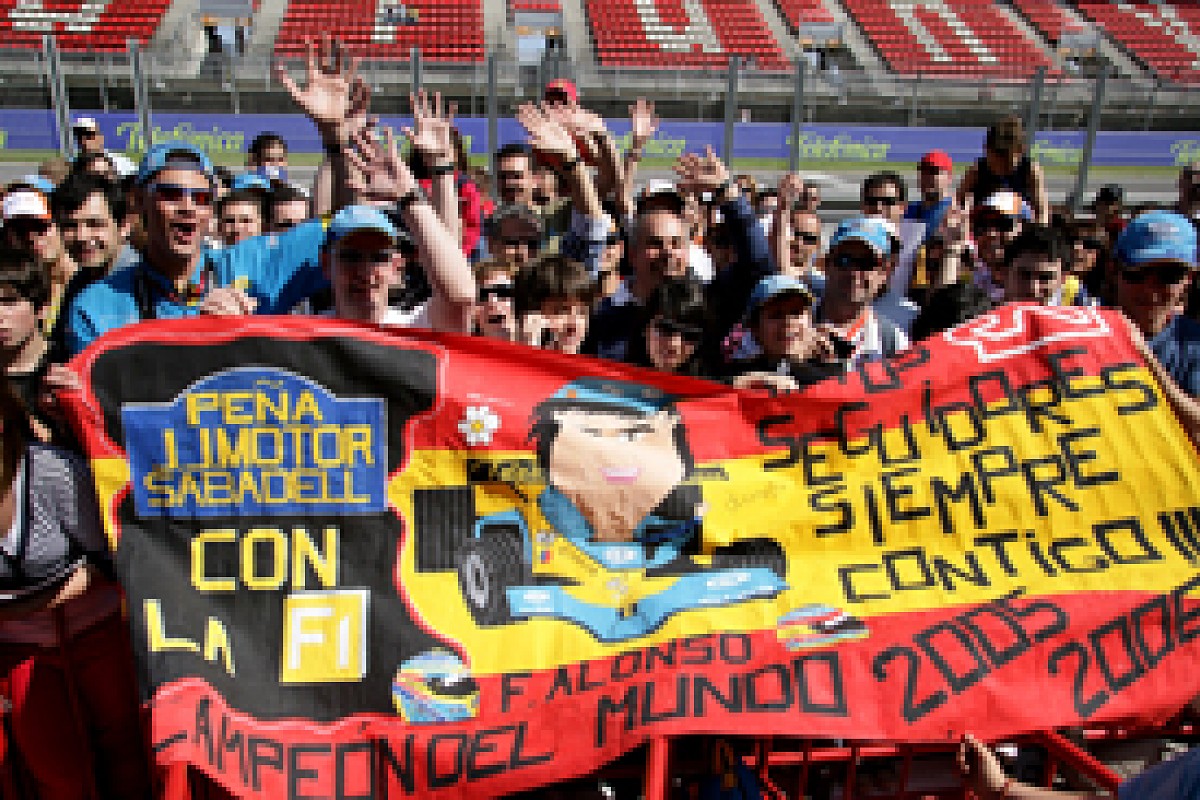 Even Alonso mania isn't enough to fill the stands in Spain these days © LAT
The other Iberian race has seen crowds dwindling despite the successes of Fernando Alonso, with 2010 crowds of 90,000-odd being a far cry from the 140,000+ which packed Barcelona's stands in the mid-noughties. Valencia and Barcelona have patently fed off each other's crowds, a situation which can be expected to further deteriorate this year as just four weeks separate two events held 300 kilometres apart.
And, so the last letter of the current calendar alphabet: T, for Turkey. Two years ago the place disguised around 30,000 vacant seats via draped black tarpaulins, thus hiding them from helicam focus. For the 2010 event the chopper was conspicuous by its last minute cancellation: hence no overhead shots of the Sebastian Vettel/Mark Webber incident. That says it all about the situation that the Istanbul Otodrom, whose ultimate owners, the Istanbul Chamber of Commerce, leased the circuit to a company owned by the CRH for 15 years, finds itself in after just six grands prix.
From the foregoing it is clear that, almost without exception, F1 circuits find themselves in situations at total odds with the flush image of Formula 1. Yet there seems to be no end to new circuit announcements. Could it thus be that the majority are phantom projects, much as used-car traders and estate agents conjure up phantom punters when prospects waver?
Consider: Country A, having invested millions in a circuit, jibs at a doubling in hosting fees. Immediately businessmen in neighbouring Country B announce a project at a disused airport, with politicians getting in on the resultant free publicity and perks and the local media lapping it up. Country A's officials, sensing their race evaporating and track investment in tatters, rush to put pen to paper at inflated rates, with Country B's folk subsequently getting to bask in the Paddock Club at the next race.
This sudden increase in project announcements across the world suggests race hosting has become an increasingly hard sell - no surprise at £35 million a pop. At that rate a phantom project at a thousandth of the price is a downright bargain...