"Heard Mark Webber on Five Live," a friend said just before Christmas, "sounds like a really decent bloke. Spoke interestingly for a long time."
I'd heard it too. Mark Chapman told Webber it was unusual for an international star to agree to take lengthy questions without wanting to vet them first. Webber sounded surprised, thought any professional should be able to talk about what they do without fretting. "All I do is drive a car..."
Mark Webber, the next James Bond? © Sutton
That was typical. He's not the sort to get intoxicated with his own importance. I did wonder what the disappointment of the year-end might have done to Webber upstairs but hoped that the prospect of another season in a front-running Adrian Newey car, not to mention the folding stuff, will prevail over any possible thoughts of hanging up his hat early.
One question, inevitably though, was about the future - whether Webber would fancy a media role, a la EJ and DC. I've since been in the middle of a humorous pub discussion about that.
"He can do much better than that," said a mate who likes his racing. "I reckon he'd make a great James Bond. He could finally stop starving himself and put on a bit of beef. And those stunt scenes he's done in the Merc and at Valencia were easily as good as anything 007's done..."
"Yeah, " concurred a non-racing buddy, "I've only seen him a couple of times on TV but if Vinny Jones can do Lock, Stock and Two Smoking Barrels, Webber can do Bond. The racing driver thing would be a good fit too. Daniel Craig, thank God, has taken Bond back in the macho direction after a couple of namby-pambys in touch with their feminine side - Roger Moore and Pierce Brosnan were much better off poncing around with Meryl Streep in Mamma Mia.
"But there's an insurmountable problem. You can't have an Aussie playing a very British secret agent, asking for a Foster's instead of a Vodka Martini, shaken not stirred."
"We've already had one," I said, "George Lazenby in On Her Majesty's Secret Service.
"Bollocks," retorted my mate, "Lazenby was American. He even played the Marlboro Man."
"I don't give a damn if he played the US president," I said. "He's Australian. You're getting confused because he re-married Pam Shriver, the US tennis player."
"What!? You're telling me James Bond married Pam Shriver? She's the tall, gangly one who won a zillion grand slam doubles titles in the eighties because she played with Martina Navratilova and now she helps out Sue Barker at Wimbledon for the Beeb?"
"Yep. That's her."
"You've got to have that wrong. George Lazenby is old enough to be Pam Shriver's Dad! And he's definitely American."
"No, he isn't..." Out came the Blackberry, Lazenby was duly Googled and there it was. He is old enough to be Pammy's Dad, 71 now to be precise - she's 48 - and he is indeed Australian. Unbelievably too, he also hails from Queanbeyan, News South Wales, same as Webber!
My mate was astonished. "That's hilarious. Lazenby was rubbish and if they gave it to Webber, George wouldn't even be the best 007 from Queanbeyan!"
"That's a bit harsh," I said. "It was a poisoned chalice. Following Sean Connery as 007 was a bit like following Murray Walker as an F1 commentator. Why do you reckon he was so bad?"
"Can't remember the specifics," he said, "must be thirty years since I've seen it but I know he got spanked by Diana Rigg (imagine that, Max!) in a car chase up some mountain roads driving an Aston DBS when she was in a Mercury Cougar. Webber might have lost to Vettel but he'd be quicker than Dame Diana..."
"No," interjected a non-racing, non-Bond aficionado, "That wasn't Diana Rigg, that was Joanna Lumley."
I knew he was wrong there. On Her Majesty's Secret Service was one of the first movies I was taken to see on the big screen. I distinctly remember having to fight back tears as Lazenby pulled the DBS over to remove some of their wedding bouquets, allowing old boot face, Irma Bunt, Blofeld's SPECTRE henchwoman, to drive by in a Merc and put a bullet in Ms Rigg's forehead, which is where the movie finished, to the strains of Louis Armstrong and 'We have all the time in the world.' Which, of course, they didn't.
Sean wouldn't have let that happen. I was stunned. Although only nine, I'd already fallen in love with her as Emma Peel and was fighting a tough battle to work out what looked better, her Avengers garb or the Lotus Elan...

Onsetting senility was playing havoc with our collective powers of 007 recall and there was only one thing for it, a return home, an iTunes download - really just an excuse for someone to show off their new iMac - and a trip down memory lane.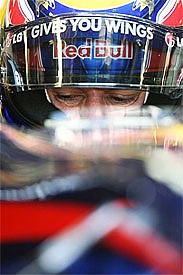 Mark Webber © LAT
It was astonishing how tame sixties/seventies 'action' movies now seem and my mate was right, Lazenby wasn't terribly convincing. Apparently Cubby Broccoli was quite impressed when he accidentally sparked a professional wrestler stuntman in a fight scene during an audition but in the film itself he was no Connery/Craig.
In his defence he was caught unawares by the rapid arrival of Diana and the Cougar on the back roads behind Cascais in Portugal, a bit like Heikki Kovalainen and Webber at Valencia, but when they later got themselves involved in a Wengen ice race it was Lazenby sat there like a carton of milk while Diana piloted the Cougar. What sort of self-respecting Bond does that?
"Obviously nobody thought Lazenby was much cop because he only did one film and then Connery was back," my mate said in summary. In fact, fascinatingly, George had a seven movie deal before his agent convinced him that in the liberated seventies the Bond character would be archaic and he needed out of it. A bit like leaving Ferrari just as Jean Todt, Ross Brawn and Rory Byrne arrived...
It all meant that when he married Ms Shriver it was Pam who apparently wanted the pre-nup. They split in 2008, Pam citing irreconcilable differences.
"What were they," joked the Lazenby detractor. "George not quite making the service line behind his first serve at 70 and getting them dumped out in the first round of the Queanbeyan mixed doubles?"
In fact, it was messy, both engaging in mud-slinging as they sought custody of the kids. A bit more digging revealed sympathy for Lazenby, who had lost a 20-year-old son from his first marriage to brain cancer. One of the tennis forum tweets was especially bitchy, suggesting that once George had performed his sperm donor duties, Pam should have moved in with Martina...
So Mark, we've solved the future for you. Forget the media, have a word with Daniel Craig and see how many Bonds he has left. The seventh 007? You've only got a bunch of Poms and George to beat. Probably no more difficult than Sebastian, Fernando, Lewis, Jenson, Robert and Nico. 'Cause let's face it, you lot can't play cricket! Oh, and make sure the stunts are motorised. You can handle those. Keep off those cycles!
Hope everyone had a good Christmas and all the best for 2011 when it turns serious again soon enough.