So who really was the best driver of 2010? It's been interesting to see that various polls of experts and insiders have come up with different results, with Sebastian Vettel, Fernando Alonso and Lewis Hamilton all getting votes, and Mark Webber and Jenson Button generally trailing somewhere behind.
It's a difficult call to make. Among those top three, all had some great races, all had some mechanical dramas that compromised their title campaigns, and all made mistakes. And then you have to factor in the performance of the car they had at their disposal.
On the latter measure, Hamilton has a good claim. McLaren was particularly competitive at Montreal (where he won) and Monza (where Button nearly triumphed), but elsewhere Red Bull was faster - and in the latter part of the season, so was the Ferrari. Most of the time Hamilton got as much out of the car as was humanly possible.
Had it not been for those frustrating collisions in Italy and Singapore, he probably would be a more popular choice as driver of the season. Then again, had he finished both those races he would almost certainly have ended up as world champion.
The same could be said for the two mechanical retirements that cost him dear. Instead he finished fourth, just 16 points - less than a second place - shy of the winner. It was not the outcome he wanted, but as in 2009 he finished the season as a better and stronger driver, and that will pay off when he does get his hands on the best car.
This time last year much was written and said about Button's decision to go to McLaren and take on Hamilton, rather less about what the incumbent thought about the new arrival. Not only does Hamilton insist he was happy with the prospect of the new world champion was coming on board, he suggests that he came up with the idea.
"It was sad obviously for Heikki [Kovalainen]," he says. "I had a good relationship with Heikki and I still do. I knew from his feeling that he knew he was on his way out, and I was conscious of who would be replacing him and also who would be working with me towards winning the world championship.
"I remember all these other drivers - there was Kimi [Raikkonen], there was [Nick] Heidfeld, a few other drivers - that were being looked at. I kept on calling the bosses and trying to find out who they were going to be signing? They were never too sure. I do remember saying to Martin [Whitmarsh], 'have you spoken to Jenson?'. He said, 'You know what, I haven't'.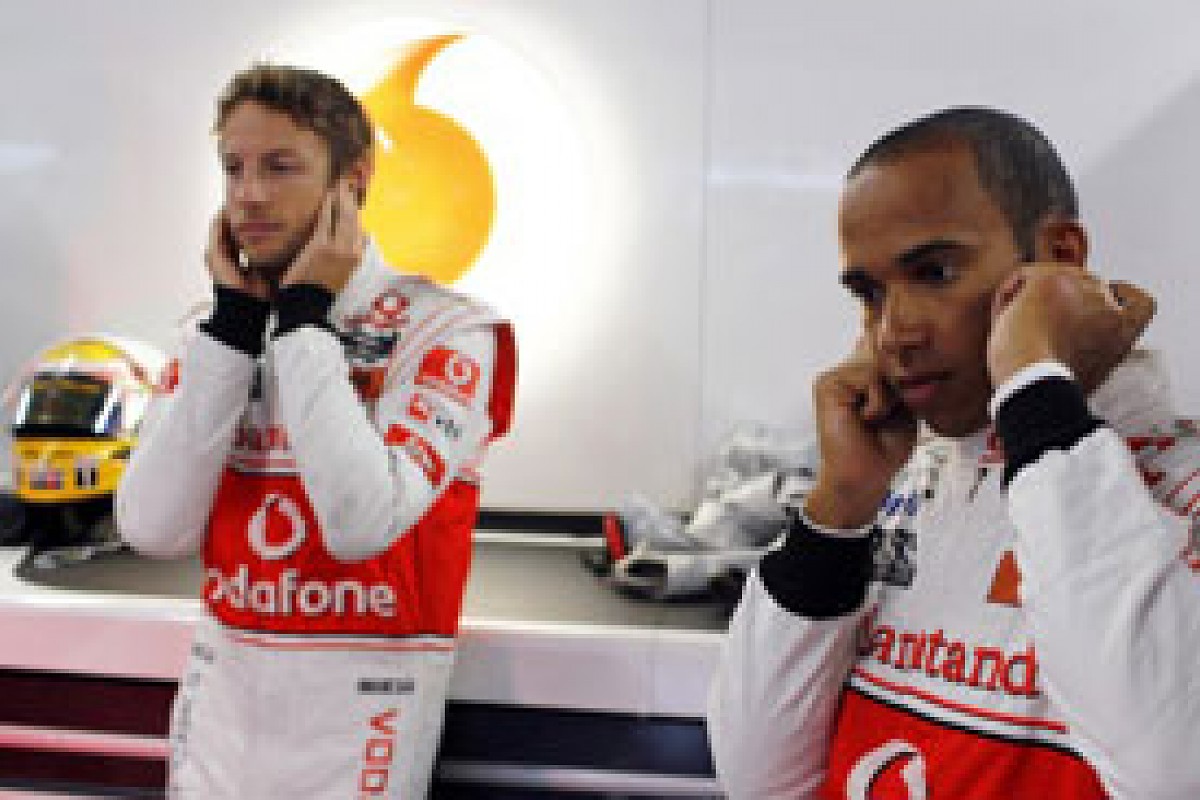 Hamilton and Jenson Button © LAT
"My guess is the reason he hadn't spoken to Jenson is probably because he was world champion, and him coming into the team, Martin probably didn't know what I would have thought about it, and probably didn't give it a second thought."
But Hamilton says he had no concerns at all: "Jenson was world champion at the time, he was the best driver out there at the time, number one. So why not? I didn't have any problems with it. I just wanted the best driver alongside me to help me do the job for the team. Next thing I know, they had a great conversation with him. It turned out to be the best choice for the team. We've got a great relationship, he's done an incredible job all year and hopefully we're going to have many more good years ahead of us.
"What I always wanted was someone with equal status, which was good for me. I knew that he would be incredibly quick and I knew I would have to be at my best to be able to out-do him. But I was quite relaxed about it generally."
Although he sings the praises of Button - and gently puts down his predecessor - he makes it clear that he felt he would be ahead.
"Of course, in 2008 when I won the championship, there were a few DNFs on Heikki's side, most of them from car failures. He had quite a lot of unfortunate mishaps when the car failed on him, so he wasn't always able to back up with the same result.
"What we really wanted as a team was to have someone firstly with a car that doesn't stop all the time, but also can be right behind me all the way. And that's the goal, always. It is very rare that me and Jenson finish one-two. We have had a couple of one-twos this year, but obviously we'd have loved to have many more like that. Sometimes Jenson's at the top of his game and I'm not doing as well, and then it will switch. So we're still working on getting our games on par at the same time."
Early in 2010, Lewis could perhaps have bene forgiven for regretting being so hospitable. He had the upper hand on Jenson in Bahrain, where he finished third. Then in only his second outing with the team in Melbourne, Button scored a superb victory - helped by a great strategy call. After an eventful afternoon that included an assault from Mark Webber, Hamilton finished sixth. Things weren't exactly going to plan.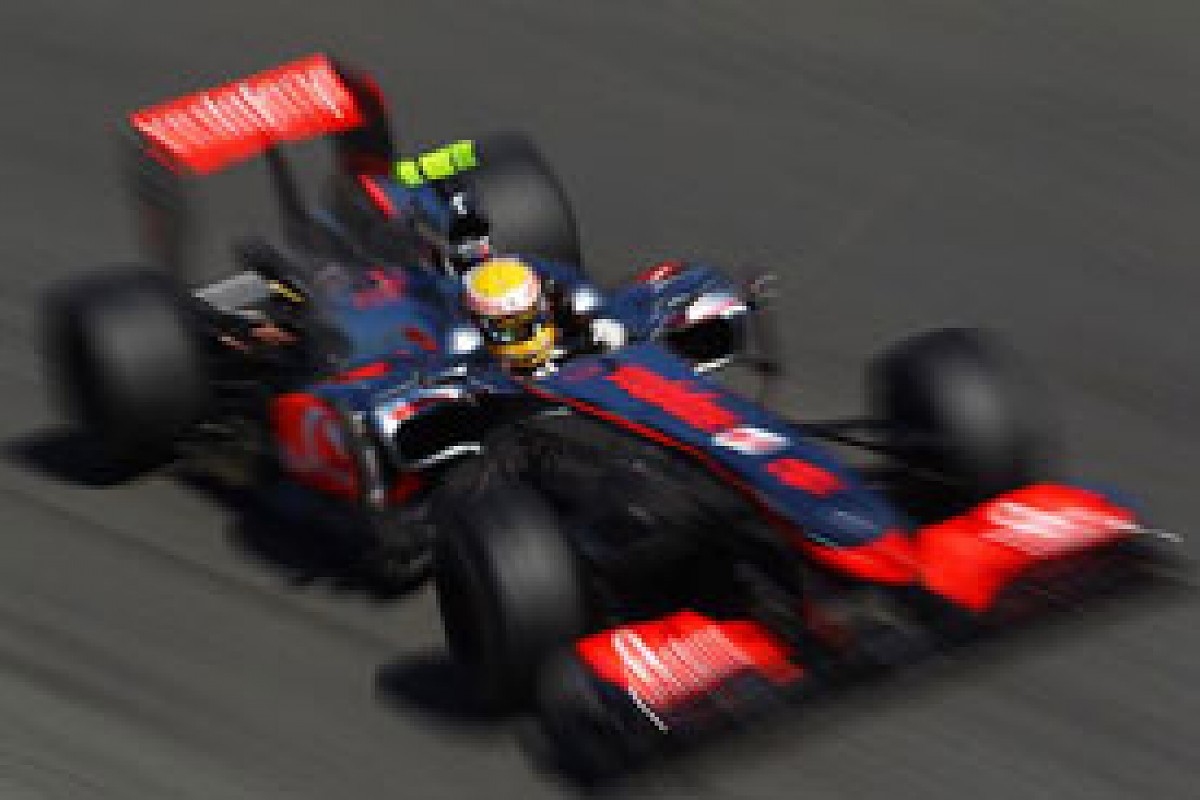 © LAT
"It was a new experience with a new engineer, a new race format, a new qualifying format. I was quick all weekend and then in qualifying for some reason the lap felt like any other lap, but it was slow. I qualified quite far back. That put me out of contention, but I remember I overtook Jenson in the race. But he had a great choice just at the right moment and he won. Fair play to him."
Hamilton didn't help himself in Australia by making some controversial comments on the team radio, questioning the strategy that left him further down the order than he had expected to be.
"I think it was wrong on my side for the way that I behaved, but I wear my heart on my sleeve. I always say what's on my mind. When you're in the car in the heat of the moment you forget it's being broadcast all over the TV. It's just fortunate that I didn't curse or anything like that. It's just, emotions are boiling. You drive your heart out in the race, then Mark took me out and he didn't get a penalty for it. I was coming up to fourth and then I got taken out and finished sixth. So for all that I had worked for I felt that I was a little bit robbed, especially towards the end of the race, so the emotions came out. I didn't think it was a great choice, which it clearly wasn't, otherwise it would have been a one-two for us. That's something we learned from."
Against expectations, Button continued to often have the edge in the early races. Not that it made much difference in Malaysia, where the wet qualifying disaster left Button 17th on the grid and Hamilton 20th. In China, Button qualified in front and led his team-mate home to score a second rain-affected win.
"I just knew that at some point I'd get back up there, but it wasn't actually for a couple of races. I think Jenson was ahead for the first three races, something like that - and he outqualified me also for the first few races. I worked very hard, I obviously had to change that and I did. He's very, very quick in qualifying and also in the races. Like I said, he's had his problems and I've had my problems, but he did a great job."
Hamilton was heading for a solid second place behind Webber when a wheel failure pitched him off the road. Then he was a surprisingly subdued fifth in Monaco, unable to make up for shortcomings in the package relative to the flying Red Bulls, [Robert] Kubica's Renault and [Felipe] Massa's Ferrari.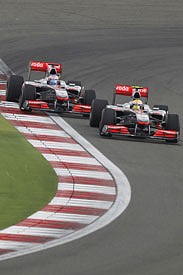 © LAT
He bounced back in Turkey to score a memorable win. It came after the Red Bulls collided, but it was the close proximity of the McLarens that triggered Vettel's move rash on Webber. The McLarens then had a brief skirmish with one another.
"Turkey was a great weekend, with obviously a little bit of confusion in the final laps of the race. Looking back, it was a great battle with Jenson. He came past me, I came past him. We finished one-two and it was a great weekend for the team. My missus was there, so that was the icing on the cake. She had just won Dancing with the Stars as well, so I had to kind of step up my game to able to match her!"
Not that he initially looked too please about it on the podium: "I wasn't really too happy. I was a bit baffled really about what just went on, because next thing I knew Jenson was past me and I had to fight my way back and I nearly lost the wing. It was just a miscommunication issue, and it's easily done. It was rectified after the race."
Next time out in Canada, he won again - this time from his only pole position of the season.
"It seems to be a good race for me, it's one that I've won in the past. I really generally have been close to winning that race every year. The win was more straightforward, I would say it's qualifying that I remember. I had my first pole position there and I remember exactly what point of the lap I was told I'd got pole position and the feeling I had, it was the same feeling this time."
A superb win in the most difficult circumstances in Belgium put him right back into the title hunt, although there was a little luck as well as skill involved in his escape from the gravel trap.
No one could have predicted that the next two races would bring no points at all - and the battering Hamilton's reputation would take. In Italy a first-lap collision with Massa brought criticism raining down.
"Monza was a race where I probably went for a gap that I didn't really have to go for. Looking back, I was in P4, I was easily quick enough I think on race pace to compete with both of them [Button and Alonso]. Jenson was out in the lead. I could have bided my time - the race isn't always won in the first lap, but you always do try and capitalise on the mis-position of the guy in front [Massa]. I was sitting there hoping to get round the corner and maybe dodge up the inside on the exit of the chicane. I was tapped, the trackrod snapped and that was me out.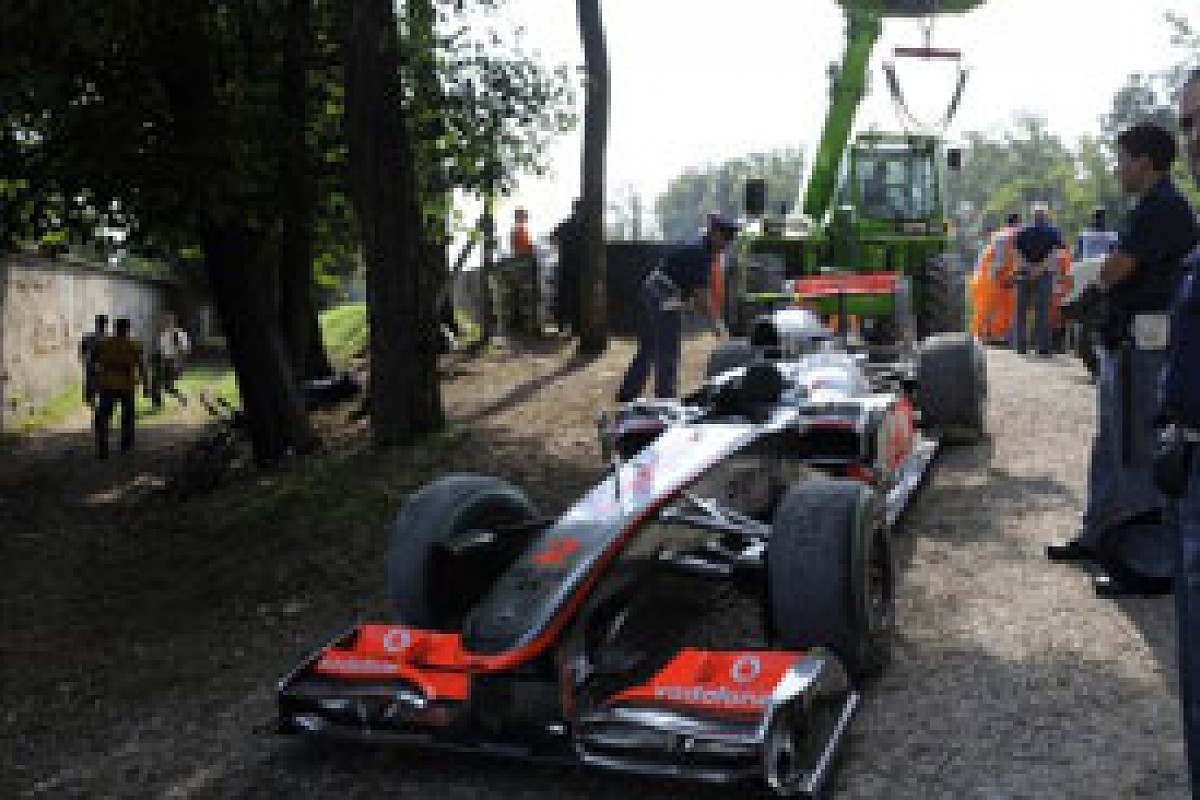 © LAT
"You know what, I remember coming round the corner and I knew the trackrod had snapped, I knew my race was over. But I kept it flat, I just kept going in the hope that the car would turn. It didn't. I was quite gutted. I feel like I let the team down a little bit there, so I was quite upset with that one."
He was determined to bounce back in Singapore, but yet again he was eliminated by a collision. This time he was the car in front, albeit only just. Once more he was criticised for being impetuous.
"It was the second time I'd come together with Mark [after Melbourne]. Looking at the replay I think I was definitely ahead. I tried to give as much room as I could, he was in my blind spot and he hit me. He didn't get a penalty or anything like that, again he got away clean and I came out of it without any points, which was a shame because otherwise I'd had a good weekend.
"I could do that move with my eyes closed, I'd done it a million times in my life and I've come out of it no problems. Nine times out of 10 it wouldn't have happened. I was angry with myself because I had no one else to blame, really. Mark, he didn't get a penalty or get any damage or come out of it anywhere as bad as me, he still got the points. I was just really angry with myself, I could have just done it or left it later, I would have got past anyways. But I didn't.
"If I'd finished those two weekends in the same position, fourth and fourth, I would have had another good bag of points with me. Looking back you could say I would have been in a much better position, but then again you learn from those things, there's nothing you can do, you can't turn back time.
So was he being affected by the pressure of the title battle?
"That's the name of the game in this sport. You do have drivers that tootle around and pick up points here and there, but at the end of the day the team are pushing as hard as they can to find every millisecond. When I'm training I try to find every little ounce of energy, consistency and mental strength that I can possibly have, and when I'm on the track I'm trying to find every tenth of a second and every point I can possibly get. One step on the podium or grid spot makes a big difference.
"There is still a lot of pressure from the team - even though they try not to put pressure on you, you're [working] under a huge brand and trying always to do your best. Sometimes it just doesn't come up."
In Korea, he finished second but, frustratingly, he'd handed a position to eventual winner Alonso when he ran wide.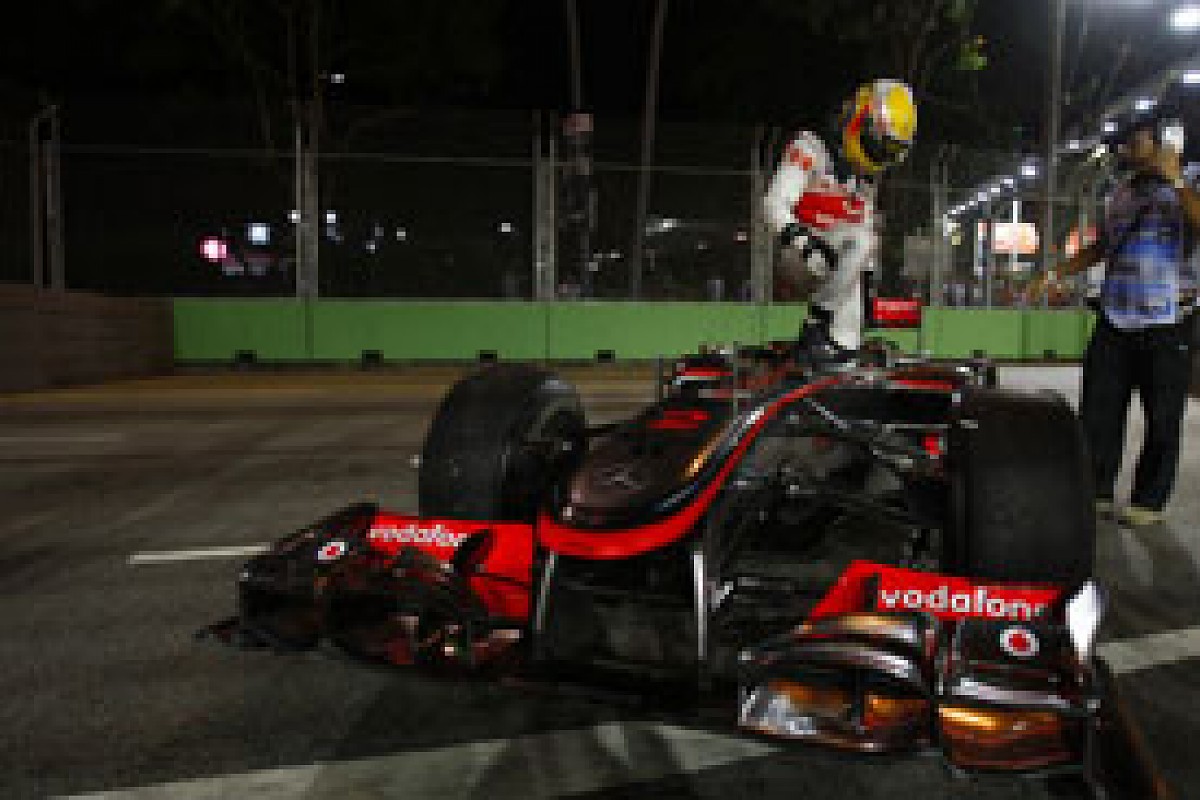 © LAT
"At that point in the season Fernando was clearly faster than me, he'd got a faster car. He was driving at his best. In Korea, the reason Jenson was at the back was he had brake problems. His brakes were glazing. On my car, the right brake was working correctly, the left brake wasn't. So when you brake at 100m or wherever it is, the left one's not working fully, it's doing 50 per cent of the job. And the right one was doing 100 per cent of its job.
"I locked up immediately, and to get the car stopped I pressed even harder, locked them both up and just went straight. Of course it's frustrating. What can I do? I did my best, I was just grateful to have finished the race. I wasn't in a position to win the race, I think it would have been very hard to have kept Fernando behind me. At the end of the day he was quicker throughout the whole weekend."
By now the title was beginning to slip away. Hamilton needed a big result in Brazil, but he got only fourth, behind his three main rivals. Crushingly, for a second time in a row Alonso benefited when he ran wide.
"In Brazil I was overly cautious at the beginning of the race. I was up to third and I just wanted to stay out of trouble, just wanted to get points. I let Mark past, which I could easily say I regret, but at the end of the day those guys were much, much quicker than me, especially at the beginning of the race.
"Again, I let Fernando past. It wasn't intentional, I was just really struggling for grip, the tyres were cold and I just lost the back end. I definitely do not plan on that ever happening again. I consider him as one of the best drivers and to see one of the best drivers, who you work to be on a par with or better than... When you let them through, even when you feel you've done a better job, it can be very, frustrating. But that's the name of the game, there's been many times when it's been the other way round and I've finished ahead of him."
It was always going to be a long shot to sneak the title in Abu Dhabi, relying on things going badly wrong for everyone else. He did at least finish on a high with a solid second place, so he and Button were able to join new champion Vettel on the podium.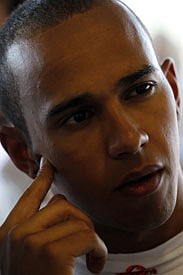 © LAT
It was so close and yet so far, although of course Alonso and Webber could say exactly the same thing. Nevertheless for the third time in four years Hamilton was a contender until the final race.
"It's definitely not been our best year as a team. In terms of atmosphere in the team, balance, happiness and effort, I think it's been fantastic. Jenson's done a great job, he's brought a great feeling into the team. I think the team have worked endlessly and pushed as hard as they possibly could, it's just unfortunate that the other guys have been just a little bit faster than us during the year.
"I think our reliability probably hasn't been where we would have hoped it to be. As a driver, I think my reliability hasn't been as good as I'd hope it would be. I would prefer to have finished every race. But we take what we've learned from this year and move forward."