As Fernando Alonso sat down at the back of the Ferrari garages immediately after the season finale in Abu Dhabi, sipping silently from his drinks bottle, you could be sure that the one thing going through his mind was not what a great year he had had at Maranello.
The disappointment of seeing a simple strategy error rob him of the chance of bringing the title back home in his first year with the Scuderia would have been all he would have felt for a long time - especially because he had been so close to pulling it off.
Yet when the dust had settled, Alonso was quickly able to brush himself off and keep to his mantra that 2010 had not just been one of the best seasons he had had in F1 - it had been the best.
Before the season finale in Abu Dhabi, AUTOSPORT was granted an exclusive interview with Alonso where he reflected on the year he had had, his experiences of arriving at Ferrari, and his 'bad boy' image. He also had some fairly harsh words to say about the British press.
For the first time, and with his words very much still relevant despite the torture for him of how Abu Dhabi turned out, here is the full-length transcript of the interview where he offers a real glimpse into his season at Ferrari.
Q. You have said a few times that this year with Ferrari had been the best of your career? Why is that, because it's not been easy - there have been big low points, errors in China/Monaco, controversies and another team with a faster car...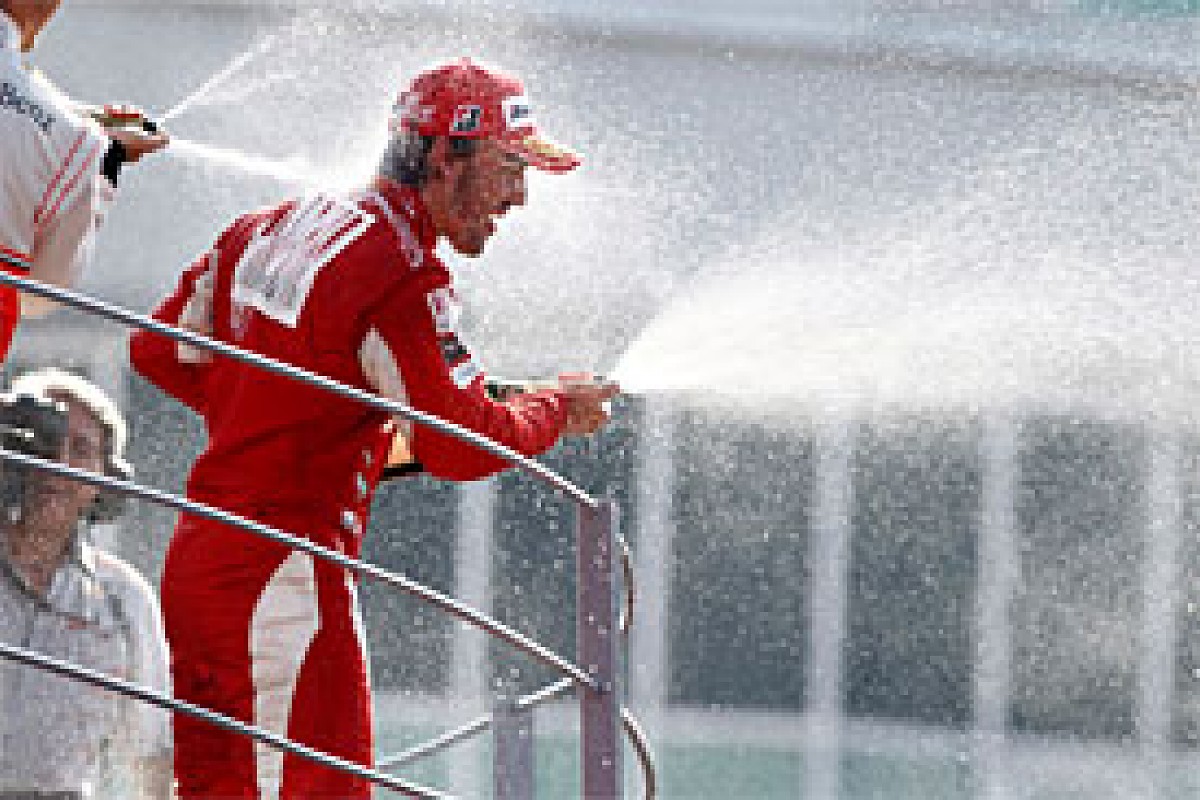 Alonso hailed the year as a success despite no title © LAT
Fernando Alonso: Because I wake up every morning with a smile. Being a Ferrari driver, I think I found in this team all the values that I have as well - the determination, professionalism, a friendly team and a happy one as well. I think we never gave up as well, so this team also showed me how professional they are and how they work, so all this philosophy and all this approach to a championship or to a weekend is the first time I have had that in my career. As I said, every morning I wake up, I look in the mirror and smile because I am part of this team.
Q. Were there any reservations or nerves that it would not be like that before you joined. After all, you'd gone to McLaren with similar aspirations that you could find a new home there and that had not worked out?
FA: Well, I think I was quite relaxed. I knew some people from the team from previous years and in winter, the first time I went to Maranello at the end of last year I already felt a good atmosphere there. So, I was quite relaxed and then, in the first couple of winter tests I proved that I was right and all the feelings that I had were okay, and also in Madonna di Campiglio with pre-season training there it was quite a good feeling, quite surprisingly, so I had no doubts.
Q. Ferrari is not like any other F1 team - Maranello is a unique place with a unique feeling. How quickly were you able to understand the intricacies and how different it was to other teams you had worked with?
FA: Well, as you said, it is a not a normal F1 team. It is much more than that. It is a philosophy. It is a way of living for some people and a religion for the Italian fans as well. So, it was a surprise for me in a way how big Ferrari was. You know when you arrive to Ferrari it is a different world but it is maybe more than that. It was nice. For sure, with Stefano Domenicali and president di Montezemolo, they introduced to me some part of history for Ferrari and the important values of Ferrari, and I was discovering little by little all the things in Maranello. There was the Fiorano circuit - the house of Enzo Ferrari - many things in the first couple of months. And then you are even more impressed with the team.
Q. One of the reasons things did not work out between Ferrari and Kimi Raikkonen was that they felt he was not enough of a leader. Did you have a feeling that Ferrari was looking to you to do that for them?
FA: I don't know. My mission, my job, is to drive the car. Of course, the more information you give to the engineers and the people in Maranello the better the result will be because obviously they are great designers of the car, great engineers, but you cannot do and trust the simulation always 100 percent because sometimes the reality is different. So it is good to have this shared information between the track and Maranello, and hopefully I can help in this transition of information and develop the future in a way together. But I think both Felipe and me, we are two drivers who share this philosophy of information and we both try to contribute to the team as much as we can.
Q. But do you feel you have pushed them along and made a difference, made them do things that were not happening before you arrived?
Alonso was mostly all smilies during 2010 © LAT
FA: I am sure there are things that I learned from Ferrari, in terms of approaching weekends, in terms of strategy, in terms of set-ups and evolution of the car - that for me were new. And as you said there were for sure some things that I learned in the past, with the previous experiences for me, that I said to them. Probably they took some notes and maybe it helped them as well to change some things. All the information and the past experience is always helpful for a new future.
Q. You've acted as a bit of an inspiration for the team too - keeping things calm during the bad times and rallying them when needed. In Korea it was interesting you took the blame for the pit stop delay in the race, while minutes later Stefano Domenicali said it was the teams' fault. There is clearly a good team spirit...
FA: Well, I think when the team is giving you a lot, you have to deliver on the track and you have to give all you can to the team as well because if they give you 100 per cent then you have to give 100 per cent.
There were bad times in the season, like after Valencia and Silverstone where we were back in the points and it was time to show them that I was not giving up. I knew that Ferrari would never give up because Ferrari is here to win every weekend but I was making sure that they understood that I would never give up as well. I am new in the team and for sure next year I will not need to say anything because they will know me better, but this year sometimes it was better to say that.
In Korea, for example, at that time in the press conference I really thought that it was my fault because I arrived too late sideways, but then I also saw apart from my bad position we lost one of the nuts. So, I think it was 50/50...
Q. Were there some early season frustrations though. A lot was made about Australia when you got frustrated being stuck behind Felipe Massa in the race?
FA: No. In a way Australia was a good result. It is strange, and sometimes difficult to see, that in Australia there was more talk about my laps behind Felipe than the start, when I crashed with Jenson Button and I spun. It seems people forget this moment, that I was last in the first lap, and then they spend too much time talking about the laps behind Felipe.
Q. What about the early season progress of the car? There was a lot of focus on getting the F-duct and blown diffuser working, and not much other car development at times.
FA: Yes. Obviously we started the season very strong. In winter testing and in Bahrain we had a very competitive car, and then as you said we lost a couple of months developing and trying to get the F-duct working and the exhaust system working as well. With the exhausts we had some previous thoughts about that in the winter, but the blown rear wing for us, it was a surprise in a way for that system to be allowed. It is something that people don't talk about too much when they talk about 2010, but it is okay.
Q. So do you feel the team was making enough progress pre-Silverstone then, when that breakthrough new package came through?
FA: Obviously we were making progress but we were behind in two big aspects of the car evolution - which was the F-duct and the exhaust system. There was already one team with the F-duct since the beginning of the season and already one team with the exhaust system from the beginning, so we were always in a catching mode. It was never enough. We knew there would be a couple of races with some difficulties but our mission was to score as many points as possible until we had a competitive car and we could fight again for victories. We tried to do our best and I think around Valencia or Silverstone, our car was in a very good level of competitiveness.
Q. How early on in the season did you realise Red Bull Racing was not going to run away with it?
FA: Well, we knew that Red Bull was very quick. We were working and we were convinced to catch them in terms of pace, pure pace, in qualifying. They had the quickest car in Saturday in qualifying but we know in F1 you need many things to win, and many factors are involved in the game. Maybe Red Bull had the quickest car, we know Mercedes has a very good engine - but overall Ferrari has the better car and that is what matters in the end.
Q. You are a man whose image in different countries is very different. You are like a God in Spain, but in Britain there are people who love you and people who think you are the villain. Does what other people think worry you? Or is it just part of pantomime, part of sport?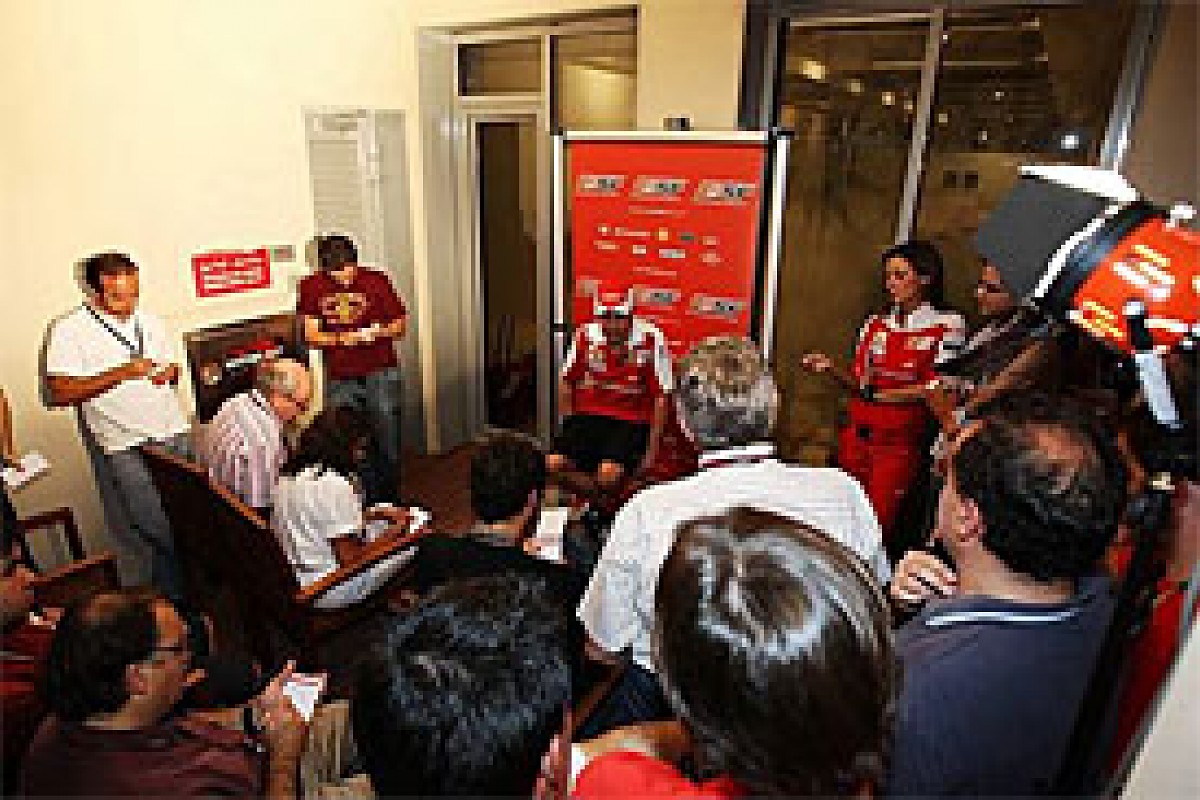 Alonso talks to the press after the final race © LAT
FA: It is part of sport and part of success probably. I read the other day that Kobe Bryant and LeBron James are the two men with the least popularity in the USA. And that says many things.
When you are doing well and having success for whatever reason people don't like you too much. When you are P18 in every race, you are such a nice man! So, hopefully I am a very bad man in the future as well...
Q. Did the post-Hockenheim press conference, when the British press laid into you, annoy you?
FA: No. I think it was...it was their problem. In a way I feel sorry for them because probably they don't have a good or happy life, as some of us have now at the moment. It is the way they react and, as I said, it is a shame but for us it was not a problem. In a way the good relationship of how united Ferrari is, and we prove that every weekend, is not a good thing for some people. And they don't like too much this unity. That is their problem not ours.
Q. A lot has been made in your career about how you deal with team-mates - with Jarno Trulli in 2004, Giancarlo Fisichella in 2005, Lewis Hamilton in 2007 and Felipe Massa this year. From a philosophical point of view, can a team have two equal number ones and not compromise its ability of going for a championship?
FA: As a driver, I think the two drivers have to be equal. Equal status. Many of the two, especially in the top teams, you are talking about drivers with experiences, drivers with talent, they prove so many times that it is good to have this two possibilities in a team in order to have two possibilities of fighting for the championship. Then if in a way in a championship you see that mathematically there are no more possibilities, then maybe the team will decide whatever they think.
Q. But is there not a better comfort zone if you do not have to worry about a team-mate? Does that not help your focus of delivering the best for the team as you are not worrying about what is going on with the other car?
FA: No. I think nothing changes too much. You try to do your best always. Sometimes you can do it and sometimes you cannot. It is not something that you concentrate too much out.
Q. What is Fernando Alonso the man like. What do you get up to away from the track? How do you relax?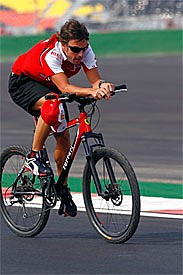 Alonso is an avid cycling fan © LAT
FA: I like all sports basically. On television when I can I like to watch football. I love cycling so of course the Tour de France, the world championships - I like to watch them on television. Tennis too. Then, in a normal day, I love bicycles so when I wake up I try to take the bike, do three or four hours on the bicycle, and then in the afternoon spend time with the family and do very normal things - like go to the supermarket, the cinema - and normal things for a 29-year-old.
Q. Do you have much feeling for the history of the sport?
FA: Not much from the past to be honest. Spain was not very popular for F1, when I was a child, so I don't have great numbers or I don't follow that much the history of F1. I concentrate much more on now, the present.
Q. And no racing heroes then?
FA: Well, yeah. The name that in Spain that was more popular in my time when I was seven or eight, when you start watching TV or follow some idols, Ayrton Senna was winning at that time. He was winning championships. It was not television coverage in Spain for F1, but in the news there was this Ayrton Senna winning and winning, and when you are a kid you normally follow the winner, the number one, so Senna was the man of the little idol when I was go karting.
Q. Have you seen the film?
FA: No. Not yet. But I will watch it.