There's no question that 2010 was a very good year for Robert Kubica, even if he ultimately lost seventh place in the championship - and the unofficial 'best of the rest' tag - to Nico Rosberg.
After a disappointing 2009 with BMW Sauber Kubica bounced back to boost his reputation with some great drives for Renault. At one stage he was mentioned in connection with a Ferrari drive, but for the moment, he remains committed to the Anglo-French team. And he seems to be happy with where he is, as he can see progress has been made.
For much of the season he was the guy most likely to pick up the pieces when those in the top three hit trouble. Sometimes he had the pace to beat them fair and square anyway, starting second in Monaco, third at Spa, and fourth at Suzuka - all tracks where the driver plays no small part in the overall performance.
He lost a certain podium in Japan when a wheel fell off, but at the other two he brought the yellow car home third, and he also took an opportunistic second place in Australia. Indeed, along with Rosberg he was the only man outside the top three teams to pick up a trophy.
Given that Renault had endured such a tough time in 2009, would Kubica have taken it if someone had offered him three podiums before the season?
"I think realistically speaking from where we were starting at the beginning of my collaboration with Renault, I would say I would sign straight away," he admits. "Because I think you have to look at the situation realistically. Somehow of course expectations are welcome, but you have to always be cool in your mind, and expect real things.
"So I think it was obvious we were not expecting to win races, I think it was obvious that we have a lot to do to improve and a long way to be in a position where we can win. So, I would say I would sign straight away.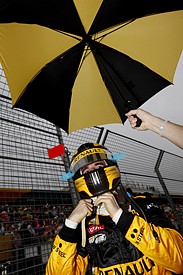 Australia was Kubica's first big result of the year © LAT
"Of course, once we got a podium like we got in the second race in Australia, we wanted more. It was the same after Monaco. But you have to remember we are not the only ones working here, we are not the only ones pushing here, and there are really tough competitors in F1. So it's not as easy as it might look. It's not enough enough, your desire, you have to change this desire into the competitiveness of the package of the team and of the driver of the car."
Kubica says the first of his three podiums was the most memorable, because it came as a surprise.
"I think the best highlight was Australia, because it was completely unexpected. In Monaco, from Thursday I was expecting something. At Spa again we were strong. I was not expecting a podium, but all sessions, all through qualifying, we were in the top five. But definitely Australia was completely unexpected, and a very nice feeling!
"It was a tricky race, so we really did everything nearly perfectly. The only gamble was if we'd stopped one lap earlier for slick tyres, then maybe we had a chance to win.
"I was happy with third in Monaco - if you think starting second there you might still be second in the first corner, you are a dreamer! Spa was I would say a mistake from my side in the pitlane, and I was for sure unhappy about it. I lost there a second place, but we still got third."
It wasn't just about the podiums, of course. There were many races where a fourth or a fifth was just as rewarding.
"There was no really weak weekend from our side, there was never a period where we were clearly off the pace or lacking performance. We had a couple of races which were not ideal, Silverstone and Hungary, where unfortunately we had one technical failure and an incident on the pitlane.
"Often you have to consider that I was a bit out of position from where I should be. Often I took advantage from mistakes of the other competitors, or strange conditions, like for example Malaysia, where I finished fourth, but only because some strong cars were completely behind. I have to say that I did some, let's say, mistakes, but I never lost more than one position. What is another valuable thing is that even if the car often was just on the edge of getting into quali 3, I was always there until Abu Dhabi... Even if we had difficulties, we always managed to be there, which was a positive."
A good solid season is just what the doctor ordered for both driver and team, given the turmoil in the camp at the end of 2009. When Kubica first started talking to Renault, the management team still included Flavio Briatore and Pat Symonds. They had left before he actually signed, but subsequent to that there were huge changes in the organisation as the Genii Group took over and Eric Boullier was installed as team principal. It was no longer the team he had agreed to join - but that was not necessarily a bad thing.
Eric Boullier settled into F1 rapidly © LAT
"A lot happened that in the beginning I didn't know. When I actually realised something was going on, I was a bit surprised. I was relaxed at home, I'd signed with Renault as a car manufacturer. Although there was a lot of speculation going in the media I was always secure that nothing would happen. Then once we realised something was really happening, of course I had... not doubts, but some question marks.
"To be honest I think I should have known about it a bit earlier, not because I would like to leave, but as I was already part of the team, and I committed to the team quite early. In that situation I think especially in the beginning of your collaboration it's always welcome that you collaborate in a really straightforward way.
"To be honest on the other hand I was pretty relaxed. Renault selling the team was more to secure a better or safer future for the team, so it was somehow good news, in a positive way of thinking. Once we had a chat with the new owners, and understood the way they were looking forward with the project and stuff like this, we were pretty relaxed."
So what did he think of the Genii guys when he first met them?
"We didn't meet, we had a conference call. I knew Eric from younger categories, and I knew Gerard [Lopez] from the paddock. Actually, we talked a few times before Renault. So I knew they were people with whom I would somehow collaborate.
"It's difficult for Eric, it's difficult to join F1. I think F1 is a really special world. It's difficult because in the end you have to stand up in front of people you don't know, and those people don't know you. He didn't have F1 experience, so it's not easy, but I think he's doing a good job in both ways, with the drivers and with the team. It definitely was not easy for him, but he managed to do well.
"Also I think there was quite a lot of enthusiasm from the guys in the team when the Genii deal was announced, so somehow it shows you there was a positive air in the factory. I think it was important especially from the beginning to have fresh air, and positive flow of everything."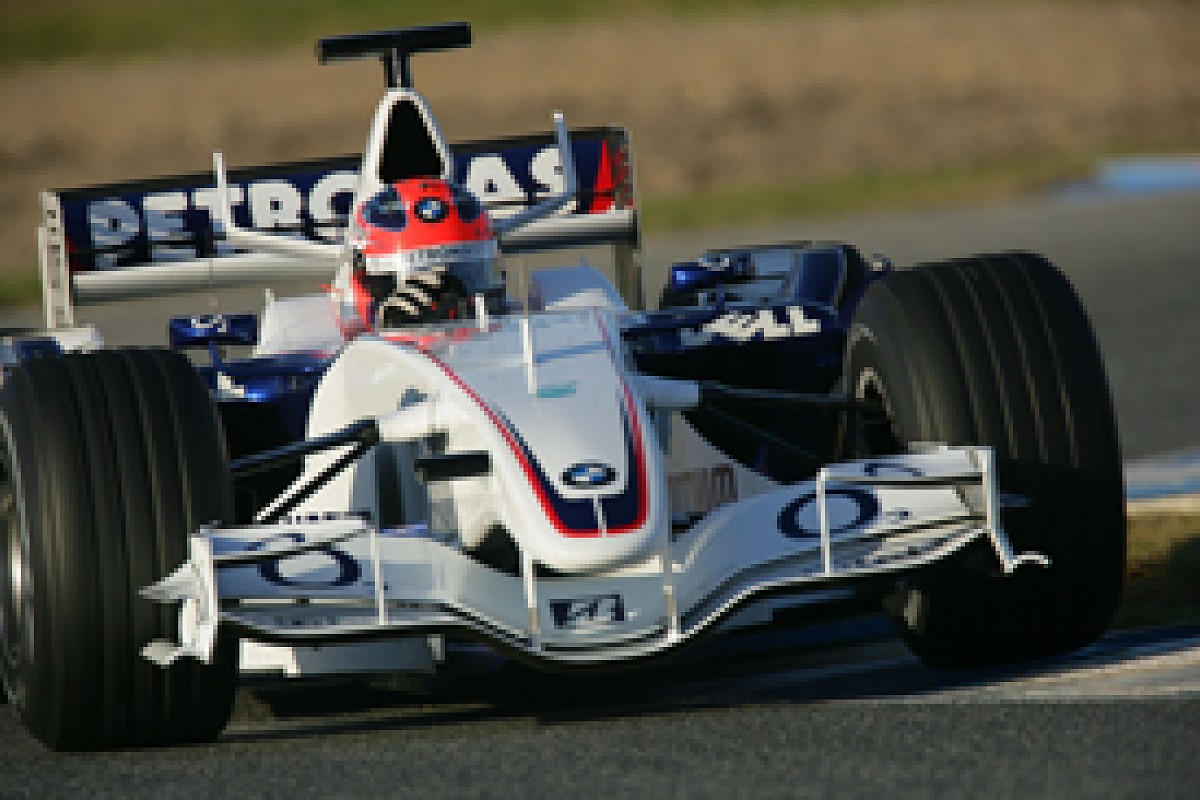 Kubica had spent his whole F1 career with BMW until 2010 © LAT
The only F1 team Kubica knew was BMW Sauber, which of course had a Swiss-German flavour. Even earlier in his career Kubica spent most of his time in Italy and had little experience of British-based teams, apart from Macau with Manor and Carlin. Once he found his feet at Renault, he was happy with his new environment.
"It was quite a big change, I would say. It's a completely different mentality, a completely different approach. I think I found in Renault some very good stuff, and some areas where we really need to work hard to improve. F1 has developed a lot in the last years. I was part of BMW when they took over Sauber, and even Sauber, which was a very small team, within two or three years the team had changed a lot and developed a lot. It's not only the car, but as a team, the operation side and stuff like this.
"Definitely I found a good team at Renault, a team in which I found an atmosphere I liked, which is permitting you to have a bit more fun away from driving. So I have to say I'm happy in Renault, and I'm feeling well."
From the start Kubica seized the opportunity to become as closely involved as he could, visiting the factory and getting to know the guys.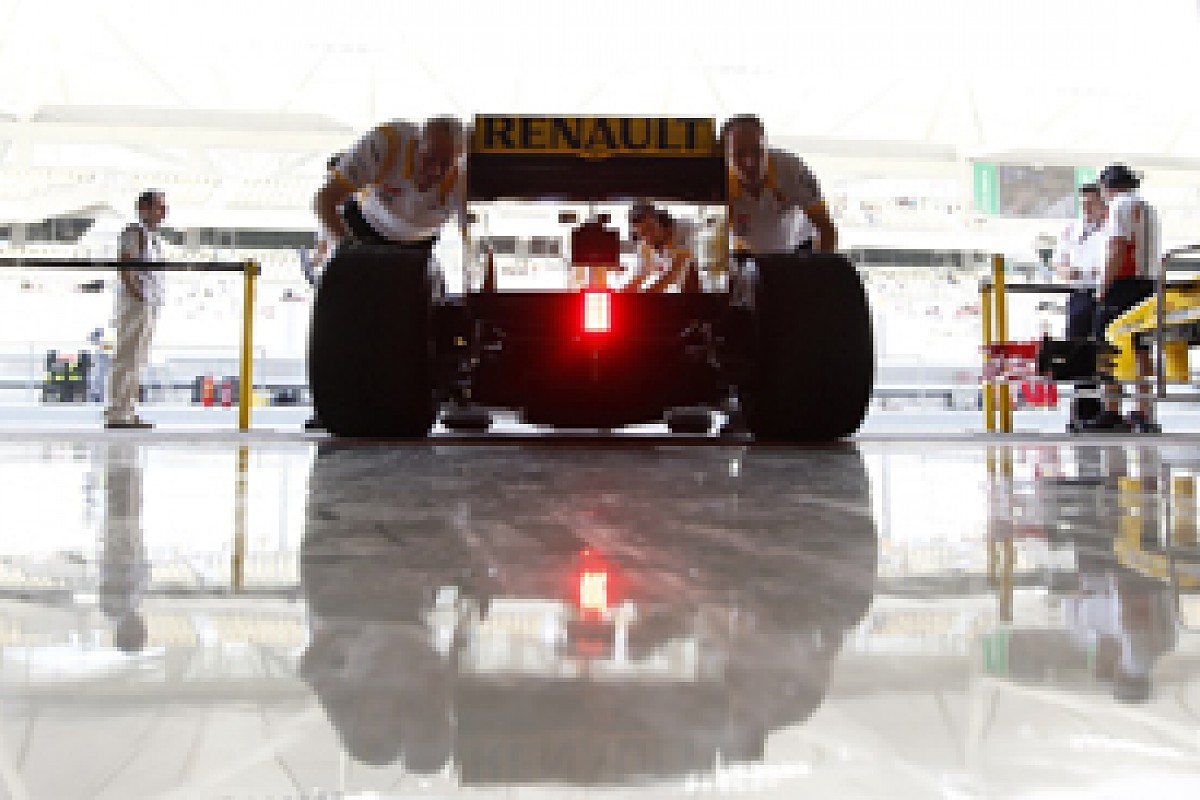 Kubica heads back into the Renault garage © LAT
"For me it was very clear. The time that we had for acclimatisation shall we say, or to get everything sorted out, was in the end very, very short. Because in the end tests are limited, tests are done with one car, so it was a very limited time. It was very important to not lose time testing little things. Sometimes even in winter testing we were talking about things which didn't happen in the winter, but might happen during the season, to be prepared.
"That was also the positive way of BMW, everything was clear, everything was sorted out, everything was in its place. Once you are in a race where there is stress, where there is not a lot of time, and you're always running, you know exactly what to expect, and in case you have problems you know exactly how to fix it.
"It's little things. Even on the pit board, the messages and stuff like this, they are different in Renault. Maybe you will never use those messages during the whole year, but you have to know exactly what they mean, and how to react.
"There was a lot of work to be done away from the race track, and once we started testing it was important to somehow point out the strong and weak areas of the car, and somehow to give the team as best feedback as you can in order to not waste time trying to find the optimum way or the right way to develop the car."
The team has consistently praised Kubica for his role as a motivating force, someone who - like Michael Schumacher or Fernando Alonso, his predecessors at Enstone - can help to get things going. The man himself downplays his own contribution.
"I think a driver cannot really build the car and cannot really lift the team. The driver is one small part of an F1 team. Of course somehow you might have an effect, and your feedback, the way you are working, for sure it might have a big effect on the team. But in the end I'm not designing front wings, I'm not trying to find the best way to spend money. The way I'm thinking, I'm thinking as a driver, so there is a much bigger project behind to think as a team, from a team's perspective.
"But of course as a driver I try to do the maximum that I can, and I try to give the team the maximum from what I can offer. I hope that somehow we managed in both parts, me as a driver and the team as a team, to deliver a decent product, a decent package, from the first time we worked together."
The key thing is that any team appreciates having a driver who benchmarks the car every time he goes out. If he ends a session in P8, then that's what the car will do. Kubica agrees.
"I think you have to be honest with the team. Many times I was, not frustrated, but unhappy about my performance. Many times I just stepped out of the car and said, 'That was it.' There were races this year where I was happier with P7 than my P3 in Spa, or even P2 in Monaco. You have to I think be somehow honest with yourself, and honest with the team. I know it sounds sometimes difficult to accept that P8 is the maximum, but if this is really maximum, that's it.
"We have to realise that we have to work hard, I think that's very clear in the team. We need time and for sure a lot of effort, and maybe even more effort and more resources than we have now. As I said before, F1 became a very, very tough sport, and there are no really weak teams. The whole grid is very tight. Okay, there were occasions when Red Bull was miles away, and stuff like this, but for example in Bahrain we were 1.7s away from the pole, and you would never think that in the second race we would be on the podium!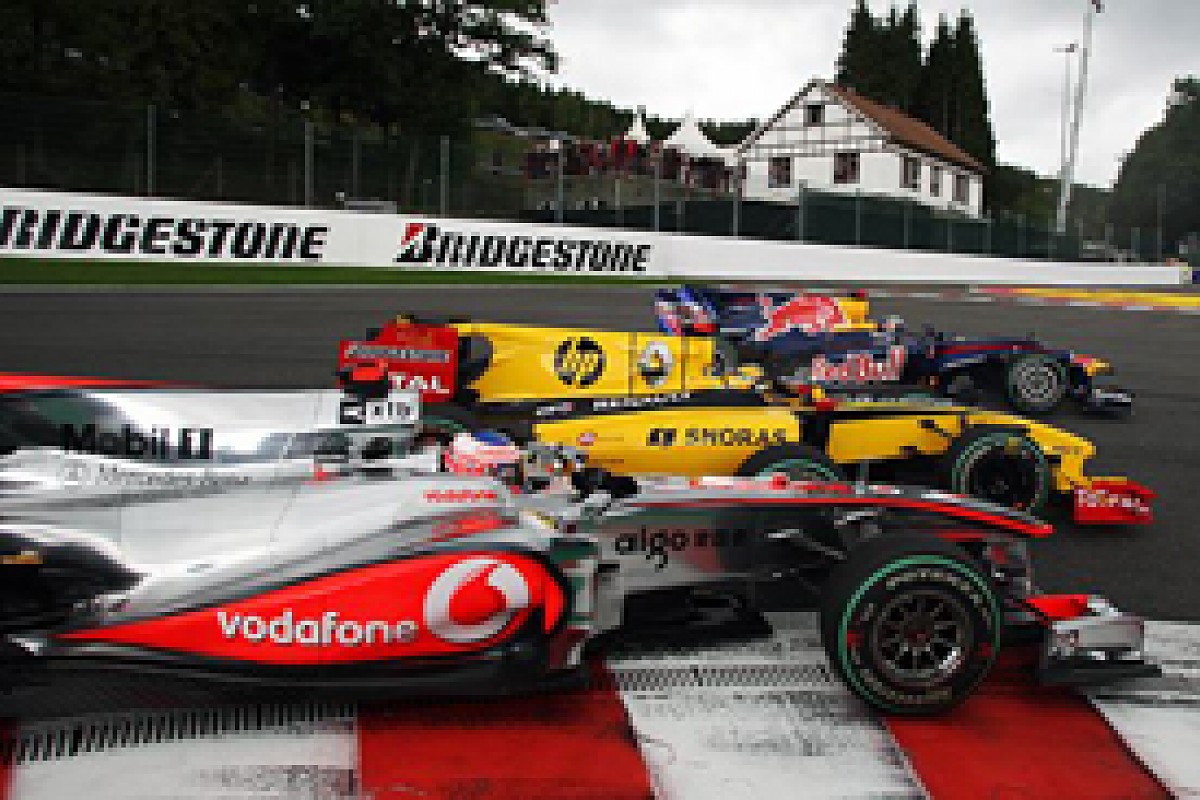 Kubica was regularly threatening the title contenders © Sutton
"It's become a quite tricky and difficult sport, not only for the drivers, but I think mainly for the teams. There is no really weak team now, apart from the new teams, but in 2009 all the teams apart from Toro Rosso went once on the podium, which says a lot about how tough this sport has become for the teams."
Next year of course there are many unknowns, with Pirelli, KERS and movable wings complicating the mix. Kubica isn't making any predictions, but he's confident that the team has the right approach.
"In winter testing everybody thinks they have the quickest car. Unfortunately there's one winner. What is important to have a clear programme and plan for the whole year. In 2008 with BMW when we dropped the car on the track in Valencia, we were the slowest. We were two seconds off on a track with seven corners! In a very short time we had the car starting on the first row in Australia, and in Bahrain we were on pole.
"It shows that yes, it's important to build a quick car, but it's also important to build a car with potential, and to know how to exploit this potential."