It was Friday morning in Brazil. If it had been a big fight the boxers would have been into their last round of insults, trying to shift those last tickets and boost their purses, with a grateful media lapping it up. None of that here, surely...
But hang on. What's that Stefano Domenicali has just come out with? If Ferrari had Red Bull's car they have won the championship aeons ago...
Not bad, much more newsworthy than anything likely to be thrown up by FP1, so off everyone goes for a response from Christian Horner. You could imagine the bored indifference. It was probably just an off the cuff remark made at an unguarded moment when he replied that if Red Bull had Ferrari's engine they would no doubt have done likewise...
Christian Horner and Adrian Newey © LAT
Christian's timing, though, probably wasn't his best. It coincided with everyone's inboxes pinging with Renault's announcement of the two-year extension to its Red Bull deal together with the inevitable mutually ingratiating quotes. Oops... The Italians, at least, thought it was very funny but I can't speak for the French.
Truth is, it's hard to assess the strengths of the various engines in F1 given the different chassis and you get a different opinion depending who you talk to. One experienced F1 technical man I was chewing the fat with in Singapore nodded in the direction of Adrian Newey's Red Bull and said, "It's a bloody good job that thing hasn't got a Mercedes in the back of it..." Then, a bit mischievously, he nodded towards the Mercedes and added, "and if that had a Renault in it, it would be fighting with the Toro Rosso..."
Cosworth's Tim Routsis, asked at Monza for a frank assessment of where his company was on its first season back in F1 after a three season break, said: "I think all the engines are extremely close and the best measurements we've been able to take say that everyone is within about four per cent and I think we're towards the front of the pack."
That assessment squares pretty much with Newey's: "All our analysis suggests that we are at least four per cent behind a Mercedes," he said. Which doesn't sound a lot but, he added, "at most circuits that's getting on for half a second a lap."
We're talking outright power here. Things such as driveability are important too but give a designer a choice and he'd take the grunt every time.
Red Bull, of course, tried hard to do a Mercedes engine deal in 2009 but it was blocked by McLaren. Which, in fairness, you can understand. Thanks to Rob Smedley, 'magnanimous' probably became word of the year in 2010. And even if Felipe Massa doesn't know what it means, Martin Whitmarsh certainly does, and it describes pretty well his actions in giving Brawn GP a Mercedes when Honda pulled out at the end of '08.
And didn't that turn around and bite him in the bum! A few months later Brawn had won the world championship and Whitmarsh's commercial partners bought a controlling stake in Brawn's team!
Imagine someone coming along right then and saying, "Listen, Martin, Adrian Newey's busy optimising that thing that's already the quickest thing on the circuit and he'd love to put our engine in it..." You can quite easily see why the conversation would be a two-second one.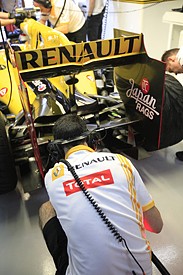 Renault power hasn't been viewed as the strongest in recent years © LAT
Under the conditions of the F1 engine freeze, any hint that Renault is a little down on power is no reflection on the company's ability to do just as strong a job, it dates back to what they did or didn't do before the engine specification was frozen.
Says Newey, "Mercedes has blocked all conversations with regard to Renault being able to retune or redress the balance. They've systematically gone through FOTA and blocked all that. It was a very frustrating position to be in because some people argued that if they gave us an engine performance upgrade, then we should have given them our front wing, for instance. That's been one of the conversations with a senior person at Mercedes!
"All very well and good but we weren't stopping Mercedes or McLaren from developing a front wing that's the same as ours, whereas they were stopping Renault from developing an engine to match the Mercedes."
With that going on in the background, and given the irony of the Domenicali/Horner exchange in Brazil, the circumstances of the Abu Dhabi decider must have absolutely delighted Renault. Not simply the fact that it took both titles with Red Bull. For over an hour millions around the world watched a driver with the reputation of Fernando Alonso with his Ferrari engine and the championship at stake, powerless to overcome a relative unknown like Vitaly Petrov and his Renault.
The fact that it had little to do with their respective V8s will have been lost on many. As Kubica fended off Lewis Hamilton and Petrov dealt with Alonso, even people really close to the sport were saying, 'Blimey, that Renault's got some grunt...'
It didn't have. What the car did have, by Abu Dhabi, was a highly efficient F-duct.
"A lot of teams did the F-duct much quicker than we did," explained Renault's technical chief James Allison. "That was just a straightforward decision I took to push on with all our other developments. We were planning to introduce it at Silverstone but when we tried it in the tunnel we couldn't make it work reliably. I'd seen lots of other teams bring it out quickly and then struggle for a couple of weekends, so we canned it and chose a different direction, which pushed it back to Spa, where it worked very well."
It certainly did, even if it gave Kubica a fright on lap one as he struggled to take Eau Rouge one-handed with a full tank of fuel, got into a tank-slapper and almost took out Vettel!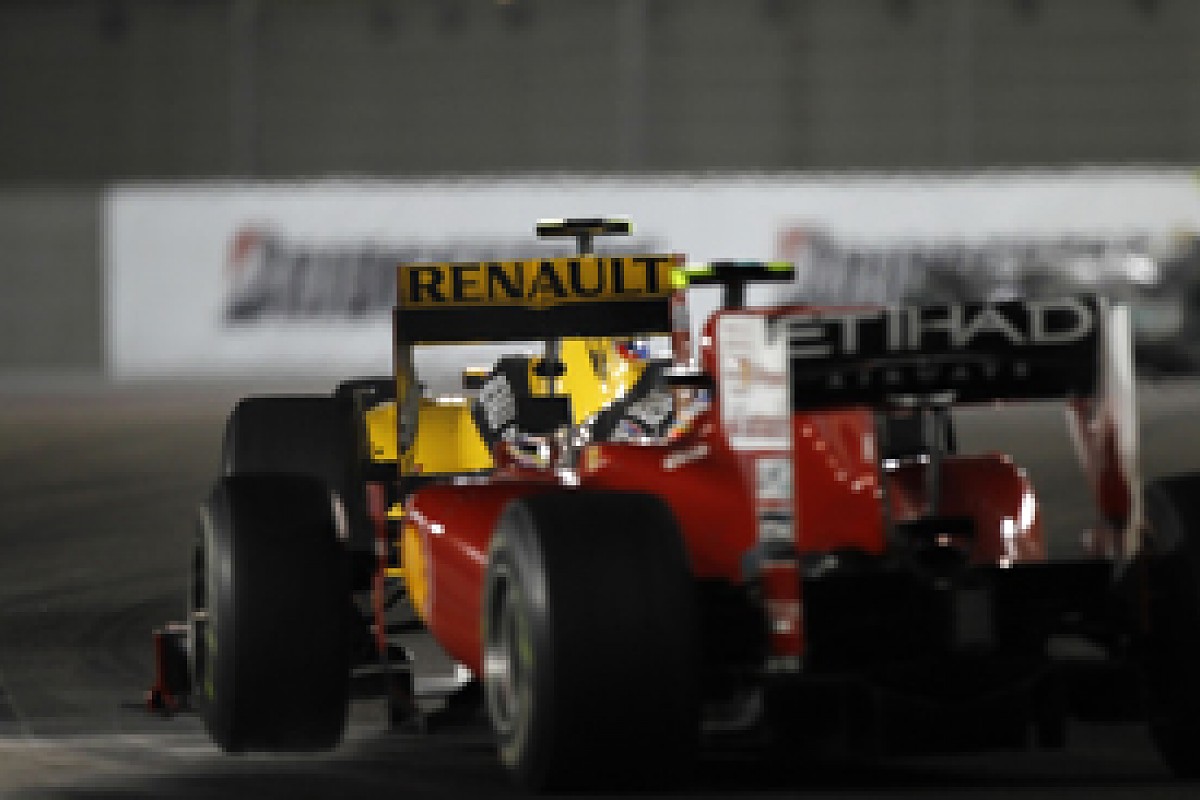 Petrov kept marching away from Alonso on the straights in Abu Dhabi © LAT
For the rest of the season, the Renault was right there in sections of a circuit where the F-duct was important. Maybe Renault sometimes ran a tad less fuel in FP3 but in Korea the Red Bull men looked at Kubica's FP3 sector one time, shrugged, and admitted, "we can't do that..."
It was good to see the under-pressure Petrov earn some plaudits too. An F1 rookie season beside Robert Kubica? No thanks... Remember Timo Glock a year ago? A Renault seat alongside Kubica or Virgin Racing? Apparently Timo had had enough of corporate Toyota and yearned for a return to the small-team intimacy and involvement of a team like his old iSport GP2 set-up, but I wouldn't mind betting there was another reason he didn't fancy Enstone...
"Vitaly has been up against a fiercely good team-mate without much testing," Allison says. "It's a very tough point in F1 history to be a rookie - and particularly tough for him. He ebbed and flowed. Some weekends he was absolutely first rate, others he struggled. Many things are much to be admired - he's a brave and committed racer and he's not easily flustered in a race." As Fernando found out...
Alonso had actually discovered it in Turkey, where he managed to barge Vitaly out of the way, but not this time. There's always been good people doing a good job at both Enstone and Viry. I kind of liked the way it worked out...