The 2011 FIA Formula 1 World Championship Sporting and Technical Regulations have yet to be published on the FIA's website, but it appears they were effectively firmed up when teams' technical directors met with FIA technical head Charlie Whiting in Sao Paulo during the Brazilian Grand Prix weekend.
With both world championships up for grabs the meeting received little publicity at the time, although information dribbled out in Abu Dhabi, primarily from those who did not have a dog in the four-way fight that eventually went the way of Sebastian Vettel.
In essence there are two fundamental regulatory changes over the 2010 technical regulations - three if the deletion of the moveable front wing is included. Those two are, of course, the switch from Bridgestone to Pirelli tyres, and the return of KERS, which, although never removed from the books, was by common agreement a no-show during in 2010.
KERS will return to Formula 1 in 2010 © LAT
Turning first to KERS, the kinetic energy recovery concept - originally pioneered in F1 by Adrian Newey while at McLaren. At the time, it was banned prior to its introduction by the FIA. The governing body then dusted off the concept ready for presentation as its own. It enjoyed a mercurial debut year in 2009 before the teams, acting under the FOTA umbrella, agreed to voluntarily suspend its use for 12 months on cost/operational grounds.
Since then the sport has adopted a refuelling ban, adding considerably to the length and width of cars in order to accommodate the additional 120 kilograms of fuel required to complete a full race distance. Quite how and where engineers will accommodate the KERS motor/generators and battery packs, the latter with cooling devices, remains a big question.
Although Frank Williams fears his cars will end up 'the size of a London bus', his partner and Williams co-founder Patrick Head believes otherwise.
"It might make the cars a fraction longer; they're already quite long because of the displacement of fuel volume (six to eight litres) in fitting the batteries in," believes Williams's engineering director.
Head expects batteries to be accommodated in the sidepods, as was the norm in 2009, while the amount of cooling fluid (with a viscosity about 10% that of water according to a supplier) is 'very small'. "You won't have a visible influence on the external parts of the car," believes Head, although he concedes cars will be "marginally longer".
There had been initial suggestions that KERS output (currently 80bhp) or usage per lap (six seconds) would be upped/extended in order to encourage use of the device, but it seems one particular system - believed to be that of Mercedes - could not be significantly upgraded despite originally having been developed at great cost. So F1 is stuck with the original 2009 KERS formula, with the next big step expected in 2013.
When F1 last ran KERS however, the minimum weight remained as-is despite the 35 kilogram penalty the device brings to the overall package. This severely handicapped heavy drivers. Robert Kubica, in particular, was affected, while Mark Webber escaped simply due to Red Bull's refusal to embrace the system. In 2011 though, weight will be increased by 10 kilograms, with approximately half of that being taken up by a doubling in wheel-tether strength and increased (front) underbody reinforcement to prevent injuries from chassis puncturing, as suffered by Timo Glock in Japan 2009 - and nearly Vitantonio Liuzzi in Brazil this year.
Still, five kilos makes a massive difference at this level, particularly as front:rear weight distribution has been fixed at 46.5:53.5 with a tolerance of plus or minus 0.5%. This had previously not been the case, with the weight problem being compounded by Bridgestone's 'weak' front tyre of the time.
Talking of which, Pirelli delivered the first 'rig' tyres to teams just as they headed for Sao Paulo. Their profile is, said Sauber technical director James Key, "no surprise."
"The tyres matched what we expected," he added. "A bit rounder at the back [compared to Bridgestone's design]; I suppose you could say pretty similar to a Bridgestone shape at the front but a bit more square."
He does, though, add a caveat: "From what we've seen, it looks like the rear is going to be a bit weaker than what we're used to now. And the front? Probably similar. But I think a lot will depend on the compound they end up using and how we need to set the car up.
"Because it could be that you just need to set the car up to account for the weak rear and then suddenly it's okay again. I guess we'll know a bit more next week," he added, referring to the first Pirelli tests, starting Friday.
The good news is that in Sao Paulo the Italian tyre company's motorsports director Paul Hembery disclosed exclusively to this column that the company would be extending its testing contract with Toyota; thus, although in-season testing is banned, the company will continue using the TF110 to develop tyres as the season wears on.
Back, though, to the regulations... Although double diffusers are banned for 2011, the 'blown' aspect of them, which use exiting exhaust gasses to speed up airflow thereby creating venture-induced vacuum, will still be legal under certain circumstances.
"In terms of the actual chassis-defining regulations, the biggest change is a change to Article 3 [of the technical regulations] that will prohibit allowance for what's called the double diffuser, to flow air up through the floor and up into a channel above the main diffuser. That will certainly reduce downforce, albeit that we then take an approach to the car to try and get as much of that back as we can," explained Head.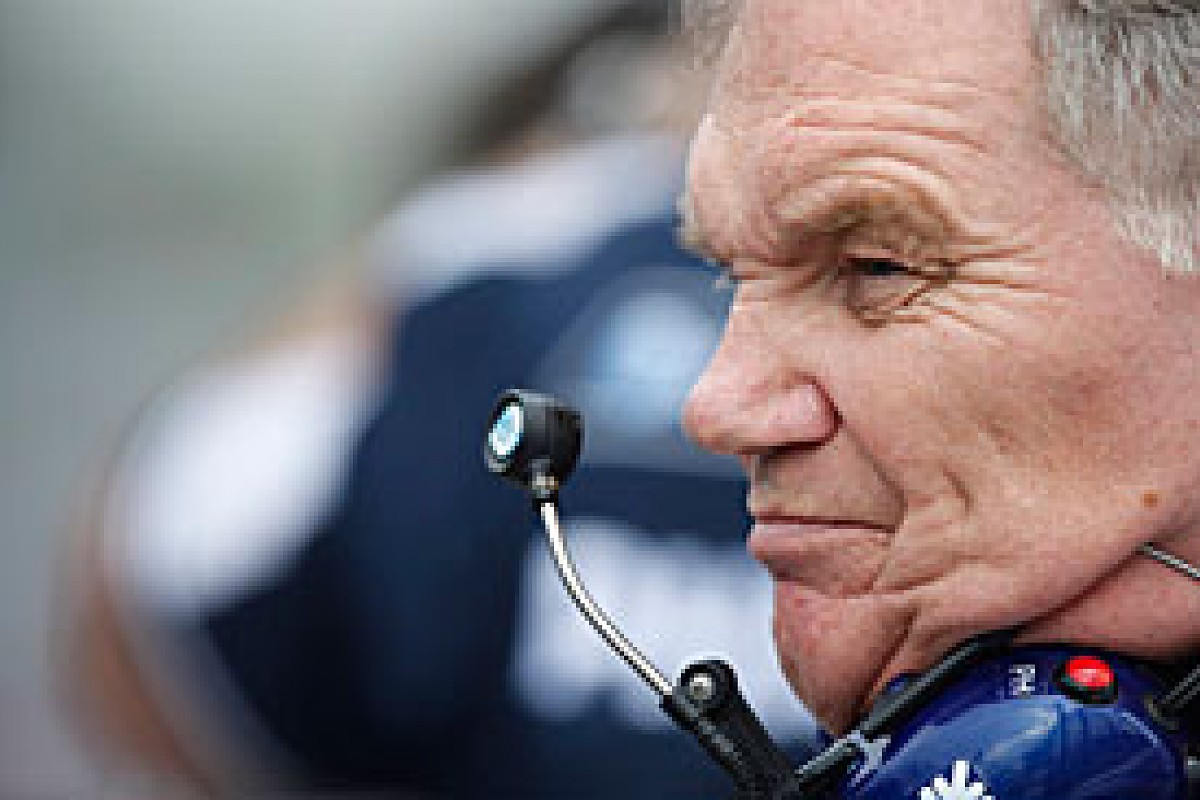 Patrick Head, Williams co-owner © LAT
Referring to blown floors, Head differentiated between this year's version and what will be permissible in 2011. "Okay, it's just a word, but it's not truly a blown diffuser. Most people are blowing above the spat, the low bit inside the wheel. The diffuser tends to be inside that and they're blowing air around there which is going in underneath, and you're increasing the velocity, you're reducing the pressure underneath ... so it's sort of exhaust-blown.
"As you've probably seen on ours, we've got one level and then we've got an entry which we're blowing underneath. You're not allowed to have any holes in any of those surfaces, but I'm sure we'll still see people with low-exit exhausts, and energizing the local air flow using the exhaust."
Interestingly, Key referred to the current Williams design when explaining the changes: "If you look at some of the diffusers around now, people are very clearly designing the outboard part next to the tyre specifically to take up the exhaust flow and manipulate it in some way. Williams is a good example of that. And you just can't do that next year. So it will be less effective in some way."
So, in a nutshell, no double diffusers and reduced downforce from redesigned 'blown' floors. The biggest change facing F1 2011-style however is that adjustable rear wings will be permitted to facilitate overtaking - a move many purists, including Head, believe goes contrary to the sporting integrity of F1. Some critics have even suggested the devices could be unsafe.
"There's also a change which, under certain circumstances, allows us to alter the rear flap of the rear wing. The intention is to try and make it less difficult for a car coming up behind a car in front; to stop it getting stuck there. I think it sounds a bit artificial, but the regulations will be clear and understood albeit that I think there's a certain amount of [dialogue] between the FIA and the teams, the protocol of when it's allowed to be used and when it isn't and how it's used...'
Neither Head nor Key foresee safety-related problems with the device, with Head nodding vigorously when it is put that aircraft safely use precisely such devices to manoeuvre in three dimensions, plus Head believes the FIA will, rightly, "step in pretty quickly".
"It's of course very easy for them to stop it being moved if they [believe it to be unsafe], which might only be for a limited time if they feel it's necessary," says Head.
"We're obviously designing the hardware, we're obviously aware of the safety implications, because it's very easy to say 'it could be very dangerous because if it went into the next corner and it was stuck up and didn't come down again'. But then you could also say that if a suspension member broke it would be very dangerous. It's a piece of engineering, and we have to make sure it's well-engineered."
As Head pointed out though, use of the flaps has yet to be defined. Some insiders has suggested the car behind will need to have closed to within a second of the car ahead before the device can be deployed, although its use will be free during all practices and qualifying. See what Head means by a bit 'artificial'?
"It's pretty much what we said it would do, which is a driver-adjustable flap which will drop a certain amount of drag. But it's on-off, so it's not variable - you just press the button and it switches off," explained Key in Abu Dhabi. "I think where the ambiguity now is, is exactly how that will pan out as a sporting regulation, if you like.
"And that really depends on how it performs, because if everyone goes and develops it and it becomes incredibly powerful and we've got a set of sporting regs which mean people just have to press it to overtake and there's no challenge, that's probably bad. As races go by we'll understand how it's working; I suspect it will be track-specific, as well. You may find that certain parameters need to be adjusted for different tracks just so it has the same effect."
Like KERS, use of the adjustable wing will not be compulsory; thus some low rent teams may not develop it due to having other engineering priorities. but Head believes the device, coupled with KERS, could provide a boost of around 20km/h (10 plus 10) down longish straights, thus effectively making them must-haves.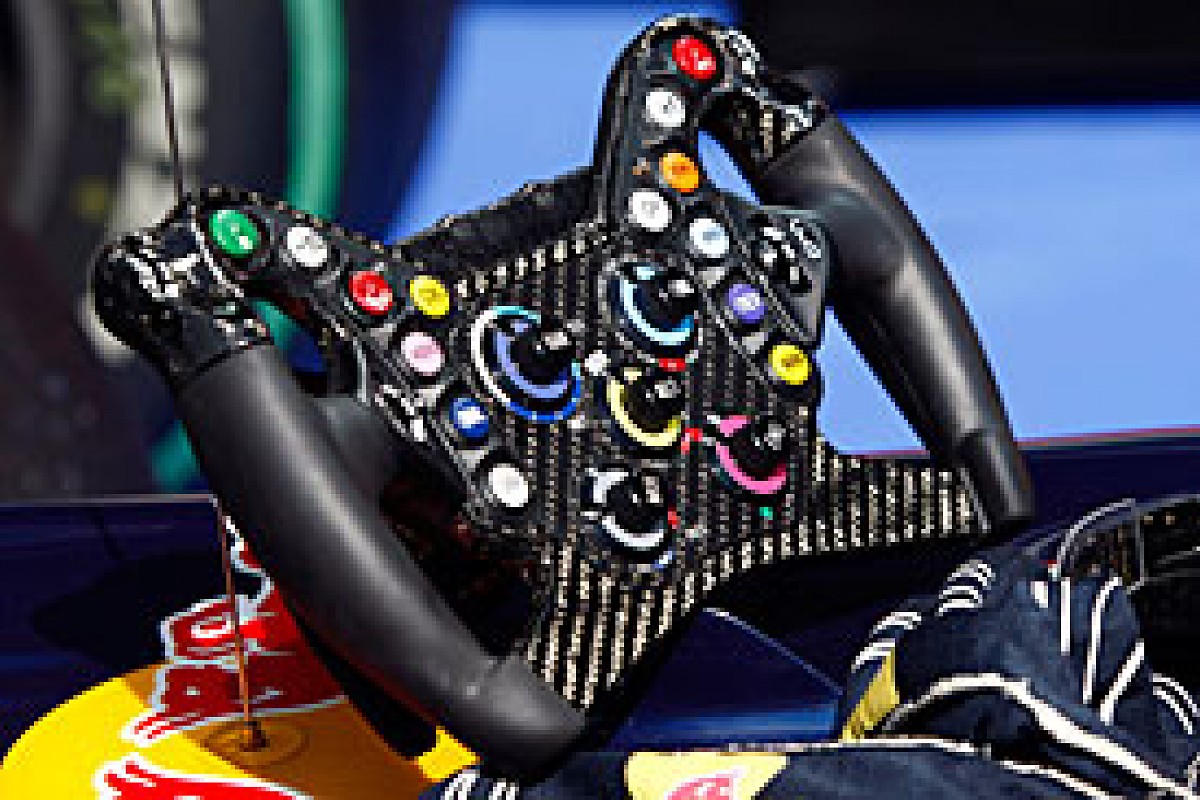 Red Bull's steering wheel © LAT
Although the adjustable front flaps are concurrently dropped, these were mainly deployed in corners to cut understeer (not for their primary purpose, which was to provide additional downforce while travelling in the wake of a car ahead in order to facilitate overtaking), meaning there was seldom a need for drivers to push buttons on straights.
In 2011, though, drivers will need to juggle two different systems aimed at providing overtaking speed - rear flaps and KERS - and it is easy to understand drivers' concerns that they have reached 'Playstation stage' as some refer to the coming era. But right now drivers push buttons for drinks bottles, for radio transmissions, (currently) for front flaps, etc., and adding KERS and rear flaps should surely be part of a job for which they are highly paid. However, this column understands representations will be made to Whiting by members of the Grand Prix Drivers' Association.
"The guy who gets it right will go quicker..." quips Key.
So apart from the effects of the switch from Pirelli to Bridgestone - an unknown factor until Pirelli supplies its first full-on race tyres in Bahrain next year - what will be the impact of the changes?
"I think," believes Head, "lap times will be very similar." Call it progress if you like.