In Brazil, someone asked Patrick Head why he thought we'd had such a good year, so close and competitive between so many teams and drivers. We used to be happy with a duel, any duel, but now we had four and five-way battles between teams and drivers. Would it become the norm?
"If you go back 10,15, 20 years," he said, "there was seldom more than two good teams at any one time and in the really old days Ferrari used to happily trip over themselves and get over-excited if they had a good race. Then the Jean Todt/Ross Brawn/Rory Byrne era came along. We rather regretted that because they were much more colourful when they were all a bit spaghetti and red wine!"
I'm not for a minute suggesting that Ferrari has in any way reverted to type. Stefano Domenicali seems like a fine fellow and Ferrari's mid-season recovery prompted a formidable end of season challenge, but in Abu Dhabi they got it very wrong.
It's easy sitting here with 20/20 hindsight, I know, but even without it, there was some serious foot-shooting done by the championship contenders at Yas Marina.
Ferrari, I was convinced, would start Felipe Massa with about enough fuel to get him to the pit stop window. I couldn't see what they had to lose. One fourth place from McLaren was enough to cement runner-up slot in the constructors' championship and the Red Bulls were expected to have the pace to be able to dictate the pace.
So, given that Felipe Massa has shown the pace to run right at the sharp end recently, what was to be lost by running him strategically to assist Alonso. The great fear when the no-refuelling rule was announced was that the races would all become about starting on the option, pitting for new tyres as soon as you had a big enough margin to overcome the pit stop delta, then running to the end. That, largely, has been the wholesale strategic approach but we have been saved from repeat tedium by a combination of weather, incident, and circuit/tyre characteristics.
Massa, by all expectations, would have qualified fifth or sixth (as he did). The rules say that refuelling is not permitted but they do not say that one must put in enough fuel to complete the distance.
Starting Massa with just enough to run to about one-third distance would have made him 3-4s per lap quicker than the other front-runners at the start. Given the long back straight, he should have been able to walk past everyone in the first three or four laps and take the lead. He would then have been able to dictate the pace, go slowly enough to stop the Red Bulls opening a pit stop margin versus those who had started on primes, and generally cause mayhem.
In addition, Alonso would know exactly when he was due to run out and would pit the lap before. The necessary track position versus the Red Bulls would then have stood a strong chance of being achieved.
If I'd thought of it, I was damned sure Ferrari would have done, and I was convinced even more when Massa ran dry out on the circuit in FP2. The fuel data is extremely accurate but best just to check. If they had run him dry in a section where he couldn't pull of, sector three for example, and caused a safety car, they might just have taken a bit of heat from Messrs Whiting & Co.
When I put the theory to Christian Horner he looked a bit concerned and admitted he hadn't considered that, then added that there were some devious minds in the media. Maybe, but certainly not as devious as those who inhabit the pit wall!
Ferrari, obviously, didn't do it. As soon as Mark Webber qualified behind the two McLarens and Alonso, the team probably figured there was no need, and maybe the team management are kicking themselves this morning. Or kicking themselves a bit harder, I should say. Had they done it there would have been a bit of an uproar, for sure, but when has that bothered them? Technically it wouldn't have been illegal although you could certainly have argued it was disreputable.
The other thing I was surprised about was Webber not pitting under the first lap safety car. The tactic worked for him in Singapore and on a Tilke circuit where passing is nigh on impossible and he was down on sector two performance. Which is where any overtaking possibilities lie, you'd have thought it was a no-brainer. Ferrari wouldn't have been able to cover them either, given that Alonso was ahead of Mark.
There were pre-race discussions about that exact scenario apparently, but a stop was decided against. The two things you don't know when you have to make the decision, of course, are how the circuit will rubber in and consequently how tyre degradation on the option tyre will evolve. Still, faced with having to pass Alonso, Button and Hamilton at Yas Marina, it surely had to be worth a shot?
Computer programmes no doubt dictated otherwise but in the case of Ferrari's decision to cover Webber with Alonso, a seven-year-old's grasp of mental maths should have been enough to conclude that it was a monumental screw-up. The Mercedes pit wall couldn't believe it when they saw it, knowing that there was no way Alonso would pass Rosberg for the rest of the afternoon. Nico had been third quickest in Q2 on the prime tyre and the only reason he didn't qualify on them was that he had none left.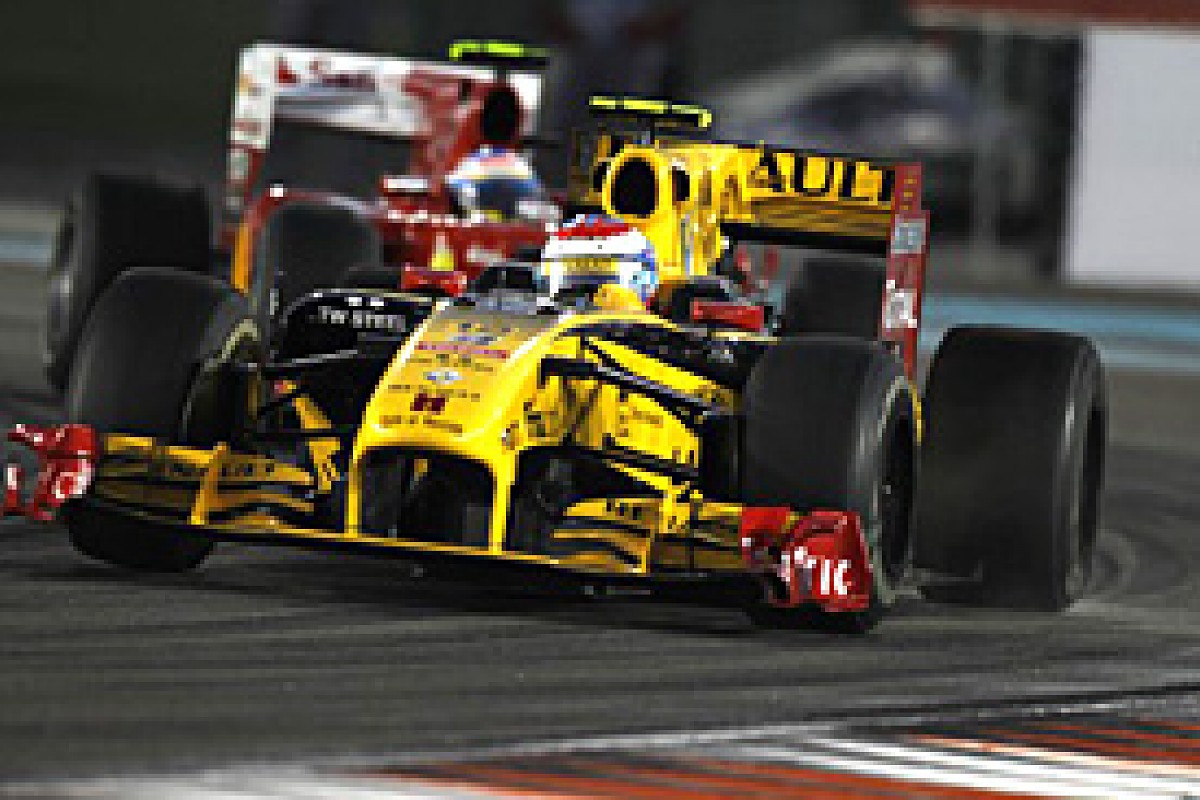 Vitaly Petrov defends from Fernando Alonso © LAT
Vitaly Petrov, like Rosberg, had also pitted on lap one, and has shown himself not to be the easiest man to pass this year. As has Jaime Alguersuari, who also stopped on the first lap and kept Massa behind him all afternoon. That shouldn't have been a surprise either. Without any downforce and a Ferrari engine, the Toro Rosso was like a rocket on the back straight. Alguersuari was doing 316k/mh on the straight unassisted, Massa was doing 312k/mh with a tow. Enough said.
Then there was McLaren, who just at the point where Hamilton didn't have quite enough gap to clear Kubica after his pit stop, brought him in.
I can only assume that the plan was to sucker Vettel into covering Lewis and getting the Red Bull trapped behind the Renault as well. They obviously knew that Kubica would have to stop sometime later so track position versus him was not an issue, and they maybe thought they had a better chance of jumping Vettel if he was bottled up behind the Renault.
Guillaume 'Rocky' Roquelin, Vettel's engineer, seemed to be right on top of that situation. As soon as he saw Lewis pulling into pit lane, he was on the blower: "Right Sebastian, everything you've got!" He knew clearing Kubica was going to be tight an Vettel did it by the skin of his teeth. Leave him out though and he would have faced Hamilton going quicker on his new primes and may been jumped, which would have cost him the title.
You can't help wondering though, if that was McLaren's game, why didn't they bring Lewis a couple of laps earlier, when he would have come out in a bit of free air to Kubica and if Red Bull had reacted they would certainly have trapped Vettel?
Admittedly, Sutil was only three seconds behind Kubica but the Force India was also on primes and that would have further played into their hands. The only explanation is that they figured Vettel would have enough pace on his options not to have to react and would have stayed out and opened up a big enough margin. It was a tight judgement call.
The other thing Abu Dhabi did was bring back things that men like Adrian Newey have said about overtaking feasibility being more circuit specific than car specific.
You look at the circuit, good though it is, and wonder why-oh-why they stick the twiddly bit in at Turns five and six. How much better would it have been to run the cars flat out into the Turn 7 hairpin, following the natural contour of the track. Drivers would be going into the hairpin on compromised lines as they defended position under heavy braking and there would be varied exit speeds, which is what you need for overtaking. As it is, everyone tools through five, six and seven at the same speed and, guess what, nobody overtakes.
Apparently it was considered but the danger of high speed contact and cars flying in close proximity to the grandstand was a health and safety no-no. So why not raise the grandstand there like they have done at Turn 8?
Fernando Alonso was a bit graceless in his cool-down lap gesticulations at Petrov but you could understand his frustrations in a way. The team had indeed been a bit spaghetti and red wine, but how frustrating to find yourself unable to race when you're trying to win the world championship.
The characteristic actually made the drama in Abu Dhabi but that was more by luck than circumstance. The fact is that the scenario echoed those which gave us the tedious season-opener in Bahrain.
As Martin Whitmarsh says: "You have a strategy team but actually, if you're in the top 10, generally you qualify on the option, start on the option and stop when the gap in the traffic allows you, which is quite prescriptive. If we hadn't had this season I think we would have predicted a terrible season."
It was an opinion Christian Horner shared even before the season started, the Red Bull team principal reckoning that without two mandatory tyre stops, we could be in big trouble.
Partially in response to Bahrain we have a raft of new things aimed at solving the problem next year, such as moveable rear wings and KERS. To which Martin Brundle said this: "God knows how the teams are going to choose a seventh gear when they've got effectively 160bhp extra on tap with the rear wing slot gap and KERS. I think it's essential now that the cars have some sort of light on the back, for example, and another light on the front so that the viewers and the fans at the track understand.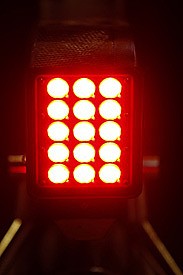 Lights may play an increased role in F1's future © LAT
"It's a safety thing as well - if someone's coming at you in the slipstream and then all of a sudden he can change his rear wing and hit the KERS button, you are going to have contact at the worst place on the track, the end of the high speed straight, because you can't judge - you're looking in your mirrors, you're doing 200mph and it's quite a judgement call as to how quickly the guys is coming at you.
"I think there has to be a red light front and rear which says he's used his wing option, and a flashing red light that says he's used his wing and his KERS. Whatever they do needs to be very transparent because rule number one is, don't confuse your audience."
At least, this year, the audience will not have been confused. At the end of an epic season the deserving team and driver have taken the spoils.