Sebastian Vettel stormed to the title in the sport's most intriguing championship battle by winning today's Abu Dhabi Grand Prix - making the German the youngest ever winner of the crown.
After a season of incredible twists, during which Vettel did not take the championship lead until the final race, AUTOSPORT recounts the 10 key moments of his journey to glory.
Vettel gave an early hint of his and Red Bull's 2010 pace as he took pole and led the season-opener ahead of the Ferraris. But when a tiny problem with a spark plug suddenly limited his power, he found himself helplessly falling back to a frustrating fourth place.
After more disappointment in Melbourne, where a wheel problem pitched him into the gravel when leading, it all came right at Sepang, as Vettel blasted from third on the grid to pass team-mate Mark Webber for the lead into Turn 1. He controlled the race thereafter to finally turn his pace into a victory.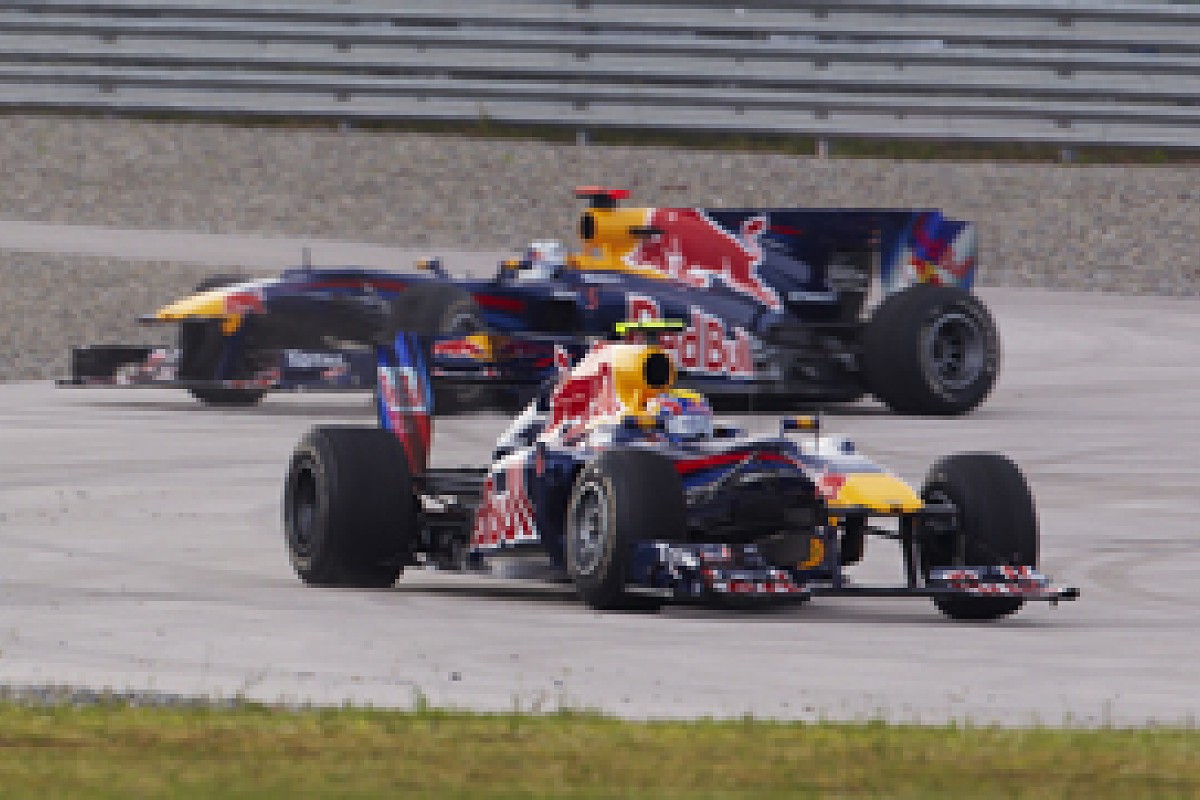 Mark Webber and Sebastian Vettel collide in Turkey © LAT
The Sepang win didn't open the floodgates, though, and it was Webber who gained the initiative at Red Bull with victories in Spain and Monaco.
The Australian was leading again in Turkey with Vettel right on his tail, and when the German made a bid to pass for the lead, they touched at high speed. Vettel retired while Webber survived to finish third behind the McLarens, triggering a whole new level of intra-team tension at Red Bull.
After a frustrating fourth place in Canada, where Red Bull lacked race pace, Vettel steadied his season again with a straightforward victory from pole in Valencia.
5. Silverstone first-lap disaster
New controversy as Red Bull took its latest front wing off Webber's car to put on Vettel's before Silverstone qualifying, Vettel's example having failed in practice.
Vettel took pole but made a slow start then picked up a puncture while trying to make amends at the first corner. Even a gallant fightback could only get him to seventh.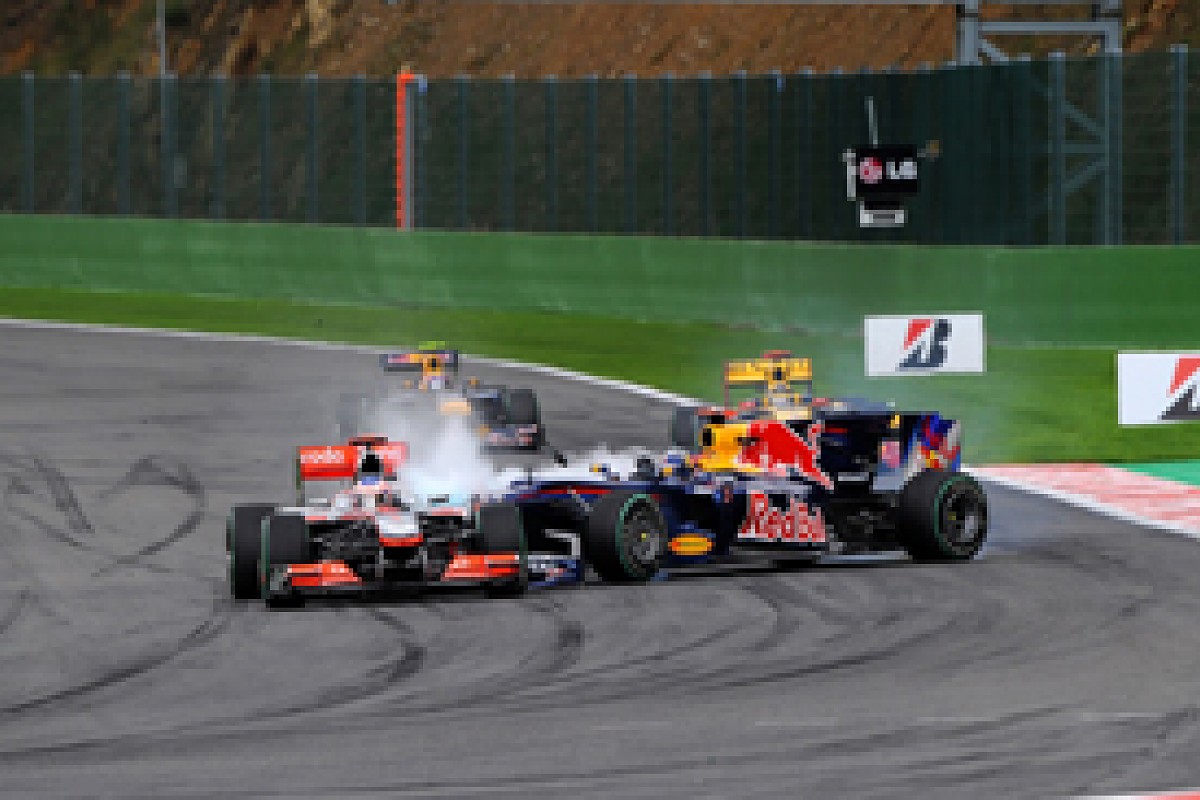 Sebastian Vettel crashes into Jenson Button at Spa © LAT
An abject Spa weekend left Vettel 31 points adrift in the world championship. A botched attempt to pass Jenson Button saw him spin into the McLaren, and although he continued, a further collision with Tonio Liuzzi left Vettel only 15th at the flag.
Having salvaged fourth from a tricky race at Monza but been narrowly defeated by Alonso in Singapore, Vettel finally returned to the top step of the podium at Suzuka.
A dominant Japanese GP victory for the second year in a row brought him to within 14 points of the championship lead.
For much of the Korean GP it looked like Vettel was about to surge to the forefront in the title battle, as he led the race while Webber could only watch following his early crash. But then with victory within sight, a massive engine failure saw Vettel robbed again.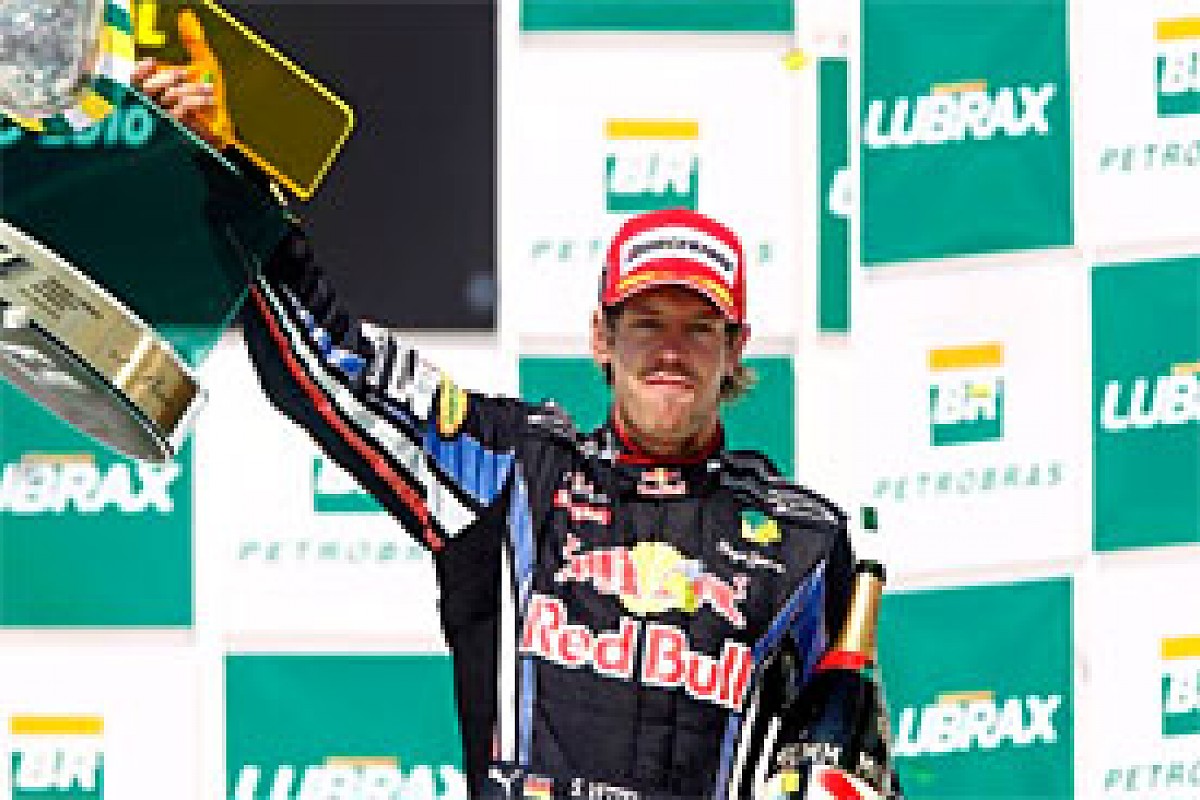 Sebastian Vettel, Red Bull, Brazilian GP © LAT
Vettel bounced back and kept himself in long-shot title contention by winning in Brazil. He passed surprise polesitter Nico Hulkenberg off the line, and then pulled clear of team-mate Webber. With Red Bull eschewing any thoughts of applying team orders, Vettel took the win and went to Abu Dhabi 15 points behind Alonso.
Vettel really needed a victory in the finale to have any chance, and that was exactly what he delivered.
When Webber and Alonso's challenges fell apart with their early pitstops and subsequent traffic delays, Vettel's commanding fifth win of the year turned out to be enough to make him world champion for the first time.