Adrian Newey long ago established his place in the history books, but in Brazil he wrote a new chapter - adding a constructors' world championship with Red Bull to the titles he's already claimed with Williams and McLaren.
His old pal Ross Brawn has also earned titles with three teams. And, as with Ross in 2009, this time it was personal for Newey. At Williams and McLaren he was an employee, albeit a very important one, whereas at Red Bull he's had more of a managerial role, playing a huge part in building up the team that when he joined was still struggling to shake off its Jaguar heritage.
"The first one is always special, but this is special because I've been involved from the start and really built it up," he said after the race in Brazil. "It's kind of unfinished business from Leyton House. Obviously it was the aspiration when I joined, but it's one thing aspiring, another thing achieving."
Brazil could hardly have gone any better for Red Bull. The race was relatively routine, apart from a little fright with Mark Webber's engine. That ended any hopes the Aussie might have had of pushing his team-mate, and for a while it put him under threat from Fernando Alonso.
"It's a drivers' championship, so they're free to race, as you know," Newey added. "It was just a matter of them holding pace, keeping their noses clean and getting to the finish. We had a bit of a scare with Mark about 20 laps from the end when he started losing water pressure, so we told him to wind his engine down, short shift and manage it to the finish."
Near the flag he was allowed to go for it once more: "We just felt two laps to go it would be okay to get to the finish because he was starting to come under a bit of pressure. It should be fine, it didn't get too hot and that's obviously the danger."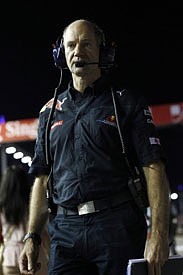 Adrian Newey © LAT
Newey has been impressed with both drivers this year.
"Seb has been pretty copy book. You can tell at times that he's still a relatively young driver, but when it's going his way, he's pretty imperious. Mark has had some great drives. I think they've both pushed each other and complimented each other in many ways."
So what of Abu Dhabi, where Vettel won last year? Newey said in Brazil that for once, there won't be any upgrades on the car.
"That's pretty much it. With one week to go, we're about empty. It's a power circuit and that's a bit of a concern, with the long straights."
Nevertheless, you wouldn't want to bet against the dark blue cars being at the front of the grid. Then comes the question of which man fortune favours on Sunday. In terms of which man the team favours, we've been told a lot recently that it will be a fair fight. The issue is at least a little clearer now that the constructors' title is out of the way.
"Fundamentally, we take our direction from Austria," explains Newey. "Their position is it's a drivers' championship, let them race. We'd rather let them race and lose than have the sort of debacle that followed Ferrari in Hockenheim.
"I think it would be much clearer in Abu Dhabi, in that if one of them is out of the championship he can do as much as he can to help the other win it."
Of course the 'one of them' can only be Vettel, since if Webber is out of the championship he'll either be retired or some way down the order and not in a position to assist his team-mate.
Vettel was quizzed after the race in Brazil on what might happen if he finds himself in a situation where handing the lead to Webber wins the Aussie the championship.
If he does so, would it be team orders, or the logical reaction of a man who knows who pays his salary? The latter was part of the defence that Ferrari used after Hockenheim, claiming that Massa had made his own decision.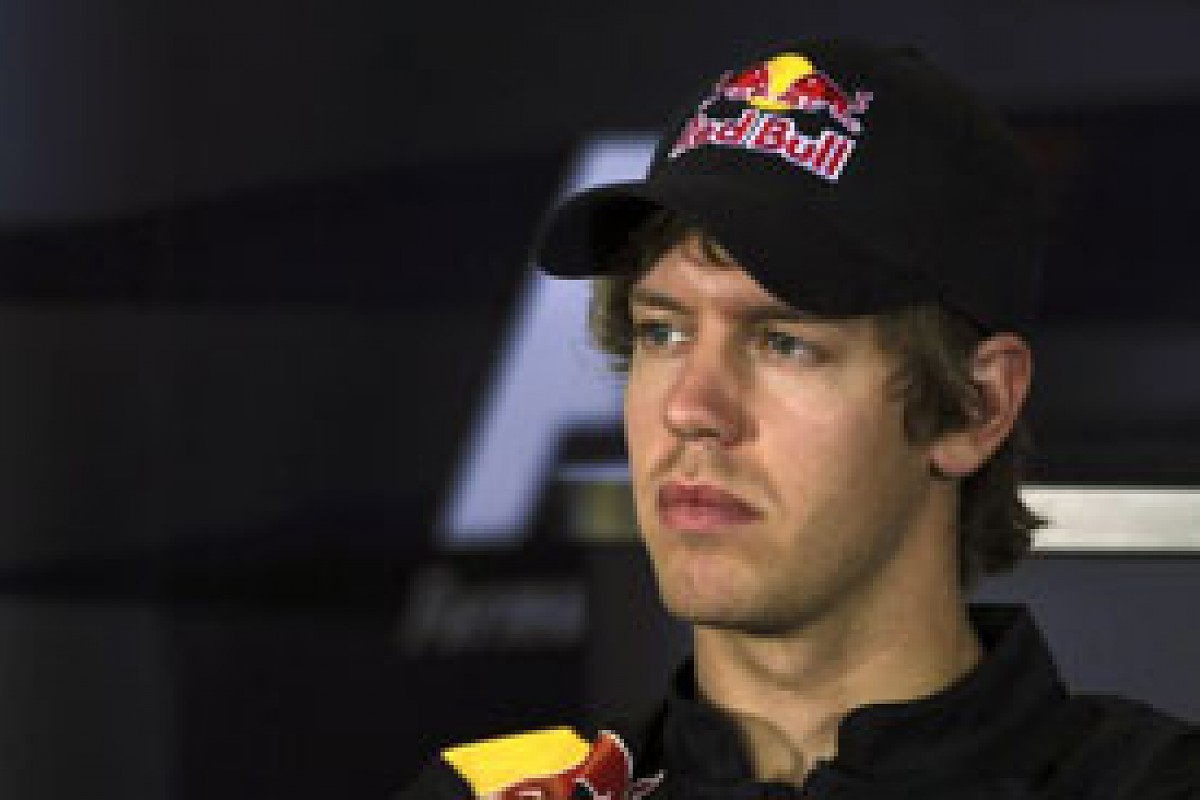 Sebastian Vettel © LAT
On Thursday in Brazil, before the situation became as clear cut as it is now, Vettel outlined his own thoughts on team orders.
"We had a very good situation to judge this in Germany," he said. "After what happened in the race, we have a rule. But for instance Michael [Schumacher] said after the race that team orders have always been there and will always be there. It was nothing new, but he was one of the few people who said it.
"We all invest a lot of money, but also a lot of power and strength all year, a lot of effort, trying to perform at the optimum, trying to beat the rest, and in the end if you have the chance to beat the other guys or the other team by having a team order, I think [that's] what everyone would do or should do.
"I think some people are more clever than others, but I think we all know what is the name of the game. We are all in one boat, we know what we have to do. I think it's the same for all of us."
That doesn't sound like a man who will deprive Red Bull of a drivers' title. The word in Abu Dhabi is that if Vettel does let Webber through, it will be done with some subtlety.
What Vettel has to do above all else on Sunday is finish in the first two places, as nothing else will be good enough for his own hopes. To do that, first he has to finish. That engine failure in Korea was hugely expensive, but before the race in Brazil he was confident that Renault and the team had traced the cause, and that the problem won't re-occur.
"We don't know 100 per cent," he admitted. "If I could give you a number it would probably be 80-90 per cent. So we have a pretty good guess, we are pretty certain, but the engine is still [being] investigated in France at the factory. I think we know what happened. It was very specific to the track in Korea, so we have to see.
"I'm confident it won't happen here [Brazil] or in Abu Dhabi. We have to make sure it doesn't happen again. Obviously we are monitoring things when the engine runs in the garage as well as on the track, so in case we get to something similar, we know how to handle it. In hindsight, in Korea there was nothing we could have done better. It's just a failure that occurred."
It's the same situation for the rest of the contenders. Ferrari's engine situation appears to be a bit more marginal than anyone else's. In the final minutes of first practice in Brazil, Alonso stopped on track with an engine problem. It was a high mileage unit that was due to come out of the car in the lunch break so it failed on cue, but nevertheless the men from Maranello will have a stressful weekend.
"Fernando is leading the championship now, which is something we don't like," smiled Vettel last weekend. "But it's natural, Ferrari doesn't like us to be leading. So we fight against them and we see what we can do. We wouldn't mind if Fernando's engine blows, but I never hope for this to happen to someone else. Obviously I would appreciate it in the situation I'm in, but it's not that I say I want Fernando's engine to pop, or I want Lewis's car to break down."
Only a win will be of any use to Hamilton. But at least he's in with a shout, and McLaren has something to aim for this weekend, especially after its hopes of the constructors' title disappeared in Brazil.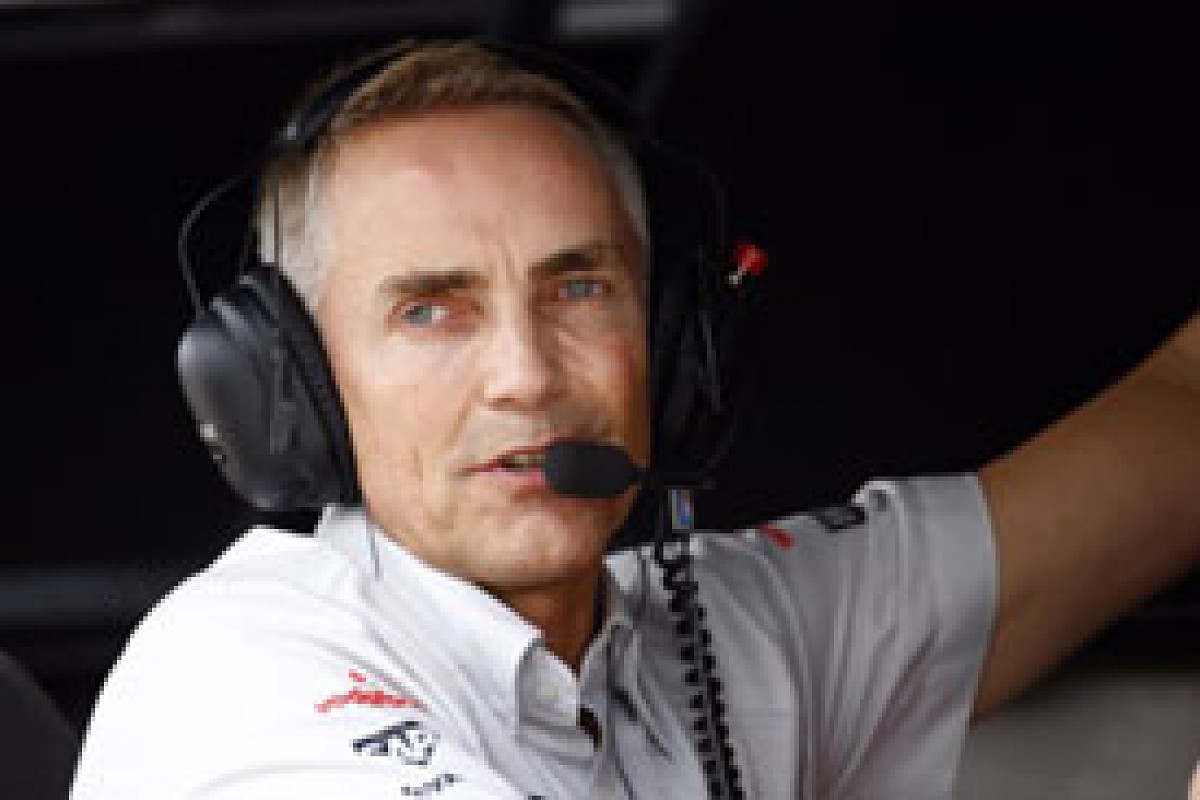 Martin Whitmarsh © LAT
"Of course there is a disappointment," said Martin Whitmarsh on Sunday night. "You've got to give congratulations to Red Bull, it's a new name on the trophy and that, for them, is great.
"If we had been going into the last race without the mathematical chance of winning the drivers' title, that would even more be disappointing. We've now got to go and win and Fernando to have a problem. It's easy to have a problem in motor racing, it can happen all the time.
"There's a fight for the championship, and there's going to be a lot of tension and pressure on all the four guys. But you're coming from behind, you're the hunter not the hunted. We've got to go there, try and win it and see what happens."
"Like all races you can see positives and minuses. I think the team made the right decisions, I don't think we got the best out of the car here, we haven't developed the car quite quickly enough. But we're solid at the moment, we can still win the constructors' championship, we can still lose second place in the constructors'. I'd like to think we can do the former and we don't do the latter."
There's no escaping the fact that McLaren hasn't been quick enough recently. You could point out that Hamilton has run wide and allowed Alonso past in each of the last two races, but that perhaps just reflects how hard the guy has been trying.
"I think we've got to give Lewis a stronger car," Whitmarsh admitted. "Fernando is driving well, he's a formidable competitor, but we're here to try and win races. Lewis will be disappointed, he wants to win races and he'll be hard on himself. He'll want a quicker car and he'll want to do a better job himself. I think we can be quick there [Abu Dhabi]. We'll try to bring a few new little bits on the car and we'll keep pushing, as we always do."
This week Hamilton was 100-1 to win the title. Bear in mind that to do that he has to win the race, with the other three hitting trouble. But funnily enough, if the other three hit trouble then he will, in all likelihood, win the race anyway. While that scenario may seem unlikely, just two races ago two of those three drivers retired.