Last week, my colleague Tony Dodgins unearthed some rather complicated goings-on at Renault, suggesting Lotus Cars was intent on purchasing a slice of Renault F1 Team with a view to rebranding the entity Lotus Renault.
Then, on Friday in Brazil, Renault Sport confirmed that, in addition to its 'own' team and Red Bull Racing, its Viry-Chatillon Formula 1 engine facility would be supplying Renault-branded power units to the Tony Fernandes-led Lotus Racing.

Logically, the progeny should go under the Lotus Renault banner, end of story. Except that it is not even the beginning. Renault Sport not once referred to Lotus in its release (calling Fernandez's outfit 1Malaysia Racing Team (UK) Ltd, its registered, not sporting, name).
Tony (Dodgins) made clear in his column that Lotus Cars was interested in purchasing equity, and Lotus Cars and Lotus Racing (two absolutely different operations with no cross shareholding) are embroiled in pretty hefty legal proceedings at present over the rights to the moniker.
To compound the confusion Lotus Racing immediately followed up, confirming the engine supply arrangement in a Lotus Racing-headed release and referring to itself (in its own the document) as the "Anglo - Malaysian team" and its racing cars simply as "our cars"!.
Come Saturday, Fernandes's Twitter was tweeting overtime:
@tonyfernandes: Much said about our name. Too many people reading too much into it. We are Lotus Racing this season. Next season we are still Lotus. (note, no Racing)
Then: Makes sense for racing team and group to be reunited. How and whether it will and in what form will form discussions over next few months. Strange.
Meanwhile, a source close to this action indicated that Lotus Cars is negotiating with Renault to purchase its (25 per cent) share in the entity currently racing as Renault F1 Team, in which Luxembourg equity fund Genii Capital holds the balance despite the team being branded Renault and predominantly bearing the French company's yellow-black livery.
The plan was, said the source, for Lotus Cars to purchase Renault's equity, plus pump in around €30m over a five-year period in title sponsorship, in return receiving naming and livery rights to the outfit - hence Lotus Renault - much like team name Vodafone McLaren.
The team would still officially be referred to as Renault F1 Team for a period (no later than end-2012), for the 2010-2012 Concorde Agreement is explicit about chassis name changes, with unauthorised changes resulting in teams losing their entitlements to having historic performance and results considered when determining revenue distribution.
Such loss could cost a team up to $10m in a single season, explaining why Sauber soldiered on as BMW Sauber, despite the Bavarian company no longer having equity in the Ferrari-powered Swiss team. (The team's name is, a spokesperson advised in Brazil, set to change immediately after the final race of this season.)
Although there exist mechanisms within Concorde and at Formula 1 Commission level for changes of chassis name, the processes are convoluted and rely upon goodwill of teams, circuit owners, sponsors, the governing body and commercial rights' holder plus other commission members such as engine suppliers. In addition, our source indicated that the agreement struck between Genii and Renault requires that the team race under its existing chassis name until end-2012.
Although Renault refused to comment on the situation, on Sunday in Brazil Renault president Carlos Ghosn, the Lebanese-Brazilian graduate engineer who headed Michelin's North and South American interests before transferring to the car company - where he is known as 'The Scissors' due to his penchant for cost cutting - arrived in the paddock, where he addressed the French media after briefly meeting Bernie Ecclestone.
The excerpts from the transcript make for interesting reading, for although no deal was admitted to, his choice of words left little doubt that major change is in the offing: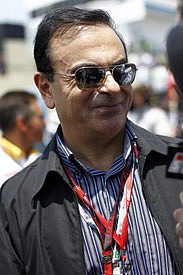 Carlos Ghosn © LAT
Q. Will Renault sell its stake in the Renault F1 Team?
CG: I'm not going to give direct reports of discussions which we've had or haven't had. Everything concerning the finances [financial participation] of this team or that team is tactical. We are not in Formula 1 to own a particular team; we are in Formula 1 to promote the Renault name and promote Renault technology.
We will do whatever is necessary to do so at a lower cost and with less investment. We are not going to put more resources than necessary into achieving that aim. So you can still have developments in participation, in "who does what" in terms of marketing... that is what is important - to expand our role as an engine supplier and technology provider.
In reply to a question about the future of the team, he stated: "What I can tell you is that Renault will be associated with this [Renault F1] team, whatever happens: associated in connection with the supply of engines and chassis, and with the technology around the chassis.
"Aside from this, there may be financial agreements, marketing agreements to suit our interests. There may be more developments, but for the moment, there is nothing. What I can tell you is that we will be, more and more, technology suppliers to many teams involved in Formula 1."
Ghosn's statements were echoed in a release distributed by Renault Sport on Monday in the wake of Red Bull Racing's lifting of the constructors' championship: "This success with our partner team proves the worth of our policy of equitable engine supply, and further reinforces the decision announced this weekend to strengthen Renault's involvement in the sport, as a supplier of engines and world-class technology."
It all fits. Renault maintains a (naming, not livery) presence on the grid for the next two years while supplying customer teams with engines (at the FIA's laid-down fee of €5.5m per team per annum), Lotus is represented in the team name and Genii has greater control over its 75 per cent investment coupled to an annual cash injection of €30m.
Another source advised that Renault contributed not a cent to the team this year, bar supplying free engines while the race team's sponsorship acquisitions were hampered by Renault's insistence that the team's primary battle dress be corporate yellow/black. And, added said source, 60 per cent of multinational companies have red livery, with 50 per cent of the balance being blue.
The deal would equally pave the way for Genii to enter the mainstream motor industry, having failed earlier this year in its attempts to purchase SAAB (in conjunction with Bernie Ecclestone, no less) from General Motors, for the venture capital company has interests in various hi-tech and electronic operations, many with motor industry applications. (Financial news agency Bloomberg quoted a Swedish advisor to the consortium as saying [Genii] "loves brands and Saab is a strong brand on the same level as Porsche and BMW".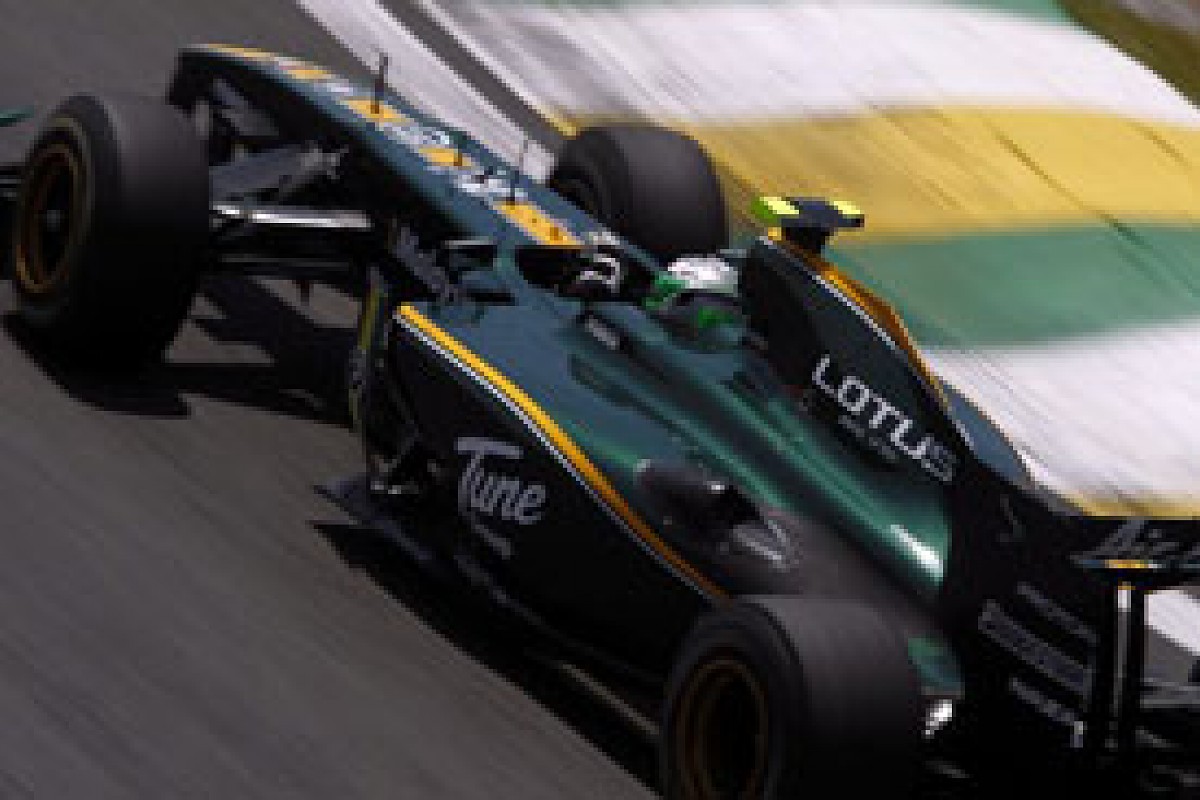 © LAT
Yes, Lotus is a minor player on the world's motor stage, but this rejuvenated brand oozes sophistication, and is owned by Malaysia's Proton - if any region is wired for automotive electronics, it surely is Asia.
Team insiders suggest a final announcement will be made in, or immediately after, Abu Dhabi. And the leaks have been extremely inconvenient, for the staff up at Renault's Oxon base deserve to be brought fully into the loop, for it was exactly a year ago that their futures were in major doubt after rumours abounded that Renault was planning to exit F1. In the end, BMW and Toyota did a runner while Genii bought its shares, but the latest uncertainties can hardly be boosting morale ahead of the festive season.
Thus the message to be imparted at base is that the team has been saved for the long term by a bunch of pterolheads: Genii principals Gerard Lopez and Eric Lux are F1 long termers, while Lotus is now presided over by Dany Bahar, formerly Dietrich Mateschitz's trusted lieutenant at Red Bull before assuming responsibility for building the Ferrari brand.
The Turkey-born Swiss is said to have a war chest of around $500m - believed to have been provided by Asian, predominantly Malaysian, investors. Although others suggest Lotus is severely in hock - to build the Lotus brand, and already he has revealed plans to build a range of (five) high-end models to challenge the best products from Porsche and his former employers.
F1 fits extremely neatly into this mix, particularly as VW/Porsche/Audi are sniffing about F1 just as Ferrari's Fernando Alonso leads the 2010 drivers' championship, and Renault powered RBR to the constructors' championship. Plus, of course, Lotus and Renault won grands prix together back in the mid-80s.

But all this overlooks the fate of Lotus Racing and Fernandes's fine efforts at entering F1. However, he is not a man to be underestimated, and while the Malaysian aviation entrepreneur fought tooth and nail to acquire the (separate) rights to Team Lotus from David Hunt, brother of 1976 champion James, Tony is a shrewd character who ensures no straw of his shorter than an opponent's. So, if he loses the battle to race under the Lotus brand, he will surely have covered his bases.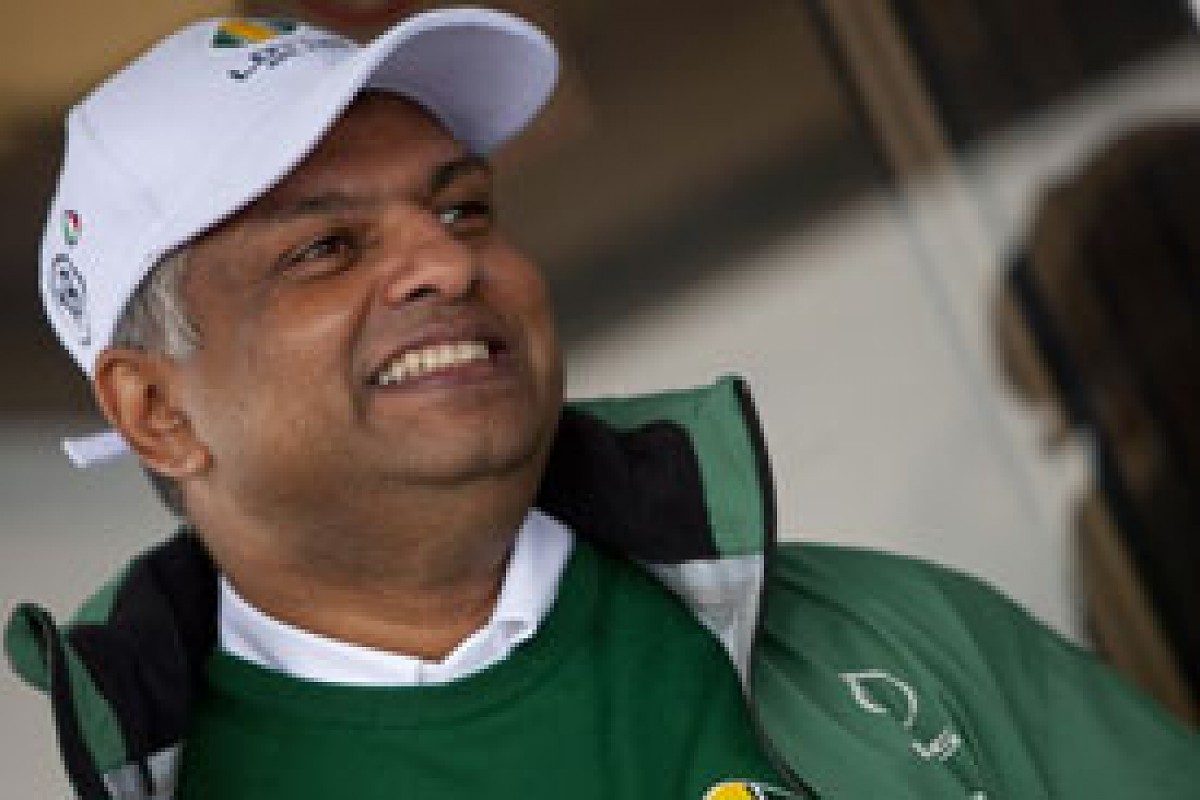 Tony Fernandes © LAT
It has been suggested the Malaysian prime minister and his cabinet intervened to lubricate proceedings. When, in 2001, Fernandes was involved in similar - he walked away with a loss-making airline for one ringit having deliberated heavily over doubling his offer from 50 sen - within a year, Air Asia (in which his Tune Group holds 26 per cent) turned a profit, with annual revenues now hovering close to the $1bn mark. The seller was the Malaysian Government.
There are whispers his compensation will be a major slice of Proton coupled with full executive powers, and forget not that Proton owns Lotus Cars, and as he said on Twitter: "We are Lotus Racing this season. Next season we are still Lotus" with the next line being "makes sense for racing team and group to be reunited".
What then happens to the entity presently known as Lotus Racing? It has a group of capable executives running the show, with Fernandes having ensured 1Malaysia Racing is on a solid financial footing. His Air Asia sponsorship of Williams - entered into before he launched his own team - concludes at season's end, and it would surely be the work of a moment to transfer that across to his own operation.
At the time of forming the team, he announced he intended stepping down as team principal after making sure "we [Lotus] have the right direction, the right imaging and the right future, the right strategic plan and marketing", and if the Proton deal came together he would in any event be too busy to run the show.
Plus Lotus Renault and 1Malayasia Racing would report to him, and likely Bahar, too. You lose some, you win some.