The Korean GP was an amazing event in its own right, but its real importance was the twist it gave to the world championship battle. For months we've watched as the fortunes of the five contenders have fluctuated on a race-by-race basis, with winners and losers always cautioning that there's a long way to go.
But Korea was a landmark not only because Fernando Alonso got himself into the lead, but because he is now in a position to win the title in Brazil. That would be good news for both the Spaniard and Ferrari, but it would end our hopes of having an exciting conclusion in Abu Dhabi.
Little wonder then that Alonso was in such an excited state on the slowing-down lap, or that the big smile on his face lasted well into Sunday evening. In contrast, most of his rivals had little to celebrate as they started the long journey home from Yeongam.
Ferrari: Unstoppable momentum?
Over the past couple of months Alonso's charge to the top of the world championship table has been extraordinary to behold. It took the demise of Sebastian Vettel to really make his day in Korea, and those seven extra points were a bonus.
You could argue that he was close enough to the Red Bull to force Vettel to run faster than he would have liked, but there's no evidence to suggest that the Renault engine would have survived had Vettel been under less pressure. Nevertheless it's a basic rule of motor sport that you have to be there to take advantage when others stumble, and Alonso was.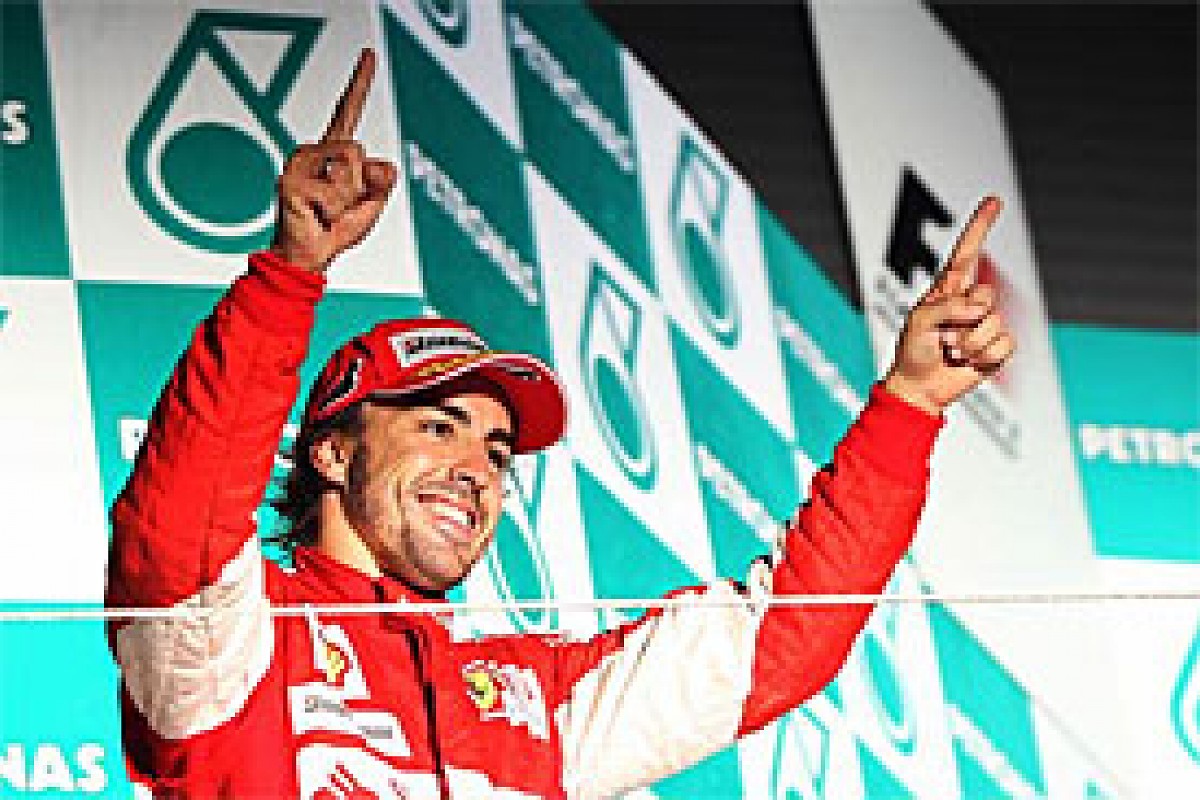 Fernando Alonso has momentum now © LAT
It wasn't quite a faultless performance, in that there was a fumble in the pit stop that dropped him behind Lewis Hamilton. Then when Hamilton ran wide at the restart he didn't have to be asked twice to regain second place, which ultimately became the lead.
Other than that team and driver didn't put a foot wrong all day. Between them they more than made up for Spa, a race that went wrong from the start and ended with a bent Ferrari lying in the middle of the track. That was the only time he's been off the podium since Silverstone.
"I think that today was a great race no doubt because of the difficult conditions," said Ferrari team principal Stefano Domenicali. "Difficult conditions with the rain, with the delay, to stay concentrated with all the things that were happening, with the management of the tyres that he didn't know how they would last because it was the first time in these conditions. So for sure in terms of race tension, it was really one of the most important."
Of course, the situation at Maranello has suddenly become very different. Having been the underdogs and doing the chasing, Ferrari and Alonso are now in front, so close to the title that it is clearly theirs to lose over the next two races. It would be easy to suggest that they could now screw it up, but it would be a mistake to underestimate the team. Raikkonen won in the most intense circumstances in 2007, albeit as the chaser until the final race, and when Felipe Massa lost in 2008 neither he nor the team did anything wrong in Brazil, and it was just a throw of the dice that handed the title to Hamilton.
"Now the mission is to stay cool, stay very concentrated, and do not overreact," said Domenicali. "Now is the time to really stay concentrated, be humble, and prepare for the races in the best way that we can, because the competitors are very, very strong, and we cannot afford to have any kind of problem."
Red Bull: Double whammy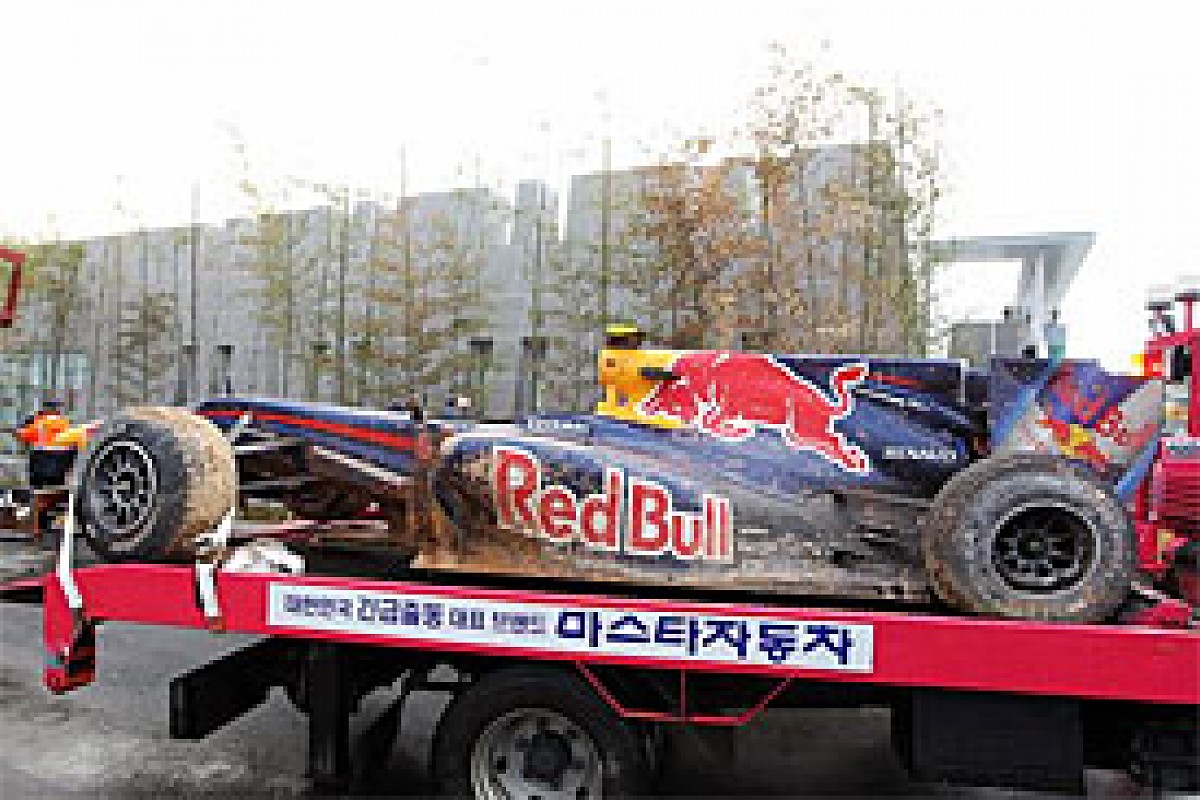 Webber's car after his Korean GP exit © Sutton
All the top runners this year have at some stage suffered from problems that were outside their control, but perhaps no single issue will prove to be as expensive as the engine failure suffered by Sebastian Vettel. The fact that RBR is a customer team - with no control whatsoever other than on the choice of when and where to run a particular V8 - made things even more frustrating.
Yet again we saw that when Vettel has his nose in front, he's hard to beat. He got himself into trouble in races like Turkey and Belgium when he had to do the chasing, but even in the most difficult conditions he usually drives a perfect race from the front.
What was impressive was the way he dealt with the disastrous late retirement. Remember, it was not just a loss of his 25 points that counted, but also a dramatic swing of 32 in Alonso's favour. When he went to the pit wall he was able to smile and shrug his shoulders, and when he met the media - even before the race was over - he calmly accepted his fate, recognising that he had done nothing wrong.
"You know, to be on top of the field all the time, controlling the race, looking after my tyres, I think there's nothing we could have done better," he said. "So all-in-all we did a more or less perfect job, also with the result yesterday.
"Conditions were getting a bit trickier, it was getting a bit darker, but still I think I had something in hand to react to. Was a bit unlucky with the lapped guys, both times I lost around a second. I think we a similar pace, I was maybe three-tenths quicker a lap than Fernando if I wanted to.
"It was a perfect race, no mistakes at all, not even the smallest mistake. I think we could have easily won the race. I think there's no reason to lose motivation now. We know we are the quickest, we have a very strong team and very strong car, so I can go to sleep tonight without any problems. Don't get me wrong, but I think I have done everything right today, so I feel a little bit like a winner."
Talk about being a glass half full kind of guy! That approach could pay dividends in those crucial upcoming races, and on Sunday he was certainly not giving up, despite being 25 points adrift of Alonso.
"There's still 50 points to go. Obviously it would have been much easier if we had won today. Nothing would be spoken against if the engine wouldn't have popped. That's life, that's how it goes, sometimes. I think there's been a bit too much of it this season for us, ups and downs.
"Of course, everyone has those, but I think we had quite a lot in particular. We can't change it, so we keep our head down and we try to get the best out of the car. In terms of speed, there's nothing left we have to improve..."
Red Bull's day was made far, far worse by the spectacular retirement of Mark Webber. It was a simple misjudgement, albeit in far from straightforward circumstances, and it was massively expensive for the Aussie - even more so when his team mate later retired.
Webber also accepted his fate with some dignity, admitting on his return to the paddock that he'd made a mistake. And while there might have been a little gamesmanship earlier on when discussing the conditions behind the safety car - understandably Webber was rather less keen to get going than the likes of Hamilton - he made no attempt to suggest that the race had been started too soon.
Korea was certainly a long way to go for no points and such disappointment, and after the joy of Suzuka, the outcome was a massive blow for team boss Christian Horner.
"We had the pace to win today," he said soon after the flag. "We'd done everything right, we got the strategy right, we had better pitstops than our opposition. And a cruel stroke of luck, beyond the team's control, cost us a victory.
Sebastian Vettel, Red Bull, Korean GP © Sutton
"I've spoken with both of them. Both of them are remarkably philosophical. We win as a team, we lose as a team. It's only two weeks since we were celebrating a one-two, and we'll be back strong in two weeks' time. It's going to be pretty intense over those two weekends, but there's a real passion and determination within the team to finish the job off.
"Today was one of those days. Sebastian and the team have done everything right today, and to be robbed of a victory within 10 laps of the finish by a totally unexpected engine failure was just very tough luck. Just one of those things. We gifted a lot of points to Alonso today, but we still lead the constructors'. Mark unfortunately made one of his few mistakes this year at the restart and crashed out. It's the first race we haven't scored a point this year.
"Brazil and Abu Dhabi are both races we won last year. We're still leading the constructors', we have the same lead that we had going into the Japan weekend. It's been a tough weekend this one because we performed well at a track that didn't suit all of our strengths, and to be robbed of a victory is nothing more than bad luck."
McLaren: Good news and bad news
On balance it was a good weekend for Hamilton, certainly in the light of other recent disappointments. To finish second having qualified fourth was a respectable performance. And yet... should he have won?
When the sums are done at the end of the season and all the ups and downs of each driver are taken into account we will certainly sympathise with Hamilton over the points lost to mechanical issues in Spain and Hungary. However, that tiny slip after the restart following the Buemi safety car period could well come back to haunt him.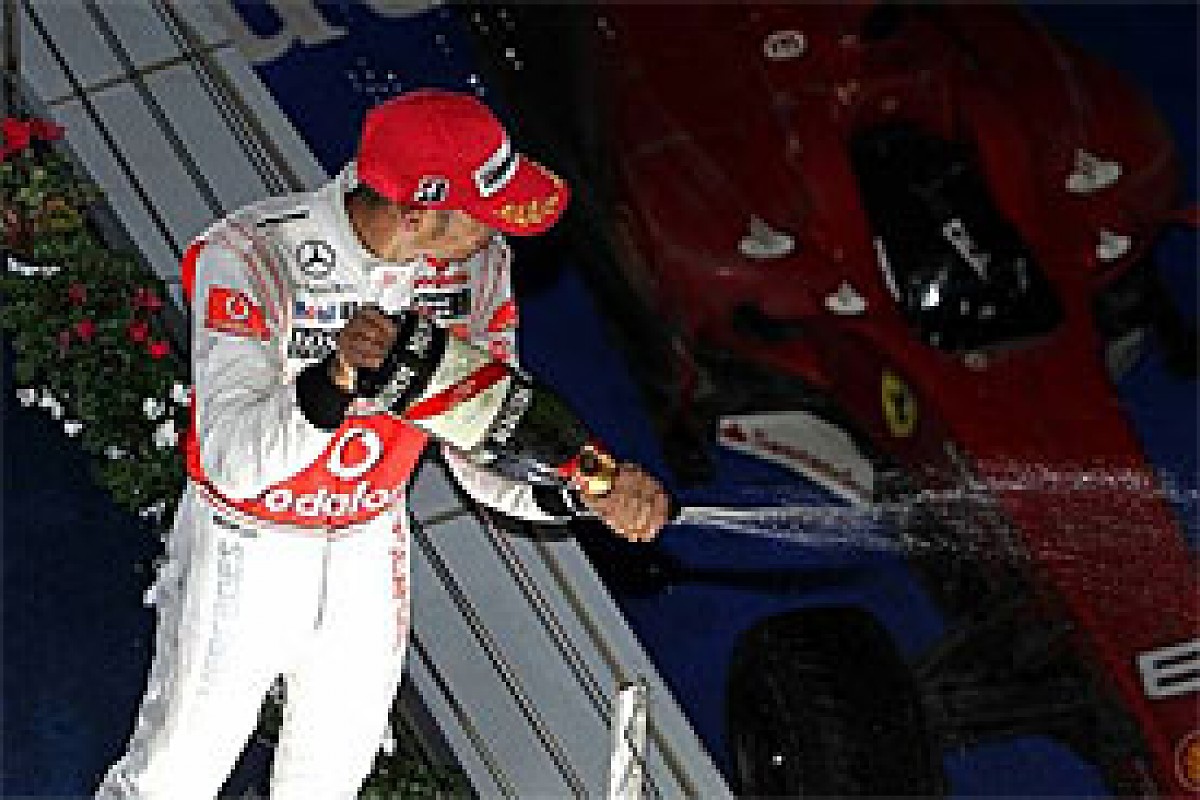 Hamilton still has a shot at the title © Sutton
As Ferrari fumbled in the pits Hamilton did the difficult bit and jumped Alonso, only to run wide at Turn One on the restart. That tiny glitch was ultimately worth not just a victory to the Spaniard, but it also created a 14-point swing in the Spaniard's favour, relative to Hamilton.
That disappointment has to be balanced against the fact that Vettel and Webber both retired in front of Hamilton, and Rosberg's departure in the Webber shunt also gifted him some points.
"That's a great result for Lewis," said McLaren engineer chief Paddy Lowe. "But he could have won it, and obviously with Jenson we should potentially have had the pace to be on the podium as well.
"I think he just braked too late... He outbraked himself at Turn One, didn't he? That's a shame because he could have kept ahead, which would have ended up being the winning spot.
"Ferrari seemed a little bit quicker at that point, but I suspect he would have held him off. But as you saw he actually went off the circuit. He was quite lucky to stay ahead of Massa, through that same incident."
It's to Hamilton's credit that he bounced back from that obvious disappointment and didn't put a foot wrong for the rest of the race. He's been criticised for his impatience in Italy and Singapore, but this time he brought the car safely home, recognising that he had to keep his tyres alive and that pushing to catch Alonso was ultimately a fruitless task.
"The life of the inters is always a concern," said Lowe. "We were trying to see where Ferrari were, where we were, and trying to manage it. As it got to the end of the race it was a question of were we going to run out of time, laps, tyres, or light?
"It got to a point where I think Lewis realised he wasn't going to make it to Alonso, so then he was into tyre saving. You saw the gap open up. And also I think of all the drivers Lewis was the most uncomfortable with the light. He felt the light was gone, and we had that debate with the FIA. They would have had to stop it a lap later, it was actually dark."
If Hamilton could leave Korea with some degree of satisfaction, the same can't be said for Jenson Button. The race turned into a complete nightmare for the world champion. His early change to intermediates looked like a clever roll of the dice, something that might propel him up the order and perhaps give him the sort of boost he had in those tricky races in Australia and China. In fact it was a desperate effort to salvage something - anything - after he'd struggled on full wets.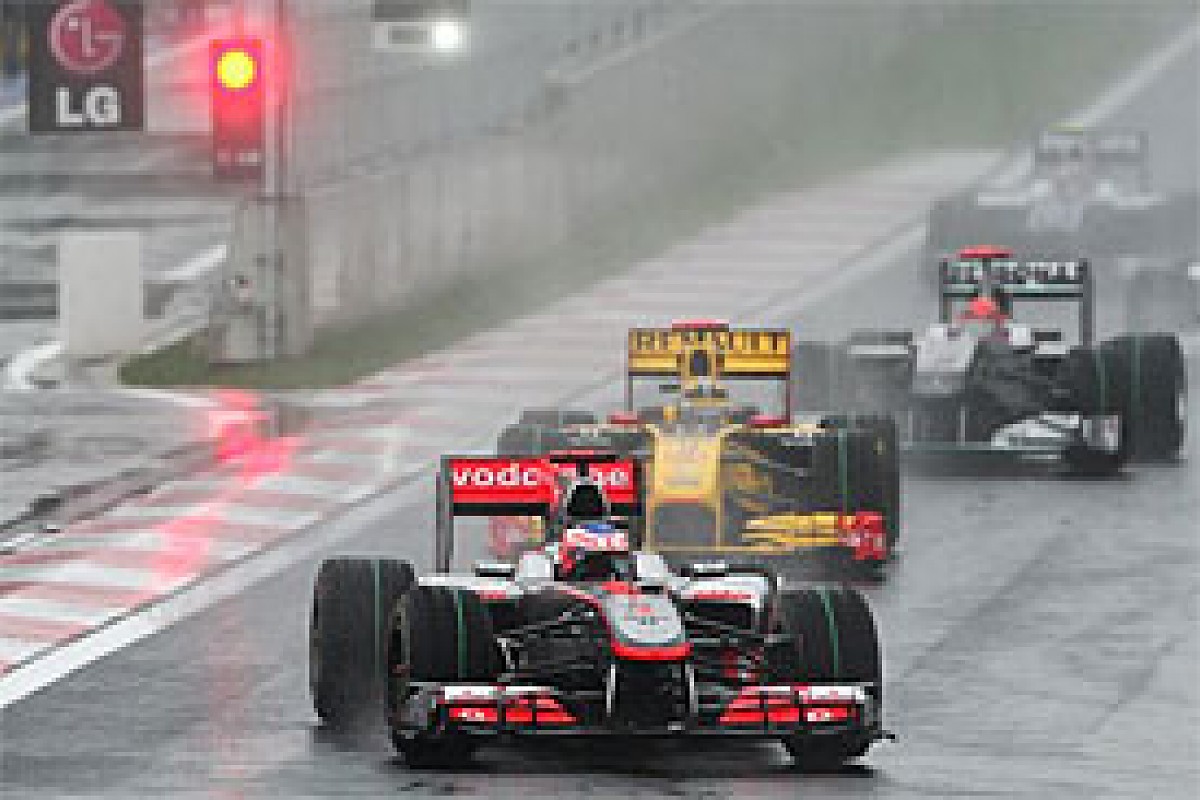 Button's chances are extremely slim now © Sutton
"I didn't have any wet tyres left," he rued. "Along with not being fast, I was just destroying tyres. I mean the set-up we've got is slightly unusual, but not that unusual. I don't know where that went, really."
The change was a lap or two too early, and coming out in traffic, he struggled to get the tyres up to temperature. As we've seen so often in the past even the best drivers can look like total beginners if the tyres just don't work, and coupled with a curious lack of confidence in his brakes, he was really in trouble. Thereafter Button was just making up the numbers.
In a Q&A on his website on Thursday Button was his usual optimistic self, but immediately after the race, he was clearly down, and admitting (realistically, let's face it) that he didn't see any light at the end of the tunnel as far as the title was concerned.
"Not really," he shrugged. "Everyone else needs to have failures. So, not a great day, quite disappointing. That's the way it is. I don't know what happened, I must have eaten something wrong because it was undriveable.
"I was just so slow, I was pretty much the slowest person on the circuit. I was really struggling with locking fronts, as soon as I hit the brakes I locked the fronts. Every time I braked for a corner I went straight on, even though I was going backwards, backwards, backwards on the brake bias
"I'm not going to be too negative about the team or the car, because they've done a fantastic job this weekend. But for me it was undriveable, and it was really slow. That's the reason why i finished where I did. On the wet tyre I was struggling, so we tried to put the inter on.
"Adrian Sutil pushed me off the circuit and I lost three or four places, but even without that we could have scored points, I would have finished seventh or eighth. But I was so far off the pace. In the end I was just driving around, because every time I touched the throttle, it felt like I was going to put it in the wall. For sure the race should have been stopped earlier than it was. It was way too dark to drive a F1 car in this."
Button obviously now faces an impossible task. Having said that, Kimi Raikkonen was famously 17 points behind with two races to go in 2007, and he turned it around. Guess what? In old-style points Button is now 16.8 off leader Alonso. The difference is Raikkonen was up against two rivals, and Button needs four drivers to hit trouble.
Hamilton, however is still very much there, 21 points behind Alonso, and safe in the knowledge that despite Button's mathematical hopes, the team's efforts will have inexorably swung towards him.
Rain could mix things up at Interlagos, as has happened so often in the recent past, but even without it McLaren can at least hope that the car's straight line performance will allow Hamilton to overtake after the long drag past the pits, and thus make up for any deficiency in qualifying.
"The fact that Red Bull didn't score helps keep the championship very much alive for us," said Lowe. "We needed that kind of result at this race, a strong finish for us and some problems in their garage to stay in the running. It's a shame that we didn't get points on Jenson side, because that would have put us in a stronger position in the constructors'.
"I don't think we were particularly strong in Brazil last year, we struggled in the wet as well round there. But last year was a different year, a different car. I think the car should be quite strong in Brazil."