So who is your 2010 rookie of the year? Leaving out Kamui Kobayashi, who could arguably rule himself by virtue of his two appearances at the end of last year, it's a tricky question. However, on balance the vote would probably go to Nico Hulkenberg, despite a season that perhaps can best be described as patchy.
The German arrived on the Formula 1 scene this year with a stellar CV. His title successes in Formula 3 and GP2 mirrored those of Lewis Hamilton, while he had also found time to win in A1GP. Given that record, great things were expected of him.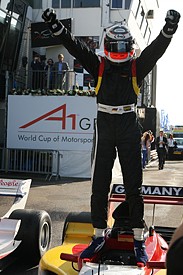 Nico Hulkenberg first demonstrated star quality by dominating A1GP © LAT
But there's no denying the fact that for at least the first half of the season, he didn't do a great deal to attract attention. He found himself up against Rubens Barrichello, a man coming off a season when he showed that he could still win grands prix, and whose motivation shows no sign of flagging.
Including Korea, Hulkenberg has been ahead in qualifying five times out of 17, and you could argue all night about whether that is good enough record for a rookie arriving with such a good record, and with the blessing of Willi Weber, the man who made Michael Schumacher.
Hulkenberg is the first to admit that the season has not gone as well as he might have hoped.
"I think I could have achieved more," he says. "But being honest it was very tough for me, the beginning of the season - going into the first race having only seven test days before Bahrain, and with a car that we thought would be better but it wasn't quite. So to deliver the job in qualifying and the race, with that little experience, and the car was difficult, was just tough.
"And clearly I wasn't able to do it in the beginning, compared to Rubens. Then since mid-season I got really better at it, and I feel a lot more comfortable and better now, and I can deliver these performances consistently, which I have to if I want to stay in F1. It's good to see the progress I've made."
He admits that the comparison with Hamilton is inevitable, but stresses that these days rookies have a much tougher time, as so little mileage is available.
"I had two days of testing in 2009, it was nothing. People expect it to be like when Hamilton or you name it came in. Like me he had a good CV, won F3, won GP2 and so on, and he came in and he beat his team-mate and performed straight away.
"But then they forget there's no more testing, the driver's much less prepared, the car is difficult to drive. And the other guy has 18 years of experience, and he can handle the situation a bit better. So you know, very quickly they say, 'he's not good'. Then you have to believe in yourself, keep working, and then try to turn it around. I just concentrated on myself because I knew I can do the job. I just need some time, and experience."
The early races weren't a total disaster, although a few were ruined by incidents. In wet qualifying in Malaysia for example he popped up in fifth, but elsewhere, he didn't have much luck.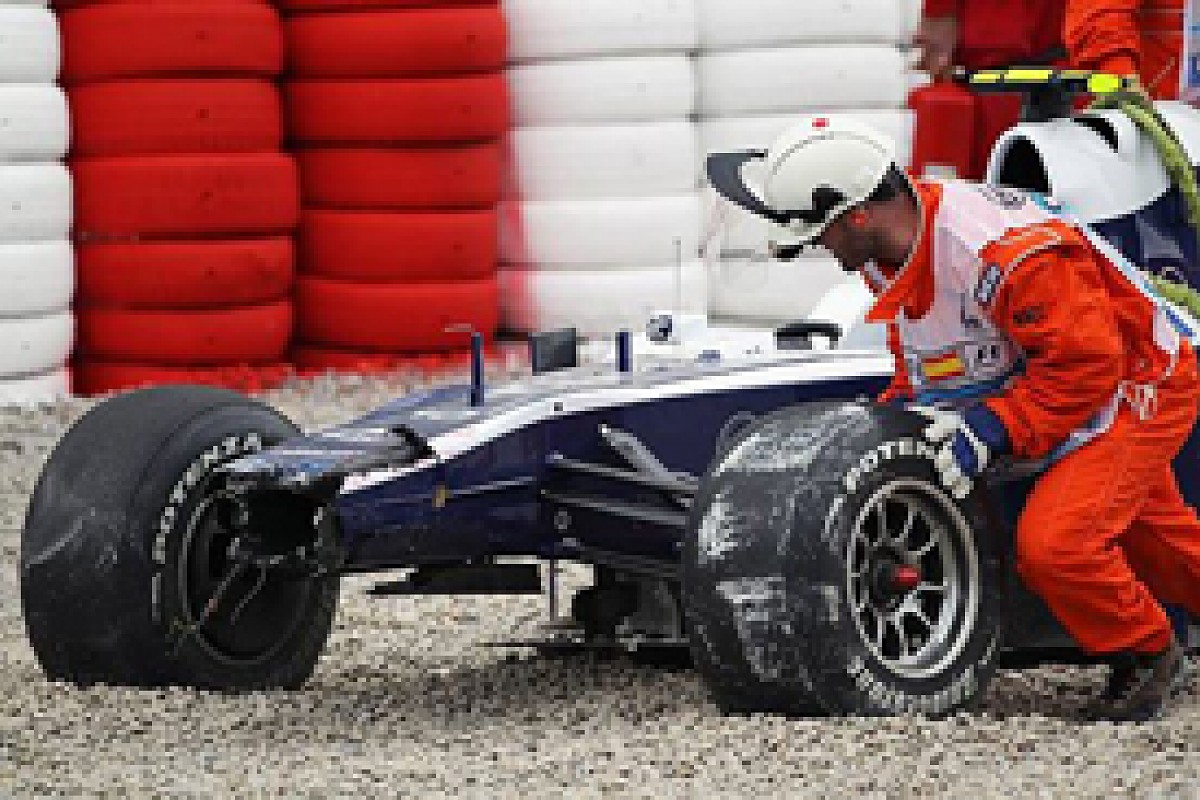 Catalunya practice crash was among Hulkenberg's early glitches © Sutton
"If you look at everything in the first quarter or half, Q5 there looked good. But I think I did a good job in Monaco as well, I qualified 11th, and I was one or two tenths off Rubens, otherwise I would have been in Q3 as well. I couldn't leave the grid because we had that clutch problem.
"In Spain I outqualified him, in Canada we were four thousandths apart from each other, and I didn't know that circuit. I screwed up that race as well by crashing into the back of [Adrian] Sutil, otherwise I would have finished P8 like [Sebastien] Buemi did.
"Shanghai was very messy with the rain and our pitstop strategy, but then Spain I could have got more. Turkey was very difficult, and Canada was a race where I would say I would have done a better job. I could have set some highlights, but there were clearly some mistakes as well."
He cites the European GP as a turning point: "In Valencia I was behind Rubens pretty much all weekend long and in Q3 I pulled off a great lap and outqualified him. Then when the safety car came out I was unlucky to be the second car in the stack, so I lost two places there. I was P10 at the time when the exhaust cracked, and Rubens had a P4, a great finish, so that was a bit unlucky for me that race."
In the middle of the year things began to click, and Hulkenberg's progress was helped by a significant improvement in the form of the car. Indeed for much of the second half of the season both drivers have made it through to Q3, albeit often by a slender margin.
"I think it was a mixture of the blown diffuser and F-duct working, and me getting better. I think what was missing was just general performance, lack of downforce. The factory has clearly done a good job, developing the car. Rubens' feedback is very valuable there, to point out to the engineers and wind tunnel guys you need to look at this and this. It's difficult for me to do that, because I haven't go that kind of a database in my head."
Things really took a turn for the better in Budapest, where he finished sixth, which he followed up with seventh in Italy.
Hulkenberg starred in Hungary © LAT
"Hungary was a great race, into Q3, and then I did a mistake free race. It was a straightforward performance. Italy was the best overall performance of the whole season. A very good qualifying, no mistakes in the race, from the first until two laps from the end I had a Red Bull in my mirror, constant pressure, just a hard clean fight. I tried to make my car as wide as possible! Twice when I cut the chicane Mark [Webber] wasn't even close to overtaking me.
"Once I even gave him the opportunity to come in my tow, so I lost a lot of time there. he was complaining there in order to get me out of the way because I was holding him up, and he was losing time and positions. I saw him in Singapore and he was fine with it. Spa was a shame as well, I could have scored some points, but with the throttle actuator problem we had, it was impossible to drive the car."
He concedes that F1 has proved to be much tougher than he had expected.
"In the beginning, yes. It was bloody hard and pretty s**t to be honest. The hardest bit was really the first six or seven races, to perform in qualifying and then get everything right in the race, where I just wasn't that experienced and not so confident.
"My arse got kicked every time by Rubens, and there's a point where you ask yourself, why is that, and you need to change it. People ask questions as well. And you just have to keep cool. Mentally I'm pretty strong, I think, and I just said keep on working hard, do your job, and I can turn it around, if it takes some time."
Frank Williams and Patrick Head are known to be tough taskmasters, especially with rookies, but Hulkenberg says he's had no problem with that.
Hulkenberg with Sam Michael © LAT
"They are very friendly, very forward, honest. They're not these monsters, as some people say they are! They've been very nice, actually. I know Sam [Michael] pretty well now after being test driver and living in Oxford and seeing him a lot there. He's a nice guy and I get on very well with him.
"I think the team was still supportive, I never read any negative things on the internet about me, so I think it was quite OK. In difficult times generally a driver needs support from the team to have the confidence to drive the car well and do everything good."
Perhaps the most difficult thing is the transition from being a consistent race-winner since childhood karting days to suddenly being a bit-part player. No longer being the star of the show requires a degree of mental adjustment.
"Winning is great, and then you come here and find yourself in P16, P17, P18. You have to reset your measures. You also have to consider that you're in F1 now, and winning is not an everyday thing.
"You realise that quickly. As I said, it's tough, especially if your team colleague outperforms you consistently. But then you need to think, you're new, he's done 17 or 18 years in the sport, and if somebody is that long in the sport, he must have done something right.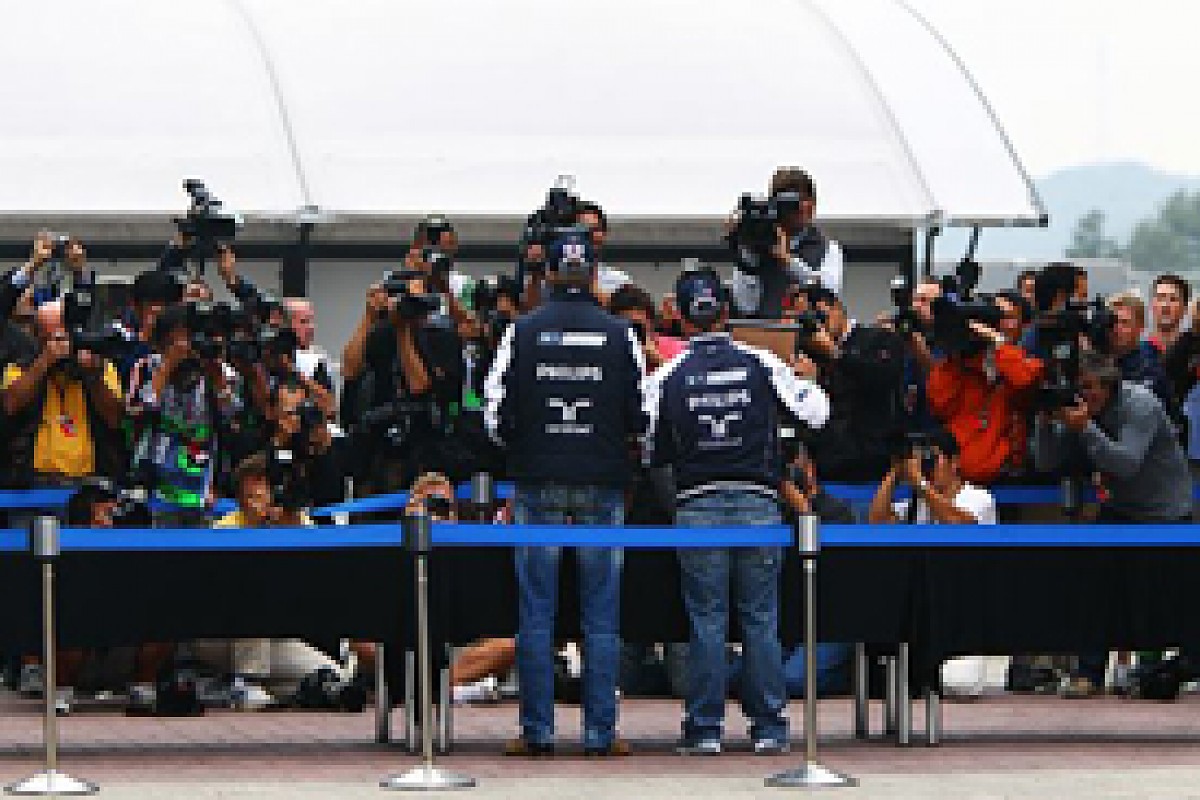 Hulkenberg and Barrichello meet the press in Korea © Sutton
"He is good at what he does. I saw there were several practices and qualifying where I could have been there, but because of little mistakes, or uncertain things where I didn't choose the right set-up, I couldn't be close to him. I knew that if I get everything together eventually, and I feel better, then I can be there.
"Now I've just a lot more confidence. Now I go in the car and I know it's my car and I know what I can do and I know my limits. Just a whole different feeling when you get in."
Hulkenberg's future remains uncertain. Logic suggests that having hired him as test driver some time ago Williams did not view this as a short-term arrangement, and on balance he's done more than enough to deserve a second year.
However rumours about the arrival of a pay driver in the form of Pastor Maldonado refuse to go away, and we await confirmation of the team's plans.
"Obviously the team has an option on me. I can't tell you the date, and obviously they have done it yet, it's a matter of time. The feedback from the board and the bosses is very positive about my performance. I believe I'll stay with the team, and I want to stay with the team."