Saturday marks precisely a year since Jean Todt replaced Max Mosley as FIA President - after the French former Ferrari team boss had his candidacy endorsed by the British barrister - and the original intention of this column had been to comment on the state of the sport's governing body (in general) and of Formula 1 (in particular) one year on.
However, while researching various issues came suggestions that Mosley is preparing some or other rebellion at the Place de la Concorde - where the FIA has its global headquarters, but better known as the scene of Queen Marie Antoinette's beheading in 1793 when the vast square went under the name 'Place de la Revolution' - come the governing body's next General Assembly meeting on November 5.
The GA is effectively the FIA's annual general meeting, at which all sorts of policy matters, in addition to financial and operational topics, are discussed and/or put to the vote, and one of the points is bound to be the approval of the 2009 meeting - at which Todt was elected as Mosley's successor.
However, according to an insider, who has in the past proven on the money when it comes to matters political, all is not well in the relationship between Todt and Mosley. The situation may even have intensified after the World Motor Sport Council, previously known to bow to Mosley's will, rejected his calls for Ferrari and its two drivers to lose all points scored after the team shuffled positions during the German Grand Prix.
Instead, the WMSC merely upheld the $100,000 fine imposed by the race's stewards.
Back in June, a month before the German affair, the same source indicated to this column that Mosley was unhappy about the dehiring or redeployment of some of the ex-president's trusted lieutenants by the new regime, and that many of Mosley's initiatives were in the process of being undone.
In fact, the source stated that Mosley considered himself 'betrayed' by Todt, having last year openly campaigned to have the Frenchman elected as predecessor. Said source suggested that Mosley and Todt had entered into a 'Tony Blair/Gordon Brown' -type deal along the lines of 'I help you get elected; you continue my good work...'
At the same time, as reported here and here, the same source suggested Todt and the WMSC were planning to renegotiate the 'sweetheart' deal. The one in which Bernie Ecclestone's group of companies acquired the 113-year commercial rights to F1 for $313m, then sold same on for (well) upwards of a billion dollars to a venture capital fund less than decade later.
The original (10 years) deal was ratified by the WMSC during Mosley's presidency. The 100-year extension approved three years later was rumoured to be even more loaded in favour of the commercial rights holder.
Thus the FIA is said to be facing substantial annual shortfalls come 2011, and it is these that president Todt intends clawing back while placing further pressures on the CRH as part of any 2013-2017 Concorde Agreement negotiation process.
Then, negotiations for a successor to the Concorde Agreement agreed last year amid calls for Mosley's departure from office are likely to be more acrimonious and bloody than ever before, and, where previously it was a two-way street, with the FIA and Ecclestone on one side and the teams on the other, this time there is likely to be a three-way squabble.
Now, Todt is siding with the teams over many aspects. Which is likely to cost CVC substantial amounts of money, not only as teams ratchet up their demands for an increase in revenues, but also as Todt pushes to regain some of the control over F1 relinquished by Mosley in favour of the CRH.
Against this background suggestions of a putsch certainly have credence and should be taken seriously, for Mosley should not ever be underestimated. Just this week, ahead of his 80th birthday celebrations, Ecclestone suggested in a British daily newspaper that Mosley would have "made a very good prime minister. Max would've been ideal. He would know how to handle things. Max had an awful lot going for him. Maybe people thought he was too clever."
The past year has not been good for Mosley from an FIA policy perspective however, for, after fighting tooth-and-nail for Todt, he has seen various sporting, technical and administrative initiatives introduced during his tenure - in many cases under the pretext of saving the sport from itself - amended or even struck off.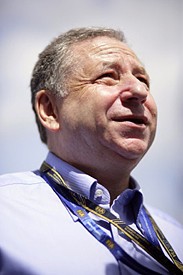 Jean Todt © LAT
A prime example is Article 39.1, which forbids team orders after introduction in May 2002, is being re-examined by the WMSC in the wake of Ferrari's antics. But the list does not stop there: despite a major drive to attract new teams through a low-rent approach (and two cracks at the whip), F1 does not conform to his vision of 13 teams after a candidate team was stillborn and being in dire straits.
After Mosley's budget cap proposal was last year canned, its successor, the (secret) Resource Restriction Agreement, has recently been substantially relaxed to allow larger teams greater leeway. Then his much-vaunted KERS system, introduced to much flourish, is totally absent from the grid this year, and is unlikely to find universal acceptance any time soon.
Where he believed a sole tyre supplier system would have rubber companies rushing to tender, the sport battled to agree terms with a replacement for Bridgestone, which exists soon after just one three-year contract period. Teams will from next year pay for rubber, where not too long ago the tyre companies threw vast amounts of wedge at them...
Greater harmony exists within the paddock than for any time within the past 20 years, with the sport this season making headlines (mainly) for all the right reasons, and for the wrong reasons (mainly) for vague previously framed regulations: Think last-lap Safety Car regulations; think new circuit inspections; think vague flexi-wing regulations; think the Parisian court's verdict in the 'Crashgate' affair; or even, for that matter, think Article 39.1.
Todt, who has adopted a low profile since his election, plans to overhaul many of the FIA's structures and commissions, from the stewarding procedure - which now has a former grand prix driver joining the panel - through restructuring the sport's various commissions, over the next 12 months.
Mosley's followers, though, credit him for this season being the closest on record. But that overlooks the various mechanical problems experienced by Red Bull's Sebastian Vettel in Bahrain, Australia and Spain, and the German's crash with team-mate Webber in Turkey.
Thus, precisely a year on, the question might be asked whether motorsport, and F1 in particular, is better or worse off for Mosley's departure from the FIA's highest office and whether he did, indeed, save F1.
It is a fact that the body's finances are not as healthy as they could (should) be given the potential of F1's 100-year profits, and that many procedures and systems require overhauling, which Todt is attempting to do, and should be the focus of the GA meet on November 5. It is, according to sources, these revamps that Mosley and his merry band are rebelling against.
A straw poll in Japan showed most had their enthusiasm for the style of the previous regime well in check, and believed the sport had saved itself in the nick of time. Mosley can, though, take credit for saving the sport from its previous president, as all who have seen the new Senna movie, which includes historic footage of Jean-Marie Balestre's rantings, can attest...