Welcome to the Building Site Grand Prix. The new Korea International Circuit is most generously described as a work in progress, with the freshly-laid asphalt threading its way through patches of near-scrubland, past grandstands that are still being nailed together and skirting a harbour that, as yet, exists only in the imagination. We can be glad, at least, that the land reclamation project is complete, meaning that the track is not submerged.
As for the small city that some of the more extravagant artist's impressions of the track envisioned the circuit wending its way through, it's going to take a few more years (not to mention some serious cash) to bring that particular skyline to life.
The state of the venue is embarrassing for the apologetic race organisers, who have blamed unseasonably heavy rain in July and September for being behind schedule. While it's impressive that they have managed to get the circuit into what the FIA's Charlie Whiting described as "satisfactory" condition despite their problems (troubles which must have been serious as they have played havoc with the cabbage supply chain in Korea), when you're staging a race primarily as a showcase for your region, first impressions count.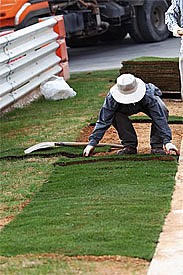 A worker lays down grass on the circuit © Sutton
The track is located just outside of the city of Mopko (population approximately 250,000). Chances are, you won't have heard of it and there's no reason why you should have done. So at least the South Korean Grand Prix has achieved part of its aim to raise the profile of the Sampo District in the Jeollandm-do province (otherwise best known for its agriculture, in particular rice farming).
Located 400kms south of Seoul, Mopko is very much off the beaten track - a quick internet search of the place repeatedly throws up the baseless rumour that it is a hub of organised crime! There's been little evidence of such activity, although some unfortunate souls claim to have found themselves in hotels more suited to charging by the hour than by the night. It is, in short, a city in need of something to shout about and, in the Korean Grand Prix, it has now got it.
The bottom line is that the organisers have produced a track able to host a grand prix in the nick of time - and a circuit that, according to the drivers, should lend itself to plenty of overtaking. In fact, it's more than a mere track; it's a "multipurpose dual structure hybrid circuit"... as a glance at the promotional brochure reveals.
But all that really matters is what happens on the track. A classic race on Sunday will earn the organisers the 12 months' grace they need to complete the venue and do their region justice. Undoubtedly their plans, if fully realised, are spectacular, even though the generation of a whole city around a race track seems monstrously ambitious. It's worth noting that they haven't promised to build such a city, but that "stage 2" of the project depends on drawing in more investors.
Race promoter Yung Cho Chung has promised that things will get better next year, saying: "Please accept my apologies. We will prepare more next year." And no doubt they will, for despite being rough around the edges it's worth remembering that not so long ago there was nothing here.
The best news is that once the on-track action gets underway nobody will be paying attention to the surroundings of the track. It will once again be all about the five-way championship fight, and there's every chance that the country's first grand prix will have a key part to play in the narrative of the closest title fight ever.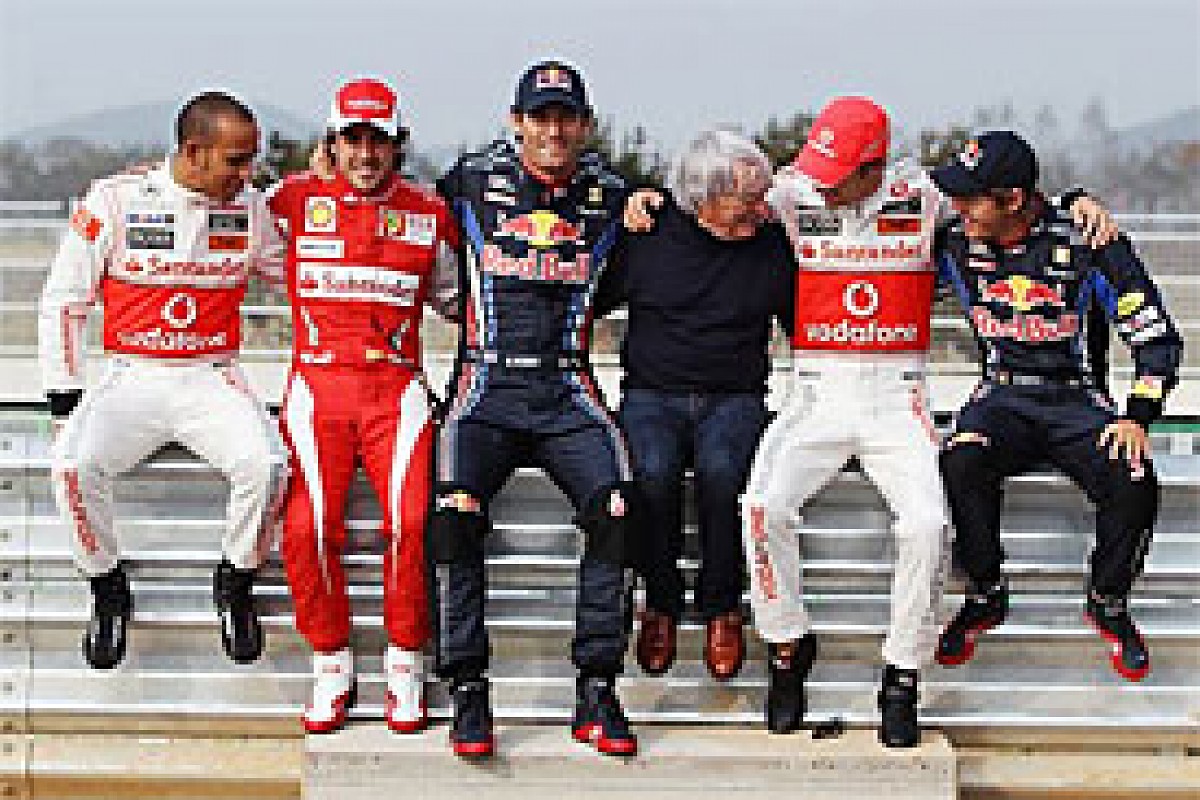 The championship protagonists © Sutton
A particularly stilted press conference involving Mark Webber, Sebastian Vettel, Fernando Alonso, Lewis Hamilton and Jenson Button did little justice to the anticipation building prior to on-track action kicking off on Friday. Shortly before meeting the assembled media, the quintet was lined up on the pit-wall to create a modern homage to the famous photograph of Nigel Mansell, Nelson Piquet, Ayrton Senna and Alain Prost taken at the 1986 Portuguese Grand Prix.
Moments like that remind you of just what is at stake here and that we are witnessing an historic season. Who knows, in 20 years time perhaps four or five the top grand prix drivers will again be locked in a championship fight. And perhaps they, too, will be lined up in the pits for an iconic snapshot?
There's certainly no doubt that the circuit will be finished by then, although I'm not holding my breath waiting for a new city to emerge.