So has McLaren blown its chances of winning the World Championship? After Suzuka last weekend, it's tempting to think so. Lewis Hamilton and Jenson Button are now 28 and 31 points respectively behind leader Mark Webber in the title battle, and with both Red Bull drivers looking so strong in Japan, and Fernando Alonso logging good finishes for Ferrari with metronomic regularity, it doesn't look too good for the McLaren boys.
But this season has taken so many twists and turns so far, it would be foolish to write them off. In real money, or pre-2010 points, Hamilton and Button are just 11.2 and 12.4 off Webber. And we all know, Kimi Raikkonen came back from 17 behind with two races ago to frustrate McLaren in 2007.
As ever in this sport, you're only as good as your last race, but don't forget that it's not so long ago that Hamilton scored a virtuoso win at Spa, or that Button so nearly won at Monza after an aggressive first corner move and a near perfect race long performance.
What is pretty clear is that one or other of the McLaren drivers has to get a proper result in Korea, and outscore a couple if not all of the other three title contenders, in order to properly get back into the game. And that is certainly possible.
Japan wasn't a great weekend for McLaren, and Hamilton in particular, but equally you could argue that it was a good example of damage limitation, and things could have been a lot worse.
Consider that Hamilton crashed in first practice - a silly mistake of pushing too hard too soon that he held his hand up to - and only snuck in a few laps right at the end of P2. Thus more than anyone else, he lost out through the lack of any dry running in P3. And then, after a Saturday afternoon spent hanging around waiting for something to happen, he got the five-place gearbox penalty.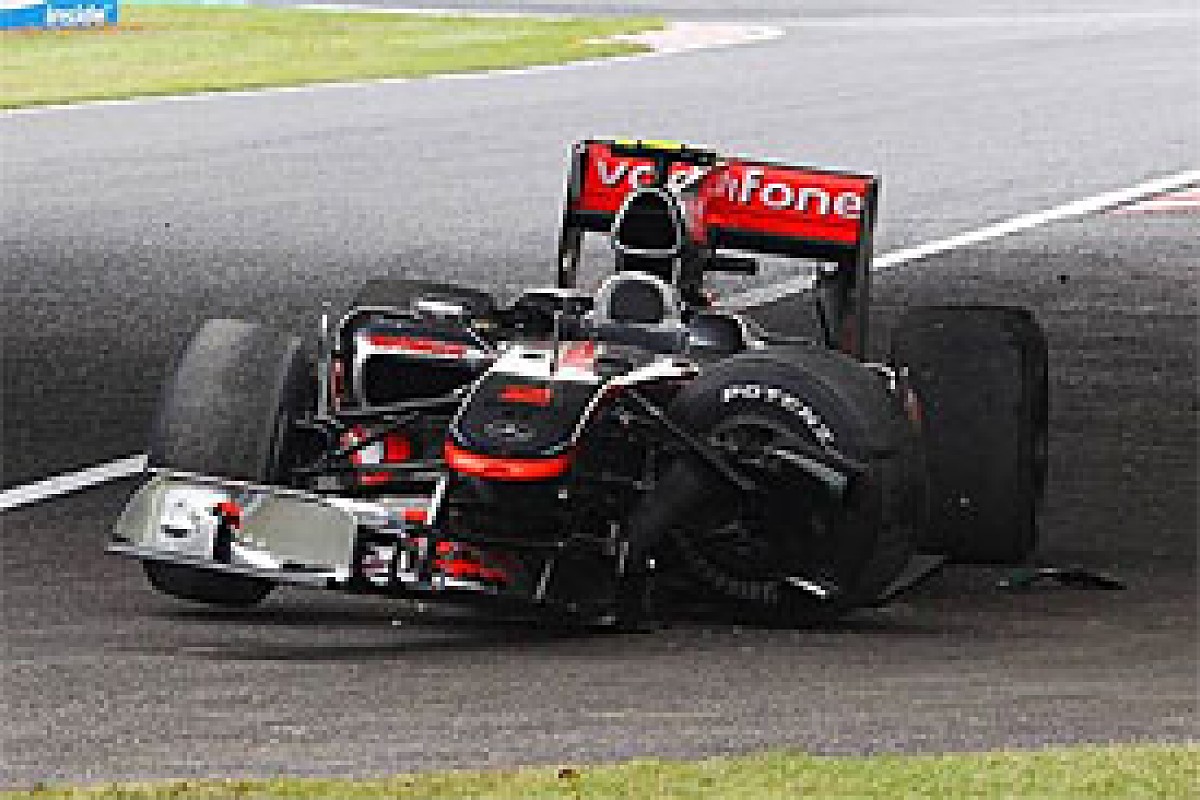 Hamilton was on the back foot after his crash © Sutton
And then there was the matter of the new McLaren wing package. The team ultimately decided to take it off for qualifying, and while Hamilton had at least had some experience of running with the standard wing, any such change during the course of a race weekend is bound to be something of a disruption.
Engineering chief Paddy Lowe denies that the Degner accident, and a similar but less destructive off there for Button, suggested that the updated car was harder to drive.
"We know from last year that corner is tricky," says Lowe. "I don't remember that being the case in the last, but the last two years, it has been problematic, although we didn't see any problems in the race. Those were just normal offs, and we saw other people doing it.
"It just needs some more work. Sometimes you make that decision with new parts, and they're not quite ready. It's a different wing, it's got a different downforce level. Actually Lewis ran the old configuration on Friday, and it's one they know well. It was not really an issue. It's just frustrating not to get a new development into a race when we'd planned it, particularly when you then look at a grid and go if only we'd got that to work we might be a little bit further up."
Despite his restricted mileage and lack of fine tuned knowledge of the package, Hamilton qualified an excellent third. The Red Bulls were always going to be untouchable over one lap, so it was as good as it could get - before those five places were added.
Had he started third there's a good chance that he could have matched Robert Kubica's start performance and jumped up to second. Whether he could have challenged Vettel for the lead on strategy or sheer chutzpah is a moot point, but he would certainly have kept the German under pressure, and made his life difficult. If he'd stayed ahead of Webber to the flag, he'd now be 11 points closer to the Aussie.
That's all academic of course, because it's the reality that counts - and the gearbox problem that slowed him would have put him down the order anyway. As it was he made a good start and took advantage of trouble ahead to get up to fifth. He stayed behind Button (on the prime) until his stop, and eased ahead when Button finally came in. So he should have finished fourth which, given his recent run of dramas, was not too bad. Then came the loss of third gear, which dropped him back behind Button, but fortunately, no further.
"As you heard on the radio transmissions he was having problems with third gear," says Lowe. "And in the end we asked him to stay in fourth and above, which was costing him a second and a half. That's why Jenson overtook him in the hairpin, as he was doing the rest of the race with fourth to seventh. We could see the lap time lost.
"The thing that was quite nerve wracking was when Rosberg has his shunt, because if they'd called a safety car at that point the field would have bunched up, and he would have fallen preyed to the cars behind, and he would have been overtaken sooner or later. But in fact he had to 20 second gap..."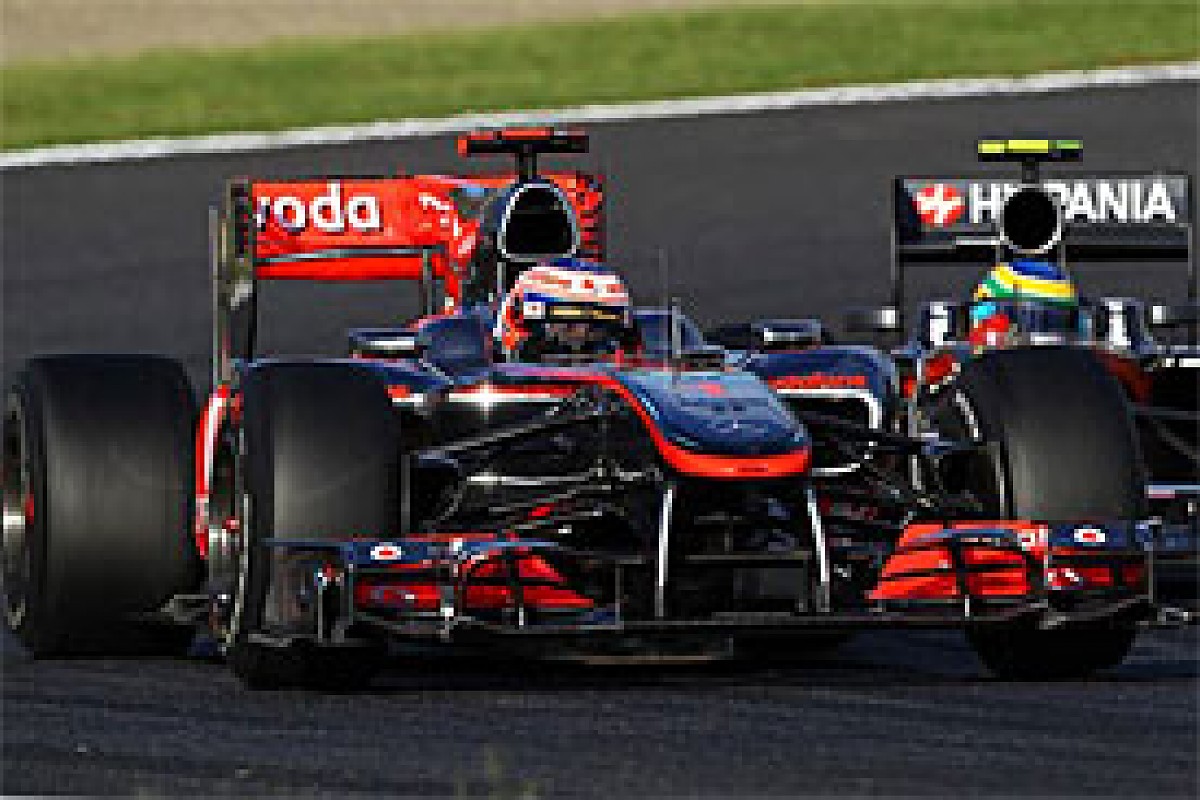 Button opted for an alternative strategy © Sutton
So, a little good luck for Hamilton right there. Having adjusted his driving, he made it safely to the end. And that's the point, that despite this extraordinary accumulation of problems in one weekend, including two gearbox issues, he still earned 10 points for his fifth. Suzuka may yet prove to be the race that won Hamilton the title, rather than lost it.
For Button meanwhile, it was a so-so weekend. Aside from his Degner off and the need to adjust to the changed car for qualifying, it all went pretty smoothly, but the decision to qualify and start on the prime tyre didn't really do much for him.
Although choosing Primes sounds like it was a conservative choice, doing something different like that was in fact a gamble, perhaps the sort that he should be taking as he tries to propel himself back into title contention, and he thus shouldn't be criticised. Would be have done any better than fourth or fifth had he gone the option route? Perhaps, if he'd snuck ahead of Alonso in qualifying.
We certainly shouldn't forget that Hamilton did get ahead of the Ferrari, and without the double whammy of the two gearbox problems, should have finished third. Had he done that we would not now be so convinced that Ferrari has leapfrogged McLaren. That certainly wasn't as clear cut in Japan as it was in Singapore.
"We had high hopes that we'd come away with more points than we did," says Lowe. "It was encouraging in the race, the pace was good actually. We just let ourselves down with two gearbox problems on Lewis's car.
"The prime tyre strategy with Jenson didn't work out, the option didn't degrade the way that it might have done, and at the same time he wasn't getting the pace he needed to on the prime, it didn't seem to be working so well. So that could have gone better.
"But the pace of the car was good. Hamilton was very quick at various stages in the race, and he could have challenged Alonso at the end, if not for his gearbox problem."
So what of Korea? It will be a new experience for everyone, but it was intriguing to see comments today from Hamilton to the effect that after sampling its long straights in the simulator, he saw it as a McLaren track. He also said that the middle sector "rewards commitment," and both of those discoveries will have given him a boost as he prepares for the trip back to Asia over the next few days.
There could of course be some rain in Korea, and that could confuse the issue, while Brazil too could be wet. Looking ahead a little further, even with a so-so car Hamilton was competitive in Abu Dhabi last year, so there is still every chance that he can gain some momentum.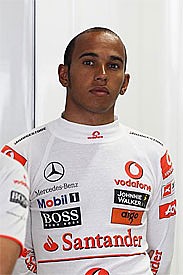 Lewis Hamilton © Sutton
He is now in an ultra-relaxed mood, as if those retirements and falling a little off the title race pace have taken some weight off his shoulders, rather than the opposite. Now he can really go for it, and if he gets involved in another costly contretemps, so what? It's the way he's always driven and always will.
Of course, McLaren could do with some misfortune to strike those ahead in the World Championship table. Hamilton could win the three remaining races, and if Webber is second every time, he'll still comfortably be champion.
Having missed the points only once this year, when he crashed out in Valencia, Webber has done an extraordinary job of consolidating and bringing the car home safely. The others can't rely on it, but history suggests that he is due some bad luck, and a non-finish for the Aussie will put everyone else back in the ballpark.
As usual Adrian Newey will no doubt arrive in Korea with a van load of new bits in his luggage, enough to keep the mechanics up through Thursday and Friday nights. But it would be silly to discount McLaren. The team will also have had time to hone the new wing package, albeit without any track running until Friday in Korea.
"I think it's a matter of going there and keep pushing on the upgrades," says Lowe. "Lots more things are in the pipeline. We'll work away and make the wing work, and hopefully we'll be more reliable, which was the most disappointing aspect of Japan."
Martin Whitmarsh is equally bullish, and in Japan he was unconcerned about suggestions that the team has lost its way: "We don't spend time worrying about it, we spend time doing things about it. We've got to make sure we're reliable, make sure we keep improving the car, and do our best in the next few races.
"I think they're two great racing drivers. They've both been World Champions, and they know they've got to fight to the end. They're both very motivated. You could see that this morning in qualifying. They've scored some valuable points here - not everything we wanted to achieve - but they'll be just as motivated when we get to Korea. If we've got a fast car, then they'll be up there racing."