Felipe Massa is the odd-man-out in the world championship fight. Cast adrift from team-mate Fernando Alonso and his battle with the Red Bull/McLaren drivers, even when he briefly led the standings early in the season he has never really threatened to contend for the crown that he came within 20 seconds of winning in 2008.
Yes, having to hand German Grand Prix victory to Alonso a year to the day since his life-threatening qualifying crash in Hungary was a bitter blow, but that is the only race that he has looked like winning. Even the most staunch Massa fan would have to admit that this has been an underwhelming season.
Look at the numbers. By every quantitative measure, he is being thumped by his team-mate. In qualifying, the score is 11-4; in points terms he trails 191-128, in victories he's 4-0 down and when it comes to raw pace, the 0.386% disparity in average fastest lap speed over the season is comfortably the largest among the three top teams. Sorry Felipe, you've just plain not been fast enough over a flying lap.
That brings us to the interesting question - why? The Brazilian has won 11 grands prix and matched and often outperformed 2007 world champion Kimi Raikkonen during their three campaigns together at Ferrari. He is, by any measure, a seriously quick racing driver and to dismiss him out of hand as not being good enough doesn't resolve the Massa enigma. There's more to this than meets the eye.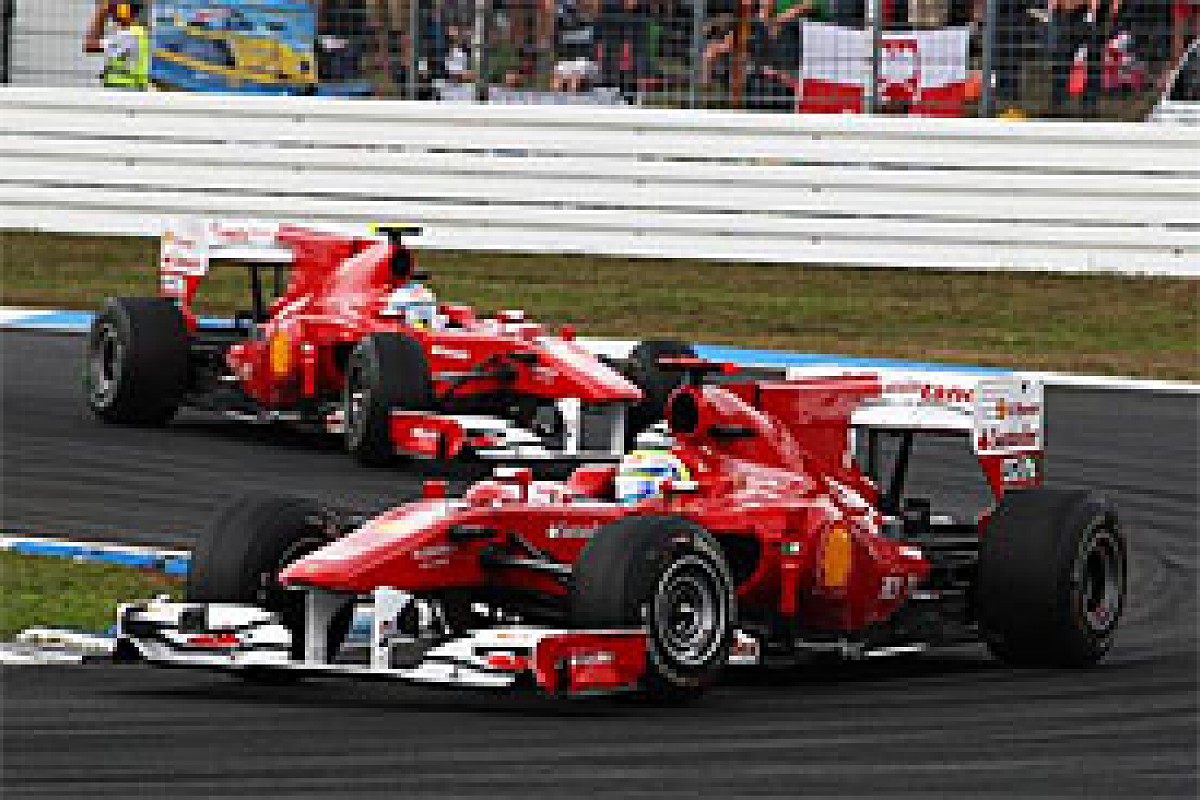 Massa was robbed of a sure win in Germany © Sutton
There are three obvious lines of thought. Firstly, is he another victim of this year's control tyres not suiting him? He has consistently complained about tyre warm-up problems almost from the start of the season. This isn't Bridgestone's fault per se, more a fact of life when you have a specified tyre as teams and drivers cannot develop rubber to be better suited to their needs.
Secondly, is the reputation that was largely founded on his speed compared to Raikkonen artificially boosted by the fact that the Finn was unable to recapture his McLaren peaks during his time at the Scuderia? If we talked about Raikkonen himself underperforming during those years, can rightly conclude that Massa was excelling in comparison?
Thirdly, have the head injuries that he suffered when he collected the spring shed by Rubens Barrichello's spring at the Hungaroring last year taken away the edge? After all, he wouldn't be the first to have 'lost it' after a serious accident.
The first point of call is to ask Massa himself. He points decisively to the four corners of the Ferrari F10 as the reasons behind the performance gap to Alonso.
"He never had a problem with the warming-up of the tyres," says Massa of Alonso. "In qualifying most of the time he has been able to get 100 per cent out of the car. In many races, I couldn't, and that's related a lot to the way that you prepare the tyres for the first lap on new tyres."
Certainly, qualifying has been Massa's biggest weakness. With overtaking extremely difficult and the strategic variables slashed by the ban on refuelling, Saturday pace usually defines what kind of race you will have on Sunday. From row three or four, you have to work hard to get to the front so it's no surprise that Massa has only four podiums.
His race pace has been much better relative to Alonso, but the Spaniard has still, for the most part, had the edge come the hour-and-a-half that matters. Even at Hockenheim, Alonso was indeed faster than him, and only the circumstances of the start allowed Massa, who had qualified almost half-a-second off his team-mate, to take control of the race.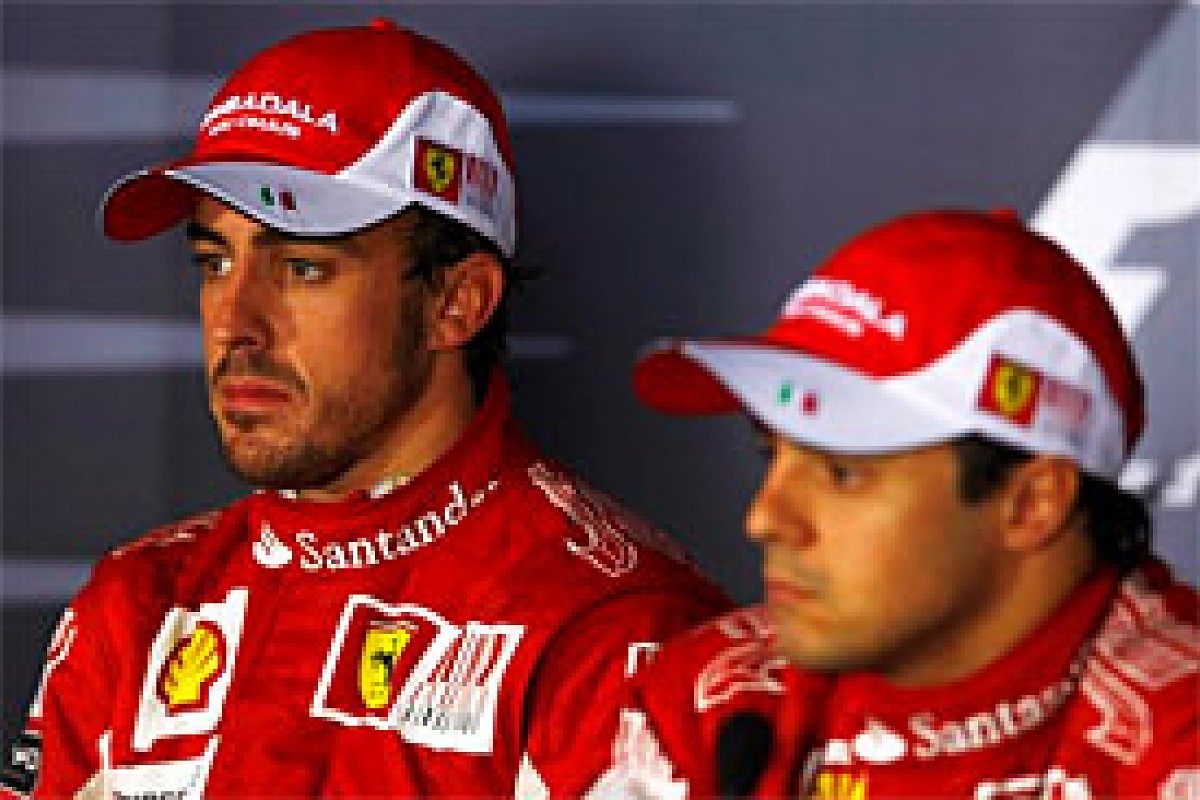 Has Alonso rattled Massa's confidence? © LAT
Hockenheim also provided a snapshot of Massa's rubber problems as he struggled terribly to get his hard tyres up to temperature after his pitstop while doing a great job to repulse the advances of his team-mate. It was a great drive under pressure, but he hadn't exactly turned the tables on Alonso.
There is some evidence to support Massa's claim about the tyres hurting him, particularly when it comes to races where the harder compounds have been allocated. Not only has a narrow window for tyre warm-up been a characteristic of the Ferrari F1 cars in recent years, necessitating very precise planning in traffic in qualifying, but the numbers show a correlation between what tyres are allocated and Massa's performances. At tracks where super soft tyres have been used (excluding Monaco and Singapore, where the data is skewed by neither driver setting a qualifying time) Massa is around 0.1% closer to Alonso's pace. It might not sound much, but it does at least suggest that there is something to the tyre excuse.
But while he might struggle more at tracks with the harder tyre choices, Bridgestone's head of motorsport tyre development Hirohide Hamashima is not convinced by the Brazilian's complaints about tyre warm-up.
"It's very difficult to explain the time difference in qualifying between Fernando and him," says Hamashima. "Always he complained about tyre temperature or something like that - but I can't understand it. There is nothing I can see. Very sorry, Felipe..."
We can infer from Hamashima's cagey, but illuminating, response that he regards it as a driver, rather than a tyre, problem. But tyre maladies notwithstanding, there is no disgrace in trailing in Alonso's wake. Pre-season, those who anticipated that the Brazilian would rattle Alonso's cage were in the minority and few but the most strongly pro-Finn would claim that the Spaniard is not operating at a consistently higher level than Raikkonen was able to in recent seasons. History suggestions that Alonso is all-round a stronger grand prix driver than Massa, but it requires a second season to be sure whether the current gap is representative of the difference in raw speed.
So we come to the head injury. Massa has always maintained that is suffering from no ill-effects and has never sought to use it as an excuse. That said, it's inevitable that following so serious a head trauma that there will be question marks over its long-term damage. Even among Massa's Brazilian inner circle there are some who wonder if it hasn't taken the edge off. But that's only natural, it's very easy to point to such an obvious cause. It also runs contrary to what very well-placed specialists say.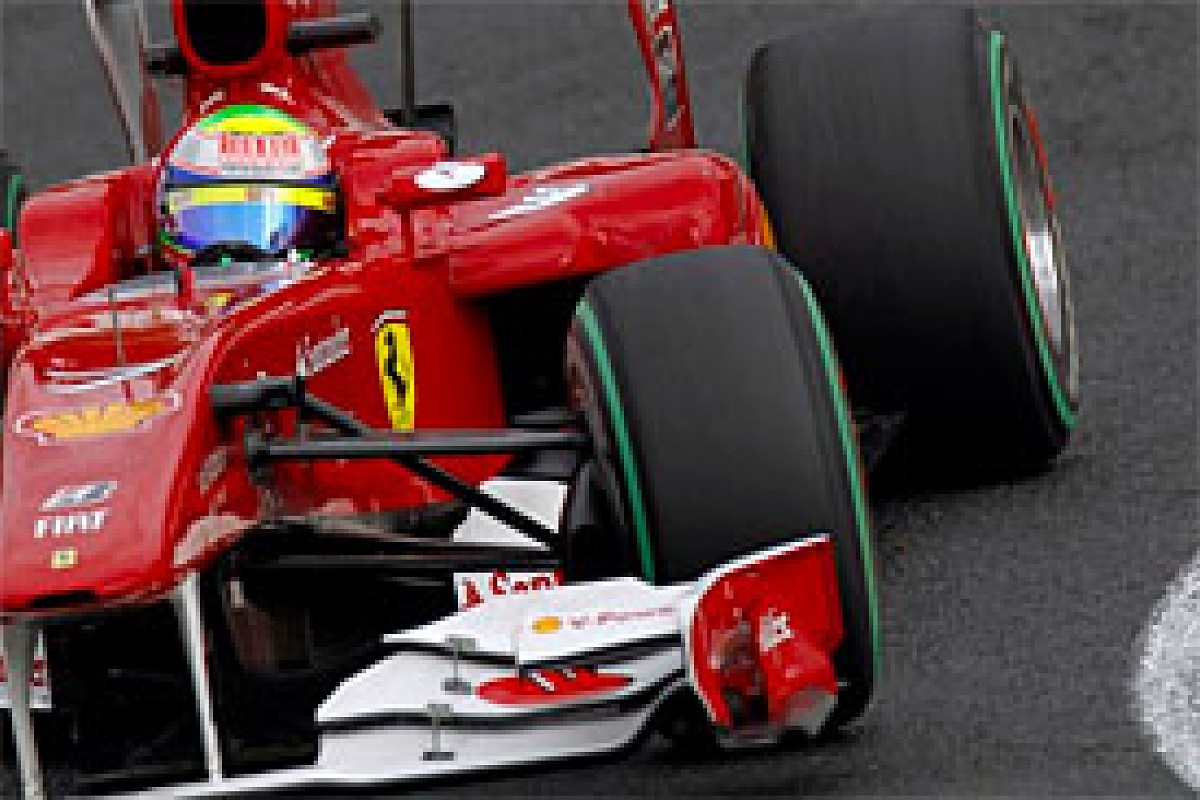 Massa says he has struggled with the tyres © LAT
Neurosurgeon Steve Olvey discussed Massa's case earlier in the year with AUTOSPORT columnist Dieter Rencken and was unequivocal about the extent of his recovery.
"This is probably one of the most surprising, if not the fastest, recoveries from a life-threatening head injury I have ever seen," said Olvey in March. "He's back at the same level that he was prior to the injury."
So we can rule out any physical problems, but what about the psychological effects? Olvey believed that Massa had "totally overcome" the mental doubts, but could such wounds not have been reopened by the twists and turns of a tough season?
This brings us to a fourth factor for consideration. Massa is a sensitive soul who, from the outside, never appears to have enjoyed indomitable confidence that characterised a Michael Schumacher (1991-2006 specification). His remarkable relationship with race engineer Rob Smedley is testament to that - look at the way that astonishing pole position lap was coaxed out of the Brazilian at Monaco two years ago. Massa's confidence seems to grow with his performances to the point where, with supreme dignity, he missed out on winning the title two years ago despite winning at Interlagos.
But whatever is built over years can be demolished in a fraction of the time. Could it be that the struggles of 2010 have sown the seeds of doubt and that as the tide has turned against him it has eroded much of that confidence? If so, might that have caused him to question again whether the crash has knocked him back? Certainly, there are those within Ferrari who believe that the Massa of 2008 would have had the confidence to perform better at times this season.
Then we come to the German Grand Prix. Perhaps being denied what would have been a cathartic return to victory a year to the day since his accident has done the most damage? There are suggestions that this has soured his once rock-solid relationship with Ferrari and given his demeanour post-race there's little doubt that it further chipped away at his confidence and spirit. Rare indeed is the racing driver who gets a boost from sacrificing themselves for the cause.
Ultimately, that is all in Massa's mind and even the man himself won't be able to give a definite answer. From the outside, we can conclude that it is likely that a lack of confidence caused by his recent experiences is playing a part - but to what extent we can only guess. What is certain is that it was not a forgone conclusion that Massa would stay on at Ferrari next season - although he has since re-signed - his long-term future with the team beyond 2011 still remains under question. That means that he cannot afford a second season of performing at anything other than the very top level.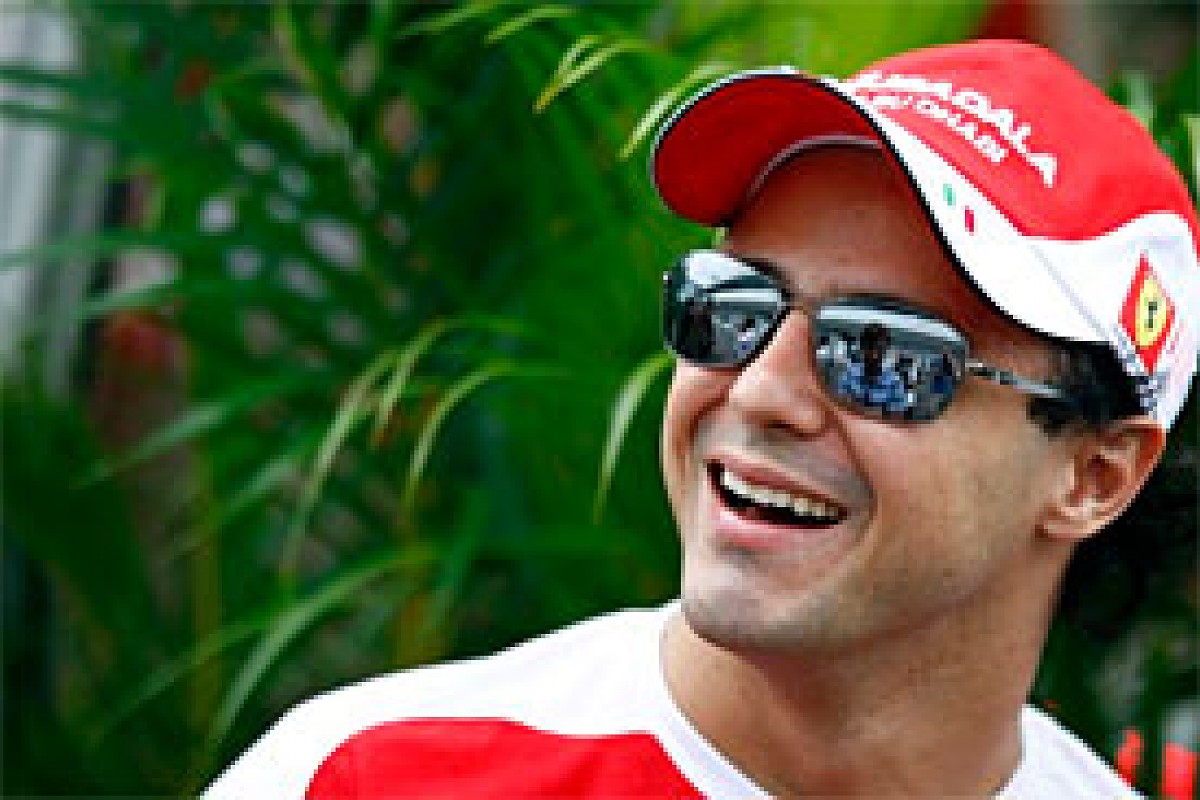 Will Massa return to the top next year? © LAT
Like old team-mate and friend Michael Schumacher, he is hoping that the new-for-2011 Pirelli tyres will eradicate what he identifies as he main weakness. If that happens, perhaps the Massa of 2008 will be back and able to show what he is capable of compared to Alonso. Few doubt that the ability is there.
"Next year will be a new start for everybody," he says. "It will be a different direction and many things can change. Let's think about finishing this season in the best way possible first."
Whether the popular Massa will bounce back in 2011 is impossible to say. The pressure of being a Ferrari driver, the need to recover from a disappointing season and the feeling of looking across the garage to one of the greatest grand prix drivers of all time won't make things easy even if the new tyres could eradicate what he sees as the main reason for him struggling to match Alonso.
But Massa has surprised us before. Maybe he will again.