Japan personal scoreboard
• Jenson Button has climbed only once on the podium in Japan, in 2004 behind the Schumacher brothers. He was also able to start once from the front row, in 2005 alongside Ralf Schumacher. In the last three editions of the race he has scored only one point, with an eighth place last year. This is in stark contrast with his first seven appearances, when he never finished lower than seventh. Button has finished all the ten Japanese GP he contested;
• Lewis Hamilton scored a hat-trick at the Fuji track in 2007 and was in pole also the following year, finishing 12th after a controversial race (a penalty and a contact with Massa), last year in Suzuka he was third both in qualifying and in the race. His fourth retirement of the year in Singapore marks a relevant factor in his title chase: in the last ten years only Michael Schumacher in 2000 was able to win the title retiring four times during the season;
• With eight poles (record for a single track with Ayrton Senna in Imola) and six wins in Suzuka, Michael Schumacher is the master of the Japanese track. Contrasting memories for him though, as he lost here two world championships (1998 and 2006) and won two (2000 and 2003);
• The best result for Nico Rosberg came last year: seventh on the grid and fifth in the race, in his fourth Japanese Grand Prix. A curious coincidence, since in the last two races Rosberg qualified and finished in the same positions;
Sebastian Vettel, 2007 Japanese GP © LAT
• Sebastian Vettel dominated last year's race leading from start to finish. In the 2007 edition he became the youngest driver to ever lead a race, but his race finished after a collision with Mark Webber, behind the safety car, triggered by Hamilton;
• The best performance for Mark Webber came in the 2005 edition, when he was fourth with Williams, his only points finish in Suzuka. Two accidents in the last four races in Japan and only one point scored, in 2008 at the Fuji. In his last four Japanese Grands Prix he qualified in the top 10 only in 2007 (seventh);
• Felipe Massa has finished in the points in his last three Japanese Grands Prix, and was in the top 10 in the last five; he retired here only in 2002 for a spin. He was on pole in 2006 in his last race in Suzuka;
• Fernando Alonso is the only driver to have won in both Japanese tracks, in Suzuka in 2006 and at the Fuji in 2008. He has never started from the front row in Suzuka;
• Rubens Barrichello finally reaches his 300th race beyond any doubt: even considering his non-starts now he is there. He won from pole in 2003, controlling the race while his team-mate Michael Schumacher struggled in the midfield to finish eighth and claim the championship. After that win he has scored only two points in Japan, with a seventh place last year;
• Robert Kubica has always finished in the top 10 in Japan, but scored points only at Fuji (seventh in 2007 and second behind Alonso the following year), at Suzuka he was ninth in both races (2006 and 2009). He was beaten by his team-mate Heidfeld in qualifying twice in Suzuka;
• Adrian Sutil raced in Suzuka only last year when he finished 13th after starting eighth. His only point in Japan (the first one of his F1 career) in the wet race at the Fuji in 2007 when he was eighth;
• Vitantonio Liuzzi has never finished in the points or started from the top 10 in three races run here, he finished 14th in both races run in Suzuka;
• Sebastien Buemi endured a hard weekend last year with two accidents in practice which left him 13th on the grid. He was able to run only a handful of laps in the race before retiring for clutch problems;
• Jaime Alguersuari was 12th on the grid last year, but, like his team-mate, he crashed twice during the weekend, one of the crashes was the reason of his retirement in the race;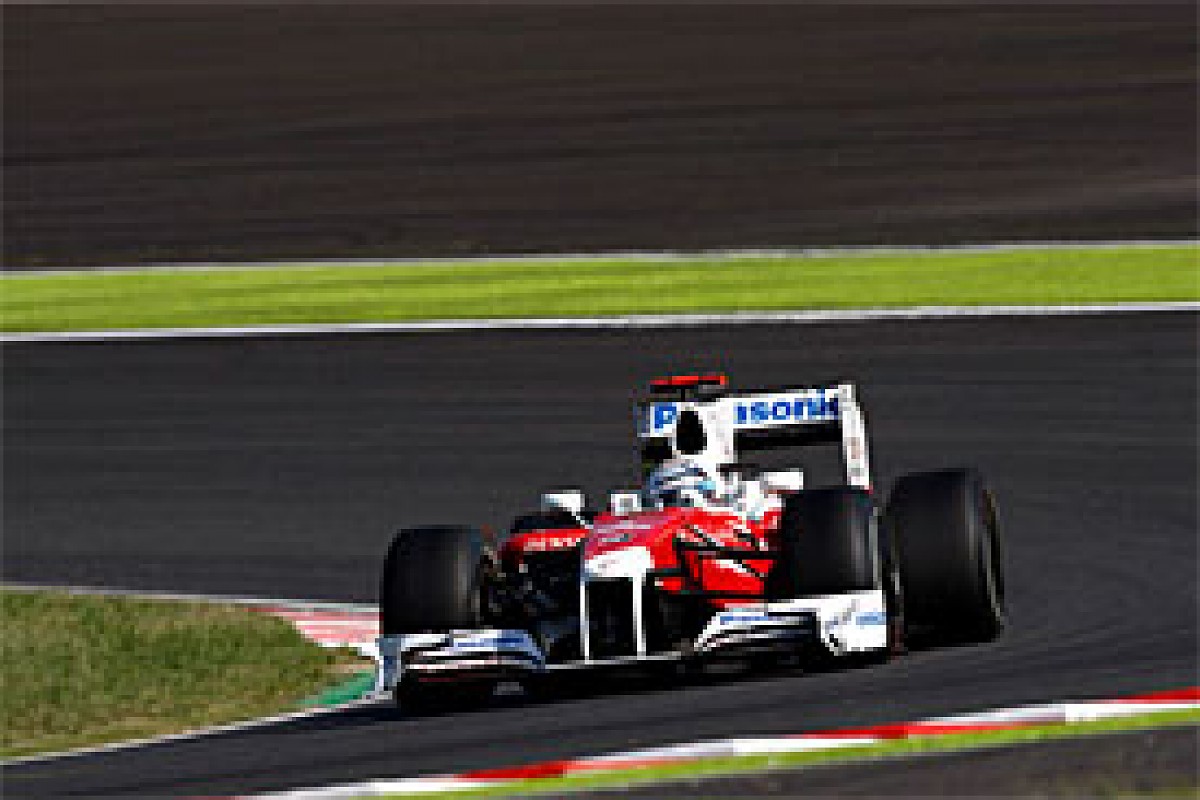 Jarno Trulli on his way to a podium in 2009 © LAT
• Jarno Trulli obtained his best result in a Japanese Grand Prix last year, in his 12th attempt: second, his last podium to date and the last one for an Italian driver in Formula 1. He was in the points and in the top 10 in qualifying three times in the last four editions (he didn't make it only in 2007). However, Suzuka is one of the worst circuits considering his qualifying performances: his score against his team-mates is 2-7;
• Heikki Kovalainen scored his maiden podium finish in Japan in 2007, second from the eleventh grid spot, last year at his first race in Suzuka was eleventh both in grid and in the race;
• Sakon Yamamoto obtained in the 2007 Japanese Grand Prix his best career result: a 12th place from the 22nd in grid;
• Nick Heidfeld has finished eight of the nine Japanese Grands Prix he contested, retiring only in his first. The best result came last year with a sixth from fourth on the grid. In his last two visits in Suzuka he always qualified in the top 10 and finished in the points. His qualifying scorecard against his team-mates in Suzuka is perfect: 7-0;
• Timo Glock raced only once in Suzuka, in 2004: 17th in grid and 15th in the race. Last year he was forced to withdraw after an accident in qualifying.
Team notes
• BMW Sauber has always finished in the points with at least with one car, the best result for the team is a second in 2008;
• Ferrari has won five times from pole from 2000 to 2005, then has failed to win again in Japan;
• Force India is looking for its first points or top 10 finish in Japan; in 2008 it recorded a double retirement;
• Lotus won the first ever Japanese Grand Prix, back in 1976 with Mario Andretti at the Fuji track;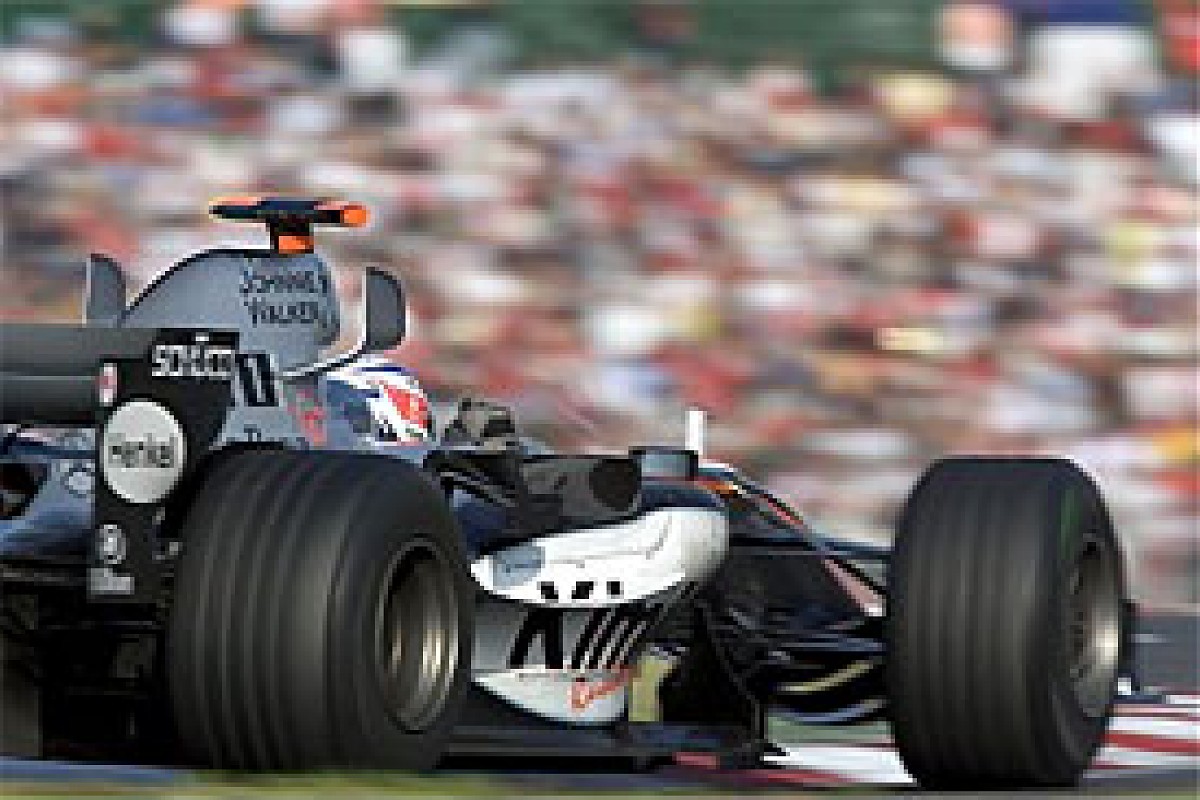 Raikkonen won for McLaren in 2005 © LAT
• McLaren is the most successful team in Japan with eight wins, but it hasn't won in Suzuka since 2005;
• Before last year's win, Red Bull hadn't been able to finish on the podium in Japan;
• Renault has won twice in the last four years: in 2006 in Suzuka and in 2008 at Fuji, the 2008 one is the last win to date for the French squad. The team has never started from the front row in Japan;
• Toro Rosso recorded four accidents last year: two by Buemi in qualifying, one by Alguersuari in qualifying and one in the race. The only Toro Rosso in the points in Japan was Sebastian Vettel's in 2008;
• Williams will start its 550th race in Japan. In the last four editions it finished in the points only last year with Nico Rosberg.
Other notes
• Three winning teams in the last three editions: Renault, McLaren, Red Bull;
• The win came from pole ten times and from the second grid spot seven times out of 21 in this track. In 2005 Raikkonen was able to win from 17th on the grid with a last-lap pass on Giancarlo Fisichella.