It was this column which six weeks ago first disclosed that a VW Group executive had attended meetings of the FIA's Engine Working Group which was charged with formulating power unit regulations for grand prix racing from 2013 through to 2017.
Then, in a follow-up a fortnight later the various options facing the EWG were analysed, including 1600cc inline four cylinder units versus (rejected) V6 architecture based on existing 2400cc V8 engines, plus proposed ancillary technology such as KERS and compound super/turbocharging. The feature pointed out the concept was deployed in VW's award-winning high-performance inline four-cylinder Twincharge engine. Thus the new regulations, if accepted, would offer the Group the benefits of bilateral technology transfer.
The chances of the VW Group - as opposed to the VW brand, which is just one of 11 different entities making up the world's third-largest motor manufacturer (and on course to inherit the poisoned chalice that is Number 1 by 2015) - entering Formula 1 went up more than a few notches when Porsche's newly appointed CEO Matthias Muller divulged in an interview with AUTOSPORT's sister publication Autocar during the Paris Motor Show that "we have to discuss whether it makes better sense for one of the [Porsche or Audi] brands to go into LMP1, and the other brand into F1. So we will have a round-table to discuss the pros and cons."
Porsche, of course, recently joined the Group after a failed reverse takeover bid, only to find itself up against Audi in sportscar racing. Although the former concentrated on the LMP2 class, with Audi ruling the top dog category.
Thus the big question which vexed the board - ultimately overseen by Porsche family member/shareholder Ferdinand Piech, the former Audi boss whose engineering masters degree thesis centred on the design of a flat eight grand prix engine (of which more anon) and whose foresight resulted in utter rally domination by the Quattro - was which brand should remain in sportscars, and which, if any, should step up to the F1 plate?
No doubt all were considered, with SEAT being crossed off immediately. Not least because the group's most unprofitable division is increasingly linked to marriage with Alfa Romeo, upon whose four-leafed clover Piech has long fixed his steely stare in the hopes that Fiat will succumb. Skoda, too, found itself deleted due to this family brand having no place in F1.
Volkswagen, albeit higher up the food chain than the Czech marque, was eliminated for the same reason, as were dormant brands Horch, NSU, DKW, Wanderer and Auto Union - although last-named is believed to have been considered as 'umbrella', providing a link with the four-ringed Silver Arrows' thundering pre-war heritage. This leaves Audi and subsidiary Lamborghini, plus Bentley, Bugatti and Porsche for the board to choose from.
Bugatti, the group's loss-leading halo brand, is believed to be losing around £4m per current car sold, so is hardly in a position to go F1 racing, particularly as the 1000 bhp, 250 mph (400 km/h) Veyron's 450-unit production run ends shortly to make way for a four-door successor. Bentley has a fine sporting pedigree, but has moved upmarket into gentleman's express territory, so stands to gain little from an F1 engagement, particularly as costs would need to be amortised over just 10,000 units per annum.
Therefore, as outlined by Muller, it is down to Porsche and Audi.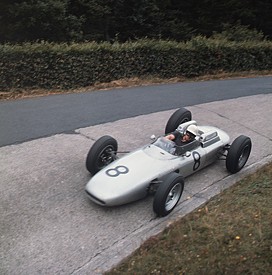 Jo Bonnier driving the 1962 F1 Porsche at the Nurburgring © LAT
The former has been there and done it, having (once) won in its own right back in 1962 with a Piech-type flat eight engine, and as (ultra-successful) contractual engine supplier to McLaren with the TAG-Porsche V6 turbo. Thereafter, though, it endured an unhappy relationship with Arrows, having supplied a unit that totally missed the target by being too long, too heavy, too unreliable and chronically underpowered.
However, before and since Porsche's main competition thrust had been sportscar racing, particularly Le Mans, a race won a record 16 times by the Stuttgart company, including seven successive victories between 1981 and 1987. For information, Ferrari is next with nine, with Mercedes (two) well down the list.
More than even the challenge of competing against Ferrari (its sportscar nemesis) and Mercedes (a natural market competitor in the luxury four-door Panamera and luxury SUV Cayenne segments) in racing's top category, the main attraction for Porsche could well be KERS, for the company recently showed off its (production ready) 918 hybrid concept. This combines a 500 bhp V8 with twin electric motors producing 160 kilowatts for a total of 718 bhp - the sort of output expected from 2013 F1 power units...
Porsche is targeting annual sales of 150,000 units (up 50 per cent from present levels) within five years, and a high-profile, successful F1 programme would certainly aid that quest, but the question is whether Porsche can afford the costs, particularly as engine suppliers do not share in the sport's revenues. It is considered extremely unlikely that Porsche's business model can support a full Ferrari-type F1 programme.
During the interview Muller made clear that Porsche needs to earn revenue from its competition exploits, and with the company having no input into future Concorde negotiations unless it has a full entry for 2013 accepted by the FIA - which period is not even under discussion at present - Porsche finds itself in a classic chicken and egg situation.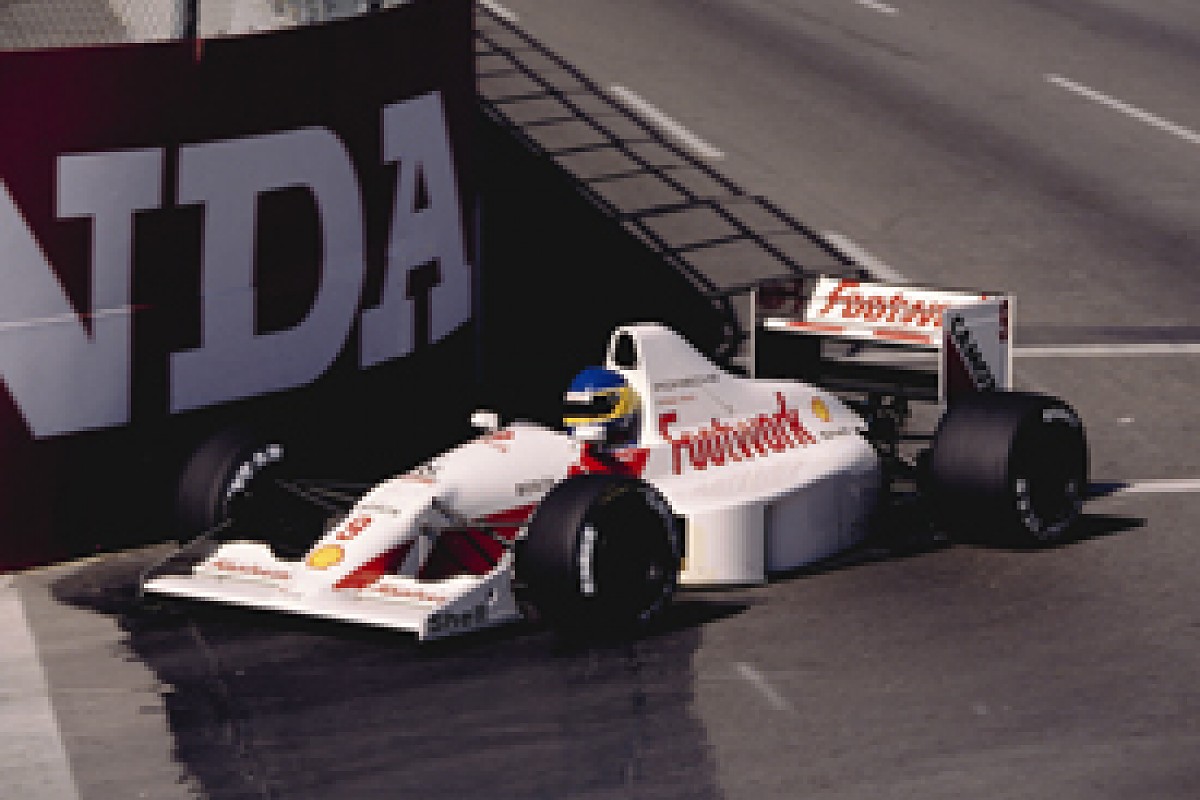 Porsche's brief relationship with Footwork was not a success © LAT
Then, as engine supplier the sporting destiny of the brand, including driver, commercial and livery decisions, would thus be controlled by outsiders a la Williams/BMW and McLaren/Mercedes - unlikely to go down well amongst the smart suits bestriding Zuffenhausen's power corridors. So, much as Porsche would be a magic addition to F1 grids, somehow it seems out of reach, certainly if the company wishes to avoid a repeat of the Arrows debacle. Thus, Mr Muller, it seems your brand will continue to pound the Sarthe...
In mentioning the two choices of Audi and Porsche, Muller somehow failed to include Lamborghini. The Italian company is a wholly-owned subsidiary of Audi AG, in turn owned 90 per cent by VW, and as such the Fighting Bull and Four Rings share technology and marketing platforms, with the Audi R8, particularly the V10 version, effectively being a budget Lambo. Equally, Audi's RS6 and S8 bruisers are powered by versions of Lamborghini's V10 engine, with Lamborghini's all-wheel drive system being all Quattro.
Lamborghini does not have a particularly strong sporting heritage - despite having once been linked to McLaren - but this could, in fact, count in favour of Audi, for the company could directly take on Mercedes on the tracks while allowing Lamborghini to redress the situation by taking pot shots at neighbour Ferrari. So Audi would get two for the price of one, all the while invoking images of pre-war clashes of the titans between its Auto Unions and the Three-Pointed-Star.
Talking of which, Audi, with 2009 sales of a million units could easily afford a full programme to take on Mercedes Grand Prix - further entitling the company to a share in F1's revenues while controlling its own marketing and operational destinies. All the while pushing Lamborghini's sales, which last year hit a sliver over 1500 units. Well up on pre-Audi levels, yes, but still only 20 per cent of Ferrari sales.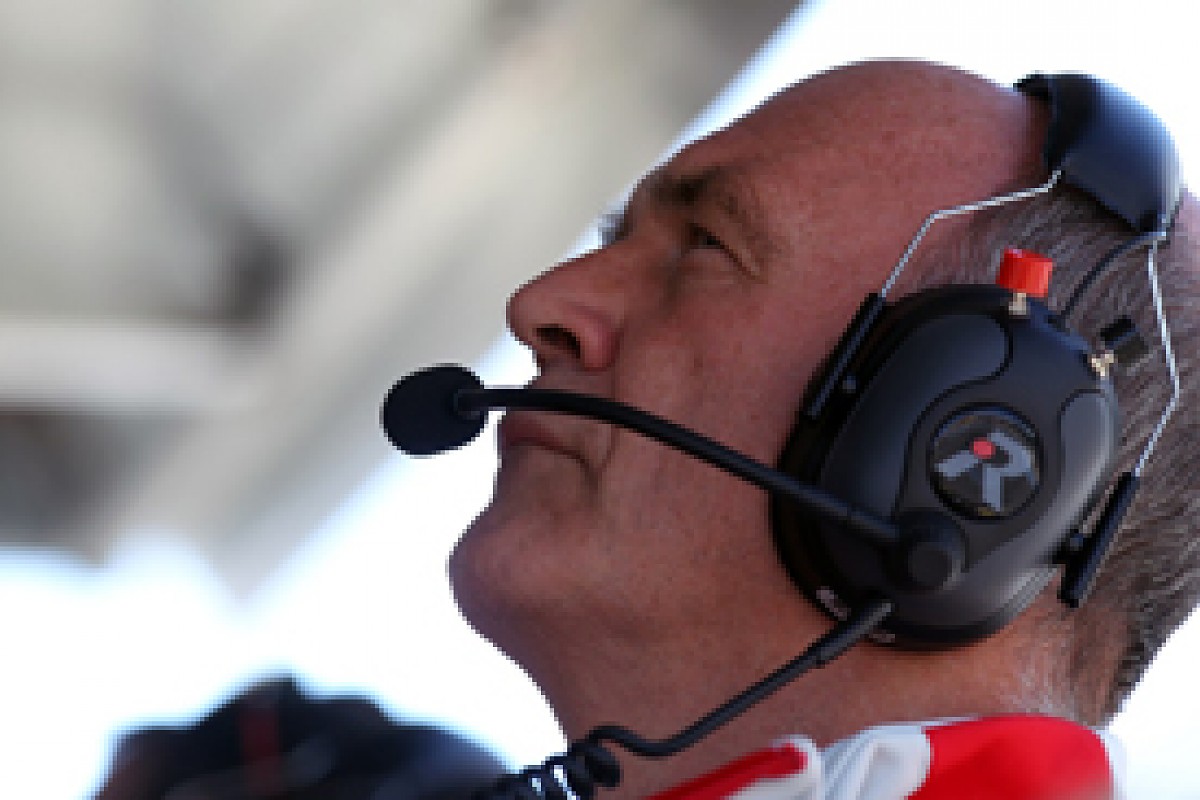 Audi's motorsport boss Dr Wolfgang Ullrich © LAT
Audi's highly successful sportscar programme, which has seen the company dominate recent Le Mans events with both diesel and petrol cars, means Audi has all the building blocks in place for its own F1 programme, although time is getting tight (as it is for Porsche, should Stuttgart and not Ingolstad get any thumbs up), so decisions need to be taken ultra-soon.
However, Audi Motorsport boss Wolfgang Ulrich is apparently no fan of F1, telling a German sport media agency in June that Audi and F1 "don't fit", but that was before the EWG started earnest discussions. The group's representative at EWG sessions is believed to have been Audi's 'Mr Engine' Wolfgang Harz however, who not only pushed through the TwinCharge concept, but is a fully paid-up member of the hybrid club... all of which indicates that Audi may be planning to enter F1 as engine supplier only despite the veritable commercial disadvantages.
Thus the Volkswagen Group faces a whole raft of major decisions, all of them pressing.
First the board needs to decide whether to enter F1 (a major decision in its own right), then whether to do so as engine supplier or in its own right. Should the latter be the chosen route, then decisions need to be taken as to whether to convert existing facilities, start from scratch as did Toyota, or purchase an existing team - likely Toro Rosso, which has long had strong links to VW. Then, the group needs to decide whether to go the Audi/Lamborghini route or with Porsche - and, finally, whether to seek outside commercial and technical partners.
Decisions, decisions, decisions and yet more decisions - and less than two years befpre the first engine needs to be fired up. That said, the EWG is far from done as this is written...