We talk all the time about the five-way battle for the World Championship, but as of Saturday afternoon, the Singapore GP was about two men. Sebastian Vettel and Red Bull seemed to have the upper hand through most of practice, but when it mattered in qualifying Fernando Alonso got the lap in. Just as in Monza, he did the pole time on the first run, leaving others with something to shoot at.
Vettel's first run was spoiled by being too close behind Michael Schumacher, and the second was just a little too scrappy, as he nearly brushed the wall. That left him hoping that he could get past the Ferrari at the start, and despite one of the best getaways made by an RB6 for some time, he didn't quite make it.
Alonso came flying across and slammed the door in his face at Turn 1. It was tough but legal, and indicative of the fact that Alonso knew he had to take risks at this stage to close the gap to those ahead. The Spaniard could not be entirely sure that Vettel would give way, but he did.
Almost unnoticed behind, Hamilton did pretty much the same to Jenson Button, secure in the knowledge that his team-mate would have to back off. And Button did just that, displaying the sure touch that has kept him out of trouble (at least of his own making) this year, and kept him in the race for the title. Having said that, he surely made a mental note about what to do next time he's in front of Hamilton in similar circumstances...
After that we were subjected to 61 fascinating laps of a cat and mouse battle between the two leaders, very reminiscent of what we saw between Alonso and Button in Italy, except that this time the Spaniard led all the way.
In the early stages Alonso seemed to have it all under control, but in a radio conversation Vettel told his team that he was taking it easy, and was thus presumably biding his time. He duly edged closer as the pitstops approached.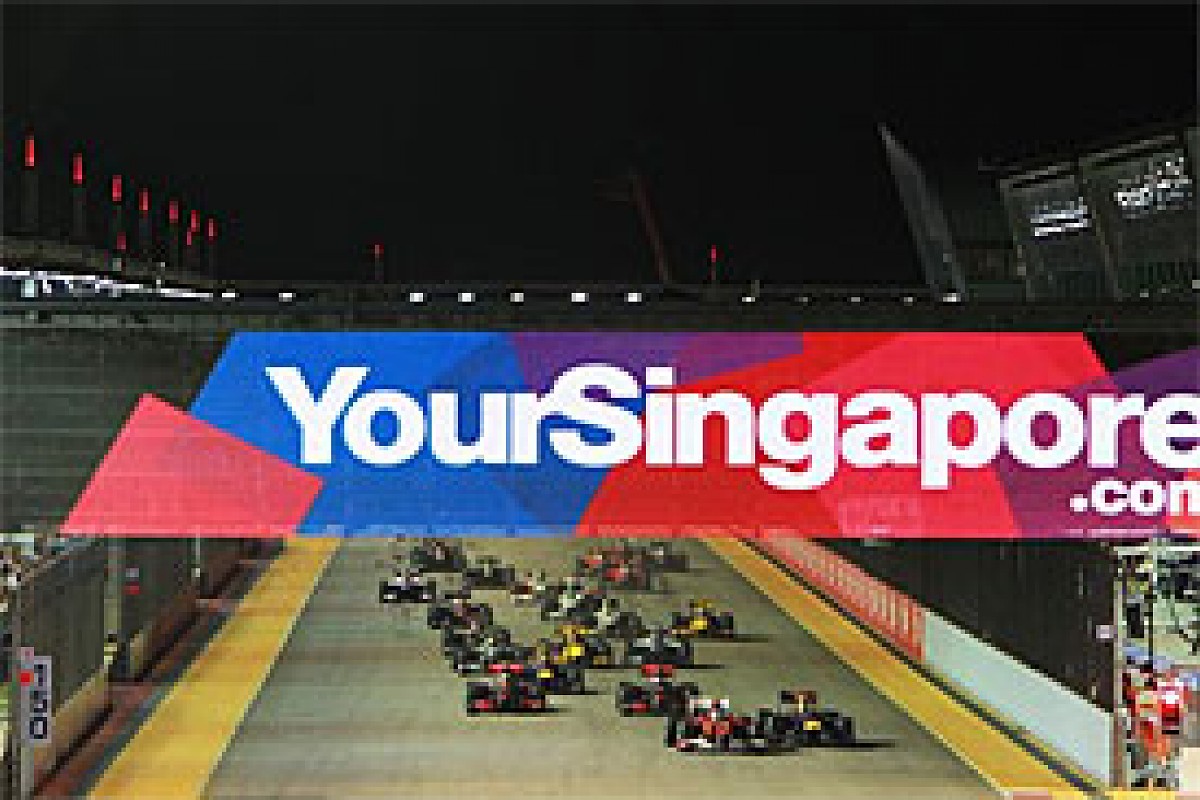 Alonso kept Vettel at bay at the start © Sutton
Some way back in third, Hamilton was the first of the leaders to stop, and that opened a window for the two guys ahead to come in. RBR reacted immediately to pit Vettel, but Ferrari did the same for Alonso. Vettel could have been told to stay out, but the team stuck with its original call.
Inevitably the two cars came into the pits together and left in the same formation. RBR's only hope was to push Ferrari into a fumble, but it was Vettel who cracked, losing a few tenths as he initially tried to leave in second gear.
So for the second race in succession we saw Ferrari outfox a rival at the crucial moment. In Monza, Button pitted first, and in Singapore, Vettel pitted at the same time as Alonso. On both occasions we've asked why the teams concerned didn't try something different, and of course as outside observers without all the info to hand, it's easy to question such calls. Both times the teams concerned were convinced that they made the best choice.
"The only way to pass Fernando was to get the undercut," said Christian Horner. "Which is the faster out lap. As soon as Hamilton pitted it created a space, so we went for that space. But unfortunately Ferrari could probably see that, and they just covered us.
"Going longer for sure you would have just dropped further behind. The out lap on the new tyres is so powerful. They covered us so we were always going to have to make the pass on the track."
It's a good argument, but still one wonders why there was any point in just following Alonso in, when staying out - and perhaps forcing him into an error on that out lap - was arguably a more aggressive choice.
After the Kobayashi safety car Vettel showed just how fast he was on the harder tyre, sticking right with Alonso and harrying him relentlessly. There's no denying that given the pressure, and the fact that his car wasn't as comfortable at that stage of the race, Alonso did an awesome job.
"It was a fantastic result," said Ferrari engineering head Chris Dyer. "He drove an absolute perfect race, following on from an absolutely perfect lap yesterday in qualifying.
"We were a bit nervous about the race strategy, because there was a bit more tyre degradation here than normal, and it wasn't so clear what was going to happen around the pit stops. So it was nice to be able to build a couple of seconds at the start to make us a bit more comfortable when the pit stop finally came."
Horner was satisfied after the race, and with second and third, RBR had certainly given McLaren a good thumping. But there was no denying that with a car that was as fast if not faster than the Ferrari, Red Bull had been beaten fair and square.
"Yesterday's qualifying dictated the finish," Horner admitted. "Unfortunately we didn't get the pole, but Sebastian drove a fantastic race. He pushed Fernando every lap. It was fantastic driving from both of them going tenth for tenth, lap for lap, after two hours.
"I think we had the quicker package, but unfortunately second today was the optimum we managed to achieve, and we had a fantastic strategy and performance by Mark as well to get him from fifth to third. I think on the whole a very positive team result."
Webber vs Hamilton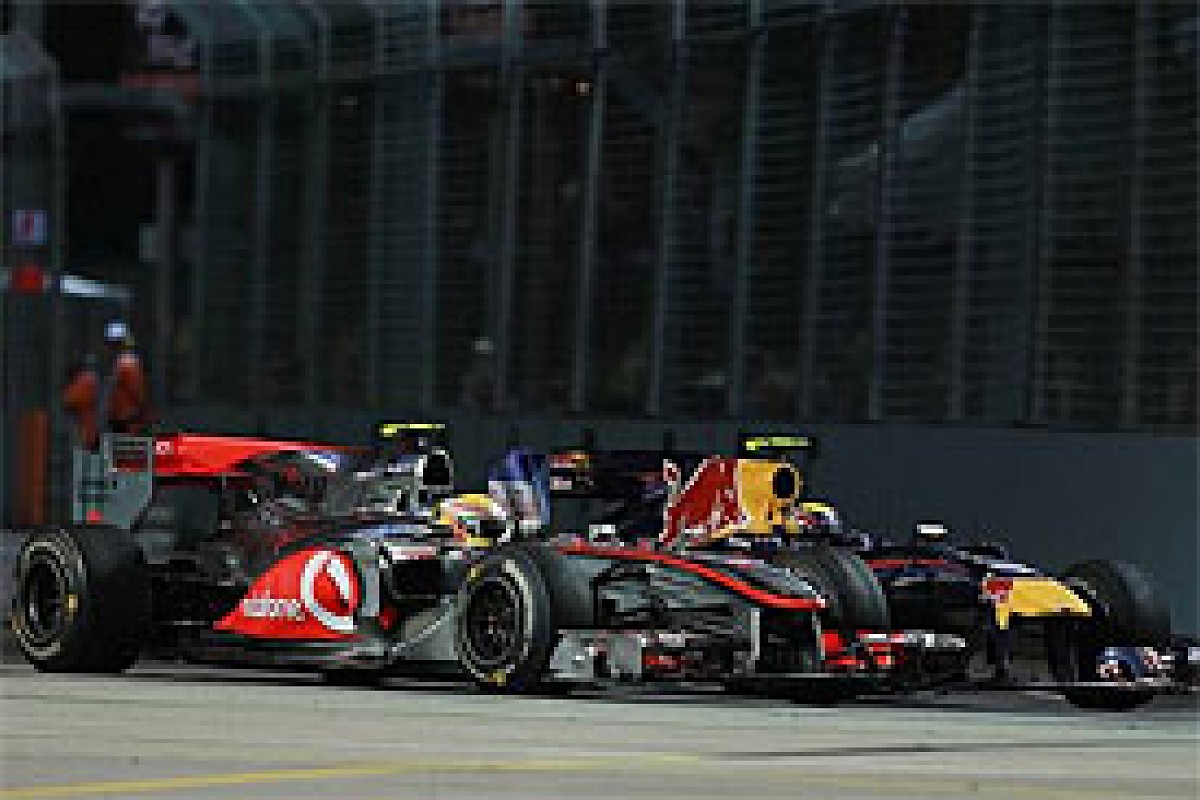 Hamilton and Webber clash © Sutton
On the grid, a confident Ron Dennis had claimed that McLaren had the better race pace and was likely to make the better starts than those ahead, and implied that Hamilton could at least get up into second. That didn't happen, of course, and to many people's surprise, the silver cars dropped back relatively quickly from the two leaders.
"I think the lap times of Fernando and Vettel were much quicker than anyone else today," said Martin Whitmarsh. "With the option tyre I think we were probably overheating them, and our pace fell away. On the prime tyre it was probably a little bit better. We were probably giving under traction too hard a time to the rear tyres, and therefore we fell away."
Button confirmed that that was the issue: "At the start of the race I thought I'd take it easy on the new tyres," said the World Champion, "because we suffered on Friday with the rear end going away. And I think it helped me a little bit towards the end of my stint. The last three laps before my stop I was pulling in Lewis, who I think was suffering with the rear tyres going away. It looked like that, as far as I could see.
"The balance wasn't good and I didn't have a stable rear end, and I don't like that."
The big problem for McLaren was that both cars became easy pickings for Mark Webber.
Once again RBR made an interesting call that paid off. In Hungary, Webber stayed out in the lead when others pitted, and he subsequently had enough pace to turn that into victory once Vettel got his penalty for staying too close behind the safety car. At Monza, Red Bull kept Vettel out until the penultimate lap, when he finally came in for his mandatory stop.
In Singapore the team did the opposite, ditching Webber's soft tyres when the safety car came out on the third lap after Tonio Liuzzi stopped on track. The point was of course that Webber had the least to lose of the top five guys, in that he could be pretty confident that whatever he did, fifth was going to be the worst case scenario. But if it worked out, he could bump himself up the order.
"We were looking at doing it with Sebastian," Christian Horner explained. "But with the position he was in the race I felt that Mark had more upside and potentially Sebastian had more downside at that stage. So we put Mark on that strategy, and he made it work with some great passing moves, which was fantastic driving."
He certainly showed that, despite being in the tricky position of World Championship leader, he was willing to fight. He passed Glock, Kobayashi and Schumacher in short order, and he certainly couldn't be entirely confident that the last named would leave enough space.
His problem was that initially at least his new hard tyres were not as good as the softs still used by the leaders, and he also had to bear in mind that he would have to run them for 58 laps, so he had to leave himself a margin. When he got behind Rubens Barrichello he ran out momentum. Eventually the team gave him a bit of a hurry up, but almost immediately a close call at the tight left-hander where Kobayashi later crashed gave him food for thought.
Before long, Alonso and Vettel were way too far ahead to be vulnerable to Webber. But the McLarens running a similar pace to Barrichello, and Webber was close enough to jump them both when they finally stopped, as Horner explained: "The pace we could see Rubens was doing was very similar to Lewis's. Thirty-three seconds was the magic number, and it was well within that. The gap to Hamilton stayed very consistent. The two guys at the front were just going at a warp speed!"
Ferrari's pitstop was crucial again © Sutton
Hamilton in particular must have been very frustrated to not only have lost a place at the stops, but find himself some eight seconds shy of the Red Bull.
However, Kobayashi's accident and the ensuing safety car gave him a chance to sit right behind Webber as they awaited the restart. Right in front of Webber were the lapped (by the leaders) Virgins of Glock and di Grassi, and Hamilton knew that if they got in the way, it could give him a chance - his only chance - to surprise Webber.
Glock was soon dispatched, but di Grassi couldn't get out of the way until Turn 5. Trying to pass him Webber got a little sideways and lost some momentum heading into the long straight that followed. Hamilton's jerk to the right and subsequent attempt to pass was instinctive, inspired and so typical of the way he goes motor racing. When he got to the next corner he was convinced he was ahead, and swept across on what was pretty much the normal line.
The problem was that Webber was still there. If Hamilton had done a quick mental calculation and decided that - given the championship position - the Aussie would give way, he was to be proved wrong. With his left hand wheels over the kerbs, and scrabbling on the very edge of adhesion on the tighter inside line, Webber nudged the McLaren out of the way. And as it happened, into retirement.
You had to feel sorry for Hamiilton in that for the second time in a row, he'd come off worse in a collision, while his rival escaped. He may have thanked the Lord for helping him through the Spa gravel trap, but in these last two races, some force seems to be conspiring against him.
The man with the prime view of the action was di Grassi, who had done his best not to interfere.
"I did corner one, two and three in front," he explained. "And at the exit of corner five, I went to the outside and lifted to let Webber and Hamilton past.
"They were side by side in the braking area, and they touched. I think it was a racing incident, there's no one to blame. It could have damaged either of the cars, or no one could have damage. It was just unlucky what happened to Lewis.
"It's difficult to say. If you are fighting for a position and you are side by side, in the end it's a racing incident. No one touched anyone from behind, and there was no mistake. I think the stewards are much better than me to judge..."
Indeed the stewards looked at it and ultimately decided that it was not worth punishing either driver. At the same time they came to a similar conclusion concerning the incident involving Schumacher and Heidfeld at the very same corner. The difference was that this time the car behind was coming down the inside - and was arguably more at fault than either driver Webber or Hamilton.
Inevitably, views are split on which of the pair, if anyone, was in the wrong. You could forcefully argue either that Webber had the option to back off just a touch, or that by trying to go round the outside, Hamilton was the man who should have made sure there was room. Inevitably the teams concerned defended their drivers.
"Lewis didn't give Mark enough space," said Horner. "Mark had the inside line and Lewis just closed him down too much into the corner, just a bit too deep on the way in, and Mark couldn't avoid contact. It's one of those things, a racing accident. I think it would have been very, very unfair to have penalised Mark for that, and thank you the stewards for making the right call."
"If you don't want to take the risks, stay in the garage," said Whitmarsh. "I don't think Lewis took excessive risks. You don't overtake any driver without some risks. I think it wasn't a late brake or a dive, he got past on the straight, he was in the lead going into that corner.
"He left a bit of space. I think Mark was a bit aggressive going into that corner. I think Lewis was not in error in what he did, let's put it like that..."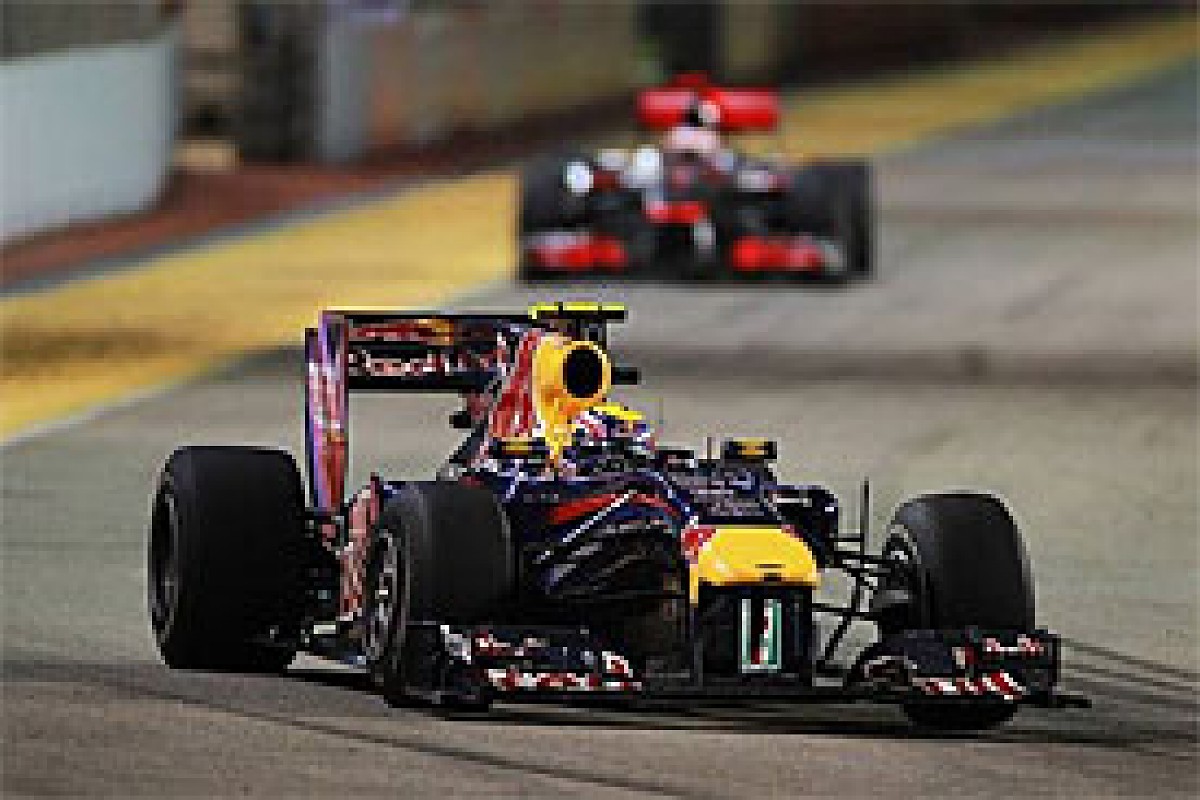 Webber salvaged a podium with his strategy © Sutton
That Webber was subsequently able to stay safely ahead of Button, while nursing a vibration from a tyre that had been pushed slightly off the rim by Hamilton's rear wheel, was most impressive. Stuck behind him Button was somewhat bemused: "Not being able to challenge a red Bull that has 30 more laps on its tyres [26 to be precise!], it shows that they are very quick round here..."
Neither man was entirely happy afterwards, but unlike Hamilton, they both logged vital points.
And on to Japan...
This unbelievable World Championship continues to enthral, and thus far nobody has quite fallen off the train.
"It's great," said Horner. "Mark's extended his lead. Sebastian's obviously closed a bit and Fernando's closed as well. So it's fascinating, you've still got five drivers right there with four races to go. We've also extended our lead in the constructors' a little, and it's important that we build on that in the next couple of events. It was a very, very good team performance today."
"The fact is there still are five drivers separated by one race win," said Whitmarsh. "And there are four races - I hope! - still to go. I hope Korea happens now. There are 100 points available to the drivers. It can go either way. This weekend has been disappointing, and for Lewis especially the last two races have been. We could have, without that incident, come away with him leading it. But he isn't, so we'll regroup, develop the car, and see how we get on.
"At the moment we've got to focus on Japan. We've got an upgrade for there. Singapore was going to be of the last five the toughest for us, so we'll see how we get on."
The consensus is that in Japan Red Bull will again display the sort of form that we saw last year, while McLaren has a lot of confidence in its update package. However, Alonso has now taken pole and won and two very different tracks, so Ferrari surely cannot be discounted.
"I think Japan is going to be a very tough race for us," said Dyer. "With the circuit layout there, I think the Red Bulls will be very strong, but we're working very hard. We've improved the car a lot in the last couple of months. We'll be there giving it everything, and as we saw today, anything can happen..."