Chances are, lap 34 of the Singapore Grand Prix was one of the rare occasions that you took any notice of the black-and-red car number 25. Following a safety car restart, its driver, Lucas di Grassi, briefly held up Mark Webber exiting Turn 7, creating the circumstances for the clash between the Red Bull driver and Lewis Hamilton a few seconds later.
It was the highest-profile moment in a tough maiden season of F1 for a 26-year-old who, outside of his native Brazil at least, has probably generated fewer column inches than any other driver this season. Unlike his fellow stragglers, he doesn't have a grand prix pedigree, a famous name or seat-hopping shenanigans to draw attention to his progress as he has plugged away in profoundly trying circumstances.
In terms of raw numbers, di Grassi's performances have been nothing startling. Eight finishes, with a best of 14th and a qualifying record that reads 14-1 in team-mate Timo Glock's favour, is nothing to write home to Sao Paulo about. But look behind the numbers and the 2005 Macau Grand Prix winner's story is arguably worth far more column inches than some of his higher-profile rivals.
Put yourself in his shoes. It's your first season in Formula 1 and you're in a car that is tricky to drive fielded by a brand new team. Your team-mate has already proved himself to be capable of running at the front of grands prix and the testing ban means that you can make a strong case for this being the toughest season for a rookie to come into F1 in history. The car starts the season desperately unreliable and often your team is, for good reason, unable to give the latest specification equipment to you. You're not yet hitting the minimum weight limit either.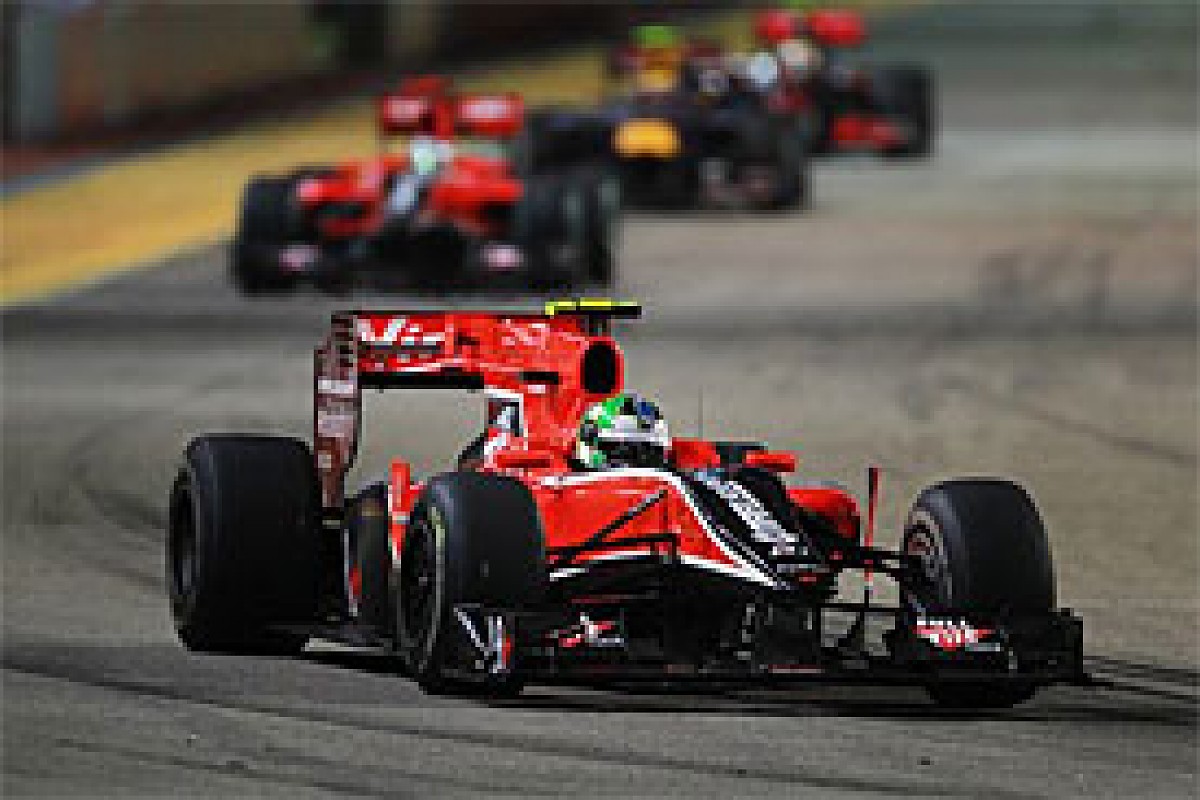 Di Grassi was briefly on the spotlight in Singapore © Sutton
Oh, and you spend the first six races of your grand prix career knowing that you can't reach the chequered flag without completing an economy run because the car's fuel tank isn't big enough. Sign on the dotted line, Lucas, then proceed to the deep end. Granted, he had over 4000kms of testing dating back to 2005 with Renault (plus a day-and-a-half with Honda) to draw on, but the learning curve has been near-vertical.
"This year has been a completely different challenge for me because at the same time as I have been getting on the pace, learning the tracks, building up mileage, understanding how the tyres work and dealing with a grand prix weekend, the team has had its own difficulties," says di Grassi. "We had a lot of reliability problems early in the year and had to build up the whole team, so it is very tough to have my rookie year for a team that is also in its first season.
"We have had to evolve together and at times I think it would have been much easier to start with an established team and focus completely on the driving instead of these other things like reliability and fuel savings. But while, on the one side, it has been difficult, this challenge has made me a better driver overall. I understand much more about an F1 car and what it is like to take a part that is not correct and put on one that works. Together with the engineers, I'm having to trace a route for development instead of just sitting there and driving.
"From the point of view of the general public and some in the paddock, I would have had better results driving for a more established team, but I would have learned less in terms of car and team development. And maybe I would have improved less in terms of driving skills because our car is so difficult to drive. It's always on edge, going sideways and every little mistake has a massive effect on laptimes. But I would certainly have had better results."
Highly-rated as a test driver by no less a judge than former Renault executive director of engineering Pat Symonds, the Brazilian has been on the fringes of F1 for several years. When Nelson Piquet was struggling during his rookie season, there was talk that the di Grassi might be promoted in his place until, mysteriously, his position in the team was shored up towards the end of the 2008 campaign.
While not attracting Hamilton levels of attention on his climb up the ranks, di Grassi was a proven winner in F3 and GP2 and Honda deemed it worthwhile to evaluate him in the same November 2008 test at Barcelona that it ran compatriot Bruno Senna. Any chance - admittedly very tenuous - of him landing a Honda drive were sunk by the Japanese manufacturer quitting F1, so di Grassi returned to GP2 for a fourth campaign.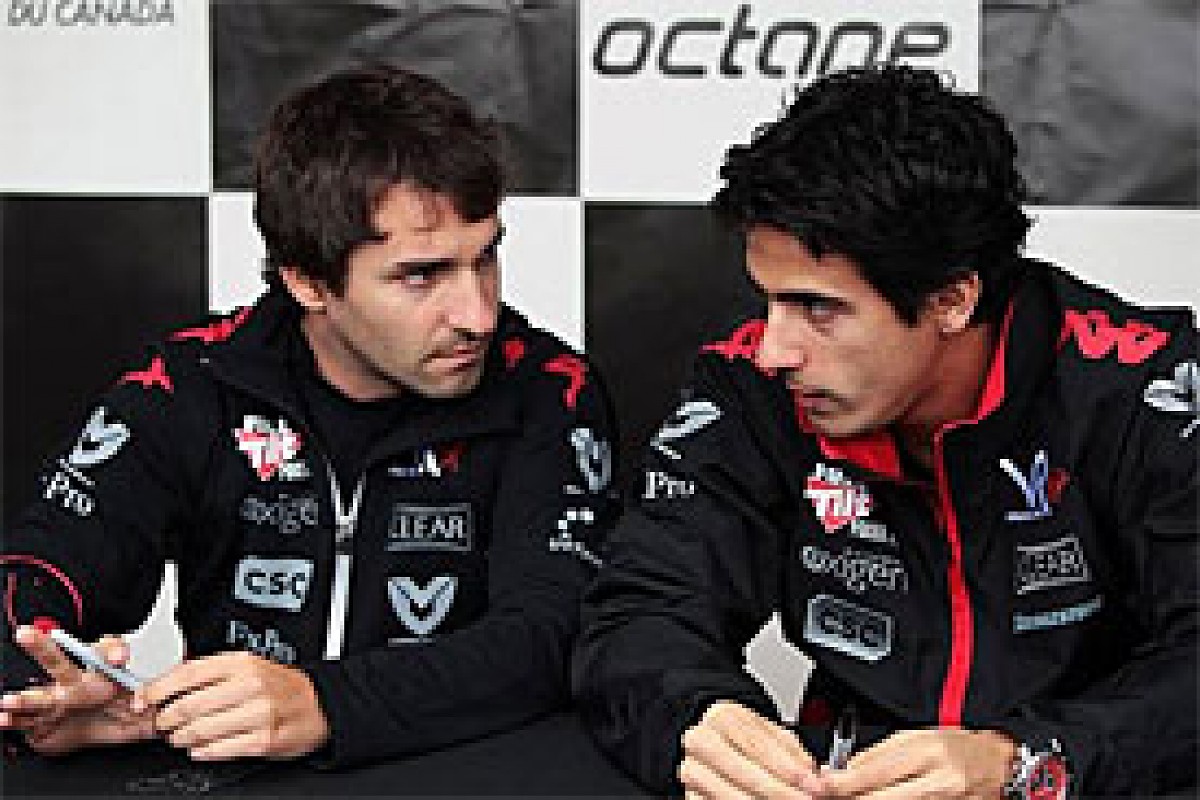 Timo Glock is a good benchmark © Sutton
With Romain Grosjean leapfrogging him in the Renault pecking order and no place for him in the team's new Genii Capital-directed future, things didn't look good for his grand prix career. Fortunately, Manor Grand Prix's graduation to F1 in harness with Wirth Research under the Virgin Racing banner gave him a lifeline.
Very well-regarded by Manor boss John Booth, he was linked to the seat as soon as the team that he drove for in F3 in 2005 was granted the grid slot. His boss is impressed with progress.
"Lucas has a fantastic benchmark in Timo and has acquitted himself tremendously well in comparison," says Booth. "He's right up there on speed and his races have been fantastic - I don't think he's put a foot wrong all season. He tends to choose when he pushes to 100 per cent in an intelligent way.
"He's also impressive in the way that he goes about his business. He's very intelligent and works hard. Lots of guys can drive fast, but those with the all-round game are few and far between. It's like he has been in F1 forever as it comes naturally for him and for the team, so it's like having two experienced drivers even though he's a rookie."
Praise indeed, particularly as Yorkshiremen such as Booth are not famed for dishing it out lightly. It also gets to the heart of di Grassi's greatest strength as a racing driver - technical aptitude that belies his inexperience. Booth himself claims that, when di Grassi left the Manor F3 team at the end of 2005, he offered him a route back post- retirement as a race engineer!
So does di Grassi see himself as a throwback, as an old-school driver/engineer in the mould of a Jack Braham or a Mark Donohue? After all, this is a guy who has a monster twin-engined kart project on the go, a machine that has a GP2 wing bolted onto it and is impossible for mere mortals to drive for more than a few hundred metres!
"Not really," he says, recognising that F1 engineering is now incredibly specialised. "But I love engineering. My father is an engineer and so is my brother, although they do not work with racing cars, so I have always been around engineers.
"I have a very methodical approach in how I express myself to the engineers in the team. When I was with John in F3, I really pushed to develop the car and could, along with the team, trace a development direction with the budget that we had. And we improved a lot. At the start of the F3 Euro Series at Hockenheim we were a second off the pace of Lewis Hamilton in the ASM car, but we came back to finish third in the championship and win in Macau. I think that's why John said that!
"But F1 is more specific. I don't have a list of what to develop, but I can go to the engineers with directions."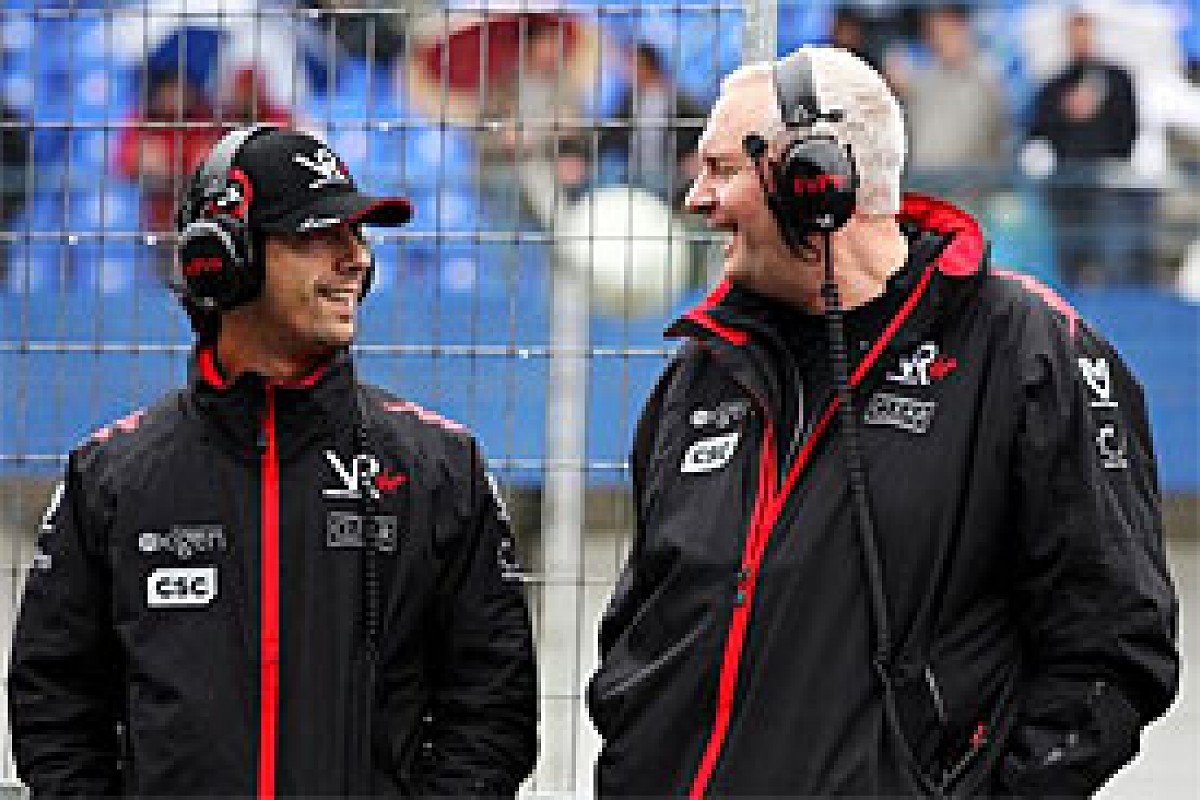 Di Grassi with Booth © Sutton
You could legitimately pigeonhole di Grassi as the heir to super test drivers such as Alex Wurz and Pedro de la Rosa, but with the misfortune of coming into F1 at a time when testing opportunities are few and far between. As the Brazilian points out, Heikki Kovalainen, his predecessor as Renault third driver, enjoyed enormous mileage that was not available to him when he became the French manufacturer's next-in-line.
That's all well and good, but there's no getting around the fact that praising a driver's outstanding developmental ability is damning with faint praise. De la Rosa and Wurz are great testers, but only decent race drivers at F1 level, so the implication is that the di Grassi's Sunday afternoon potential is limited. Certainly, despite an impressive junior category career in which he has always been there or thereabouts, few have tipped him as world champion material.
That said, to use his pace compared to Glock to justify such a conclusion is dangerous. Often, they haven't had the same specification of car (di Grassi, for example, had to solider on with the fuel economy-specification Virgin for two races longer than his team- mate).
"That's a fair assessment," says di Grassi in response to the difficulty of quantifying his outright speed in comparison to Glock given the circumstances. "It has been such a rollercoaster of reliability for both of us. Sometimes you might have had only one gear in a race, or need to fuel save or are changing parts so it is difficult to assess. But inside the team we have a good idea of where I would have been in an ideal world so it's easier for me to compare myself.
"I'm still improving. There's a big difference at tracks that I already knew and my performances have been, since the start, very close in the race. Timo, with all of his experience, is a very good reference point for me. It's not like he's a rookie - last year he was driving for the team with maybe the biggest budget in F1 - and in comparison I have improved a lot during the season. But there is still more to come."
To his credit, despite the enormous challenges of his rookie season, di Grassi has kept plugging away. Booth now admits that the first part of the year was "purgatory" as the team fought to get on top of its disastrous reliability and slipped further and further behind Lotus because performance had become secondary to the dream of seeing the chequered flag.
Di Grassi was the first Virgin driver to do so, in Malaysia, and to keep up motivation he had to treat even a modest 14th place as a micro-triumph despite lapping slower and slower in the closing laps as he conserved fuel.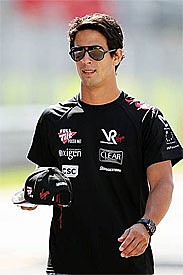 Future with Virgin is still not secured © Sutton
"That is an example of a small victory that people outside don't recognise," he says. "We had a massive problem with the fuel consumption and didn't know if we were going to finish. We expected rain, but it didn't come so I had to save a lot of fuel. I wasn't driving slowly, I was still on the edge, but had to lose less fuel. It was a good result and when I crossed the line it was a great feeling - not the same as a victory or even a point, but everyone was happy that we had made the first step.
"It's tough to keep up your motivation when you know that the chances of finishing are so high. But the will to perform, the pressure of it being my rookie season and seeing how hard everyone in the team was working made it possible. I kept my head down and focused."
Things have improved significantly for di Grassi and Virgin since those early days. He ran the new car from the Turkish Grand Prix onwards (with a wheelbase 185mm longer it was nicknamed the limousine) and an upgrade package for the British Grand Prix the team was once again in a position to take the fight to leading new outfit Lotus. Reliability was not, if not perfect, vastly improved and the worst of Virgin's growing pains were put behind the team. All in all, it was a remarkable turnaround for the team.
"Since Silverstone, it has been close," says di Grassi. "It definitely gives that extra motivation and battle with the other new teams is good for all of us. We can fight Lotus and I could start to, push, so my race pace has been strong compared to the more experienced drivers around me with similar cars."
Di Grassi is now upbeat about Virgin's prospects for moving up the grid next year. He is keen to stay, although is a free agent in 2011 and will be all-too-aware that commercial considerations might force Virgin to reassess its plans to field an unchanged line-up next year. Sitting out the first free practice session in Singapore to evaluate fellow GP2 race-winner Jerome d'Ambrosio has emphasised that his future is far from certain.
But he has earned the right to be regarded as more than the irrelevant rolling roadblock that some condemned him as after Singapore. The jury is still out on his outright potential as a grand prix driver, although you can say with certainty that anyone condemning him as out of his depth hasn't been looking closely enough. Time will tell whether he is the heir to de la Rosa and Wurz's testing king mantle, or whether he has more to offer on Sunday afternoon.
Let's hope F1 gives him the chance to answer that question in 2011.