Lotus Racing is dead - long live Team Lotus. The return of the latter name to the Formula 1 grid next year completes the process of legitimising the organisation as the true successor to the team founded by Colin Chapman.
Tony Fernandes already had the support of the Chapman family and had chosen a symbolic base in Norfolk, but the name he really wanted had remained out of reach, until now.
It's not just an exercise in branding. The corporate paperwork is also in place, as Fernandes and his partners now own Team Lotus Ventures Ltd - the company that picked up the pieces at the end of 1994, after the original team hit the financial buffers. According to official paperwork, Fernandes replaced David Hunt as its sole director on September 14.
However, in the background there lurks a story of intrigue and confusion, one with many chapters still to be written.
The bottom line is that in 2011 Team Lotus will have no formal connections whatsoever with Group Lotus, the road car company. And meanwhile there will be a Group Lotus-supported team competing on Grand Prix weekends in GP2 and GP3, and which has no connection with Team Lotus. Indeed, the former will be competing against an Air Asia team owned by Fernandes. So what's going on?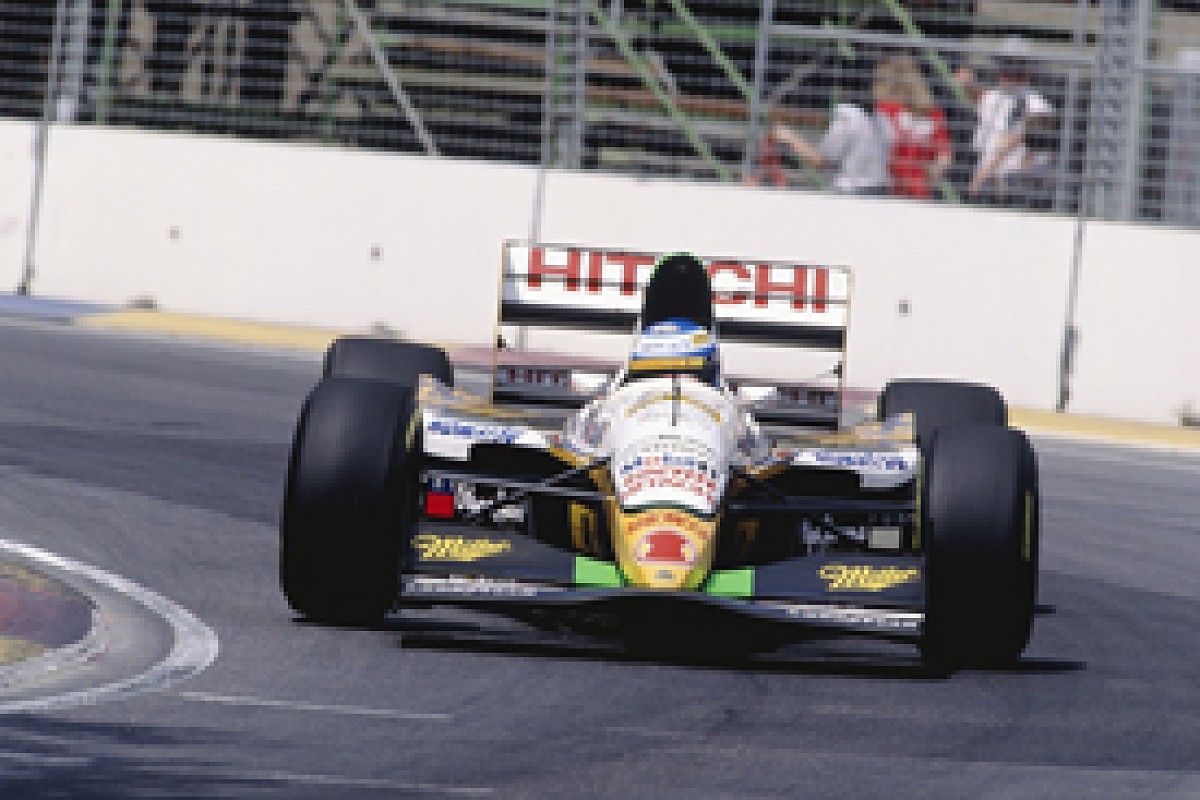 Mika Salo in the original Lotus team's final race, Adelaide 1994 © LAT
The story starts at the end of 1994, when the original Team Lotus collapsed. Hunt became involved in a rescue deal in partnership with sometime Lotus marketing man Kenny Wapshott. The former Formula 3000 driver expected to be only a temporary custodian, and that the team would be quickly sold and would be on the grid in 1995, with Mika Salo staying on board after doing the Japanese and Australian GPs.
"We were asked to rescue it, and we did so," says Hunt. "Certain things that we were told would then happen then didn't, so I and my partner were left holding the baby, with absolutely nothing going for us. Because it had been through administration all contracts had been severed, or were severable. So we basically took over an F1 team which has no contracted drivers, no contracted income, no contracted anything.
"We had no business plan, all we had were responsibilities and overheads. We had 100 staff to feed, loyal staff, and we had somehow over the close season to pull together everything necessary for an F1 team whose reputation at that point was on the floor, because it had just very publicly gone tits up. So we didn't give ourselves the best start, let's put it that way."

In 1995 Team Lotus kept a toe in the F1 waters through an arrangement with Pacific GP which saw small logos appear on the cars. Then that team folded at the end of the season.
"The arrangement with Pacific was clearly to keep the brand alive while we endeavoured to get it going properly with proper funding. By the end of 1995 we hadn't pulled everything together, and Pacific had their own issues, and that was effectively that."
Hunt has kept Team Lotus Ventures going ever since. The company accounts list its principal activity as the "exploitation of the ownership of the trade mark Team Lotus."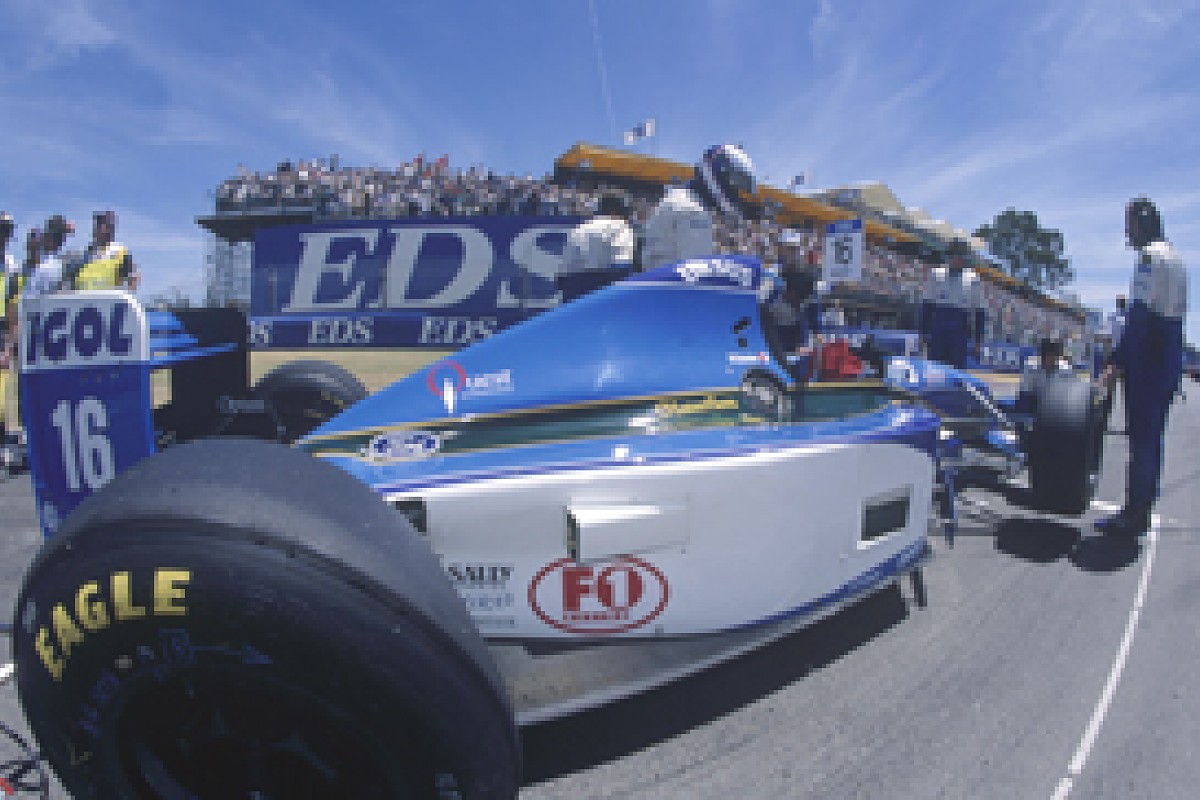 Tie-up with Pacific kept Lotus semi-alive through 1995 © LAT
The value of its key "intangible fixed asset," the trademark, is listed at £237,693. Notes explain that that was the original cost and that it has "an indefinite economic life," which is why that figure has not shrunk over the years. Hunt's main activity has been fighting legal battles to protect the name.
"To summarise the last 15 years, it's been extremely hard," he says. "There are probably a lot of people out there who thought we just bought the brands, sat on it, and waited for the right day. Not at all.
"This has been my full-time occupation pretty much exclusively for 15 years. I haven't taken a wage, all I've done is pump money in, and make sure we've defended against every attack. And there have been plenty. There have been various attacks on the brand over the years, but now is not the time to start rehashing all of that.
"So this has been 15 years of proactive work. If you like I've been in charge of an F1 team doing all the gory crap, and never had any of the fun bit. So now that's what I intend to do!"
The chance to do something finally came along early last year when the Litespeed Formula 3 team, run by Nino Judge and Steve Kenchington, started work on gaining an F1 entry for 2010. The former Lotus employees gave themselves some technical credibility by hooking up with Mike Gascoyne, and made the team potentially more appealing to the FIA by negotiating with Hunt over the use of the Team Lotus name.
Their plans provoked a quick response from the car company, who issued the following statement on June 10, just days before the FIA was due to announce the successful candidates: "Group Lotus plc and its subsidiary Lotus Cars Limited, the manufacturer of the legendary Lotus Elise and global high technology engineering consultancy, are not connected or affiliated to, nor in any other way associated with the newly-announced 'Team Lotus' that has submitted an entry 2010 Formula 1 championship. Group Lotus plc will take all necessary steps to protect its name, reputation and brand image."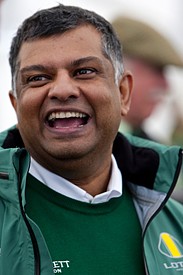 Tony Fernandes © LAT
Team Lotus didn't win a 2010 entry, but Gascoyne didn't give up, and around the same time, Fernandes came on the scene. Ambitious and with the money and contacts to make things happen, he was the ideal partner. And given the Malaysian ownership of Group Lotus, his connections were an ideal way to legitimise the project by getting the car company on side.
Fernandes met with then FIA president Max Mosley at the British GP, just a week after the 2010 new entries announcement. Mosley liked what he heard, and in essence said he'd do what he could to find the team an entry.
Through the summer plans for this Malaysian-themed effort gathered momentum, and Gascoyne found a base and began putting a crew together. In September, Lotus was officially awarded an entry, thanks to BMW Sauber fumbling the paperwork.
However, it was now to be called Lotus Racing, not Team Lotus. Fernandes had concluded a deal with Group Lotus to licence the name, and Hunt was for the time being out of the loop - and potentially a legal threat. But during that month Hunt and Fernandes began to talk.
"My whole philosophy has been to work together, it always is," says Fernandes. "I take a non-confrontational stance."
No deal was done in time for this season, and sorting out the Team Lotus situation fell off the priority list as Fernandes was embroiled in getting the team to the first race, while also dealing with the small matter of running his airline business.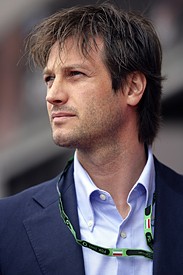 Dany Bahar © LAT
Meanwhile, something strange was happening at Group Lotus - it was becoming Scuderia Ferrari.
Just before the FIA confirmed the 2010 Lotus entry, Dany Bahar was announced as the new CEO of Group Lotus. Previously a close associate of Dietrich Mateschitz, he had spent a couple of years at Ferrari as its commercial boss, or more formally, its head of global branding.
He then began bringing in more ex-Maranello people. Former Ferrari F1 PR man and Maserati GT boss Claudio Berro became head of Lotus Motorsport. Miodrag Kotur - the Serbian who was Jean Todt's right hand man in the day-to-day running of the F1 team - became Lotus Motorsport's director of operations. Most surprising of all was the news that Canadian Gino Rosato was vice-president corporate affairs of Lotus.
Rosato first met the Ferrari team when he was working in a Montreal hotel on a Canadian GP weekend. The team subsequently invited him to help out at the track, and eventually offered him a full-time job in Italy. Over the years he's been a sort of bag carrier, chauffeur and bodyguard for the likes of Michael Schumacher, latterly with the rather grand title of 'Head of Security.' He also became very close to Todt and Bahar. A consummate PR man, on October 25 Rosato even held a press conference in Montreal to tell the local media of his new job.
It's important to point out that all these guys arrived after Fernandes did his licensing deal - and sources say that on arrival, Bahar already wanted to scupper it.
While the aforementioned Group Lotus/Lotus Motorsport people were at the spectacular launch of the T127 in London, they have been conspicuous by their absence ever since, and it was apparent that the relationship between the car company and Lotus Racing was not a close one.
It was clear too that Group Lotus has strong motorsporting ambitions of its own, and the first sign of that was the deal with IndyCar team KV Racing to run Takuma Sato. There was certainly some logic to the name being back at Indianapolis, where Lotus has such a strong heritage, albeit with its own car rather than as a sponsor.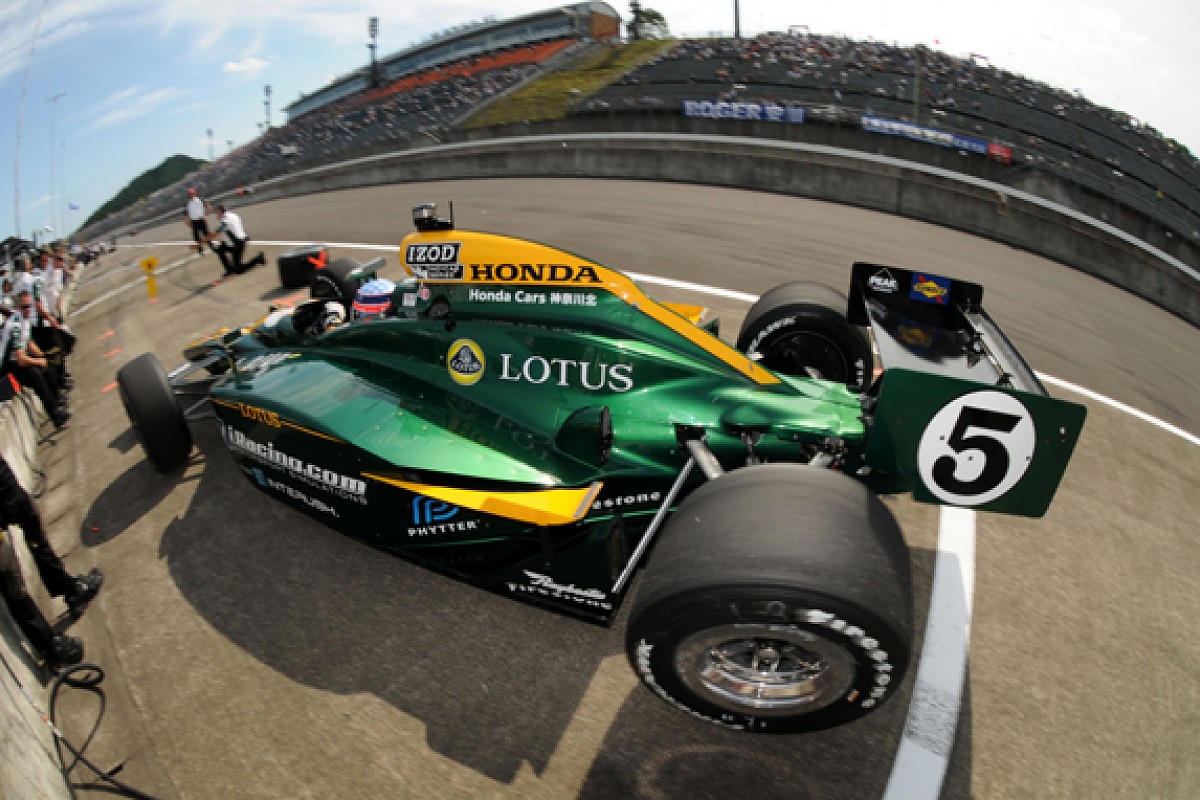 However the deal misfired a little when plans to run Cosworth branding on a car powered by Honda (and driven by the Japanese company's favourite protege!) proved to be a little misguided, and had to be scrapped.
More recently Lotus confirmed its interest in single-seaters by announcing a track day car aimed at millionaires, and designed to emulate F1 technology.
Then in the last few weeks, Fernandes received a bombshell. Although he ostensibly had a multi-year deal, Group Lotus wanted to end the licence agreement. It could have been a total disaster, leaving him with no option but to call the team something else next year. And there would be the added complication of renaming the actual car, not a straightforward process under the Concorde Agreement.
Fortunately he had stayed in touch with Hunt. Around the time of the British GP, he already had the bones of a deal to buy the Team Lotus name for 2011, although it took a couple of months to finalise things.
So in essence, Fernandes has swapped from a licensing deal with Group Lotus to owning the Team Lotus name outright. In a way, the car company's decision to pull the rug from under him was a blessing in disguise, as clearly he could have been held to ransom by Group Lotus in the future. Fernandes says that Group Lotus didn't know that he had the Team Lotus card up his sleeve.
"Of course you never sign a one-year deal and start an F1 team, and then change it to Fernandes Racing!" he says. "They wanted it to come to an end. They terminated it, so we said okay. The deal was there, but we always said we wanted to own it [the name]. We always made it clear to them that if we succeed in doing this, we will move forward and own it."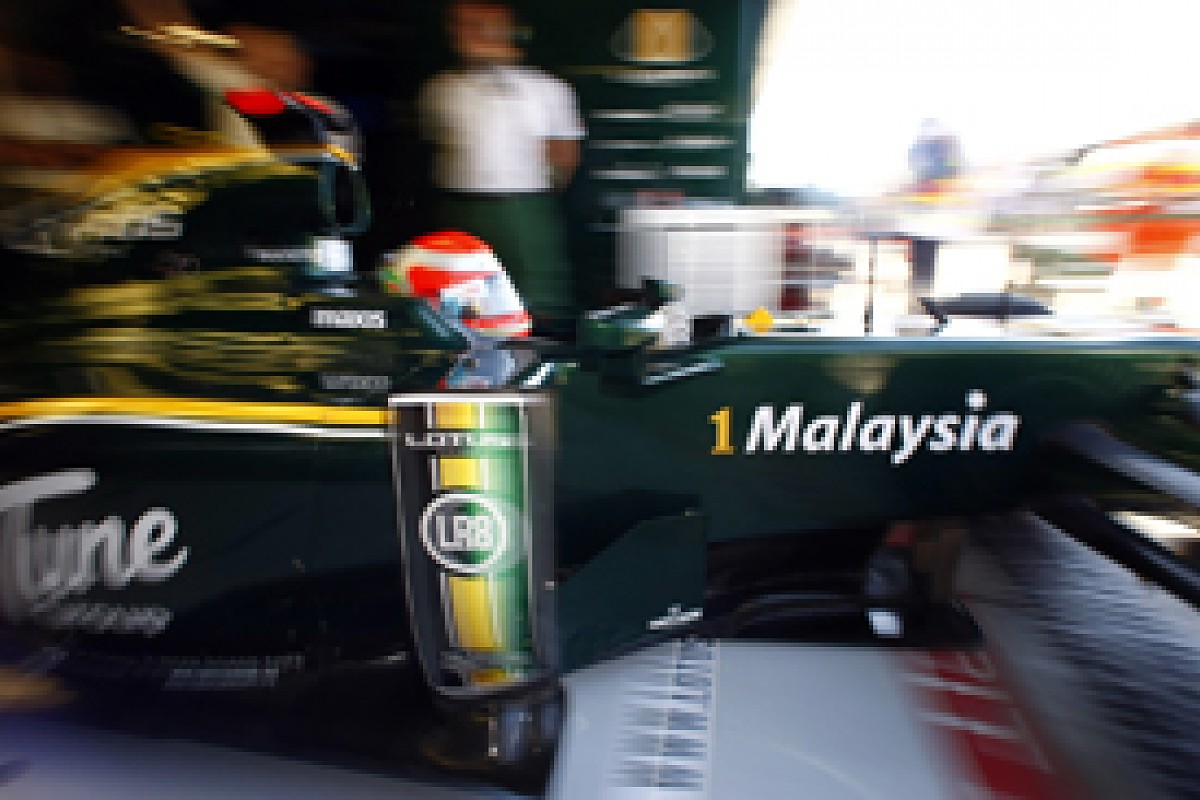 Jarno Trulli leaves the Lotus garage © LAT
Concluding the deal with Hunt was a no-brainer: "I just felt that we would own our own future, and not licence our own future. I felt legally we were in a weak position if Group Lotus pulled it from us, or David Hunt decided that he could sue us. It was a very precarious position, to go and spend that kind of money."
Had Hunt done a deal with Group Lotus instead of Fernandes, it would have been game over - both names in one camp.
Meanwhile this week the world got a better idea of what Group Lotus is up to when the company announced that it is teaming up with Nicolas Todt's ART team in GP2 and GP3 next year, under the Lotus ART name. That news came a day after it was revealed that there will also be an Air Asia team in GP2.
The ambitions of Todt Jr and ART to eventually go F1 racing are quite clear. The links between the Frenchman and the many ex-Ferrari folk at Group Lotus who worked with his father hardly need explaining. He that he insists got the deal on merit, and given ART's record, no one can argue with that.
"We've known each other for a long time, but I don't think you sign this kind of agreement because of family relationships," says Todt Jr. "I think they want to have a good branding, they want to enhance the Lotus name.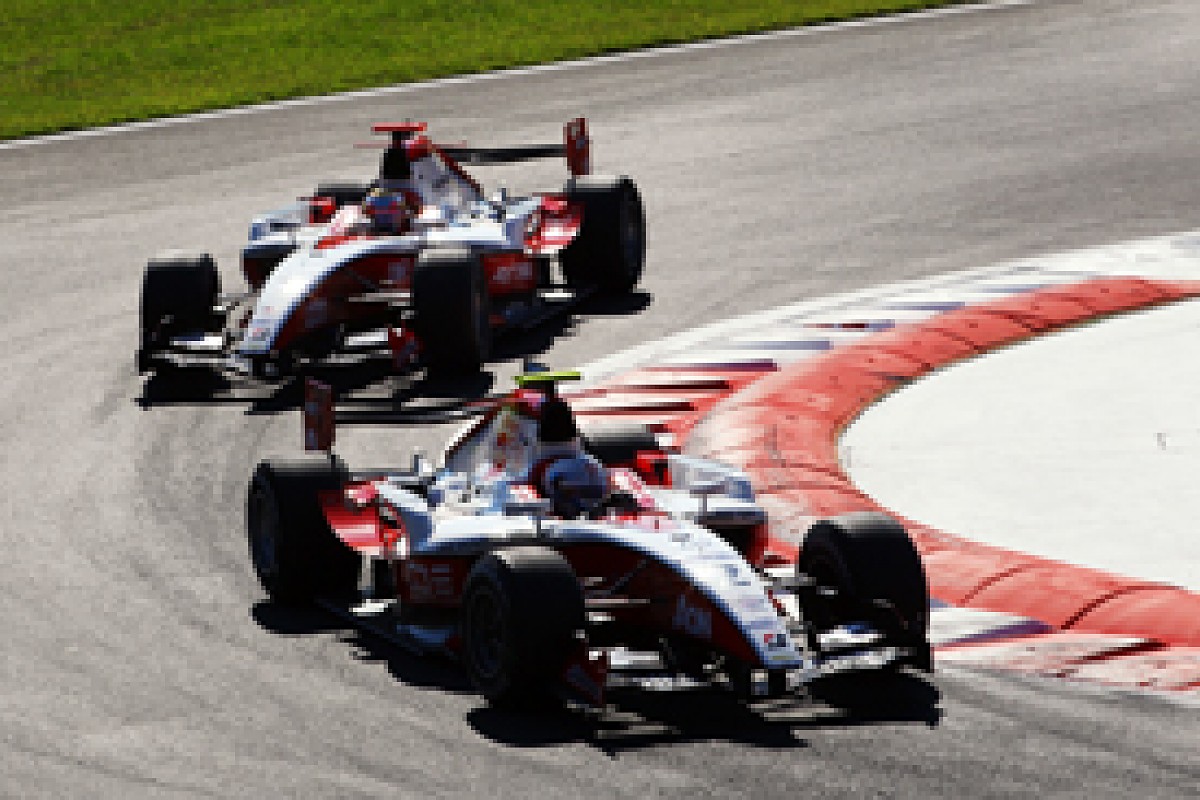 ART's GP2 cars will be in Lotus colours next year © Sutton
"We did a good job in GP2 and GP3 this year, and I think they want to be involved in some single-seater teams below F1, which is why they contacted us and we decided to work together.
"We have signed with Group Lotus, which is a manufacturer, which was very important for us. The cars and all the uniforms will be in Lotus livery. Obviously there are some kind of disagreements between Lotus in F1 and Group Lotus, but I'm not involved in that at all. It's GP2 and GP3."
So what of Lotus and ART's F1 ambitions?
"There are different ways to go to a certain point. For the moment we never spoke to Group Lotus about that possibility. In the future maybe ART will go on to F1, maybe I will find some people to buy an existing team. As I told you, there are different solutions."
Despite Todt's denials, there has to be a possibility that Group Lotus and ART might one day want to go grand prix racing together. Why else would Group Lotus withdraw the Lotus Racing licence? And why else would the company submit a raft of UK trademark applications to use the name Team Lotus, as happened on July 15?
Bear in mind that as the former head of branding for Ferrari, and having been a key man in the development of Red Bull's F1 involvement, Bahar knows exactly where you have to be to get attention.
And here's the clincher. At his press conference in Montreal last October Gino Rosato made a fascinating comment about the F1 ambitions of Group Lotus: "F1 is not currently in the works for the short term, since a different group holds the licence. But possibly in the next few years..."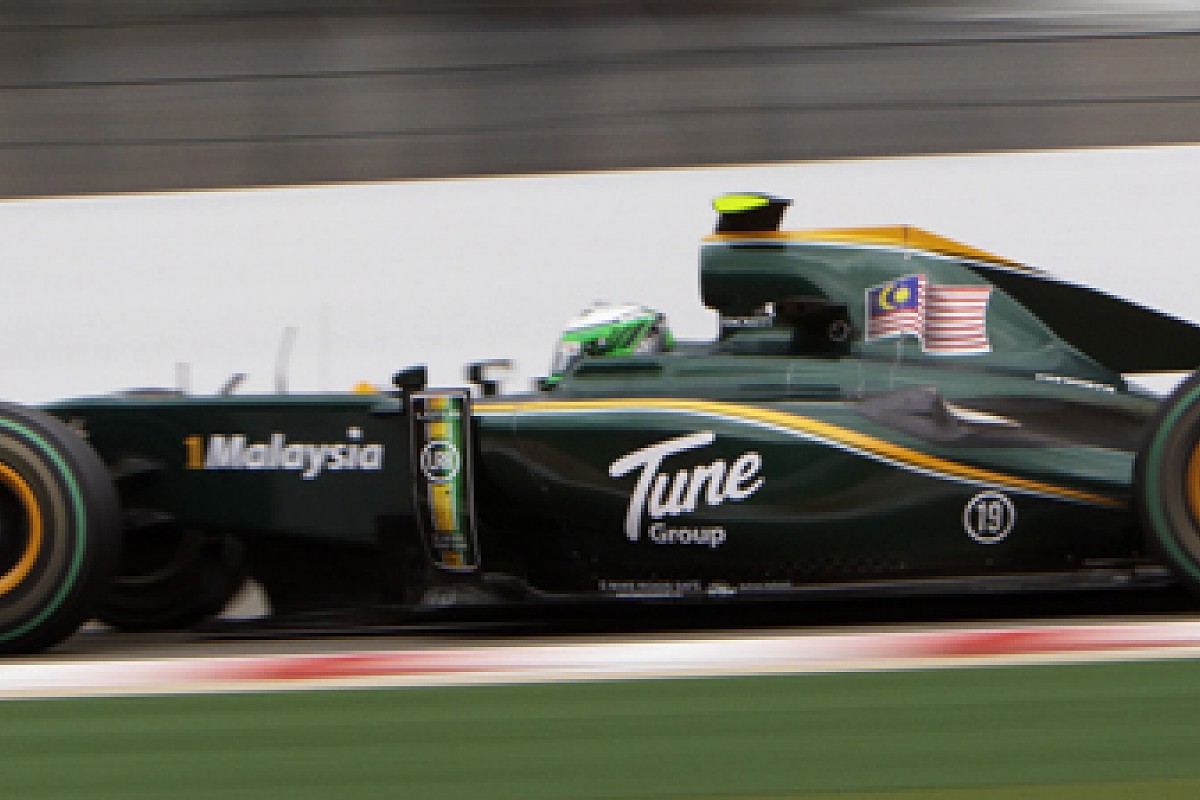 Fernandes remains confident that he's in an unassailable position.
"One thing I know about F1 is that there are massive egos involved, and people love power," says the team boss. "But reality will always prevail. And sense. I have the name, I have the team entry. Good luck..."
But isn't he worried?
"Does it look like I'm concerned? I've been in the airline business for nine years, dealing against government airlines, like SIA [Singapore] and MAS [Malaysian]. We've grown from two planes to 86 planes. We know how to look after ourselves.
"I think they want to be like Ferrari, but even Ferrari is only involved in F1. I run a business. At Air Asia I get the fundamentals right first. Let's get the company right, let's get the business right, and then let's start thinking about how do we do this.
"For me if I was sitting in Group Lotus I'd say Lotus Racing/Team Lotus is a blessing from the sky. Someone else is paying the money for you to do it. If I was a Malaysian shareholder I'd be a little bit upset right now. Is this the best use of money?"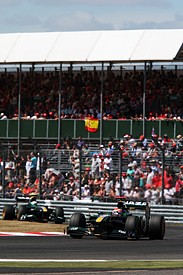 The new generation Lotus team in its first home race at Silverstone © Sutton
And there's another dimension to the story. Fernandes is a big player in Malaysia, and a very popular one too, and there are key players in Lotus Racing with strong Proton links.
Meanwhile Bahar and the other Group Lotus guys are employees of a Malaysian-owned company. Who is going to win a civil war?
Having said that it's worth pointing out that co-incidentally Jean Todt has strong links in Malaysia, where he is highly respected, and has the local equivalent of a knighthood. If Bahar ever needs some advice on how things work in Malaysia, he knows who to call.
The key thing is that the historical separation of the Lotus road car and F1 entities is well established.
"The rights of Team Lotus have been explored in the English courts," says Mike Gascoyne. "And the judgements, of which there have been many, are explicit. Now that it is going back into F1, its rights are very clear.
"Team Lotus was always separate from Group Lotus. Okay, when Colin was there obviously there as an umbrella over the whole thing, but the racing team has always been separate. And we're Team Lotus.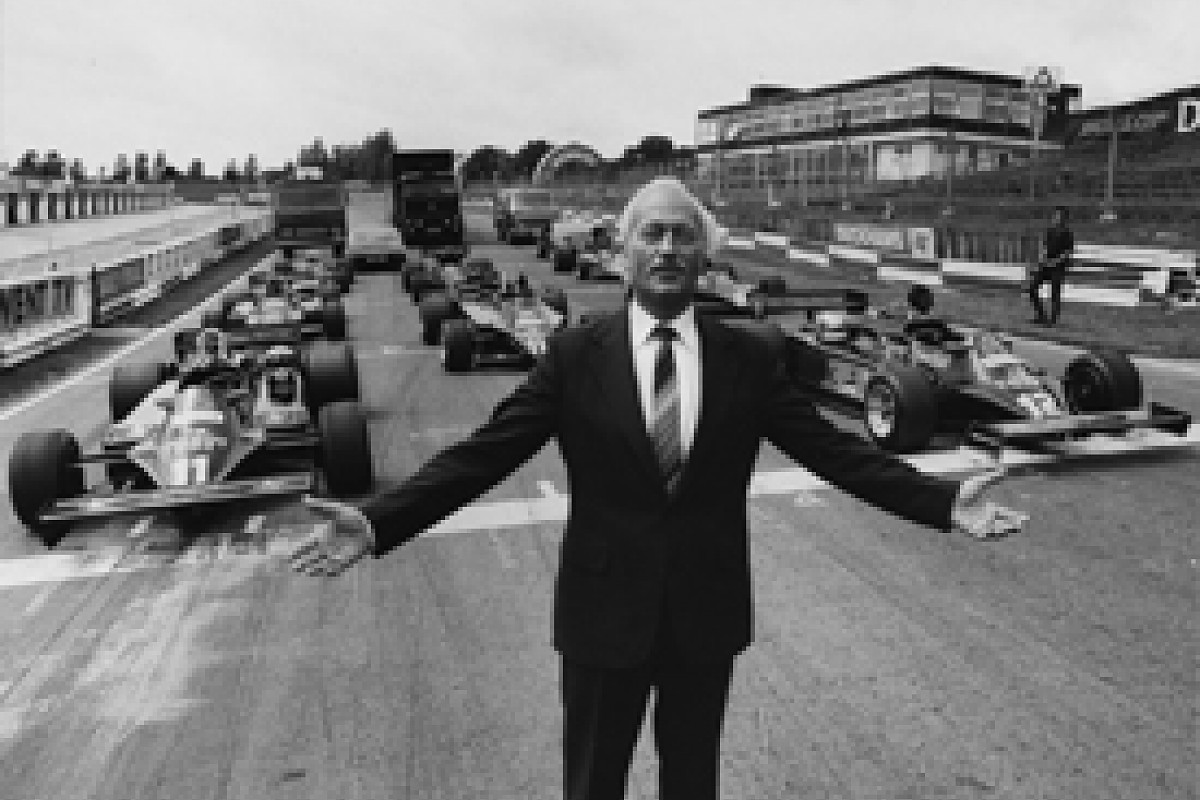 Colin Chapman with a Lotus line-up in 1981 © LAT
"For us there's no confusion. With Group Lotus there might be, but our position isn't confused at all. We're Team Lotus and we're going motor racing, which is what Team Lotus does. At the end of the day we're only interested in our own business and what we're doing, and that's it."
"I want to be diplomatic at this point in time," says Hunt. "But there are some questions that can be asked of Group Lotus that they might find quite challenging to answer. Clearly the whole history of the divide between the two is that Team Lotus did single-seaters etc, and Group Lotus did road cars. That goes back to the dark ages.
"Originally I think they were separated in something like 1958, and they were certainly separate in '68, when Group Lotus was sold off to the public. When Colin died, the family inherited the team, and it's never been anything to do with Group Lotus. They've never raced a single-seater. They've now built one, astonishingly, or they've borrowed someone else's chassis and tarted it up. But you need to ask Group Lotus what it is they're up to.
"Now that the future branding of the team is clear and complete, they'll have no difficult questions any more from potential sponsors saying are you the real Lotus, are you the real history?
"It's now going to be clear cut, and I can certainly answer those questions. Hopefully now our ability to pitch to sponsors is going to be a lot clearer. It's not the best time to be looking, but other than Ferrari we've got one of the strongest brands in motor racing, and probably one of the strongest brands in all of sport."
However, next year we'll have the strange sight of Team Lotus promoting a road car brand with which it has no formal connection.
And then there's the GP2 situation. When teams from the junior category come into the F1 pitlane for practice sessions or their race, those who have relationships with grand prix teams traditionally use their 'big brother's' pit stands and TV monitors and so on. Next year the Air Asia GP outfit will be parked at Team Lotus, while the Lotus GP2 team will no doubt be where ART has always been - at Ferrari...