Street circuits scoreboard
Between 1996 and 2007, Monaco was the only street circuit on the Formula 1 calendar. But with the additions of Singapore and Valencia, we now have more chance to analyse the drivers' performances on street tracks.
• Jenson Button hasn't qualified in the top 10 in Singapore, but did win in Monaco last year and finish on the Monte Carlo podium in '04 and again at Valencia this season.
• Lewis Hamilton has finished on the podium seven times in nine street races, including victories in Monaco (2008) and Singapore ('09). His only mistake was a crash in qualifying at Monte Carlo last season that meant he started 19th.
• Michael Schumacher has never raced at Marina Bay and this weekend will also be his first night race. Prior to this season, Adelaide is the only street circuit he has raced on besides Monaco. He has won at Monte Carlo five times, but not since 2001 and he finished outside the top 10 at both Valencia and Monte Carlo this year.
Nico Rosberg, Singapore 2009 © Sutton
• Nico Rosberg has qualified in the top 10 on nine of his 10 street circuit appearances, including setting the fastest time of last year's Singapore GP weekend (in Q2). But his only street circuit podium was at Marina Bay in '08. In last year's race he was given a drive-through penalty for crossing the white line at the pit exit and lost second place.
• Sebastian Vettel scored his first street circuit podiums this year, finishing second in Monaco then winning at Valencia.
• Mark Webber is yet to finish the Singapore GP and has retired from seven of 14 street races. But he did win at Monte Carlo this year and was on the podium in 2005.
• Felipe Massa missed last year's Singapore GP but had enough adventure in 2008 to last two. He ripped off the refuelling hose during a pitstop, had to serve a drive-through penalty and then suffered a puncture. He won at Valencia in '08 and finish on the podium in Monaco the same year.
• Fernando Alonso won the infamous crashgate Singapore GP of 2008 after Renault team-mate Nelson Piquet crashed deliberately. He has also won twice in Monaco.
• Rubens Barrichello has contested 26 street races, with one victory (Valencia 2009) and five more podium finishes, including four second places at Monte Carlo.
• Nico Hulkenberg has won a night race before, at Losail in Qatar in GP2 Asia. But he has retired from his two F1 street races so far.
• Robert Kubica has only scored one point at Marina Bay, but has been on the podium three times in nine street races.
• Adrian Sutil has never finished in Singapore and has five retirements from nine starts on street circuits.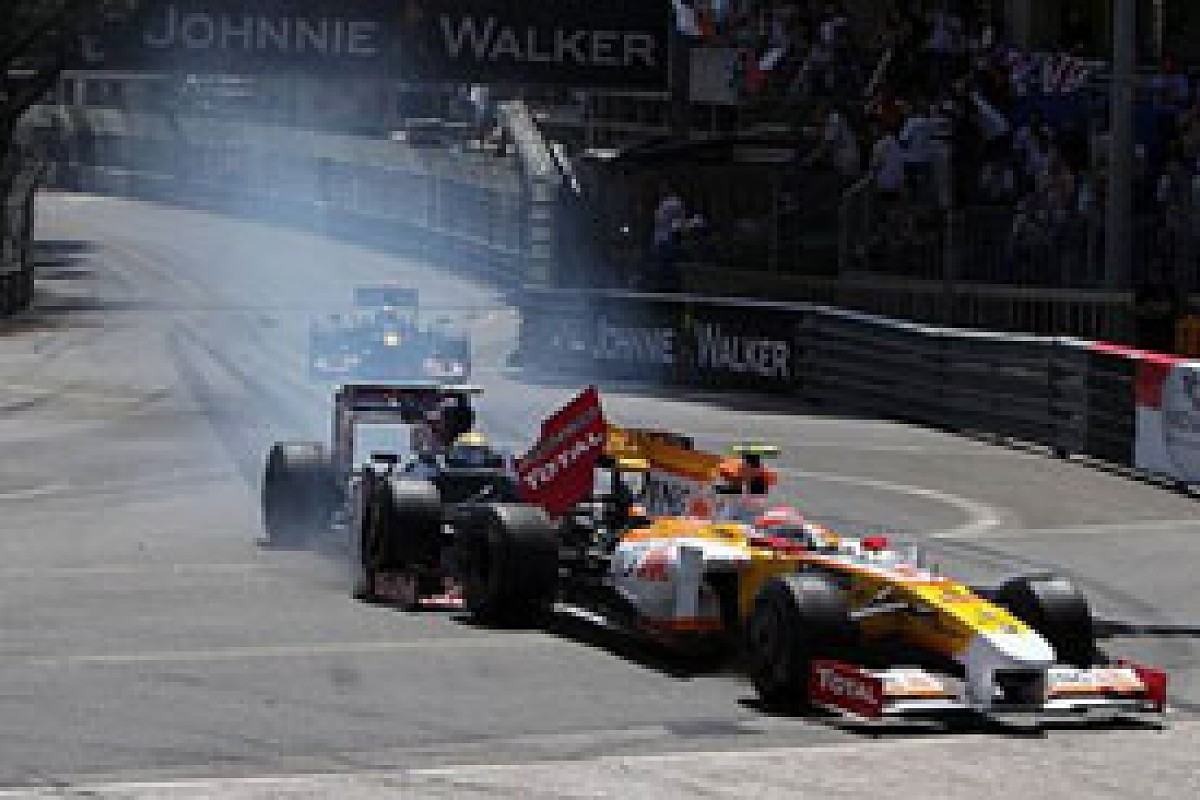 Sebastien Buemi crashing out of Monaco 2009 © Sutton
• Sebastien Buemi retired from all three F1 street races in 2009, but was in the points at both Monte Carlo and Valencia this season.
• Jaime Alguersuari has finished three street races out of four, but is yet to score a point on one.
• Jarno Trulli's victory on the streets of Monte Carlo in 2004 remains his only one. He hasn't finished on the podium in any of his 18 other street races and has only been in the top 10 once in the last two years (Valencia '08).
• Heikki Kovalainen has never finished on the podium at a street circuit and retired in Monaco and at Valencia this year.
• Nick Heidfeld's retirement from last year's Singapore GP ended F1's longest streak of races without an accident at 56. His best result on a street circuit was second place in Monaco in 2005.
• Timo Glock has finished second and fourth in the last two Singapore GPs, but has only scored pointss once on streets elsewhere (Valencia 2008).
Team notes
• Kimi Raikkonen's 10th place last year is Ferrari's best result at Marina Bay, despite Felipe Massa starting from pole in '08.
• Red Bull has never finished on the podium in Singapore, but has won both street races so far this season.
• Renault was on the podium in both Singapore GPs, though its 2008 victory was marred by the crashgate scandal.
• Williams' only podium on a street circuit in the last five years was Nico Rosberg's at Marina Bay in 2008.