Speed is paramount in Formula 1, but is the sport in danger of sacrificing the quality of what should surely be a world class spectacle in favour of earning fast bucks for CVC Partners, the sport's commercial rights holder whose original investment made five years ago has virtually been repaid in full, leaving the venture fund to profiteer from the sport for decades - 10 of them - to come?
On the evidence it would certainly appear so, for cracks are starting to appear across the board, be it circuit owners and promoters reporting record losses; four teams allegedly for sale at bargain basement prices - one is said to have dropped 70 per cent in 10 months - that no 13th team could be found to replace the liquidated USF1 operation; or that Korea's original FIA inspection date - already well outside FIA guidelines - has reportedly been further pushed back due to work not being completed. The list is by no means complete, either.
The situation in Korea appears critical, for folk returning from reconnaissance trips relate horror tales of a complete lack of team comforts such as kitchens, while with just four weeks to the start of the grand prix weekend lingering doubts still exist as to whether the circuit will at all be fit for purpose. So, while the circuit itself may be complete, the necessary infrastructure appears to be totally lacking.
An indicator of how disorganised is the entire show can be gleaned from the visa situation: where Abu Dhabi over three months ago advised the media of its country's entry procedures, KAVO, the Korean promoter, less than a week ago awoke to the fact that temporary working visas are required by visiting journalists - requiring passports to be retained while documentation is processed... precisely at a time when F1 folk are faced with two flyaways in quick succession taking them abroad for a full week at a time.
There was a time when Formula 1 operated to a strict manual - X hotel rooms within Y radius, check; Y flights into airport situated within B kilometres, check; Z car hires available at said airport, check; spectator this or that, check; comprehensive media facilities including full communications equipment, check - but, on present evidence, it seems a while since the guidelines were universally implemented.
Red Bull has tried the Korean track, but doubts remain over next month's event
Then the calendar consisted of a schedule of grands prix which best served the sport, not merely the money men, and one wonders precisely how F1 as a whole can benefit from events in countries which make absolutely zero contributions to F1 save for the financial. According to sister magazine Autocar, Korea is not even a major market for European cars: the latest available statistics show that the EU annually sells just 28,000 cars in the country, while over 700,000 Korean cars found buyers here in the same period.
The situation is unlikely to improve much in the short to medium term, either, for hidden barriers ensure EU products remain price uncompetitive, while local regulations demand increasing regulatory engineering changes for ever-decreasing market shares - a vicious spiral heading in one direction.
Similar principles apply to Western consumer goods, and with the exception of LG, tellingly a partner of Formula One Management (CVC's F1 vehicle) with (substantially) smaller involvements with a team or two, Korea has hardly been active on F1's commercial front. Why, even Hyundai's WRC campaign ended in disgrace.
However, that race is scheduled for now, with India and Austin (US) pencilled in for the future. The former event has been provisionally included in the 2011 calendar (subject to circuit homologation...), but recent events related to the imminent Commonwealth Games in grand prix host town Delhi and regular terrorist activity have raised severe doubts about the suitability of the place as an F1 location.
Not only are many games facilities well overdue, but numerous deaths and injuries have occurred during the construction phase. The final hammer is that accommodation and facilities have been described as 'shocking', 'unfit for use' and many worse descriptions. Those sport federations which have not withdrawn have publicly demanded immediate action from the organisers and government. Oh that the FIA acts similarly sooner rather than later.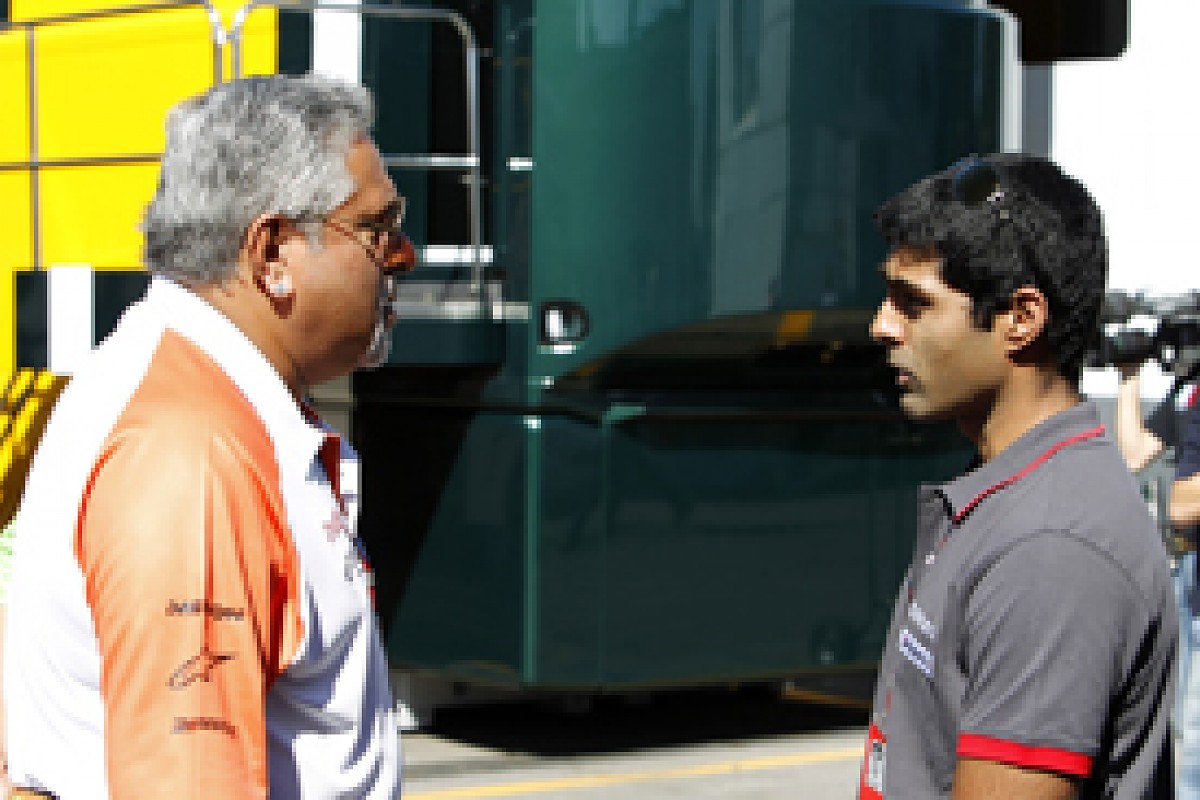 The drive-less Karun Chandhok talks to Vijay Mallya © LAT
True, the Games are state-funded and organised, while the Indian Grand Prix is a private initiative, but already fears have been expressed that the project will not be ready - particularly as it is scheduled during the region's (extremely) wet season. Again, the question begs to be asked: what can India do for F1, and not vice versa; nor what the place can do for the money men. Here not even one of India's own (Karun Chandhok) has raised sufficient sponsorship there to retain his HRT seat - the cheapest in the business.
The US seems to be faring little better: this YouTube clip shows the lawyer representing the Austin grand prix promoters bumbling ineptly through his presentation before admitting to the Travis County Commissioners Court that "it [the project] kinda got announced before we were ready for it to be announced..." and therefore no environmental and economic impact studies had been undertaken. This less than two years ahead of the latest date for the 2012 race...
When asked about noise levels the normally verbose suit becomes strangely monosyllabic - "loud" - before it gets even worse: said lawyer proceeds to tell the commissioners they (the contractors) need to break "soil during December this year". Cue guffaws of laughter...
Meanwhile down in Melbourne the Australian Grand Prix Corporation has posted its largest-ever loss (AUS$46m/£30m) despite a slight bump in attendance over previous years. Thus something is seriously awry with the financial model - the deficit virtually mirrors the event's hosting fee...
Earlier this week Spa-Francorchamps announced that this Belgian Grand Prix had posted unquantified but substantial losses to add to the €12.3m/£11m already incurred in 2007-9, with the local economics ministry said to be seeking an urgent solution. It has two choices: exit the contract before time (2012), or demand lower fees.
During the recent Italian Grand Prix, Monza's outrageous charges for media internet connections - a pathetically slow service for the four day period equalled the cost of of a six-month domestic broadband service - was justified on the basis of the event's losses. Thus the media is indirectly subsidising the profits of CVC Partners. Not too long ago it was the other way around; any wonder international media attendances have dropped 25 per cent since FOM assumed the rights, particularly as an increasing number of flyaways are already taxing editorial budgets?
Meanwhile, things look far from rosy on the grid of the world. Fully one-third of teams are said to be suffering critical financial battles - all while the commercial rights holder extracts record profits from the sport - with sources close to Zoran Stefanovich, F1's serial wannabe entrant, advising that the Serb and his backers/investors are in discussions with four or five teams after Stefan GP in August withdrew its application for the 13th grid slot due to time constraints.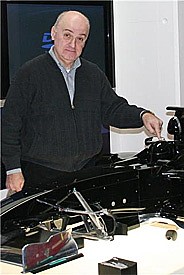 Zoran Stefanovich has not given up on F1 yet
"There just was not enough time left to do it properly if we had been the chosen team. We are not complaining, that's the FIA's affair how long they took, but we decided to withdraw and see what other options there are. We can either purchase an existing team - there are various options - or we can prepare for an entry from 2013 [when the present franchise expires]," he exclusively told this column. Believed to be in negotiations are HRT, Toro Rosso, Virgin, Force India and Sauber.
That there exists this embarrassment of options is an indictment of the sport's present condition, as is the fact that no 13th team was found. It is simply expedient to suggest F1 needs only 10 well-funded operations, for, as proven by General Motors, nobody stays number one (or even around) for ever, and surely F1 needs to consider the present, but also its future, and here the question is whether countries such as China, Korea and India really are F1's future, or whether some other motive lies behind the deals.
That VW, on track to become the world's largest manufacturer within the next decade via a product palette offering everything from (Suzuki) mopeds through family saloons, luxury cars and exotic sports cars (Lamborghini/Bugatti) to massive MAN trucks, has rejected F1 on the basis of its cost-ineffectiveness, speaks volumes. That F1 cannot presently attract Europe's biggest car manufacturer, nor serious applicants for the 13th slot, surely points to a underlying problem with the structure.
While the CRH is notching up partnerships and alliances with the likes of LG and UBS (high end banking) on the back of a 'show' put on by teams, the outfits themselves are battling to acquire sponsorship, in many instances due to perceptions - created by swathes of empty grandstands, whether in Malaysia or Monaco - that F1 no longer enjoys season-long international followings.
Here eye-watering ticket prices - driven in the main by exorbitant hosting fees - are fairly and squarely to blame. It seems the only criteria when selecting venues is their ability to pay the asking fees and willingness to absorb massive losses regardless of any collateral damage to F1's image and viability. Short term profits surely equal long term losses.
For every five quid thus pocketed by the CRH, whether via fees, TV rights or licensing, the 12 current teams receive on average a paltry 40p due to the financial structure of the 2010-2012 Concorde Agreement. By contrast, teams such as Ferrari, McLaren and Red Bull arguably have higher overheads than does FOM, resulting in the present imbalance.
True, FOTA has pushing for substantial increases once the agreement ends, but how many teams will even survive the next two years? Ergo, could it be that the CRH is currently maximising revenues ahead of an anticipated substantial drop in retained earnings?
Talking of which, when it comes to broadcasting the show, the technology is firmly rooted in the depths of last century - at a time when even table tennis and weight lifting are being broadcast in HD across Europe. Yes, HD brings with it various technical challenges such as broadcast bandwidth and quality of in-car footage, but have F1's teams not always thrived on overcoming precisely those with a view to delivering a world class show?
And, if future technologies requires substantial investments, then so be it. After all, the teams are currently required to invest in expensive technologies to meet the challenges of a vastly changed world. Does that ethos only apply to competitors, and not to the very parties who have already raided the sport's coffers - the money men? Which is precisely where we came in...