Although it has been well-known for three years now that Formula 1 would be moving to comparatively crude, small capacity (likely four cylinder) engines with sophisticated ancillaries to provide the element of hi-tech which sets the category apart from other formulae when the current regulations expire at end-2012, it is only recently that all the building blocks have gradually come together.
This column first outlined the basic concept of the engine a fortnight ago, and since then a further meeting of the FIA's Engine Working Group was held in Paris - another is scheduled for the end of this month - and subsequently it came to light that Ferrari had been pushing for an 1800cc V6 formula, with the units effectively being three quarters of the current 2400cc V8 engine architecture.
Cynics suggested the Italian team favoured such a concept for (road car) marketing reasons as the Italian company has never produced four-cylinder production cars, but had produced the Dino with V6 power in the late sixties. While there is absolutely nothing wrong with teams pushing for road-relevant technology, Ferrari's head of (F1) engine and electronics, Luca Marmorni, was adamant that pure engineering logic lay primarily behind the proposal, not marketing/production considerations.
Speaking exclusively to this column at Monza, the Italian - who recently returned to Maranello after a spell at Toyota - said a V6 would likely result in cheaper chassis engineering while enabling teams to recycle the core of the present power unit.
"Ferrari's always been not so keen on the in-line cylinder, so it's nothing new - our colleagues from the other teams know this," he explained. "It's not just because the V6 would be a more reasonable engine for a Ferrari car, but mostly because we think that the installation of an in-line four in Formula 1 implies such a big modification of the car design that probably in some way a more expensive V6 would mean a cheaper car."
The 41-year old doctor of mechanical engineering has a point, for a V-configuration provides two mounting faces (one per bank) in a triangular formation, whereas inline engines offer just a single face.
A triangle is by far the strongest geometric shape - it cannot be deformed - so, when in 1967 Colin Chapman installed the Cosworth DFV V8 as a stressed member of the Lotus 49, he was able to do so thanks to its configuration; when Gordon Murray 15 years later fitted a four cylinder inline BMW turbo engine to the gorgeous Brabham BT52 with which Nelson Piquet clinched the 1983 championship, he could only do so by cradling the power unit and deploying extensive cross-bracing.
Yes, materials technology has moved on markedly since then, but the fact remains that two mounting faces spread across the width of a chassis are preferable to a single column-type mounting.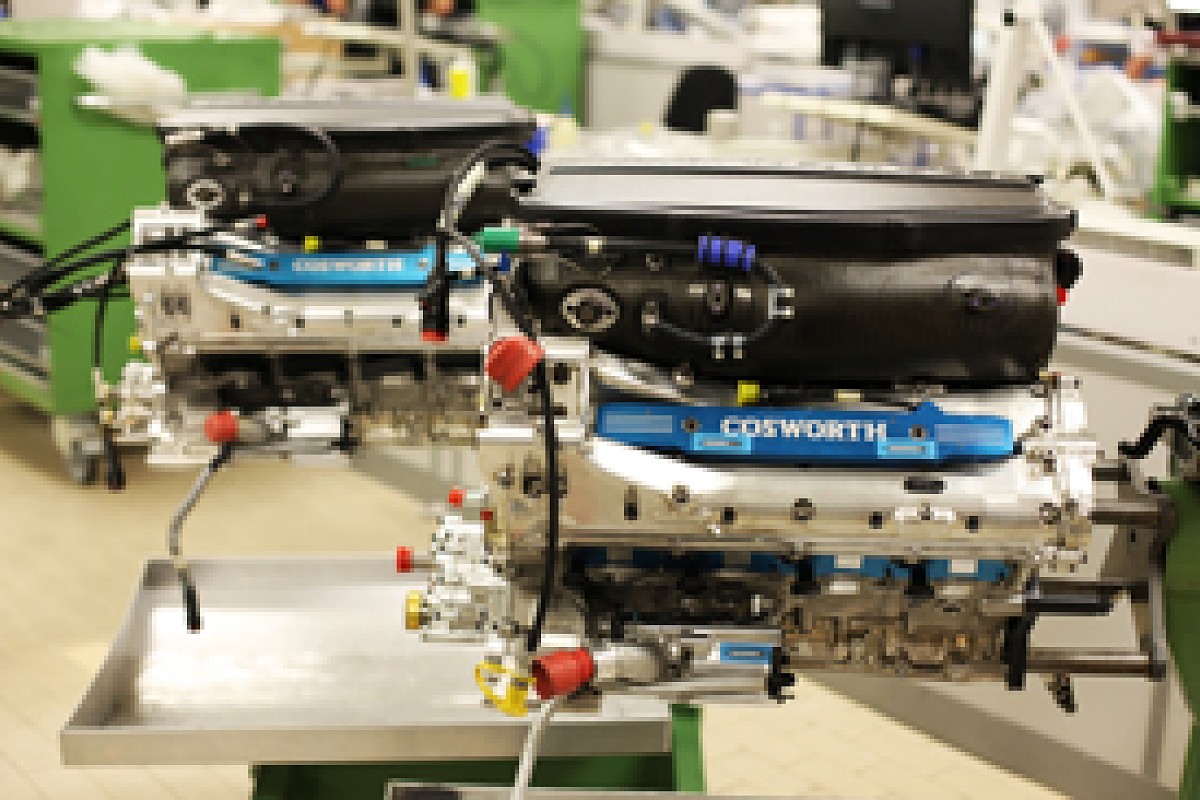 Cosworth F1 engines © Sutton
Then, V-configurations allow improved packaging of ancillaries, while the basic shape of the engine provides for better, ground effects-generating sidepods, and, as disclosed here, that is precisely where chassis design is heading from 2013.
So, in engineering terms it is a no-brainer, and it is, of course, possible that the inline four was voted for on account of both manufacturer-owned engine suppliers having four cylinder production car engines in their ranges. However, Ferrari has accepted the majority decision, and four-inline it seems almost certain to be when the 2013 Formula 1 season opens.
"So that was the reason we proposed but that's not accepted by the group," Marmorini continued. "We accepted the result of the meeting anyway. This [inline] is just a draft proposal; it is not a regulation. Ferrari of course will accept a regulation, it's not just decided yet, it's a draft. [But] it is clear we still think the V6 would be a better engine for a Formula 1 car.
"There are important things in the new regulation that are fitting exactly what Ferrari is doing anyway for engine, so it is not just a question of number of cylinders. What's important for us is the new regulation has to promote again technology - that's very important for Ferrari - in the sense that it has to be probably more related to what normal cars are doing, but not too strict to completely change the speed of Formula 1."
If the Italian was disappointed at not having his V6 suggestion accepted, his eyes positively lit up when discussing other aspects of the proposed regulations. A host of new technologies have been discussed, many of which would have been rejected outright just two years ago. Think all-wheel energy regeneration; think compound turbo supercharging; think secondary uses for spent exhaust gasses; think steam turbines...
True, the EWG is still at the discussion stage - with engine directors hitting Paris every two weeks or so, usually for a full day - but it is clear that F1 is heading for a full-blown (pun intended) mechanical revolution.
As disclosed previously, the plan is for what one engine director referred to as "a big KERS - 120kW/160 bhp worth" and to do that all-wheel regenerative braking systems are required as opposed to the current front-wheel-only systems. There are, though, concerns that such systems will require energy storage devices "the size of trucks" as one technical director, concerned with packaging details, suggested.
"I wouldn't agree, because when we started with KERS we had some figures in our mind based on the expected development," said Marmorini. "Then these figures dropped down dramatically when we started to work on KERS, so I wouldn't be surprised that in two/three years the technology will be... [trails off] It's like in computers, you know. I'm sure there is a lot of work going on in this area, and I would expect a lot of improvement on what we have today."
Weight-wise? Size-wise? "Yes, both. Already today you won't need a battery the size of a truck. You are speaking about maybe of a battery of 35, 40 kilos, not more. What is more difficult is to use consistently for the whole lap, for all of the laps during the race, this amount of energy," he says.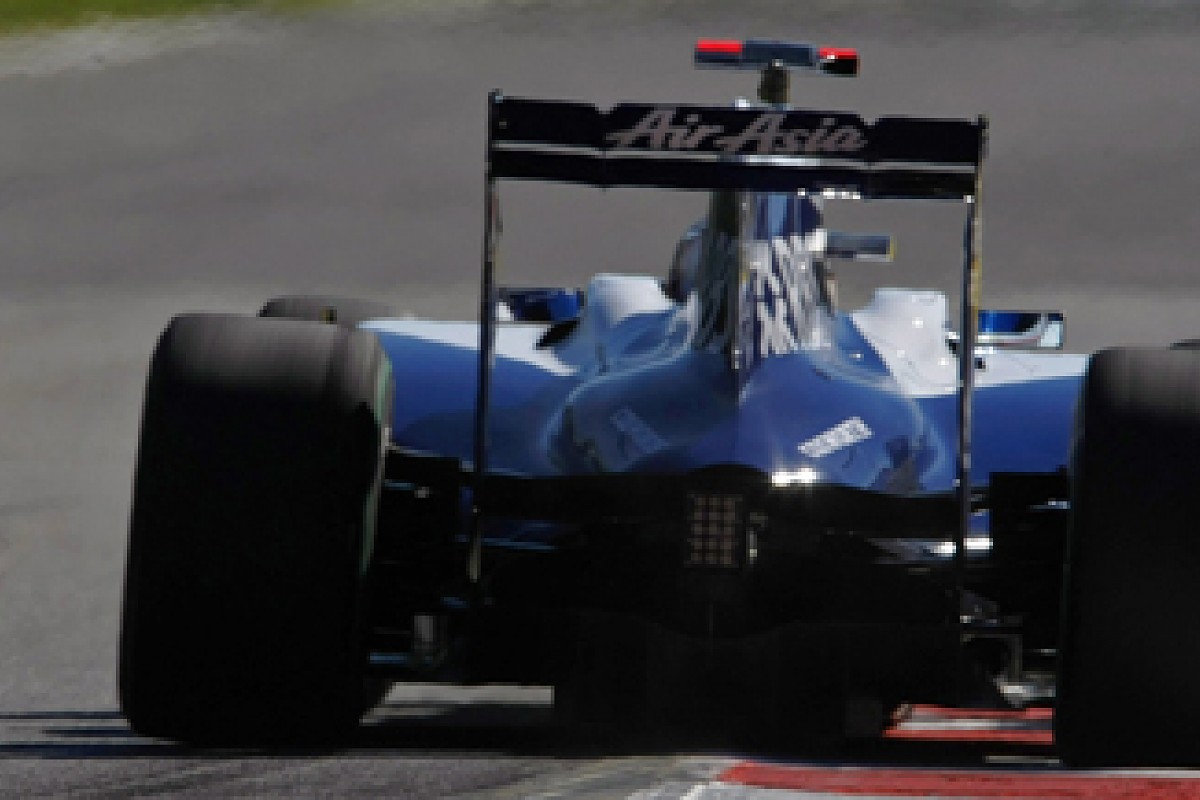 Then, though, comes the exciting bit, for he talks about recovering "all the waste you have in a car, in the engine, so mostly exhaust gases. And this is very exciting, for me from a technical point of view extremely interesting."
Already it is known that F1 is looking at compound turbocharging, or, more correctly, compound boosting. The concept, in which a large turbocharger boosts a small turbocharger which in turn forces increased induction, has been deployed in diesel trucks for years now, and provides for improved low-down torque while facilitating improved high-end breathing - precisely what a high-performance small-block engine needs, and, not so coincidentally, a technology that is increasingly finding popularity in road cars.
Although the most popular application has two turbochargers, compound boosting can be achieved through virtually any permutation of superchargers (belt-driven compressors) and turbochargers (exhaust gas-driven compressors). Saliently Volkswagen/Audi recently received an award for their four-cylinder TSI Twincharge (super/turbocharger) engine (1400cc/180bhp in road specification), and here it can be no coincidence that an Audi representative is believed to have attended the majority of all EWG meetings, having been invited by the FIA (as were all interested parties), or that Ferrari's V6 was out-voted...
It does not, though, stop there, for the energy of exhausting gasses is far from depleted after turbochargers have been spooled up, and here Marmorini suggests that ancillaries be powered by turbines, in turn driven by residual gasses. Thus hydraulic pumps, power steering pumps, alternators etc. could all be driven by mini turbines, freeing up crankshaft power for the primary purpose - performance.
But, the academic in him is cautious: "But, we are some way to control, to put a limit to this. Because I think it is important, Formula 1, it is contributing to this kind, but we should probably at the beginning define a sort of road map where we have some solution that we can develop. It maybe later to come with other solutions, not to leave complete freedom for any kind of strange device you have in mind, because this could probably be very expensive, not very effective also for the race show, for the race business as well."
And, what about recovering heat generated by engines and presently disposed of via heavy radiators, which in turn screw up a car's aerodynamics? Could they be used to drive ancillaries?
"In principle you could use a steam turbine, for example," he agrees, "but for me, from an academic point of view, for road cars, this is interesting. I don't think this is the way to go in Formula 1, honestly. I mean, as an engineer I would like to work on this but we have to focus on Formula 1. It is something that is changed in Formula 1, so I would think that probably if recovery would be, let me say free, I'm sure we will see a lot of turbine exhausts, definitely, that's for sure."
There are suggestions that F1 should gradually phase in the new-fangled technology, not only on cost grounds, but also to maintain technical interest and relevance over an extended period. Thus, say a high-capacity KERS and compound boosting could be introduced with the engine in 2013, with gas-driven ancillaries coming the following year and steam-powered turbines the year after.
"I think that would be a good idea; it's something I would support from a technical point of view," he says before turning to the question of engine life, now and in future, when five or even four engines will have to see a driver through a season of up to 25 grands prix.
"It's funny," he says without a hint of a smile, "because in the last two/three years we say the engines are the same, everything is frozen. The hardware is frozen, but the boundary conditions are changing each year. We have almost doubled engine life. This year we introduced completely different engine usage because of fuel regulations. Next year we add two races (actually one). So it's funny - it's frozen hardware with completely changing boundary conditions; it's making our lives tough."
Cosworth F1 engines © Sutton
So, can he foresee problems come 2013? "Yes, at the moment it will be difficult to cover the season with five. If we had 20 races it would be difficult for us this year because we started, unfortunately, with some problems. So this means we are not allowed to have any problems during the season."
Time did not permit us to discuss the question of engine sounds created by turbocharged 'fours', a concern first raised by this column and subsequently much aired by fans. However, on Monza Friday, Tim Routsis, chief executive of Cosworth, who admitted that the company had already begun on concepts to suit the new regulations, addressed the issue.
"It will be different," agreed Routsis. "But the thing you have to remember is that if you look at Formula 1's history, we've had pretty much every configuration known to man anyway, and they've all sounded different at the time. There's no doubt at all that a turbocharged engine will always sound a little quieter than a naturally aspirated engine running open pipes.
"I've never seen a really good competitive racing engine that sounded bad. And I think we're probably going to find that the old story's going to come true - if it goes fast, it's going to sound great. Are there things we can do? Yes, there are.
"Playing around with firing order does actually make a remarkable difference. But if we're going to have less cylinders, then the amount that you can actually play with that is reduced. They will sound different, they will be quieter, but I don't think they're going to sound bad because they're still high revving from a normal performance standard."
With the basics of the new engine now in place the EWG can look at the fine points - but, as always, the devil lurks in the detail, and it is aspects such as steam turbines and sound that will make or break the new F1 in the face of a host of ever-increasing entertainment options available to fans across the world. The next two months will prove critical to the sport's future.