Monza is the last truly historic circuit that will have a say in which of Lewis Hamilton, Mark Webber, Sebastian Vettel, Jenson Button and Fernando Alonso will win the world championship. Granted, Interlagos can trace its history back to the 1920s and Suzuka opened as a Honda test track in the 1960s, but Monza held its first grand prix way back in 1922. That makes it the granddaddy of grand prix circuits.
Pietro Bordino, who as well as being one of Italy's top drivers of that decade holds the distinction of being one of those rare breed of racing drivers to be killed by a dog while racing, won that inaugural race six years before his unfortunate rendezvous with an Alsatian. The Monza that he hurtled around in his Fiat the day of his triumph would be at least a little familiar to modern eyes, while if Bordino were to stroll around the royal Parco di Monza today he would recognise his environs - although his lack of a swipe card pass would surely soon lead to his ejection!
More so even than Spa, Monza is living, breathing motorsport history. Every corner has, for better or worse, its stories of great races or of legends lost. Cliche dictates that descriptions of Monza must be laced with references to racing ghosts, or whispering spirits. But although you're not going to see an apparitional Alberto Ascari loitering near the corner that claimed his life and now bears his name, or a phantom Wolfgang von Trips hanging around the Parabolica, judging by the righteous outrage doing the rounds in Formula 1 paddock it might help for them and their supernatural cohorts to be on hand to give a grand prix racing history lesson.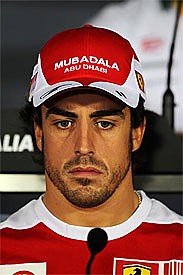 Fernando Alonso during the Monza press conference © Sutton
You can argue that pre-2002 there was no ban on team orders in the sport, and you'd have a point, but the fact that Ferrari infringed regulation 39.1 of the F1 Sporting Regulations does not justify the moral indignation over what happened at the German Grand Prix. With the WMSC's decision only being released yesterday evening, and the additional evidence this afternoon, the subject of the hearing is a very raw one and was the main topic of conversation in the paddock today. Even those teams that have, on occasion, employed such tactics themselves during the team orders ban era could be heard to mutter about soft punishments...
Inevitably, Fernando Alonso was subject to a barrage of questions in the afternoon press conference. Just as inevitably, the Spaniard batted off the questions like the seasoned pro that he is - whatever the tack his inquisitors took. Check out the transcript of the press conference to get a feel for the quality of his stonewalling. Were he a Yorkshireman, you'd liken his technique to that of cricketing legend Geoffrey Boycott, but that's not a comparison that translates well into Spanish.
Those who consider Alonso to be a pariah would do well to remember that team orders have always been part of the sport. And the introduction of a half-arsed, largely unenforceable regulation hasn't changed that. As to the suggestions from some team bosses that there are ways and means to swap your drivers around without making it obvious, surely that is an even greater deception of the fans who are the lifeblood of the sport? And who will be the judge of the invisible line that divides acceptable meddling and a team orders infringement?
On a day of reactions, team-mate Felipe Massa was also asked for his to the WMSC decision. He dodged that one, but was far more forthcoming in explaining his unpunished out-of-position start in Belgium two weeks ago. Turns it, it's a question of height, or the lack thereof.
"I'm maybe the lowest driver in the car, I'm very low in the car and maybe if I was a bit higher, it would be easier to see," said Massa. "Definitely I couldn't see the lines very well, so I was a little bit outside."
He also admitted that he was lucky to escape a penalty after no one alerted the stewards to the offence, which was picked up by a few TV commentators, including the BBC's Martin Brundle, but no one in authority.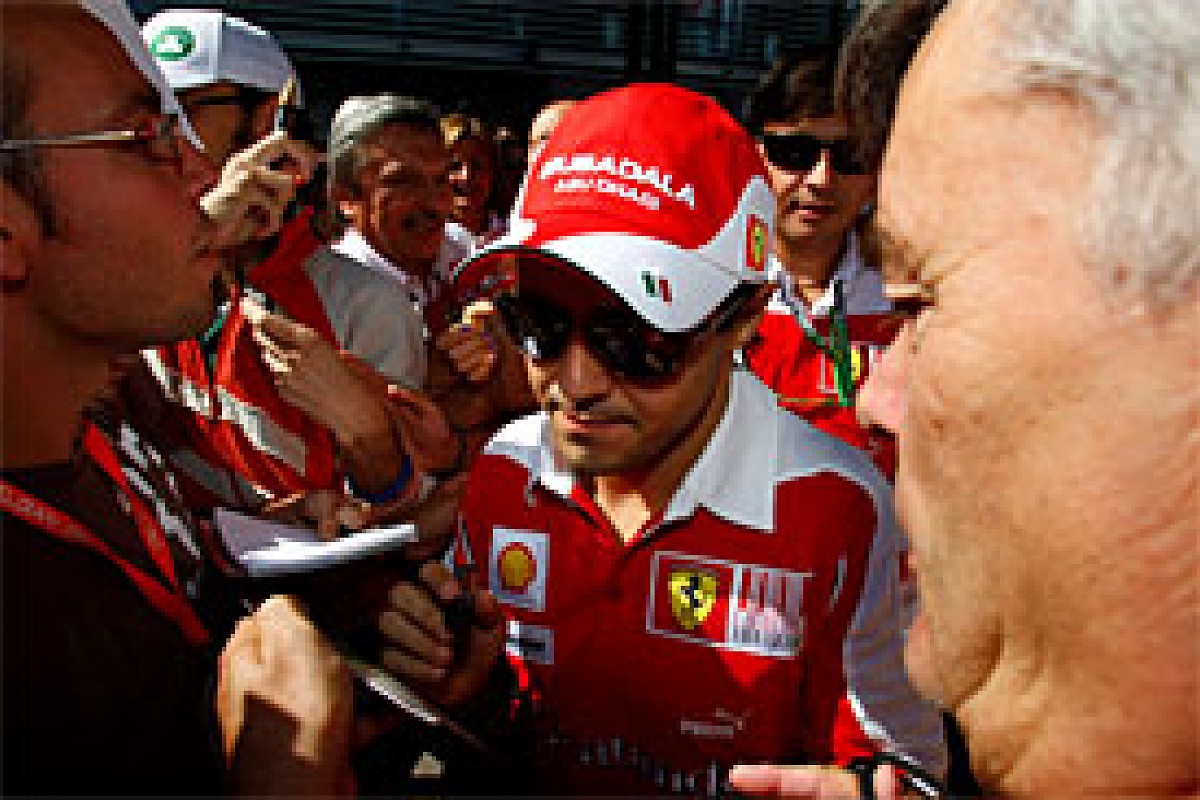 Felipe Massa © LAT
So to the racing. With only five races to go, Hamilton and Webber have made a break for it after Vettel, Button and Alonso all hit trouble in Belgium two weeks ago. Cue the standard title run-in statements, with those who are ahead proclaiming that they aren't the favourites and those that have fallen behind adamant that they are still in the thick of the title fight.
Come Sunday evening, there's a fair chance that at least one of that number won't be asked about their title hopes again. As the season draws to its conclusion, not one of the quintet has any margin for error.
Forget team orders - it's going to be what happens on track this weekend that captures the headlines.