Man of the moment at Monza on September 3, was Enzo Ferrari, known to intimates at 'Al Capone'. Signor Ferrari produced not the expected 4040cc Ferraris, but a couple of brand-new 4500cc cars.
One of the cars was entrusted to Alberto Ascari, and the other to Dorino Serafini. During the preliminary practice, Ascari showed the Alfa Romeos that the new Ferrari will be a force to be reckoned with in the future. He put in a lap of 1min59.6s, which was 0.6s faster than the existing lap record, achieved by Jean-Pierre Wimille's Alfa Romeo in 1948.
During the Friday's practice session, Ascari returned 2min01s. This was the fastest of the day. Other times were Juan Manuel Fangio, Giusepe Farina and Consalvo Sanesi (all Alfa Romeo), 2min01.6s, Luigi Fagioli (Alfa Romeo), 2min04s, Felice Bonetto (Maserati Milan), 2m05.2s. Piero Taruffi in the remaining Alfa could do no better than 2min06.4secs, which suggested that this car was not quite so quick as those of his team-mates. Peter Whitehead (Ferrari) returned 2min15.4s.
Alfas on their toes
As can be well imagined, the Alfa Romeo team were on their toes as a result of the speed of the new, unsupercharged V12 Ferrari. Fangio simply tore round the circuit further to lower the existing record, with 1m58.6s. Ascari's reply to that was just one fifth of a second slower.
These two were much faster than the rest of the entries. Interesting times were: Farina, 2m00.2s; Sanesi, 2m01.6s; Fagioli, 2m04s; Serafini, 2m05.2s; Taruffi, 2m05.8s. Raymond Sommer thrashed his veteran Talbot-Lago round in 2m8.6s, and in partnership with Maurice Trintignant, did some last lappery in the Wade-blown, 1.5-litre Simca. This car is extremely fast, and it was a pity that Amedee Gordini couldn't be there to see it in action. The Simca wizard was involved in a crash in the Alps on his way to Milan. His lovely coupe Simca was wrecked, and he was taken to hospital with fractured ribs.
Championship at stake
Before race-day on Sunday, the main topic of conversation was the anticipated Alfa Romeo versus Ferrari duel. As both Farina and Fangio were running neck-and-neck for the title of world champion driver, 1950, they would be all-out for victory. However, in this race of 313 miles, the two new Ferraris would have the advantage which the 4.5-litre Talbots always have; namely a much better fuel consumption than the blown 1.5-litres. It was calculated that they would be able to go through with one stop for fuel and tyres, against the two required by the Alfas.
Farina's Alfa too was easily the most powerful 1.5-litre car ever to emanate from the Milan factory; it was estimated to develop 370bhp, some 50bhp more than the other Alfas.
Fangio decided that 1950 would possibly be his final season with Alfa Romeo, and that the Monza event would be his last race in Europe this year. This meant that he would not be going on to San Sebastian. What this great Argentine will drive next year is not quite certain, as rumour links his name with the new Ferrari, the hush-hush 4.5-litre Osca, and even the Carraciola 1.5-litre Mercedes-Benz. It would appear that Juan Manuel would like to have a little more independence in the future, and not have to drive strictly to the rigid team discipline of Alfa Romeo.
The Italian Grand Prix
The Formula 1 race saw Farina speedily take the lead, hotly pressed by Fangio and Ascari. The new Ferrari was certainly living up to its practice promise.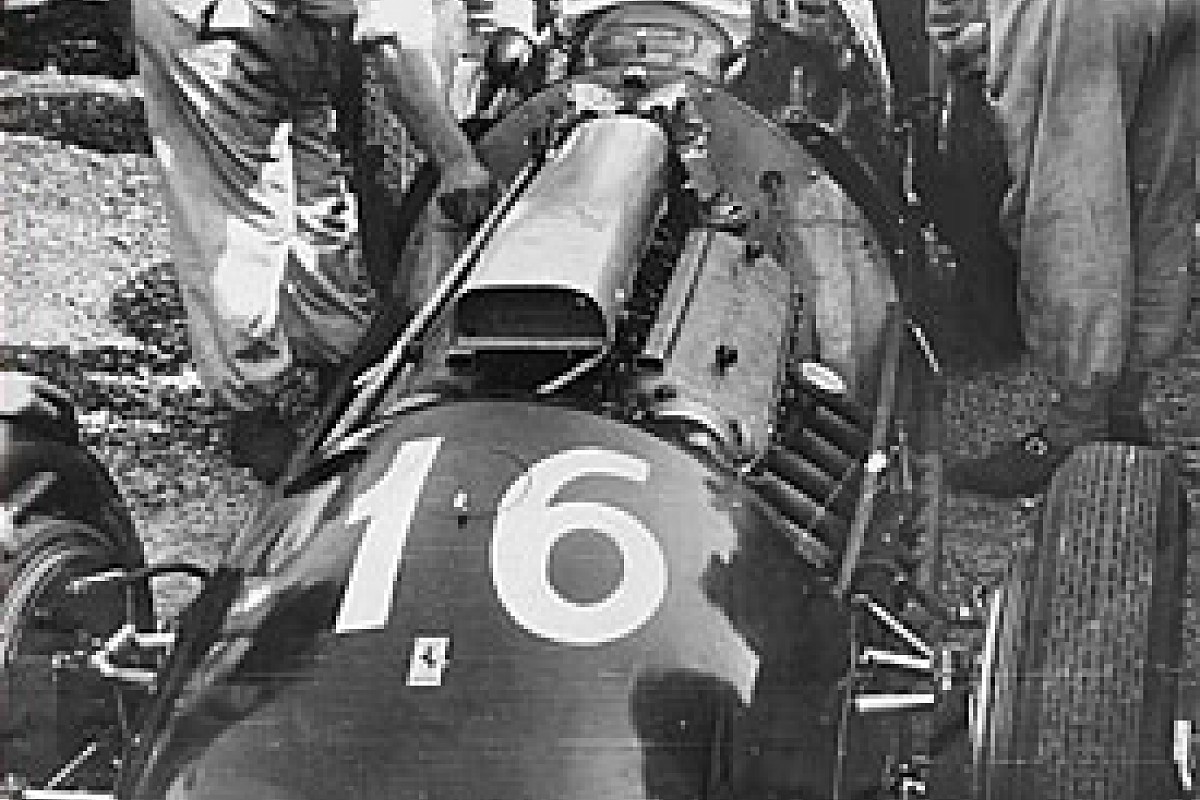 Alberto Ascari's Ferrari © LAT
Serafini, in the other 4.5-litre Ferrari was much slower than Ascari, and when the latter toured in with valve trouble, he took over his (Serafini's) car and was soon amongst the leaders once more.
Fangio was thrashing his Alfa unmercifully to keep with Farina, and his bid ceased abruptly when a valve dropped inside. Following the Ascari-Serafini example, he took over Taruffi's car, and did that one in as well.
Ascari was making a tremendous effort to catch Farina, but his stop to change cars had completely lost the advantage of one pitstop. Sommer's Talbot retired with engine trouble, as did Johnny Claes's with some bearing affliction. Cuth Harrison's ERA was outclassed for speed by the latest GP cars, although he did record an excellent lap for a veteran machine of 2m22s.
Ascari just failed to catch Farina, whose win gives him the world championship.