Wander into the reception areas of Formula 1 operations and they are fundamentally alike: spotlessly clean; trophy cabinet-lined walls; particularly significant cars resplendent in battle dress; photographs of glories past; display or two (maybe three); quietly efficient folk striding past, busy frowns on their faces; non-stop ringing of telephones.
And so it was during the heyday of Toyota Motorsport GmbH, when the 30,000m² facility - the largest in the business and only one capable of constructing an entire F1 car under a single roof - played host to 800 workers, beavering away day and night as they sought to bring glory to the double bubble 'T' that once glistened on nine million new cars annually.
What a difference nine months make: sure, the place is still spotless, with trophies having pride of place, yet seldom does a soul pass, not even at amble speed; phones are eerily silent. Still, three cars are on display - a rally car, Le Mans racer, F1 car.
Then the hammer hits home: last-named, a TF110 is black. Naked carbon weave black, with not a scratch of use visible in its slender cockpit despite being test-ready before the 2010 season began...
The car stands as a monument to what would have been, could have been, should have been. And still can be, for its creators are very much about, except they no longer travel the world in search of loud glory. To them, keeping Toyota Motorsport up and running, and open for business is reward enough. For now.
When Toyota pulled the plug on it F1 programme on November 4, 2009, its main dilemma was the future of this massive white facility, which not only housed the best kit available, but in most cases two of everything.
Mothballing was not an option - for cost, environmental and other reasons not unrelated to pride - while selling it was simply not on, particularly given F1's sudden obsession with downsizing.
The big T had no intention of doing a 'Honda', i.e. disposing of the operation to management, then watching helplessly as the car wins with a 'foreign' badge - although a Toyota Motorsport insider allowed that then-president John Howett and his successor Yoshiaki Kinoshita investigated the possibility - nor of losing its rich seam of in-house talent lest the company wished to return to top-line motorsport in future. Think DTM, WRC, IRL, even F1...
Thus converting it into a motorsport consultancy ticked all the boxes, particularly as F1's Resource Restriction Agreement - which Howett, in his then-role as FOTA vice chairman, played no small part in crafting - increasingly pressures F1 teams to reduce head count, forcing them to use outsourced engineering and other services.
Toyota Motorsport had, after all, designed and competed with F1 cars manufactured totally in-house, so surely that expertise could be marketed? The operation consults on the full spectrum of engineering services, be it for motorsport, aviation, medical, rail or general automotive sectors, and does so in total secrecy.
Kinoshita has a staff of five reporting to him, with Pascal Vasselon (ex-Michelin tyre engineer, then Toyota Motorsport general manager, chassis engineering) and Jens Marquardt (formerly F1 team manager) being part of the management team, which further consists of general administration, engine engineering and liaison executives. A staff of more than 170 has been retained, split as follows: chassis, 50; engine, 40; business development, 10; operations and production, 40; general (HR, finance etc), 30.
Although links are maintained with former employees, many of whom are on call for specific projects - such as the ongoing Pirelli F1 tyre testing programme, which reunited a host of former technicians with the now-white TF109.
Important to note is that the company charges a premium for services - as befits an operation with access to the very best in kit and equipment - yet that does not seem to have discouraged customers, for all departments were humming during this column's visit to the facility shortly after the Belgian Grand Prix.
True, swathes of offices and complete wings are empty, and there is no sight more depressing than that of wall clocks in disused areas running to European Winter Time despite it being EST - the axe fell four days after last year's end-October change-over, and obviously clock watchers were the first to go - but what staff members were present went about their activities with quiet determination.
During the visit a team (believed to be a sportscar operation - Aston Martin?) was active in one of two wind tunnels, the first of which caters for full-sized cars, while WT2 caters to 60 per cent models, generally produced to F1 standards in the adjacent 800m² model shop.
Obviously the wind tunnel and computational fluids dynamics departments, capable of dividing vehicle models into up to 80 million hexahedral cells - amongst the highest in the business - work hand in hand, with over 1200 CPUs providing computing power in an IT system which was fully upgraded in 2006.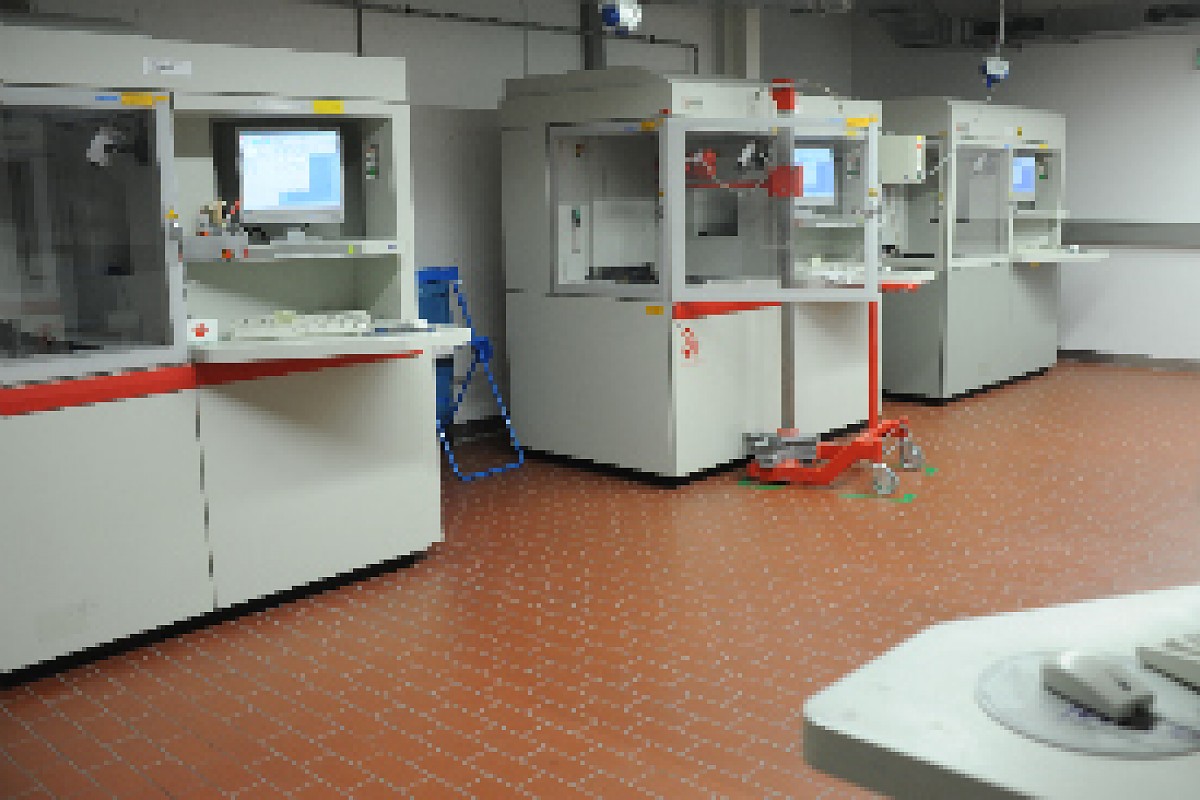 Europe's biggest collection of rapid prototyping machinery
The operation pioneered Particle Image Velocimetry in F1 wind tunnels, which permits flow structures in X, Y and Z planes to visualised - consider it the wind tunnel equivalent of CFD visualisation - which enables CFD, actual track test and wind tunnel data to be accurately cross-checked and verified.
Crucially, customers are able to hook in to the computer system and download data without residual traces - assuring utmost confidentiality.
Particularly fascinating was an insight into Toyota's work on body livery - or 'car wrapping' in industry-speak. Three years ago the company sought to reduce weight, improve performance and save costs - usually mutually exclusive terms - of body panels, doing so by entirely eliminating the paint process. Thus it developed folio wrapping, whereby 50 micron folios are used to wrap all visible surfaces - wings, chassis, vanes, etc. Where surfaces are aero critical, 30 micro strips reduce any steps.
The resultant process reduced lead times to strip, prepare and repaint side wing endplates or front noses (for example) from 15 days to 45 minutes while saving 30 per cent of the weight of the already lightweight paint. Plus, surfaces are smoother, crews are able to wrap components at circuits should the need arise, while cleaning is simplified.
Over 200 test simulations are possible on component test rigs, transient transmission test systems (gearbox dyno in popular jargon) and a four corner full-car road simulator which can be programmed to replicate any surface or layout down to 0.001mm.
During the visit a full-size F1 transmission was being subjected to pitch and roll movements in the transmission lubrication test system to check oil pickups under load - just one example of how bespoke test facilities have been developed to cater for F1's quest for bullet-proof reliability despite increasingly limited track and test mileages.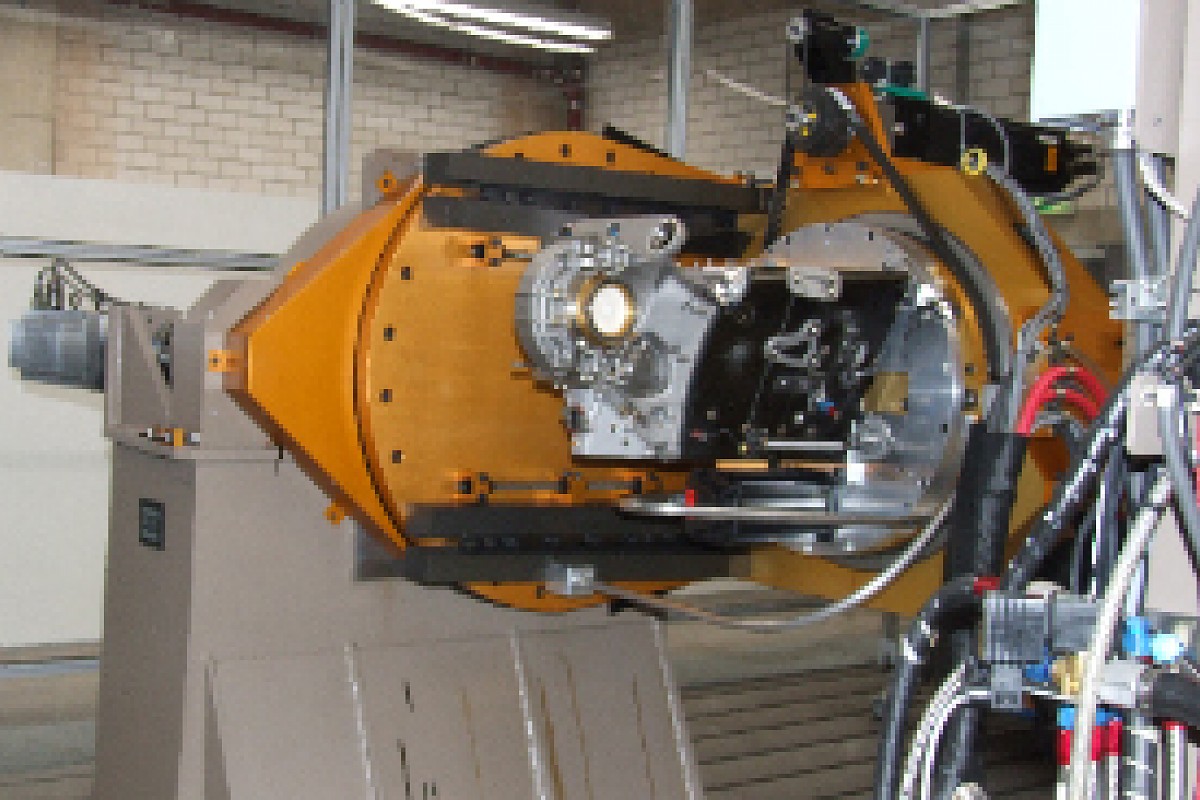 Transmission testing
Nor does it stop there: the department offers seven-poster rigs, single axis test rigs, centre of gravity of machine - vital to maintain ongoing balance of cars constantly undergoing subtle changes - and geometric measurement equipment capable of examining components down to a single micron.
Rapid prototyping/manufacturing has become all the rage, and here Toyota HQ wants for nothing, having the largest concentration of machines of this type in Europe -arguably the world. Over 2000 unique parts per month were produced during the F1 programme's heyday in a facility which did (and does) run 24/7.
Situated beneath the wind tunnels is an area more fascinating (to this writer) than any other on the vast complex: the museum. Not only could various TF designs be compared, but beside each were examples of engines used by each design - facilitating direct comparisons of the various V10 and V8 power units. Devoid of add-on and dress-up items such as electronics and hydraulics, contemporary units are amazingly compact and exquisitely made.
Also fascinating was the aborted 600bhp Group B Celica rally car, which missed the cut when the FIA banned the category after a spate of deaths in 1986. Painted pitch black, it presents a menacing yet strangely poignant sight, made all the more so by the de facto demise of Toyota Motorsport as a bona fide motorsport operation.
Alas time did not permit a test of the simulator situated beside the underground museum but, just standing still on 2m high stilts, it positively bristled with hi-tech - providing further proof of just what is required to be competitive in motorsport's premier formula.
But, back to TF110: two examples were completed, one of which was wrapped in Serbian red and subjected to a few laps of the company's 11,000 m2 car park by Kazuki Nakajima - apparently as some Japanese journalists cast aspersions on the car's state of run-readiness - after the demise of the Stefan GP collaboration due to the operation failing to gain a 2010 entry. Chassis TF110/2 sits forlorn in Reception.
With nothing to hide, diffusers - both double decker and blown - are plain to see, while normally secret items such as sidepod and front wing design are readily discussed. Looking somewhat like a cross between Red Bull's RB6 and Ferrari's F10, with a hint of Williams FW32 about the upper nose section, it is clear the car would have been manna from heaven for the new teams - all three were apparently offered the opportunity of taking over the car lock stock and barrel, subject only to legally extricating themselves from their Cosworth commitments.
Would TF110 have proven to be a race winner? Well, winning depends on vastly more than merely the best facilities and swish chassis, and it is well-known that on the engine side Toyota played to the letter of the homologation regulations, while a choice of (winning) drivers dwindled as increasing rumours of Toyota's exit.
Robert Kubica and Kimi Raikkonen had been considered, confirmed our source, adding: "For Kimi they [the Finn's management] wanted silly money, which we could not commit to at a time when the Toyota Motor Company was reducing staff across the world due to the economic crisis, while Robert's people [rightly] insisted on guarantees that Toyota was committed to F1. Which, of course, we couldn't provide."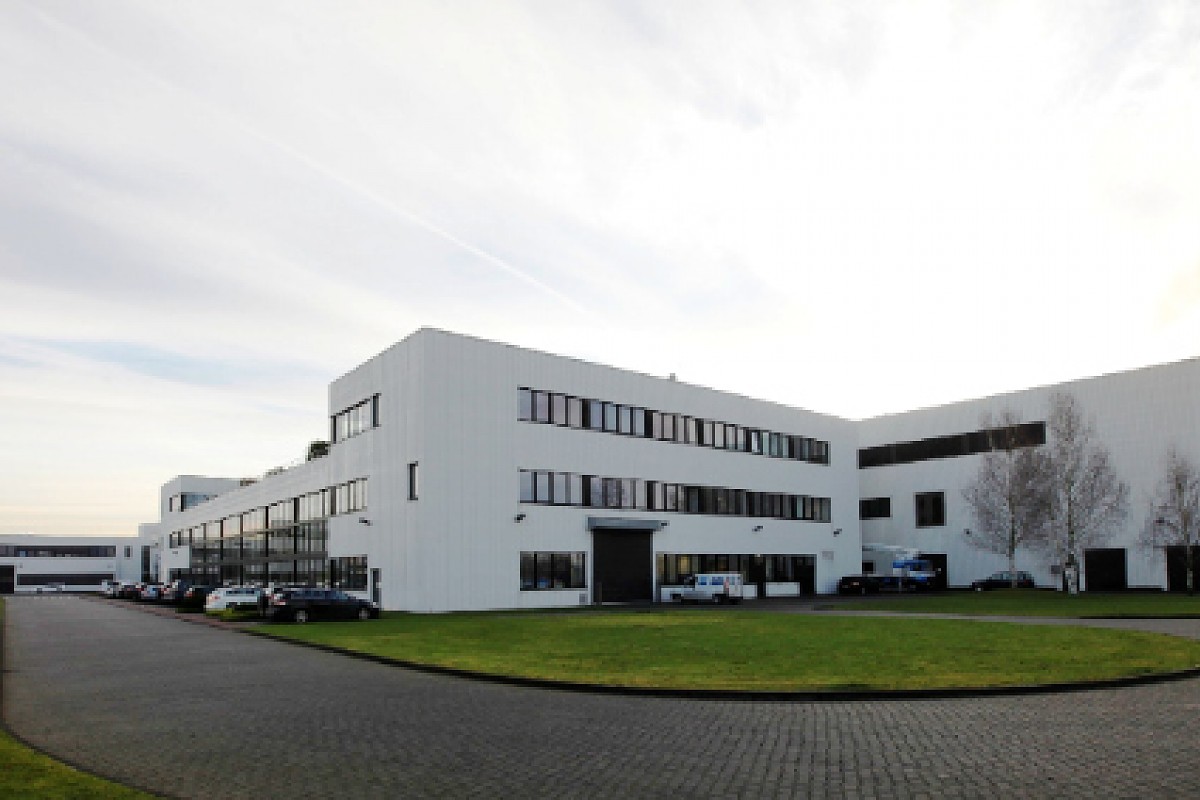 All in all, the visit to Toyota HQ was fascinating, simply as it offered a true behind-the-scenes glimpse of just what is required to be competitive in contemporary F1. Of course, the recurring question was: "With all this, how did you fail to win?" But the fact remains that it built cars capable of winning - as attested to by podium places, fastest laps and pole positions. Sadly, due to various factors, that final one per cent was lacking when push came to shove.
All this technology and know-how is now available for hire, which can only benefit existing teams now and into the future, particularly as the RRA starts to bite.
Who knows, Toyota may play a major role in shaping the formula of the future, for it is clear the rule makers will require top class input, data and engineering services before finalising the 2013-2017 regulations - which, forget not, call for changes to engines, chassis, aerodynamics, transmissions and KERS. No other operation offers a one-stop shop of the type required to test various concepts.
So, in a way the outfit has come full circle: founded by rally star Ove Andersson in 1972 as Andersson Motorsport, the company ran Toyota's motorsport programme on a contract basis under the Toyota Team Europe banner before being purchased by the Toyota Motor Company in 1993 and being renamed Toyota Motorsport GmbH.
Andersson was killed in 2008 while contesting a classic car rally in his adopted country of South Africa, but so loved was the Swede by Toyota Motorsport staff that his photograph still adorns many an office. His can-do legacy truly lives on.