10. American win, Italian style
Trans-Am, Sebring, March 25, 1966
Driving an Autodelta Alfa Romeo GTA, Rindt's victory in the inaugural Trans-Am race at the Florida airfield track was proof, if any were needed, of his versatility and ability to prevail in longer races. The car had been patched up after being pranged heavily by Roberto Bussinello in practice, and as the bigger cars (such as AJ Foyt's Ford Mustang) hit trouble, Rindt climbed the order. In the final reckoning, he won by a clear lap from Bob Tullius's Dodge Dart.
Jackie Stewart and Jochen Rindt, Silverstone 1969 © LAT
9. Scrapping with Stewart
British Grand Prix, Silverstone, July 19, 1969
Fourth place and one lap down on race winner Jackie Stewart's Matra doesn't sound like much on paper, but it does little justice to the quality of the racing between the Scot and Rindt over the first 46 laps. The pair swapped positions repeatedly after leaving the rest of the field, headed by Jacky Ickx, behind, until a sagging rear wing endplate on Rindt's Lotus 49B cut a tyre.
Looking back on the race in AUTOSPORT magazine (June 18, 2010), Stewart paid tribute to Rindt: "We must have had 30 lead changes," said Stewart. "If you were reasonably close - within eight car lengths - you could slipstream the other guy into Stowe, and he'd be back past you on the drag into Woodcote. So we went back and forth like this for a while.
"There was such a purity and an etiquette about the driving then, particularly with two top drivers, and Jochen certainly was one of them. We were such good friends that we'd point to which side each other should pass on."
8. Recovering to victory
Limbourg Grand Prix (F2), Zolder, May 5, 1968
In his newly-released - and must-read - biography of Rindt, David Tremayne states that "until Monaco 1970, Jochen always said that Zolder was his greatest race."
Why? Because after dominating the first 24-lap heat of the aggregated event, following the retirement of Jean-Pierre Beltoise's Matra, he had to fight hard to recover in the second. "Rindt made a slow getaway and Brian Redman an enthusiastic [jump start] one from behind," wrote Paul Watson in AUTOSPORT's report of the event. "As Jochen got the power on his car slewed sideways and the luckless Redman clobbered one of the Brabham's rear tyres with his nose-cone."
Rindt spun down to 10th and launched a dramatic recovery drive. By the end of the lap he was seventh and by lap 17 he had passed Chris Irwin for third. He finished the heat 4.9 seconds behind Ferrari pairing Jacky Ickx and Chris Amon, winning the race on aggregate after the Belgian refused to let his team-mate past to give him the bonus needed to take victory.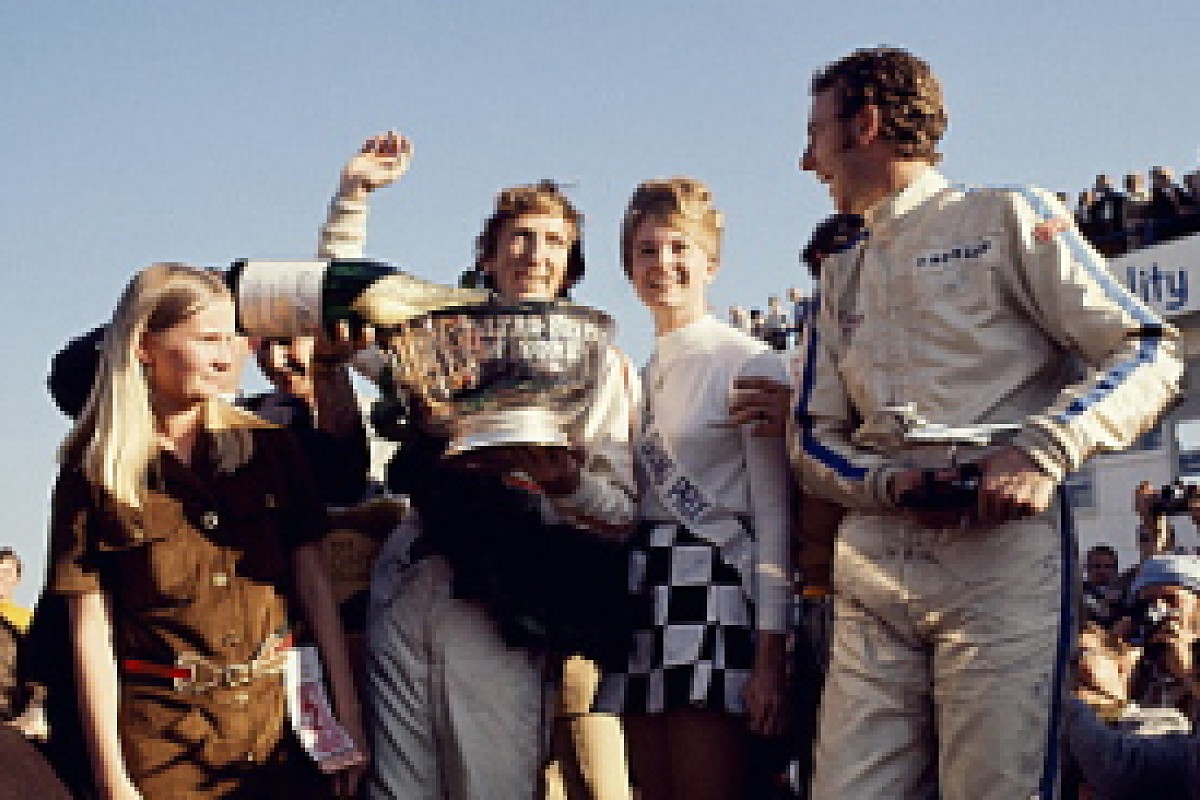 Jochen Rindt, Watkins Glen 1969 © LAT
7. Jochen wins at last
United States Grand Prix, Watkins Glen, October 5, 1969
"So Denis Jenkinson will have to cut off his beard after all." That's how David Phipps opened his report on the 1969 US GP in AUTOSPORT magazine. Motor Sport's legendary DSJ was no Rindt fan, and at that year's Monaco Grand Prix had vowed to be shorn of his trademark facial hair should Rindt ever win. At Watkins Glen, Rindt did win. And emphatically so. Although his big day was overshadowed by Graham Hill's huge accident - a crash that effectively ended the two-time world champion's career as a top-level grand prix driver - Rindt had every reason to celebrate.
From pole position, Rindt led early on under pressure from Stewart and, by the time the Scot took the lead on lap 12, the pair were over 20 seconds up the road from the third place battle. On lap 21, Rindt retook the lead into the first corner and steadily pulled away from Stewart before the Matra driver dropped out with an oil leak 14 laps later.
Rindt eventually won by 47 seconds from Piers Courage's Williams-entered Brabham after easing off to conserve fuel in the closing stages. At the 50th attempt, he was a world championship grand prix winner at last.
6. Breakout performance
London Trophy, Crystal Palace, May 18, 1964
Rindt is hailed by many as the greatest driver in the golden era of Formula 2 racing. His victory driving a Brabham BT10 in the third round of the British Championship at Crystal Palace in 1964, ahead of Graham Hill, was momentous as his first in a category that he would go on to become the acknowledged master of.
He had already made a mark in the Eifelrennen a month earlier, and in the Grovewood Trophy at Mallory Park a day before, but it was the London Trophy that really brought him to the attention of those who would shape his career.
"New star shines at the Palace," was AUTOSPORT's headline to a report that went on to ask "Who is this Jochen Rindt?" Over the next few years, AUTOSPORT would come to know the Austrian very well.
5. Rindt by a nose
Reims Grand Prix, Reims-Gueux, June 25, 1967
Rindt led home Graham Hill, John Surtees, Jackie Stewart and Denny Hulme - the latter being an astonishing seven tenths behind the winner. This was a Reims F2 slipstreamer of the highest order and, almost inevitably, it was the canny Rindt who prevailed in his Brabham BT23.
The whys and wherefores of position changes during the 37-lap race are lost to time, but AUTOSPORT's report of the event from the June 30, 1967 issue captured the drama of the finish: "In one great jam they streamed through Thillois with Rindt just out in front; approaching the line, Hill swerved out of his slipstream and pulled alongside, but [Rindt's] Winkelmann car was first across the line by a nose."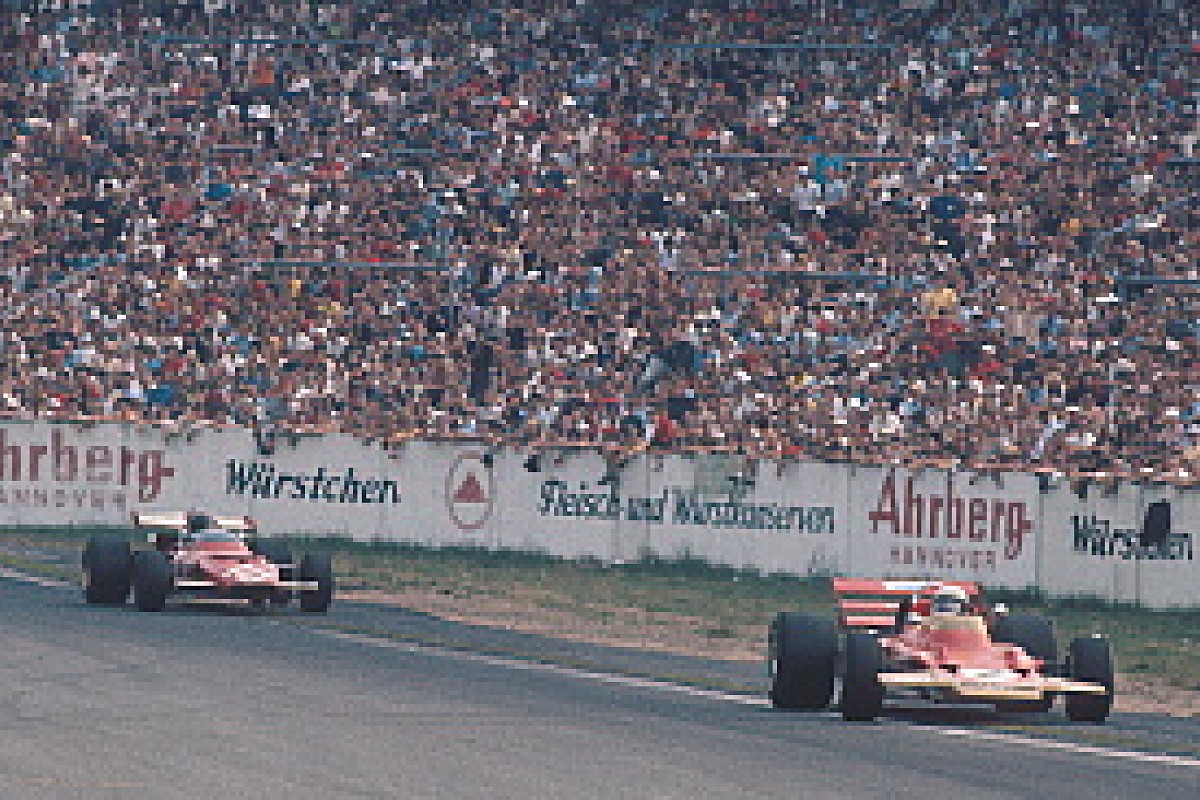 Jochen Rindt, Hockenheim 1970 © LAT
4. On the brink of the crown
German Grand Prix, Hockenheim, August 2, 1970
"A monkey could have won in my car," said Rindt of the Lotus 72 which he drove to victory in the first grand prix to be held at Hockenheim. Perhaps, but the monkey in question would have done well to absorb race-long pressure from the Ferrari of Jacky Ickx.
Throughout the race, the pair swapped positions. AUTOSPORT reporter David Phipps described Rindt as "leading from behind" as Ickx actually led 31 laps compared to his 17. It came down to the last couple of laps and, despite running onto the grass exiting a fast right-hander, he survived to cross the line just seven tenths of a second ahead of Ickx's Ferrari.
It was Rindt's fourth straight victory and put him on the brink of the title. In fact, he already had enough points in the bag to seal the crown and it would be the last time the soon-to-be world champion finished a grand prix.
3. Enduring at a sprint
Le Mans 24 Hours, Circuit de la Sarthe, June 19-20, 1965
A last-minute call-up to share a NART Ferrari 250LM with Masten Gregory, few expected Rindt to be a contender. When a distributor cap problem forced a lengthy delay in the pits, the car was no longer even a long shot to win.
But while Rindt and Gregory went flat out to make up for lost time, one-by-one the leaders hit trouble until only the similar Ferrari or Pierre Dumay and Taf Gosselin was ahead. Rindt was scything chunks out of the pair's lead when Dumay suffered damage, and a blowout, running over some debris. Rindt took the lead and, a few hours later, Gregory crossed the line at cruising pace to take a famous win.
Jochen Rindt, Spa 1966 © LAT
2. So close to a famous win
Belgian Grand Prix, Spa-Francorchmps 12 June 1966
The Cooper-Maserati T81 was not the car of choice in Formula 1 in 1966, with the Surbiton outfit's back-to-back titles in 1959/60 a distant memory.
But at Spa, Rindt capitalised on wet conditions to run at the front. After surviving a lurid multiple rotation at the fearsomely fast Masta Kink early in the race, the Austrian relieved John Surtees of the lead at lap four and pulled away.
Sadly, the weather turned against him and it dried out, allowing Surtees to reel him in and reclaim first place on lap 24. This relegated Rindt to second place - his first podium finish in the world championship - but from this day until the US GP three years later, it was a question of when, rather than if, he would take his first big-time victory.
1. A famous last-gasp triumph
Monaco Grand Prix, Monte Carlo, May 10, 1970
It was more than the most dramatic victory of Rindt's career - his last corner triumph at Monaco after pressuring Jack Brabham into a mistake is the stuff of racing legend. As is Rindt's charge to be in contention in the first place.
At half distance, Rindt lay fourth, 15.2 seconds behind the leader, having passed Henri Pescarolo's Matra a few laps earlier. Almost immediately, he passed Denny Hulme's McLaren to run third and set about closing the gap to Chris Amon, who was a few seconds behind Brabham. The New Zealander dropped out with a rear suspension problem with 20 laps to go. Rindt was now second, 13.5 seconds behind Brabham.
The Australian looked sure to win, as with only five laps to go his advantage was still 10.800 seconds. Then, on lap 77, Brabham was baulked by Jo Siffert, who was swerving to improve fuel pick-up, costing him over four seconds. At the start of the final lap, Brabham was 1.3 seconds ahead and looked home free as he headed to the final corner. Covering the inside line, he outbraked himself and hit the wall, allowing Rindt to dive past to take a sensational victory, while Brabham limped home second.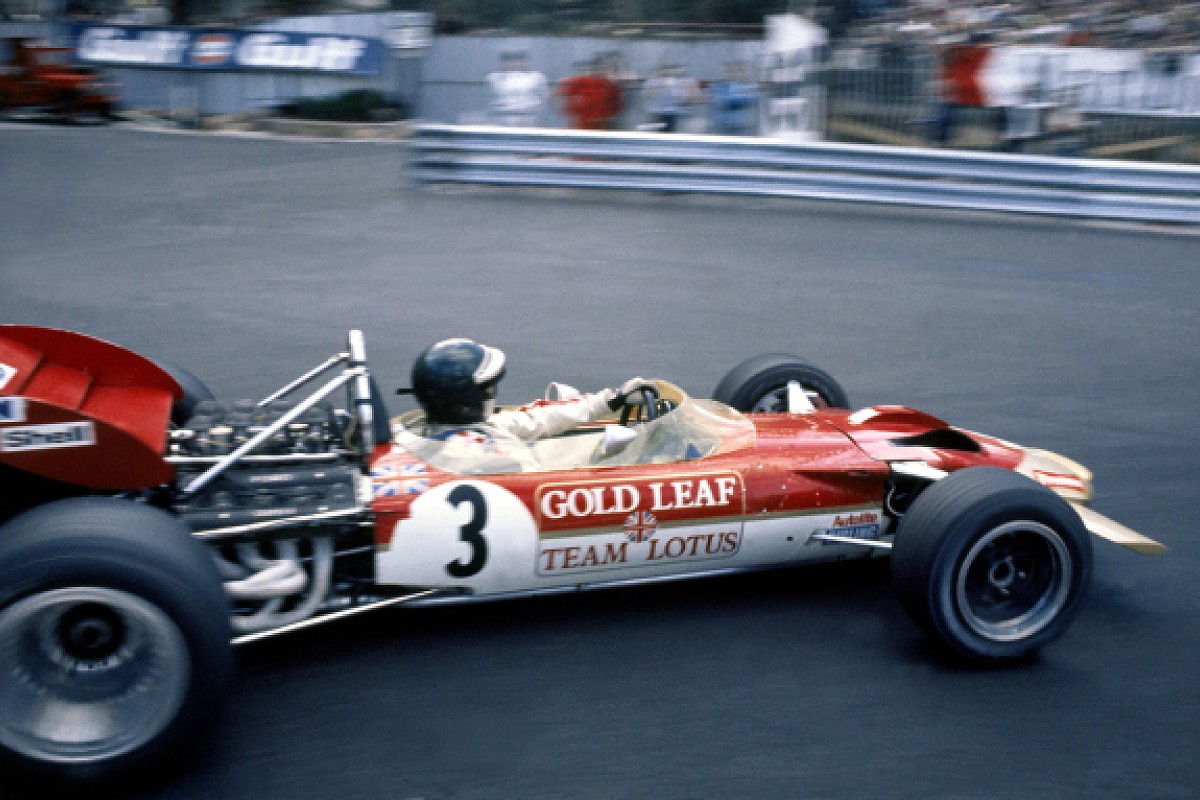 More on Jochen Rindt:
Jochen Rindt: Gone all too soon
Jochen Rindt tribute: Monaco 1970