As I write, it's 40 years to the day since Jochen Rindt, the sport's only posthumous world champion, was killed at Monza. It seems like yesterday and every time I go to Monza or see Parabolica, it brings it back.
It was seeing the '69 British GP on TV, and Rindt's fabulous dice with Jackie Stewart that hooked me on motor racing. I became a huge Jackie fan but in 1970 his March wasn't really competitive and Jochen had that fabulous Lotus 72 and had taken amazing (at least at Monaco) last lap victories at Monte Carlo and Brands Hatch - both among the three races we got courtesy of the BBC in those days.
Jochen Rindt in 1966 © LAT
The other was Monza, where Jochen was supposed to win the championship. Unfortunately, my Dad was involved with the Air Training Corps and used to take cadets up the Cheviot Hills to locate and dig up bits of crashed USAF B17s. That's what the family was supposed to be doing that September weekend, staying over the Saturday night.
I was nine. Flying Fortresses were okay but they didn't rank with the Italian Grand Prix, so there was a problem. My Mum came to the rescue and said I could give the Cheviots a miss and go and stay with my Gran.
When I arrived, on my bike, filthy from a football match, the first words my Grandad said were, "What is it you want to watch, the racing? Dangerous business, that. Another one's been killed this afternoon. Rit, or somebody..."
I prayed he'd got it wrong but, a couple of hours later, there it was in the Stop Press column of the South Shields Gazette: "Jochen Rindt killed at Monza." Next day I watched Clay Regazzoni win the race without much enthusiasm.
The thing about Rindt is that he was such an exciting driver and, seemingly, was just as inspirational to his comtemporaries as he was to young fans.
In Doug Nye's book, Racers, Frank Williams, who was born two days before Rindt in April 1942, recalls travelling around Europe following the Formula Junior circus as mechanic to Jonathan Williams (no relation) in 1963, his first year as a 'racer.' It was at Wunstorf, a German airfield circuit, that he first saw Rindt.
"I proudly claim the title of having become Jochen's first fan," Frank told Nye. "Piers Courage later recalled Jochen in those days as being 'all pink trousers and white E-type', which was right, but out on the circuit, in his Cooper, he was magnificent.
"There was a very fast fifth gear curve at Wunstorf and I can still vividly picture Jochen simply flying through there in beautiful four-wheel slides. I thought it was splendid, I was sure he had a great future and it's not putting it too strongly to say I worshipped him from then on."
When his driver ran out of money and went back home to make some more, Frank stayed in Europe and went to the first ever race meeting at Zolder as Swede Picko Troberg's mechanic. Actually, Frank's enthusiasm outweighed his skills - he thought he could change gear ratios but sent Troberg out to practice with one forward gear and four reverse!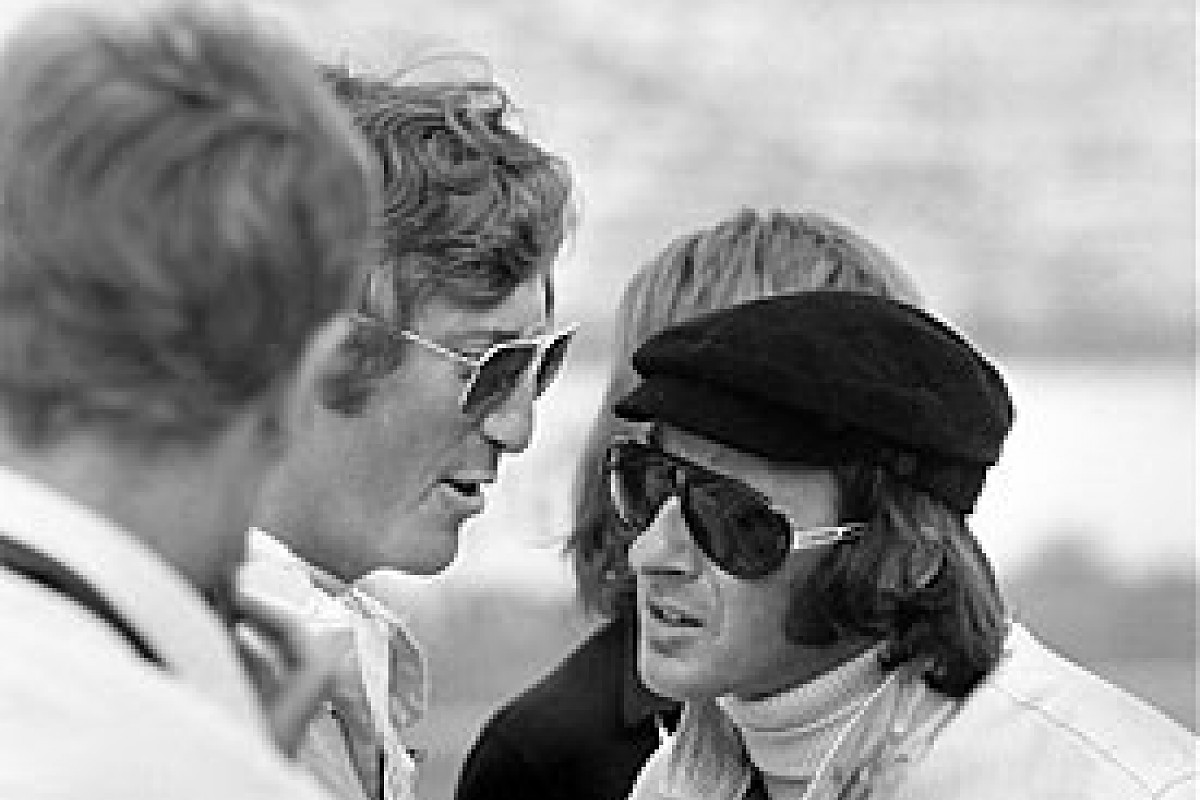 Rindt talks to Stewart during the 1970 Italian GP © LAT
Williams was good at languages though and was always being approached by continentals who needed spares for their British cars, to the extent that he started quite a lucrative supplies dealing business.
One of the circus was a Parisian taxi driver who towed his Lotus 20 behind his Peugeot 404 Paris taxi. The guy lent Frank the car for his first ever single seater race on the Nurburgring Sudchleife - a four-mile loop using the same pits area as the full 14-mile Nordschleife. Frank recalls doing quite well among the also-rans at the back until the car broke down. So he occupied himself marvelling at Rindt's progress, until Jochen put his car in the ditch.
After the race, Frank helped Rindt haul the car back on the road, whereupon Jochen gave him a lift the half mile back to the pits, astride the engine and hanging onto the rollover bar, at heart-stopping speed with the wheels pointing in different directions. "Typical Jochen," Frank said. But he had made his introduction...
It was the following season, 1964, that Rindt shot to prominence when, with backing from Ford Austria and BP, he beat established stars like Jim Clark, Graham Hill and Jack Brabham In the Whit F2 races at Mallory Park and Crystal Palace.
At Mallory, he asked Denny Hulme if he could follow him for a lap because he didn't know where the place went, then promptly took pole...
Clark had just returned from qualifying at Indianapolis and Stewart, then a rapidly rising F3 star, was watching. He was surprised to see an unfamiliar blue car on pole and said of the driver: "He looks very young, like a schoolboy, lost and somewhat out of place. His helmet doesn't seem to fit him and I can't quite see how he made the fastest time. Must be a timing error..."
At the start, Rindt wasn't in gear and was last away, but finished third! Then, at Crystal Palace, he overtook Hill and won the race. A London paper heralded Jochen's win with the headline: "Unknown Australian beats Graham Hill"
The 'unknown Australian' was very quickly summoned to BP HQ for contract discussions and it was Frank Williams who drove him there, with Jochen telling him to slow down all the way. Jochen's contract was quickly amended from £25 per race to £1200 for the season.
Rindt might have been a nervous passenger but, in the driving seat, he could do anything, Frank recalled.
"When he began driving F2 Brabhams for the Winkelmann team they were based in Slough and there's a never-ending climbing left-hand slip road which takes you off the M4 and over to Slough on the other side. Jochen would take his Alfa Romeo into that slip road from the fast lane of the motorway and go screaming round there with the front wheels scrubbing off speed and the inside rear wheel clear of the road. It was a pretty fantastic experience if you were his passenger. He was magic in a car, could make it do anything he wanted..."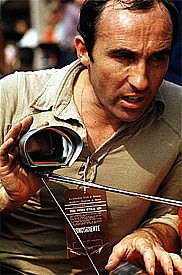 Frank Williams © LAT
Rindt also had a hard side. Earlier that year, Frank had met Rindt again at the Racing Car Show when Jochen had come to give Jack Brabham a cool £4000 for his car and order the rest of his equipment. Frank it was who actually delivered the new Brabham to Rindt, driving Jochen's new twin rear-wheeled Ford van from London to Vienna in 23 hours.
The trip caused a bit of grief in the early days at Williams Grand Prix Engineering because if ever a truckie moaned about only having two days to drive to Austria, Frank would trot out his tale. But, he remembered, "I wasn't used to driving a longish vehicle with twin rear wheels and by the time I pulled up in triumph at his place, both outside tyres had blown where I had crushed them over kerbs. He was furious. It cost 20 quid for new tyres. Jochen always counted every penny..."
It wasn't as if money was a problem. It came from the family firm of Klein & Rindt, a spice mill founded in 1840. Rindt's parents had both been killed in a bombing raid on Hamburg in '43 and he was orphaned at 15 months, with the spice works run by guardians until Jochen came of age.
Stewart, writing the introduction for Heinz Pruller's biography of Rindt, said: "He was one of the most sincere men I ever knew, and a man who upset almost as many people as he became friends with. He was a tremendously hard man and if he had no time for someone he would not give them any time. Once he'd made his mind up, that was that, he would not be swayed. It was clear in everything he did - in the way he lived his life."
Stewart also said of Rindt at the time: "There are only two drivers I have driven against who I consider truly great: Jimmy and Jochen. They are the only two people I have had complete respect for.
"I don't think the accident at Monza was driver error, it was just fate. Something that happens in a split second. You apply the brakes and something goes wrong. You cease to be a driver and become a passenger."
Doubtless many will remember ruefully that September Saturday as they go through the paddock gates at Monza this weekend. Not just those who watched him, but men like Bernie, and Frank Williams, and Herbie Blash, who was a Lotus mechanic that day. Rindt was a special one, and gone all too soon at 28.
More on Jochen Rindt:
Jochen Rindt tribute: Monaco 1970