At a McLaren gathering shortly after qualifying at Spa Lewis Hamilton was reminded that many people felt he'd been robbed of victory at the same venue in 2008. Given the history, and the fact that he'd just earned a slot on the front row, would a win have special significance for him?
"Whether or not I was robbed, it's all in the past," he said. "Of course it was a great race and I remember that day very, very well. Going into tomorrow, knowing the conditions that we may have, it might be a similar race to then. So I'm excited to have another chance I guess in similar conditions, a similar opportunity."
The following day Hamilton grabbed that chance with both hands, putting in a superb performance to not only win the race, but also propel himself into the lead of the world championship.
Of course there was a dose of luck when, having stayed out on slicks, he managed to steer himself away from the tyre wall and out of the gravel trap. But a lot of drivers made more expensive mistakes last Sunday, and having twice suffered a mechanical retirement this year, no one would begrudge Hamilton a bit of good fortune.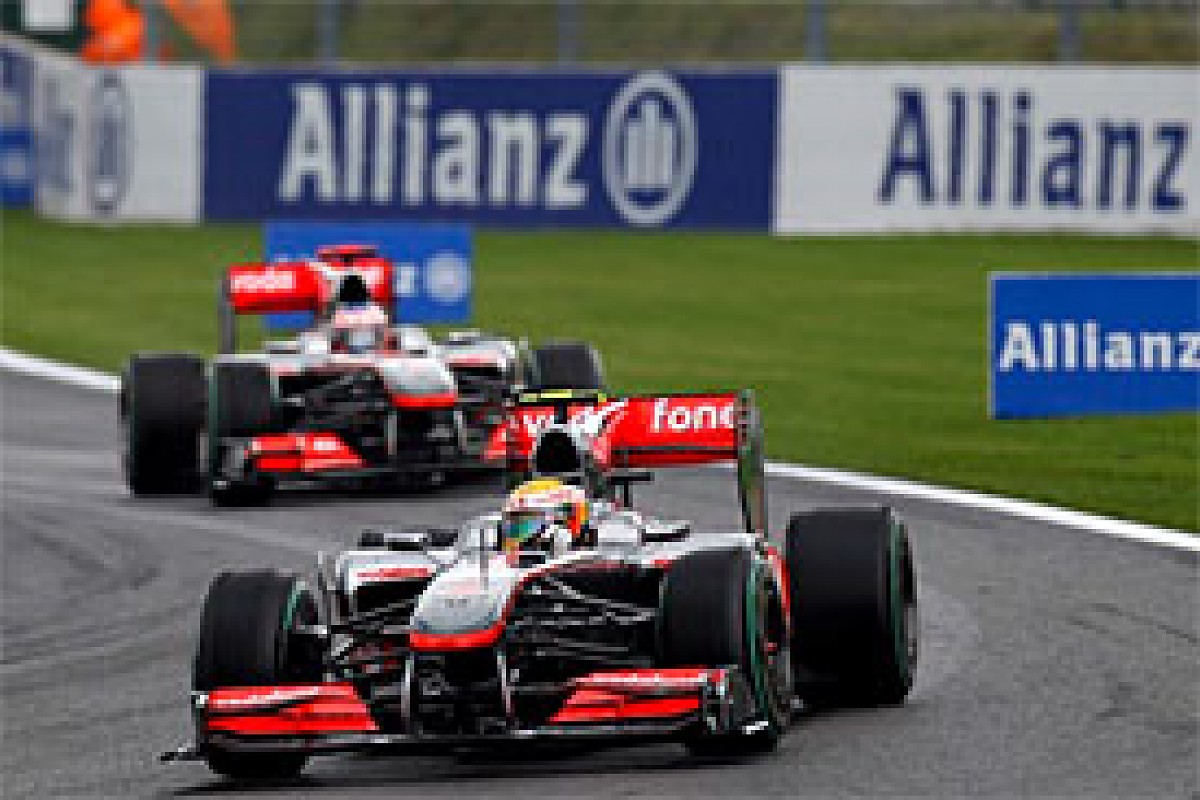 Hamilton and Button enjoyed a good qualifying © LAT
"He had a slight excursion," says McLaren team principal Martin Whitmarsh, "which was a bit tingling for a moment! But overall it was a pretty commanding and impressive drive by him. It's pleasing for the team. Our drivers are great, but it's very easy to get it wrong, get panicked, and I think the pit wall's done a good job.
"I said to both of the drivers beforehand, 'Stay calm, give us information, and we'll do the best job we can.' On this occasion they didn't give us too much information, but I think nonetheless we judged it well, judged it right, and did a good job. So I am proud of the team. It isn't easy to consistently make the right calls, particularly when you're up the front. People notice every glitch that you have."
You make your own luck, and Hamilton put himself into a position to win with an awesome performance in qualifying on Saturday. He didn't quite get pole, but a spot on the front row was enough to ensure that he got into a lead that he didn't relinquish for the duration.
Through the three practice sessions Hamilton had been second, third and second, and he clearly had some performance up his sleeve. But life was made difficult for the McLaren drivers in Q3 because they both only had one set of new option tyres left for that final session, so they went out for their initial runs on a used set. When they put on the superior new sets, drizzle was already falling, and it seemed highly unlikely that anyone would improve. And yet Hamilton jumped up from fourth to second, and Jenson Button improved from sixth to fifth.
"I think that was really brilliant, because we only had one new set of options for Q3," says McLaren engineering director Paddy Lowe. "Vettel had two new sets because he'd only used a prime in Q1 and took some risks, and he nearly didn't get through. Similarly Webber had run prime in Q2, which again was a pretty risky call. So we had to run used option then new option, and it did seem that the track overall was a quicker in the first run because of the rain.
"S1 was slow on the final lap with the new set, and you're thinking, 'They're never going to recover this!'
"But both drivers did phenomenal S2s and S3s which pushed them up the grid. If it hadn't been wet at Turn One, they would have had good S1s as well.
"It's difficult to overtake to around here, especially with the frontrunners, when they're all quite closely spaced in performance. So obviously qualifying on the front row was vital."
"It was a great qualifying," says Whitmarsh. "Lewis should have been on pole, and would have been on pole had he been on new options at the beginning of Q3. To improve under those conditions, and set a time for the front row with three or four of the corners wet, was pretty impressive!"
The run to La Source is short at Spa, so it's not always easy to get ahead. But Webber made it easy for Hamilton by not getting away cleanly.
"Lewis was determined to win," says Whitmarsh. "He made a great start, and he had already decided that if he didn't get him there, he was going to get him on the first straight. One way or another he was fairly sure that was going to happen!"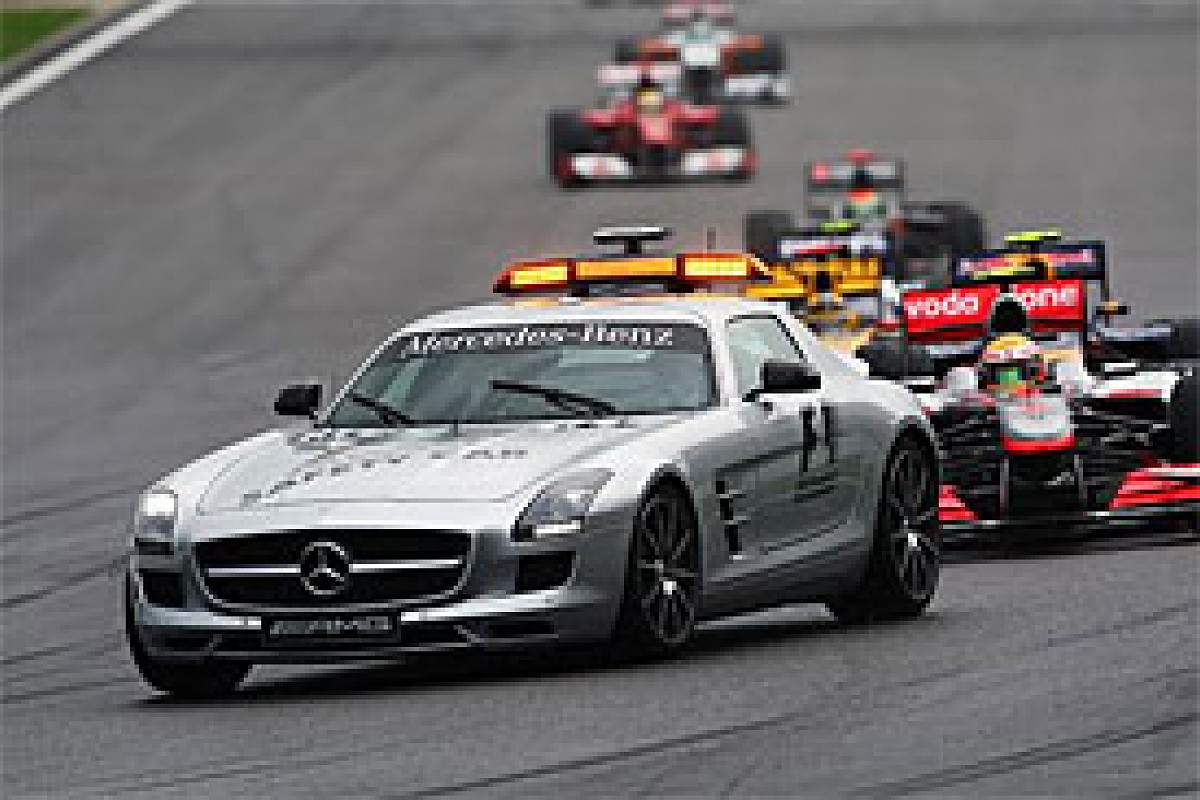 The safety car leads the field © Sutton
Then as the first lap progressed, the rain began to fall.
"To be quite honest, I don't know how the drivers do it," says Lowe. "How do you commit into one of these big corners, when you don't actually know how wet it's going to be, or what the surface is like. But it's what they're good at."
Hamilton was the first to sample the conditions, and not surprisingly he led the charge across the run-off at the final chicane - exactly where his problems started in 2008. He resumed still in the lead, and no one behind could claim he'd stolen an advantage because they'd done the same. But there was a problem for Button, who had his front wing endplate clipped.
"It looked to be like Jenson made the most honest attempt to recover the apex, and that's where he paid the price, because Kubica and Vettel came through. I think it was Kubica who touched him, because the footplate was missing. That's why although he was still in second, he didn't have the pace."
The safety car came out to allow debris to be picked up, but contrary to how it looked at the time, that wasn't why the top runners stayed out on slicks, as Lowe explains: "From the radar we took the view that it was going to be survivable, even without the safety car. That made no difference."
At the restart Hamilton began edging away from his team-mate. Hampered by that damage a track where aero is so crucial, Button in effect found himself riding shotgun, keeping an increasingly frustrated Vettel at bay.
All looked pretty easy up front for Hamilton, but there was one fright that wasn't reported at the time. At La Source, and when exiting the corner on lap 10, the McLaren hesitated and its engine note dropped. It was heart in mouth stuff before he regained momentum.
"He had a false neutral on that lap, he lost about a second," Lowe explains. "It just means that the gearbox has got no drive because the gears haven't gone in properly. And it has another go. As it sorts itself out, you're not going anywhere. It can be a problem, but if it's going to do anything, it would have done it then. You get them every now again, for some reason at Spa more than any other circuit, I don't know why!"
"Generally a false neutral is a defence mechanism," says Whitmarsh. "If it sees that the gear that you're going to engage will in so doing for whatever reason puts the gearbox in peril, it stops you doing it. It can lead to something serious, but generally you ought to say that it was good that it happens, because otherwise it might have broken something. There were no more false neutrals and no other issues subsequently."
When the now infamous Vettel/Button clash happened on lap 16, Hamilton had built up a handy lead of around 10 seconds.
Sebastian Vettel crashes into Button © LAT
"It was a shame that Jenson had that damage," rues Whitmarsh. "That hurt him, but I think would have had a good chance of still getting second place in any case. By the time we got to the first stop we would have either adjusted it or changed it.
"The crash was deeply frustrating for him, completely innocent in a situation where a guy was presumably thinking he was going down the inside with a gap that didn't exist, then outbraking himself, having a tankslapper, and T-boning you. It is not exactly what you expect in F1, is it?
"Lewis then controlled the pace, having opened up a buffer of about 10 seconds. It was difficult out there, and he needed to be careful. He controlled the race, we weren't going to take any risks, and so to an extent we had to cover other people, although we didn't need to once you had that buffer."
Hamilton had a big enough lead to ensure he just had to wait and see what his immediate pursuers did, and make the least risky reaction.
"It was a matter of trying to build as big a lead as we could," says Lowe. "What you're wondering about was whether there would be rain at a moment where you could avoid running the prime. When the other guys went for the prime, they obviously took the gamble that there wouldn't be any more rain, otherwise we could have all stayed out and just gone on the inter. But we had to cover them, basically. The option could have done the whole race."
Indeed after Webber, Kubica and Massa had pitted for primes, Hamilton followed them in on lap 24, knowing that his lead was not at risk. Now it was a question of waiting for rain to come before the end. It finally arrived during lap 34, with 10 to go. And yet Hamilton sailed right past the pits. What was perhaps more surprising was that the three guys behind him did the same.
It's always a tricky call, and all too easy for observers to criticise, but it was certainly hard to believe that they all stayed out. The feeling amongst these guys was that they could get one more lap in on slicks, and that if they were just a little too early with the inters, they risked damaging them - and there was still a 10-lap stint to do to the flag.
As the rain became heavier, and everyone from fifth placed Adrian Sutil on back came in, it certainly seemed like a gamble. When Lewis went bouncing over the gravel, it looked like he had blown it.
"I think if you were to analyse it, we all should have come in," Lowe acknowledges. "If someone had pitted, it would have been different. Strange that none of them took a gamble at that point... You would have thought Massa would have taken the gamble. It's very, very difficult, because the guys behind you can make a different call to you, and you can't shadow them. I think if you analyse it again, the minute we saw him struggling at Turn 18, he should have come straight in. It was only going to get worse."
Hamilton got back to the pits safely, albeit with his lead cut. He arguably got another break when Kubica screwed up in the pits. While that gifted points to title rival Webber, you could argue that the Renault driver might have been more of a threat in those closing laps, having rather less to lose than the Aussie.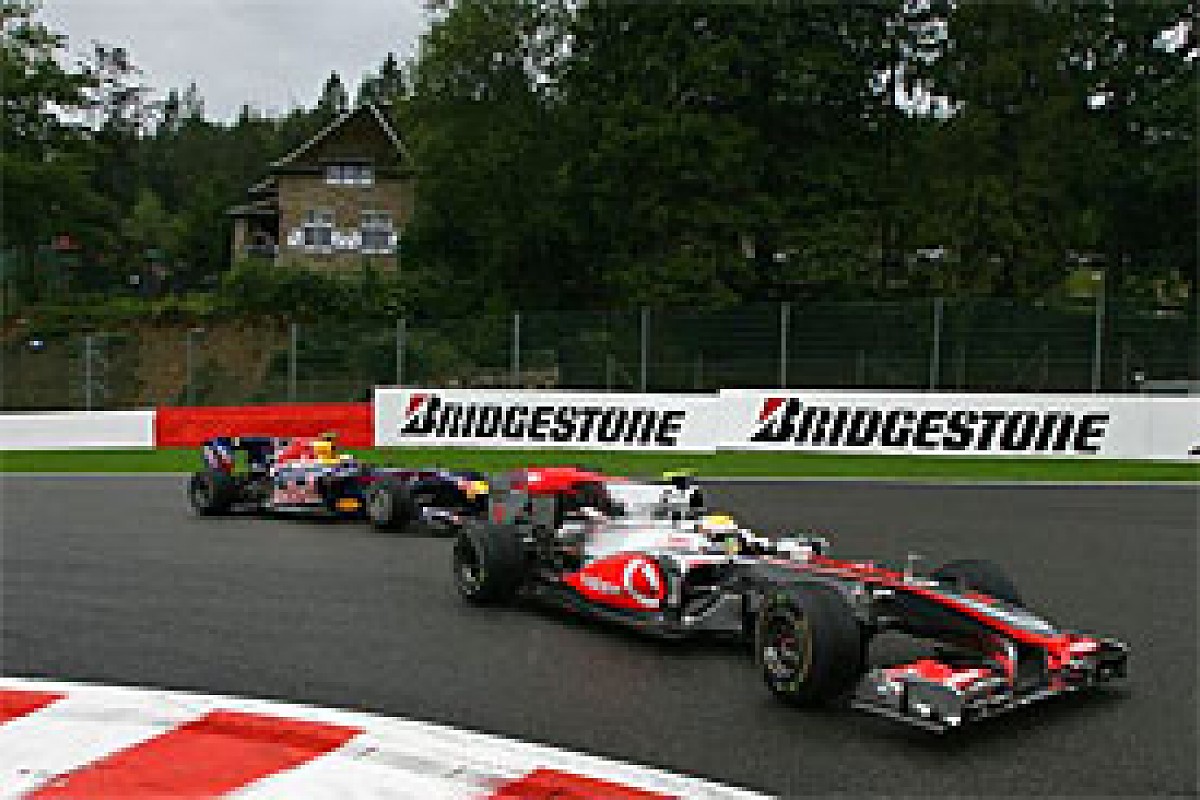 Webber chased Hamilton © Sutton
He still had to stay out of trouble on his first lap out on inters - now with Webber shadowing him closely - and then he had to deal with the late safety car restart after Alonso's crash and again stay ahead of the Red Bull. Both times something could have gone wrong, but it didn't.
"That was fine," smiles Lowe. "It was a little bit touch and go at one point there, but when you saw him get through to the top chicane having defended his position, you felt a little more comfortable, then we had it all over again with the safety car first lap round you're just wondering whether Webber's going to make it or not, but he pulled away."
In the end he made it look easy, but clearly it wasn't. And once again McLaren won a race by getting everything right on a day when drivers and team had to get everything just right.
In addition for the first time since Montreal, McLaren had the fastest car in both qualifying and the race, even if the history books will show that RBR earned yet another pole.
"I think we did have the quickest car," agrees Whitmarsh. "We should have had pole. I think there were a few races where we had the quickest race car, but not the quickest qualifying car. Whereas at Spa we had both, and in Canada we had both."
"Lewis got four fastest laps in the race," says Lowe. "If you look at Q3 he had pole position on a perfect lap [of fastest sectors], so I think we come away from this weekend feeling that at this particular event we had the quicker car.
"We didn't always translate that, but in the end it's a race win, which is what matters. It was unfortunate of course for Jenson, I don't think Sebastian was driving badly as such, he seemed to me to get into a bit of a tankslapper, and Jenson just suffered in the accident.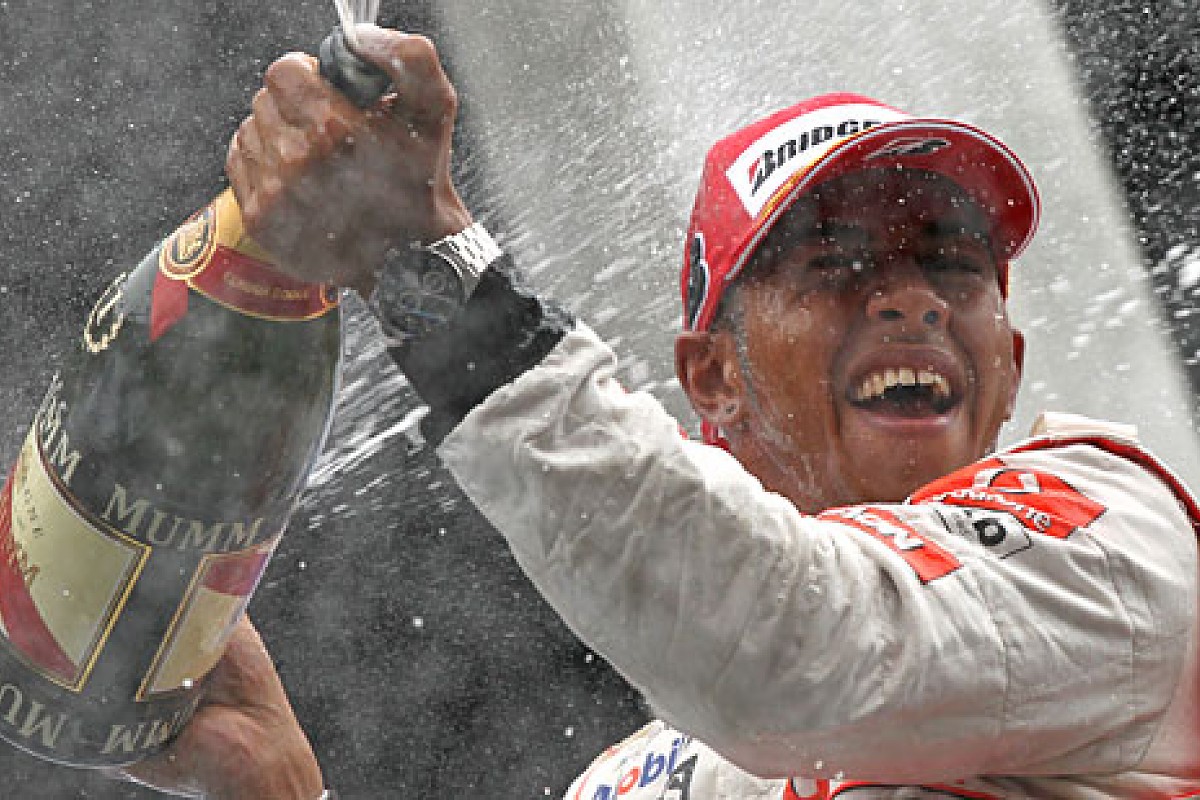 "I don't think he's down. He's a very mature guy, he understands that's motor racing, you get taken out every now and again. He's philosophical about it."
The win was perfectly timed in the knife-edge battle for the world championship. Earlier in the weekend Button made the point that it was handy to have two favourable low downforce races straight after a frustrating weekend in Hungary, as it would give the team a chance to pick up some momentum.
"It's an important step," Lowe agrees. "We needed a win for the points and our confidence. There are now six races left, and you've got to take each race one by one, and do the best you can. That's one down that we've won.
"Monza is a great event every year, but it's also a unique race in terms of set-up. You never know how it's going to turn out - but you'd hope we'd be quite strong there.
"I think the team's shown a very good ability to get the best out of the car, and that comes with reliability, it comes with driver performance - we've got two great drivers who always work well under pressure and don't make mistakes - and it comes from the team itself. We've got a great crew this year, and they're making some fantastic calls, working together really well. And when it pays off, it's brilliant."