Article 199 of the FIA's International Sporting Code, as updated on 15 January this year, is unequivocal:
199. Amendments to regulations:
The FIA may make such changes as it deems necessary to the regulations. Such changes will be published and will come into effect in accordance with the following provisions.
a) Safety
Changes that the FIA makes to the regulations for safety reasons may come into effect without notice or delay.
b) Technical design of the vehicle
(i) Changes to technical regulations or to Appendix J, adopted by the FIA, will be published no later than 30 June each year and come into effect no earlier than 1 January of the year following their publication, unless the FIA considers that the changes in question are likely to have a substantial impact on the technical design of the vehicle and/or the balance of performance between the cars, in which case they will come into effect no earlier than 1 January of the second year following their publication.
(ii) Changes concerning Formula One come into effect in accordance with the regulations specific to that category.
With the 2010-12 Concorde Agreement - and therefore the accepted validity of Formula 1's current sporting and technical regulations - expiring on 31 December 2012, F1 needs to have replacements approved and published by the end of this year if the sport is to comply with 199 b) (1) above, for rule changes will certainly 'have a substantial impact on the technical design of a (F1) vehicle, and/or the balance of power between the cars' for a total revamp of both the engine and chassis regulations is on the cards.
The current cars have their roots in the last major overhaul, in 1989, when turbochargers were banned and the sport reverted to multi-cylinder engine architecture. Yes, there have been major changes since, such as a blanket ban on other than V10s in 1999 (aimed at Toyota, at the time planned to take F1 by storm with a V12), reductions in capacity (ostensibly for safety reasons) and to eight cylinders (ditto...), plus (voluntary) deployment of KERS units. But, in essence, engine regulations have remained much the same for over 20 years.
The same can be said of F1's chassis and tyre rules: although refinements were introduced here or there, nothing much changed save for a crazy (reversed) dip into grooved tyres, regularly clipped wings and additions of ever more crash zones and safety padding.
But, fundamentally the 90-degree V8-powered Lotus T128 expected to hit test tracks in the first week of February 2011 should sound little different to the 90-degree V8-powered T102B raced by Johnny Herbert two decades ago, save for livery and 18-inch (width) rear tyres in place of current 15-inch width, 13-inch rim diameter dimensions, introduced in 1993 - and retained ever since.
One seriously wonders what F1 teams have spent billions on since, but, sarcasm aside, that statement makes it blindingly obvious that F1 is far from being the technological marvel it constantly projects itself as. However, in mitigation, since that major dimensional change to the tyre regulations - coincidentally (or not) introduced the year ex-president Max Mosley assumed overall control of the FIA - the sport had been totally consumed by political and commercial battles, which ceased only when the 2010-2012 Concorde Agreement was signed a month or two ahead of his departure from FIA corridors...
However, against that background and with the statutory notice period rapidly approaching, time for technical change is long overdue, for, as pointed out here matters reached the stage where the tyres fitted to Bridgestone's transporters - sadly to be locked away after next weekend - have lower sidewall aspect ratios than the F1 products they convey. Ditto engines and transmissions: MPVs carting F1 personnel to and from circuits arguably do so via more advanced power units than those fitted to the cars they fettle.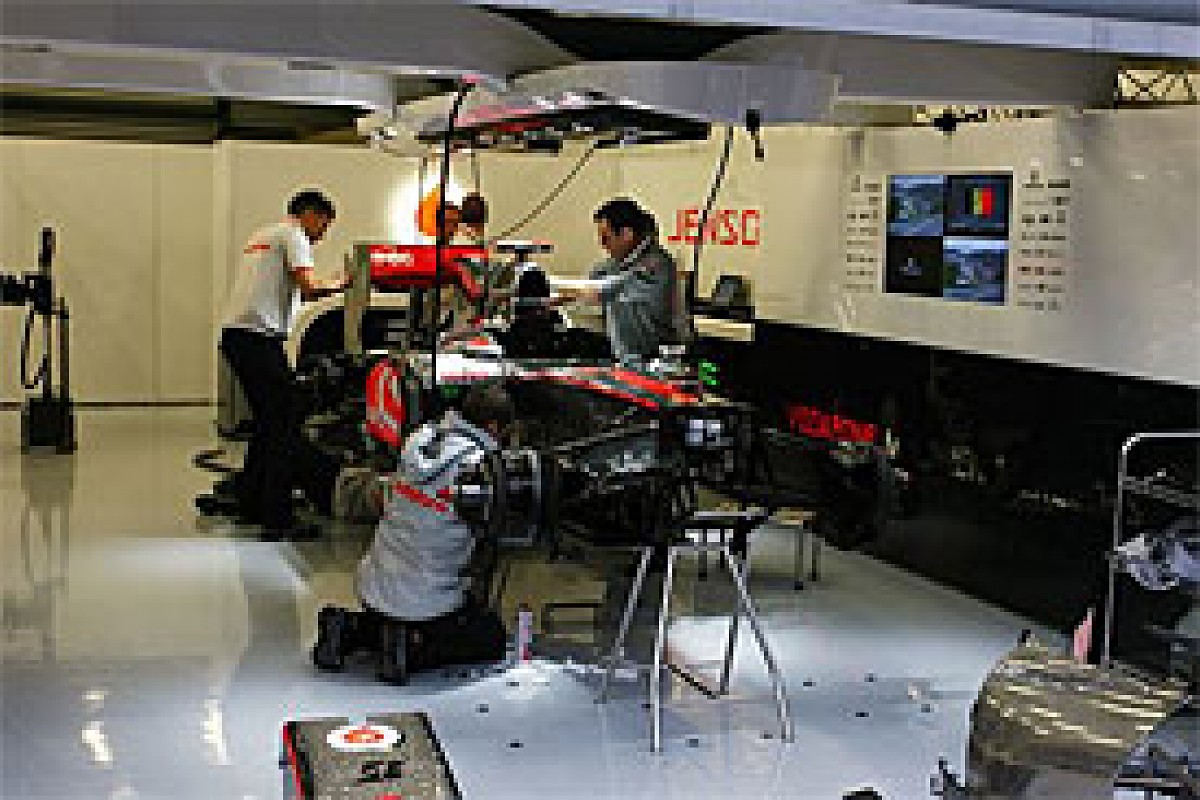 McLaren work on its car © Sutton
In this day and age, with car manufacturers spending hundreds of millions on environmentally friendly power trains, the very concept of gas-guzzling V8s screaming to 18,000 rpm and transmitting power through archaic transmissions does the sport few favours, particularly amongst the champagne-quaffing brigade, life members of which invariably sign the cheques which keep F1 in business.
Yes, when viewed in perspective the carbon footprint of F1 is negligible, but perception is all, and if F1 hopes to be accepted as a relevant 21st Century pastime, then it needs to polish itself with every bit of spit available to it.
The road-car relevance of present technologies equals the square root of zero, and this arguably was a major factor in the exits of Honda, BMW and Toyota - all of whom spent millions developing hybrid units which were not only technically inferior to their production car equivalents, but added so much mass whilst providing only brief bursts of power that any increase in power was negated.
Thus the FIA late last year appointed ex-Peugeot/Ferrari engine boffin Gilles Simon, who worked with current FIA president Jean Todt during his championship-winning tenure with the Italian team (and Peugeot's 1993 Le Mans 1-2-3), to investigate greener technologies for, primarily, F1.
For the past few months surreptitious meetings have been held under the auspices of a working group set up to frame the 2013-onwards engine regulations. In addition to chairman Simon, the group consists of representatives from all current F1 engine manufacturers (Mercedes, Ferrari, Renault, Cosworth), plus other interested parties, with a source in the loop disclosing the Volkswagen/Audi group has shown an increasingly active interest, while one or two others had 'dipped' in and out.
Pushed for details on VW, the source would say only that the representative came from the Audi wing, but that the Four Rings may not be the preferred brand should VAG enter the sport, as one or other of the group's more exotic brands, such as Lamborghini or Bugatti, could well fly the flag for the group to provide a 'halo' effect.
Crucially, Japanese companies had, he continued, expressed no interest in returning to/entering the sport despite that country's motor industry having perked up considerably since Honda and Toyota fled the F1 scene and Subaru and Suzuki withdrew from the World Rally Championship.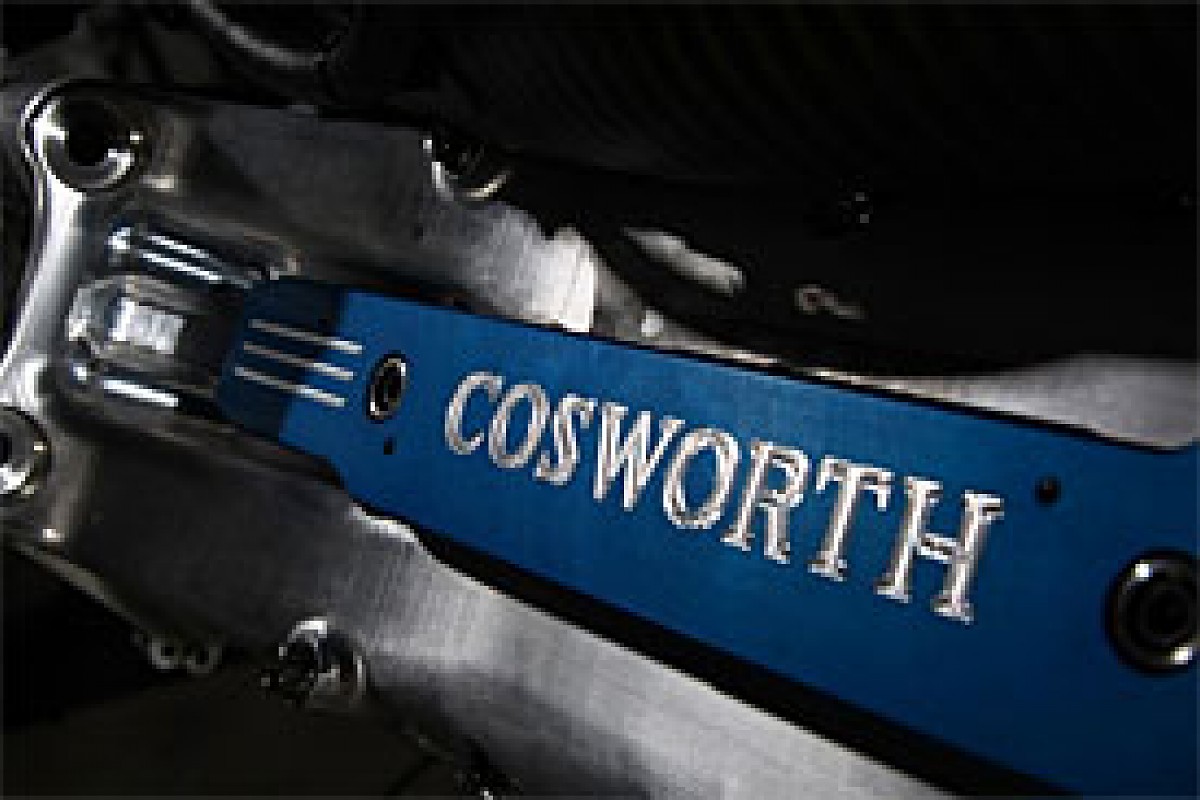 Cosworth engine
According to our source, what has been kicked about for refinement is a set of regulations stipulating relatively crude 1600cc four-cylinder engines using the FIA's Universal Motorsport ('World' - as first disclosed here) Engine as base, but fitted with various advanced technologies such as twin turbos running to 3+ bar boost and a 'big, big KERS unit producing huge dollops of power' - apparently 150 bhp for 30 seconds or so, rather than the present 80 bhp for six.
The aim is for 650 bhp (overall) at around 10,000 rpm, with the units driving through hi-tech, automated manual (DSG-type) twin-clutch transaxles designed to perfectly complement the characteristics of said power units. To appease the 'greens', a type of bio-fuel will be specified - diesels were considered, but apparently rejected on environmental grounds (think soot) - with fuel flow controlled via flow meters to ensure optimised economy and emissions.
Rather than talking of engines and gearboxes and axles, the working group refers to 'power train' ... which in turn provides a clearer picture of where the matter is heading, for total integration of the various components will be the key to the optimised package the WG is aiming for. Prices for a season's supply of units will be capped to make them affordable for independents; allegedly a maximum of five power trains may be used by each driver per season to further contain costs.
In order to underscore (and promote) the use of hybrid technology, cars will be required to travel the length of the pit lane under KERS power. This, should, though, set alarm bells pealing, for can there be a greater turn off for fans than the sight of F1 machinery whispering its way down the pitlane? Imagine paying $4000 for a Paddock Club pass and hearing only 'whooosh' below you...
Equally there are other concerns, such as the costs of such units, for while they may be subsidised, there are fears that manufacturers may well consider the overall costs prohibitive - KERS development alone could run to tens of millions per annum - enough to exit F1, while the independents are concerned at having been excluded from the working group. Yes, the Lotus, Virgin, Force India and even championship leaders Red Bull are not engine suppliers; surely, though, they should be consulted.
There are also concerns about the soundtracks of four cylinder units running to just 10,000 rpm - chosen in order to be more road relevant, improve efficiency as a result of lower friction losses and increase durability, thus reducing costs: visitors to 2010 European grands prix have, rather unfortunately, been exposed to the woeful noises produced by GP3 cars, which are, particularly on overrun, reminiscent of water-pumping stationary diesel engines.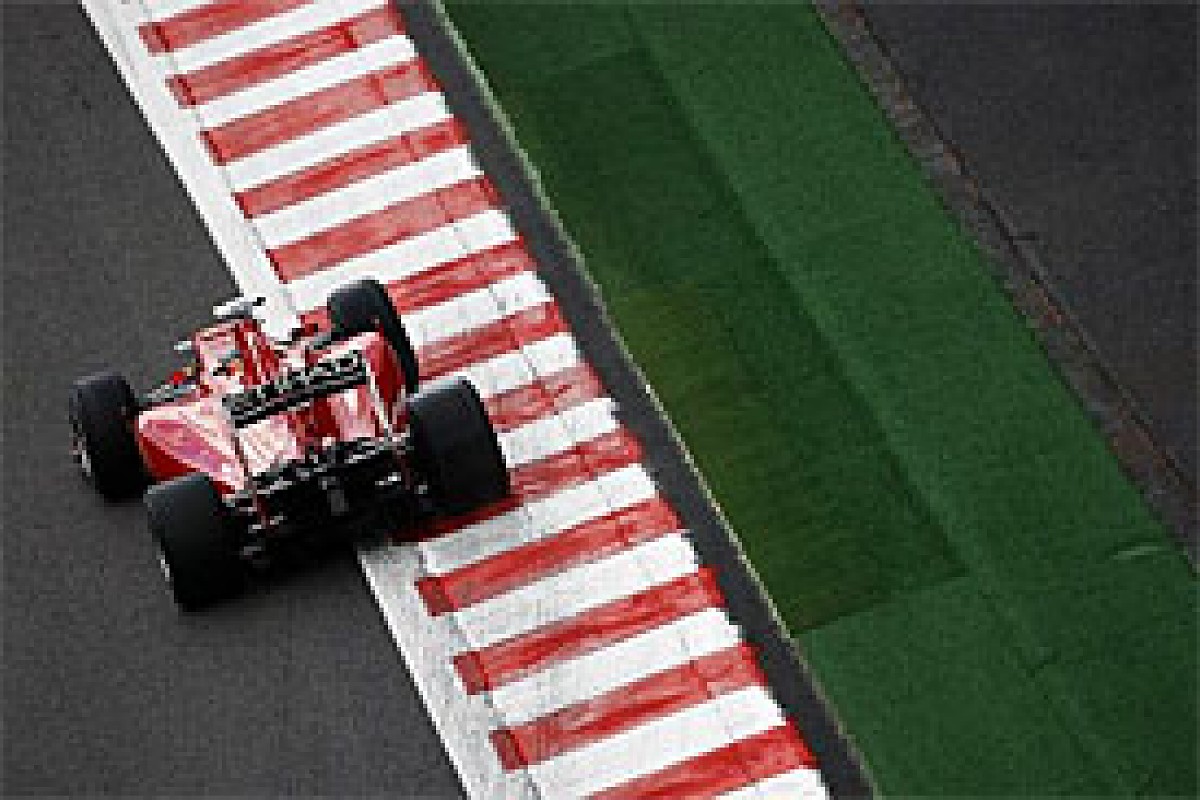 Ferrari's Fernando Alonso © Sutton
The working group has a duty to capture the very essence of F1 - noise, speed, power, spectacle - and one wonders whether the four-bangers will achieve that, regardless of the sophistication of their peripherals.
There are, though, fewer such qualms about the 2013-onwards chassis regulations, for the good news is that full ground effects are under consideration (as advocated for years by aerodynamicists on account of the 'sticktion' provided by the concept without the overtaking difficulties created by the vortices of wings and diffusers), while active, moveable aerodynamics is also envisaged. In addition, vastly improved crash structures and padding are on the agenda, as are increased strength wheel retaining devices.
Although not confirmed by the FIA, two sources confided in Belgium that former Ferrari chief designer Rory Byrne (who, of course, worked closely with Todt during those halcyon record-setting Ferrari years) heads up the Chassis WG, with the semi-retired South African gaining the support of Williams's engineering director Patrick Head, whose ground-effects cars were, in the 80s, the class of the grid.
Finally, on the tyre front, talk is of 16/18-inch diameter rims, which would, in turn, facilitate aspect ratios of 35/45, more in keeping with modern trends while facilitating bigger brakes. In fact, so effective would the larger brakes be - particularly given the braking effect of powerful KERS motor/generators and active aero, plus the anticipated lower top speeds of the four-banger cars - that cast iron rotors are under consideration in place of carbon discs, with resulting longer braking zones facilitating increased overtaking. At least, that is what our source hinted at...
The two working groups have effectively been presented with clean sheets of paper, and thus have carte blanche to propel F1 into the 21st Century. Will they grasp it? Will they manage to do so cost-effectively and, crucially, timeously?
The biggest threat to their creativity is that failure to produce a set of workable regulations could well result in legal action being brought against the FIA by prospects intending to enter F1 in 2013, but unable to do so on account of regulations being published late - against which the FIA would have little defence, for the body itself framed Art. 199.
Hopefully, the WGs will not be forced to rush through regulations simply to make the cut; equally, time is already tight if power trains and chassis are to be optimised. The next four months are absolutely critical to the future of F1 - and that reckons without disruptions caused by parallel Concorde negotiations...