There was a back-to-school feeling in the Formula 1 paddock at Spa on Thursday. After a three-week break, most were delighted to have been able to put their days of leisure/holiday/DIY behind them and get on with the real business of deciding the 2010 F1 world championship.
But, Spa being Spa, storm clouds were gathering both literally and metaphorically. Who expected anything else?
So the season restarted as it had finished in Hungary a few weeks ago, with flexi-wings high on the agenda. As AUTOSPORT revealed yesterday morning, on top of the more stringent front wing deflection test that will be available at Spa, further measures will be taken at Monza. This time, the FIA will target the 'tea tray' section, which in Red Bull's case should be ploughing a few millimetres under the ground given the height of the front wing, yet strangely isn't.
This has given McLaren, which languished a monumental 1.7 seconds off the pace at the Hungaroring, reason to be bullish.
Unlike Red Bull and Ferrari, there's relatively little flexi-trickery in the silver corner and it's no surprise that McLaren, along with Mercedes, has been at the forefront of objections to such designs. It seems that this is mostly founded in the 'if you can't join them, ban them' principle as they are among the teams who have yet to work out exactly how Red Bull and Ferrari are achieving this without straying into the realm of illegality.
Jenson Button, whose title chances have taken a hit in recent races as Mclaren has struggled, is certainly hopeful that the changes will play into his hands.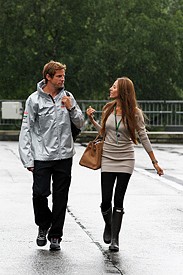 Jenson Button arrives at Spa © Sutton
"From what I've seen, the Ferraris and the Red Bulls might be pegged back a bit in terms of pace because of changes in the regulations," said the world champion.
He later added a disclaimer to the effect that the views expressed by Jenson Button are not necessarily those of McLaren Group, saying that if the flexi test changes didn't hold back Red Bull and Ferrari "I'd be amazed - it flexes quite a lot. That's just my feeling, it's not the team's view, it's just my view."
And, I'll wager, the very well-educated view of most at Woking.
Not that McLaren didn't already have reason to be bullish. Spa is not a Red Bull track, giving reason not to regard a 12th pole position from 13 attempts in 2010 as a foregone conclusion. Then again, it was a similar story at Valencia where Sebastian Vettel and Mark Webber locked out the front row. Nonetheless, Spa is a whole different order of challenge than Valencia, with the long drag up through Eau Rouge and Raidillon and then the epic Kemmel Straight putting a further premium on top speed.
Talking of Eau Rouge, as ever at Spa it was a topic of conversation. Since the start of the 2.4-litre engine era, drivers have generally moaned about the challenge of the ultra-fast mini-hillclimb being emasculated.
This year, the ban on refuelling has at least given reason to hope that one of F1's iconic corners will once again return to the challenging category.
Opinion was divided, but several top guns, including Button and Rubens Barrichello - this weekend celebrating his 300th grand prix qualified for (all things being equal) - expect it to be a little more tricky with 140kg of fuel aboard.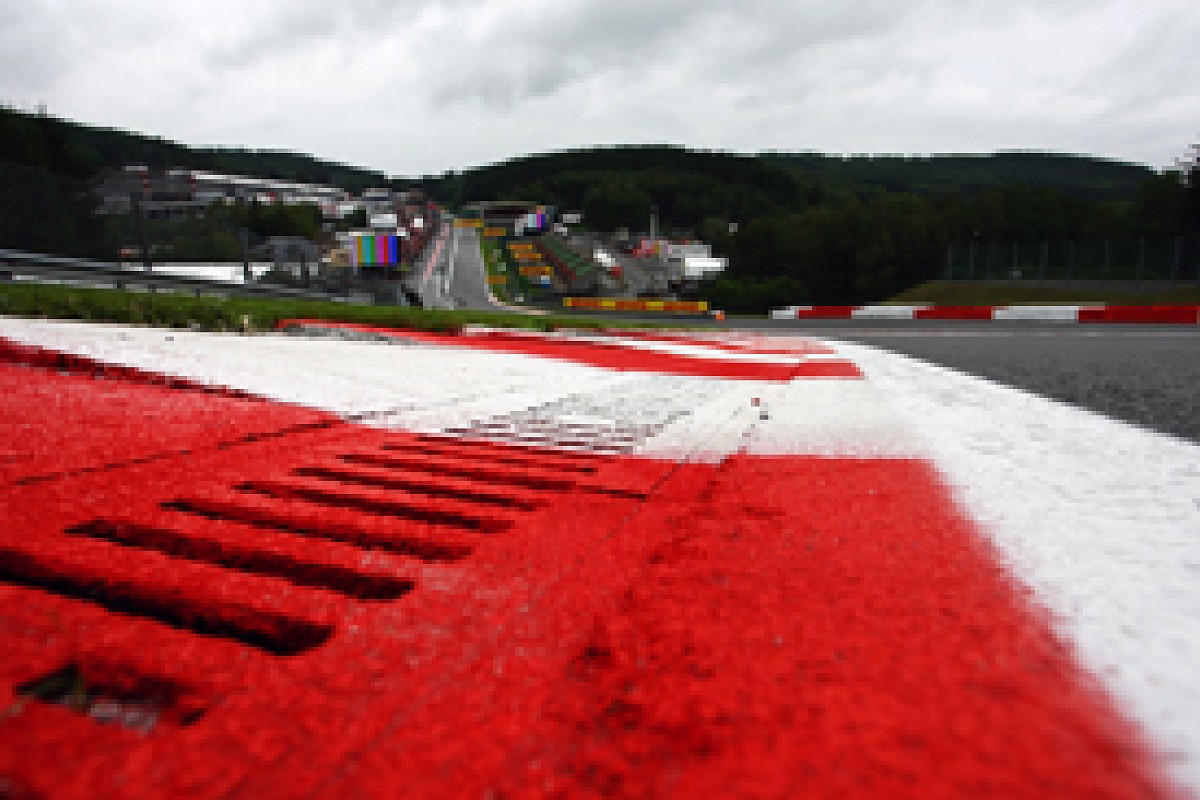 The view down Eau Rouge © Sutton
What is commonly known as Eau Rouge (also taking in Raidillon at the top of the hill) is Spa's trademark and it remains cited by many as an example of what racetracks should be in their natural state. It's an honourable sentiment, but one that overlooks the fact that it was not part of the track's original configuration.
From 1922, when the circuit was opened, through to the eve of the Second World War, this section of track featured an unpopular and slow hairpin that was completely out of character with the rest of the super-fast track. The solution was simple, and a new section was inserted with the aim of boosting the lap speed. Save for the distasteful chicane that appeared in 1994, it has remained there for grand prix racing ever since.
And for those who have never been to Spa, who have never got lost on the back roads of the Ardennes, who have never cursed as another deluge soaks them, you have got to see Eau Rouge to believe it. If you've only ever seen it in photographs and on television, it's 10 times as steep and spectacular as you image it.
That's the thing about true majesty, it only reveals itself in the flesh. And Eau Rouge, like the rest of Spa, remains a thing of beauty in modern grand prix racing.