10. Great Britain 2008: I'm still here
The 2008 Honda was marginally better than the Brackley team's 2007 effort, but it was still dreadful. Barrichello hadn't had a sniff of a podium since the farcical 2005 United States Grand Prix, and had scored just five points since the start of the previous season. Memories are short in F1, and despite everyone knowing just how terrible the machinery at his disposal was, many had forgotten what Barrichello was capable of.
With rain intensifying, he bolted on full-blown wet rubber and found himself in second place behind runaway leader Lewis Hamilton. He came home third after a fuel rig problem at his final pit-stop allowed Nick Heidfeld to slip past, but the Brazilian had made his point. He was still very much in F1.
9. Hungary 2010: Life in the old dog yet
You're 38, the safety car has ruined what might have proved to be a very clever strategy, the best you can do is tenth place and Michael Schumacher is trying to put you into the pit-wall at speeds approaching 200mph. What do you do? Most would lift, but not Barrichello. He kept his foot in, squeezed through the narrowest of narrowing gaps, flung his car into the pit-lane exit and completed the move.
It earned him just one point, but it was worth far more than that, proving in a stroke that he still has the steel to cut it at the front in F1 and laying to rest a few Schumacher-related daemons from his past.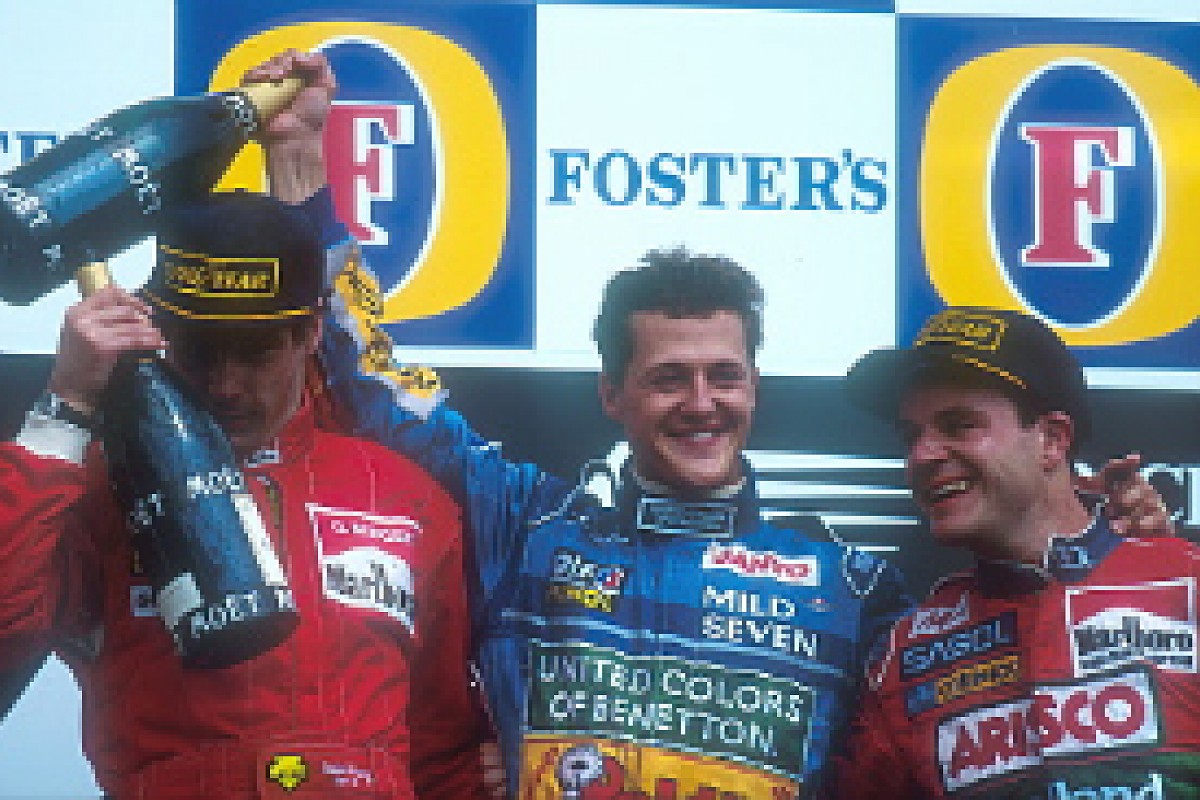 Barrichello with Michael Schumacher and Gerhard Berger, Aida 1994 © LAT
8. Pacific 1994: Podium bow
Barrichello didn't have the equipment to excel during his maiden grand prix season with Jordan in 1993, with a fifth place in the Japanese Grand Prix the sole points finish. It was a different story in 1994, when the Silverstone-based team produced a very tidy car capable of finishing in the top six regularly.
Having qualified eighth, he avoided the first corner crash that removed, among others, Ayrton Senna to run fifth. The retirements of Damon Hill and Mika Hakkinen clearedthe way to the podium and for the first time the F1 world got to see Barrichello's gyratory antics on the rostrum.
7. France 2004: Last-gasp podium
While team-mate Michael Schumacher won for Ferrari with an unorthodox four-stop strategy, Barrichello looked to have missed out on joining him on the podium. On the last lap, he was pressuring Renault's Jarno Trulli, but having been unable to make a move at the hairpin all seemed lost.
Heading towards the final right-hander before the right-left flick leading to the chequered flag, he got a run on the Renault and managed to squeeze his nose up the inside before the braking zone. He had prised open the door and robbed Trulli of third place with seconds to go. Check it out on YouTube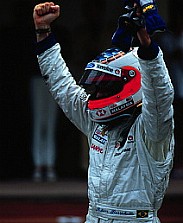 Rubens Barrichello, Monaco 1997 © LAT
6. Monaco 1997: Shock podium
Barrichello has never won the Monaco Grand Prix, but the first of his five podiums in the principality behind the wheel of a Stewart-Ford in 1997 was as good as a victory. Circumstances certainly played into his hands, not least running Bridgestone wets that offered better grip than the Goodyears and the fact that only two of the nine drivers ahead of him on the grid made the finish.
But there were significant forces working against Barrichello, not least driving for the new Stewart team which had failed to have a car running at the chequered flag in its first four grands prix. Third-fastest race lap showed that it was no fluke, even though it would be a year before the team scored points again.
5. Europe 2009: Back to winning ways
His last win had come for Ferrari in China back in 2004, and few reckoned that he still had victories in him after team-mate Jenson Button took his Brawn to six wins in the first seven races of the season. But boosted by a change of braking system that made the car better suited to his style, Barrichello took arguably his best win on the streets of Valencia.
He started behind the McLarens of Lewis Hamilton and Heikki Kovalainen, jumping the Finn at his first round of pit-stops. He knew that he had an extra three laps of fuel over Hamilton, and was determined to make it count. Confusion over which driver was coming in next meant that Hamilton had a long stop, but had things gone smoothly Barrichello still had the speed to jump ahead. Five winless years were ended with a little-recognised, but masterful, drive.
4. France 1999: Pole for Stewart
Barrichello's first pole position had come five years earlier when he put in a good lap in wet, but improving, conditions at Spa for Jordan. At Magny-Cours, now driving for Stewart, Barrichello put in a great lap early in the session in light rain that he knew would be good enough for pole once the downpour came after 15 minutes.
He was one of only four drivers to head out at the start of the session, but in case you think that it was purely down to hitting the track early, bear in mind that one of those who joined him at the start of the session was Jean Alesi, a top class performer in tricky conditions.
Impressively, Barrichello led the first five laps before being passed by McLaren's David Coulthard and went on to finish third.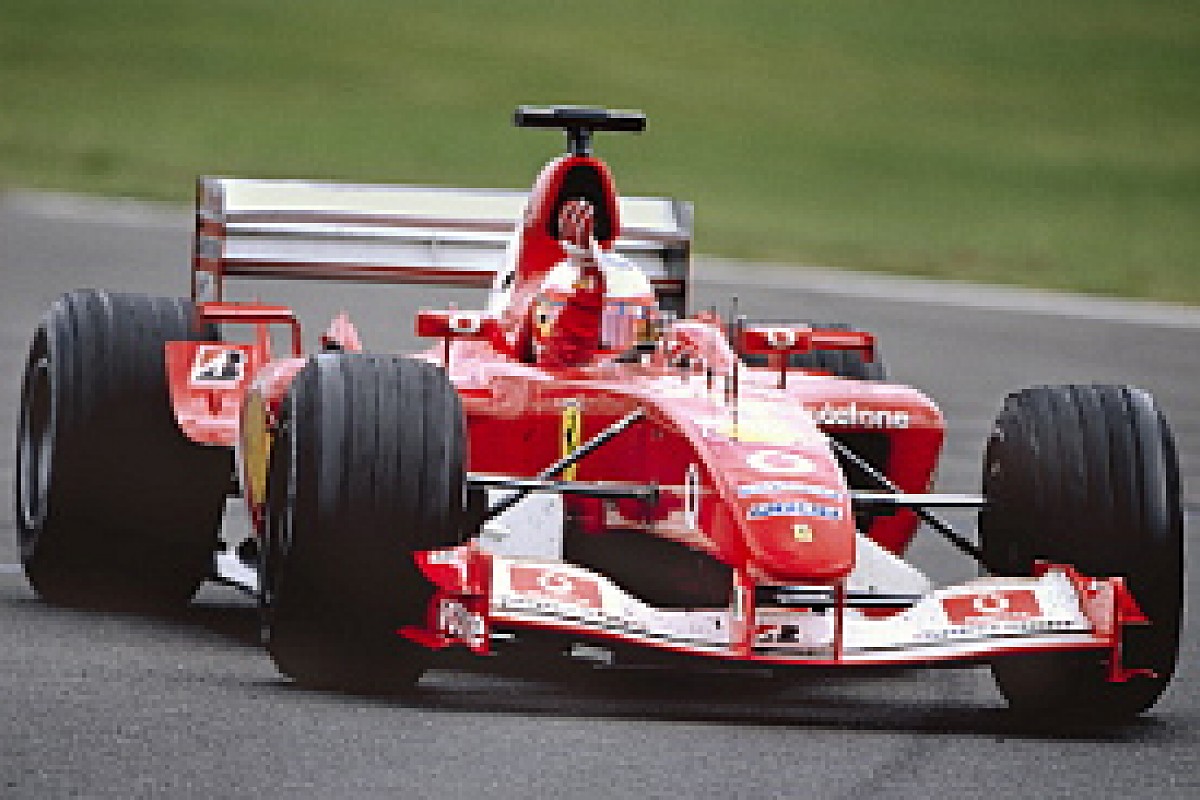 Rubens Barrichello, Silverstone 2003 © LAT
3. Great Britain 2003: Starring at Silverstone
Barrichello has always been something of a Silverstone specialist, and in 2003 he proved it beyond any doubt by defeating Ferrari team-mate Michael Schumacher on merit.
Going against Ferrari's tyre choice suggestions, the Brazilian put his Ferrari on pole position, four places ahead of Schumacher.
Despite slipping behind Jarno Trulli and Kimi Raikkonen at the start, and a track invasion, it was always going to be Barrichello's race and he duly bagged his sixth grand prix win.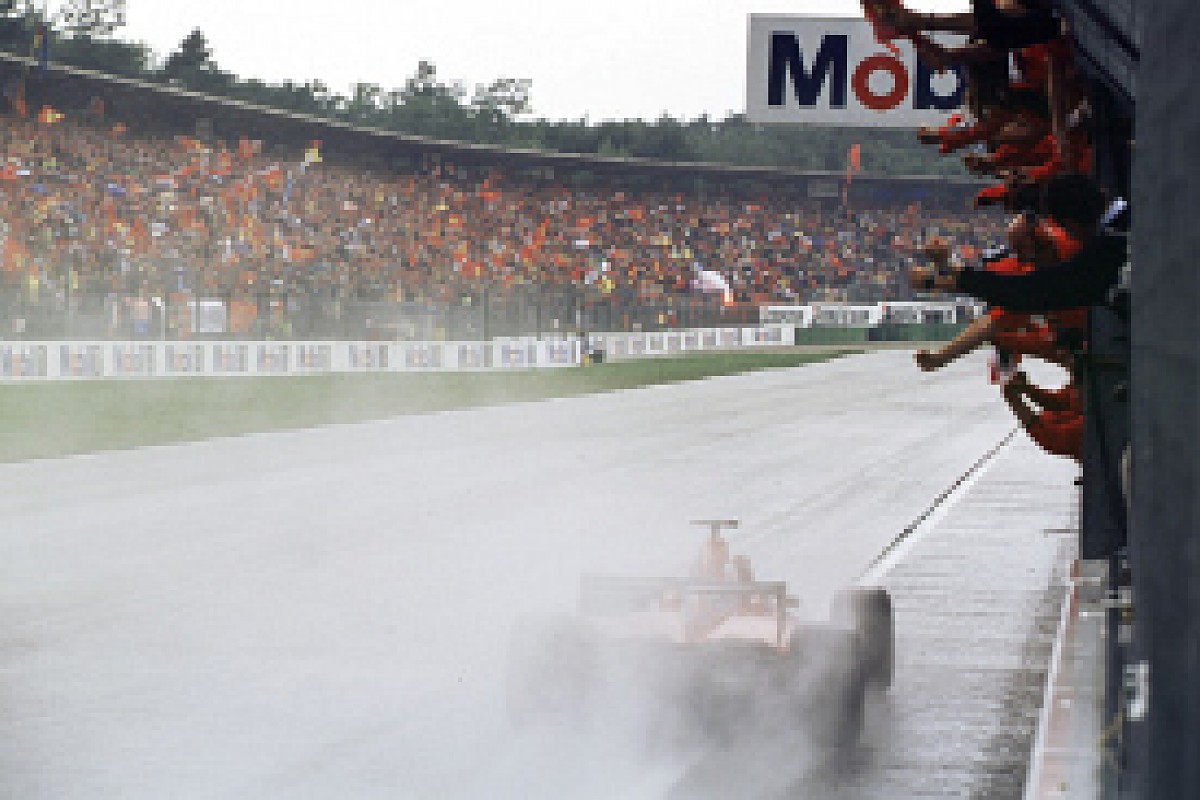 Rubens Barrichello, Hockenheim 2000 © LAT
2. Germany 2000: Breaking his duck
When an electrical problem forced him to park his Ferrari before completing a flying lap in qualifying at Hockenheim, things looked bleak for Barrichello. He later hit the track in the patched-up chassis crashed by team-mate Michael Schumacher in practice, but rain meant that his time would only be good enough for 18th. That maiden victory would surely have to wait.
He climbed to third before his first pitstop and flew on dry tyres in the wet, but Mika Hakkinen was uncatchable. Until, that is, a disgruntled ex-Mercedes employee wandered onto the track and triggered a well-timed safety car. Barrichello claimed his first win in his eighth season of F1, a victory that, for all his luck, was built largely on some stunning driving in tricky conditions. Predictably, he cried on the podium.

1. Europe 1993: Arrival
On the first lap of the European Grand Prix, while Ayrton Senna wrote another chapter of his own legend, Rubens Barrichello made his first mark on Formula 1. The 20-year-old former British Formula 3 champion, in only his third start, took his Jordan-Hart from 12th to fourth on the opening lap in sodden conditions.
He ran as high as second in the chaotic race, never dropping out of the top six and was fourth, six seconds behind Alain Prost and closing, when he ran out of fuel with half a dozen laps to go. It turned out that he had been short-fuelled because supplier Sasol's fuel drums each held contained two litres less than their capacity.