In every grand prix report issue of AUTOSPORT magazine, the 24 drivers are awarded a mark out of 10 for their performance over the weekend.
It's far from an exact science, and in creating an overall driver ranking for the season it is very limited as it fails to take into consideration factors such as the driver's role in developing the car, for example, but looking at how the overall ranking reveals some interesting - and surprising - results.
First, a disclaimer. Ranking sporting performances out of 10 is as shorthand as it gets, hardly ideal for a sport as complex as grand prix racing. The logic behind the rating is simple. A driver will generally get 10 if they appear to have got the maximum out of the car and have an unblemished weekend from start to finish. Points are knocked off for underachieving in qualifying, mistakes, anything driver-influenced that you could argue compromised a weekend.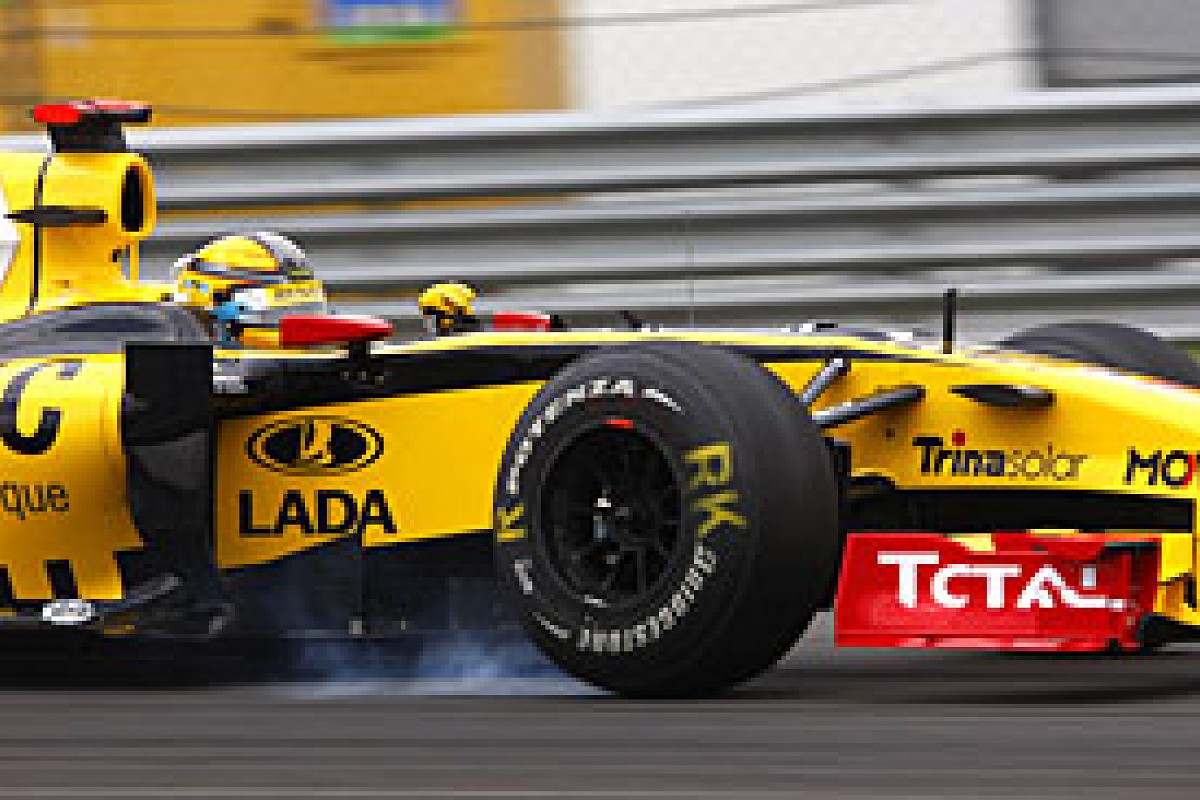 Robert Kubica, Renault, 2010 © LAT
For example, finishing sixth from the back of the grid at Monaco, as Fernando Alonso did, is pretty remarkable. But you have to consider that he was only back there in the first place because of an unnecessary chassis-wrecking shunt in practice.
On top of that, pace compared to team-mate and consistency is important, as well as those other, intangible, impressions that are created by myriad factors such as what you can see trackside. Try spending a few sessions watching Robert Kubica from a few inches away at Monaco and not being staggered.
Using the average score per race for each driver, here is how the ranking works out for the season so far. In the case of a tie on points, the ranking is decided on a 'countback' system, taking into account best individual race ratings.
Average driver ratings 2010
1 Lewis Hamilton 8.67
2 Robert Kubica 8.33
3 Mark Webber 7.75
4 Fernando Alonso 7.75
5 Nico Rosberg 7.75
6 Sebastian Vettel 7.58
7 Jenson Button 7.3
8 Rubens Barrichello 7.3
9 Adrian Sutil 7.16
10 Heikki Kovalainen 7.0
11 Pedro de la Rosa 6.83
12 Lucas di Grassi 6.83
13 Jarno Trulli 6.66
14 Karun Chandhok 6.60
15 Felipe Massa 6.42
16 Kamui Kobayashi 6.42
17 Bruno Senna 6.33
18 Timo Glock 6.33
19 Sebastien Buemi 6.25
20 Vitaly Petrov 6.16
21 Nico Hulkenberg 6.0
22 Jaime Alguersuari 5.83
23 Michael Schuamcher 5.66
24 Vitantonio Liuzzi 5.66
25 Sakon Yamamoto 4.0
Statistically speaking, the overall spread of the ratings is roughly as you would expect. It's not far off the normal distribution of a Bell Curve, with a few outstanding performers at the top, and some stragglers at the back. This also means that the middle of the spread is very tight, with drivers able to leap numerous places with just one strong performance.
Similarly, one weak performance, such as Sebastian Vettel being heavily marked down in Turkey for being the one who moved over on Webber, can make a huge difference. Without that, he would probably be ranked third.
Seeing as this is the top level of motor-racing, it is expected that there are few drivers who are in the lower range of values. A driver averaging under four is not likely to hang around for long in modern F1, so that explains why there are no drivers currently averaging below that.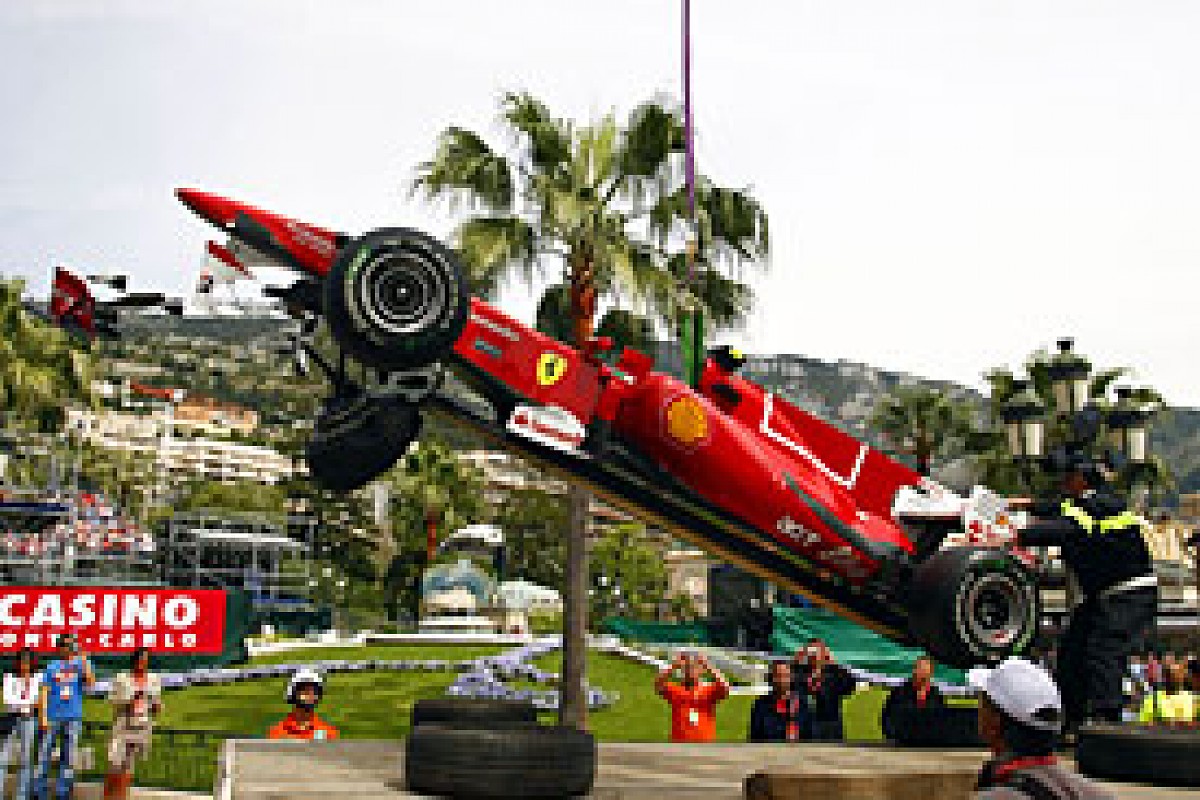 Fernando Alonso's wrecked Ferrari, Monaco, 2010 © LAT
Consistency, as ever, is vital and one tiny mistake - and it was a tiny mistake - can be costly.
So what does it tell us? Lewis Hamilton and Robert Kubica the outstanding drivers of 2010? That seems reasonable. A glance at the race-by-race ratings reveals a consistent level of performance in the 8-10 range, with both only occasionally dipping into the sevens. For example, Hamilton earned a seven at Hockenheim, largely because of a shunt in Friday practice that lost McLaren track time that it could ill-afford.
The ranking of the two Mercedes drivers grabs the attention. Judging Nico Rosberg is extremely difficult for two reasons - the inconsistency of the Mercedes and question marks over Michael Schumacher's performances. When it comes to judging whether he is able to get the maximum out of the car, it's a minefield.
After all, there are some individuals in senior positions within the team who are frustrated at not knowing whether the Merc is a mediocre midfielder that Rosberg is extracting the best out of, or whether there is more to come. As for Michael Schumacher, he's had a couple of nines, but to see him ranked so low seems almost sacrilegious.
There are a couple of other eye-catching rankings, including Heikki Kovalainen, who holds 10th place after a season during which he has rebuilt his reputation - notably by becoming the first driver ever to outqualify Jarno Trulli in the same machinery at Monaco.
On the flip side, there's also underachieving Felipe Massa. It's difficult to argue that he has managed to extract the best out of the Ferrari - especially with a lacklustre performance at the Hungaroring when the tyre allocation supposedly favoured him.
This ranking unquestionably differs from the one the would be generated without using a race-by-race rating to achieve it, but it is an interesting way of looking at driver performances.
After all, too often the adage that you are only as good as your last race is applied when ranking drivers, with early-season performances forgotten.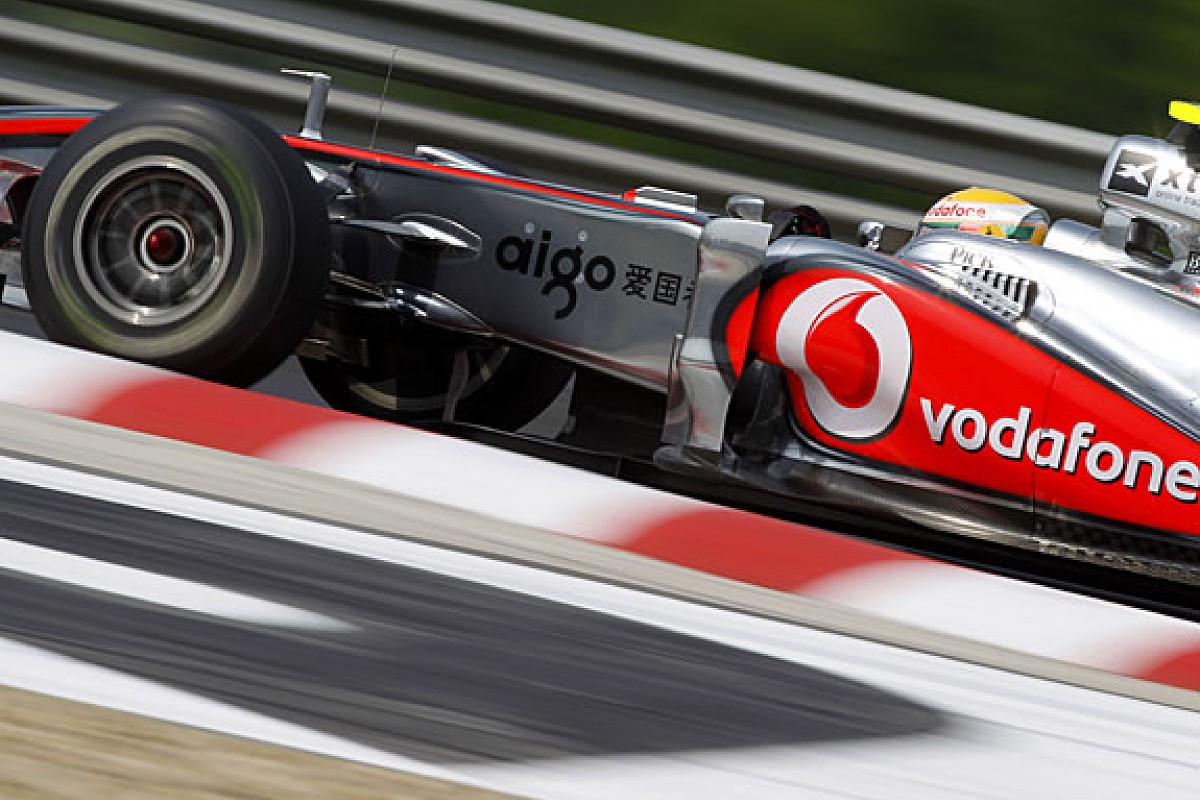 To read more opinion from AUTOSPORT's half-term report, read last week's digital edition.