Sitting virtually slap-bang centre of any Formula 1 paddock is a low-key hospitality unit so white it flanks appear to radiate a tinge of ice-blue bright enough to cause eyes to smart if stared at in bright sunshine.
Apart from this distinction - made all the more remarkable by the multi-hued paddock palaces which straddle what is in real terms two trailer units bridged by a sparse if spacious reception area - two further features set the facility apart: a ramp, and bright blue, reflective windows.
The Williams motorhome © Sutton
The ramp provides an immediate give-away, for who else in the paddock save for the wheel chair-bound Sir Francis Owen Garbatt Williams CBE requires such an aid on a regular basis? This, then, is the Williams F1 command centre, the team's base-away-from-Grove (Oxon) which quadruples as technical centre, marketing contact point, hospitality facility and offices during non-flyaway grands prix - basically all European events, plus Turkey.
It has, of late, become vogue for inhabitants of the paddock to whisper 'Tyrrell' behind shielded hands when strolling past the plainest motorhome in F1, an obvious reference to a once-great team which refused to adapt to a constantly changing sport. Williams and his merry team, accuse the doomsayers, have equally failed to keep pace, and thus face a similar fate, namely extinction.
This comparison is, though, hopelessly flawed in many respects. Although Tyrrell ran its last race in 1998, failing to score a point in that swansong (Cosworth-powered) season, the team was sold to British American Tobacco/BAR - which stripped its assets before dumping the rest - to provide an off-the-shelf team. This mutated, of course, into Honda F1 before becoming 2009 champion Brawn, now the current Mercedes GP operation.
The remnants of Tyrrell are therefore far from extinct even if the team run by Ken Tyrrell did, indeed, lose its way towards the end of the founder's life, not least because he refused to release his iron grip on the organisation he took into F1 in 1968.
However, the end of that year saw a youthful Frank Williams purchase a Brabham BT26 under the pretext of running the Tasman Series (for 2,5 litre cars) with Piers Courage. Once owned and the Antipodean series over, the car was converted to three-litre specification to bring it to the prevailing F1 capacity limit, and the 1969 championship entered. The rest is, as they say, history - although tragedy was first to mix with sweat, tears and heartbreak before the record books could be rewritten.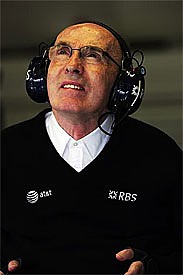 Frank Williams © Sutton
Williams's record since 1977 - when Frank Williams and technical director Patrick Head formed the company that exists today after the former honed his skills in the School of Hard Financial Knocks - is as illustrious as it is illuminating, for over the years the team scored nine constructors' world championships and seven drivers' titles.
A fantastic record it is in any book, but made all the more noteworthy on account of the ratio between team and drivers' titles. To Williams and Head, archetypical racers both, the team's accolade has always been paramount, not the consolation prize it is to others.
Contrast Williams's ratio with that of McLaren, which prides itself on engineering integrity and a team ethos - eight constructors' titles versus 12 drivers - or Ferrari's (16 and 15 respectively), although, to be fair on the Scuderia, which first contested F1's inaugural 1950 world championship season, the constructors' award was instituted in 1958. Williams' last championships came in 1997 - just a year before McLaren's last constructors' title - when the team took drivers' and team honours via Jacques Villeneuve and Renault power.
After a few fallow seasons with customer Renault units, Williams acquired BMW as partner/engine supplier. Although the BMW.WilliamsF1 operation contrived (occasionally succeeding) to make life difficult for the Ferrari-red Michael Schumacher/Jean Todt/Ross Brawn/Rory Byrne automaton, the team's last grand prix victory came in 2004 in Brazil through the skills of Juan Pablo Montoya.
Thereafter, team and engine company prepared for the split, with the latter purchasing Sauber after Williams and Head refused to sell, only to last year withdraw totally.
At the time of the split many prophesied the end of Williams (the team) - the 'Tyrrell' whispers started about then - particularly after Cosworths were bolted in the back of the FW28 followed by Toyota V8s which hardly set the world of F1 alight for two years.
Williams, though, is still out and about in 2010, as Rubens Barrichello proved so dramatically in Hungary a fortnight ago when a desperate Michael Schumacher attempted to squeeze the Brazilian with his Mercedes.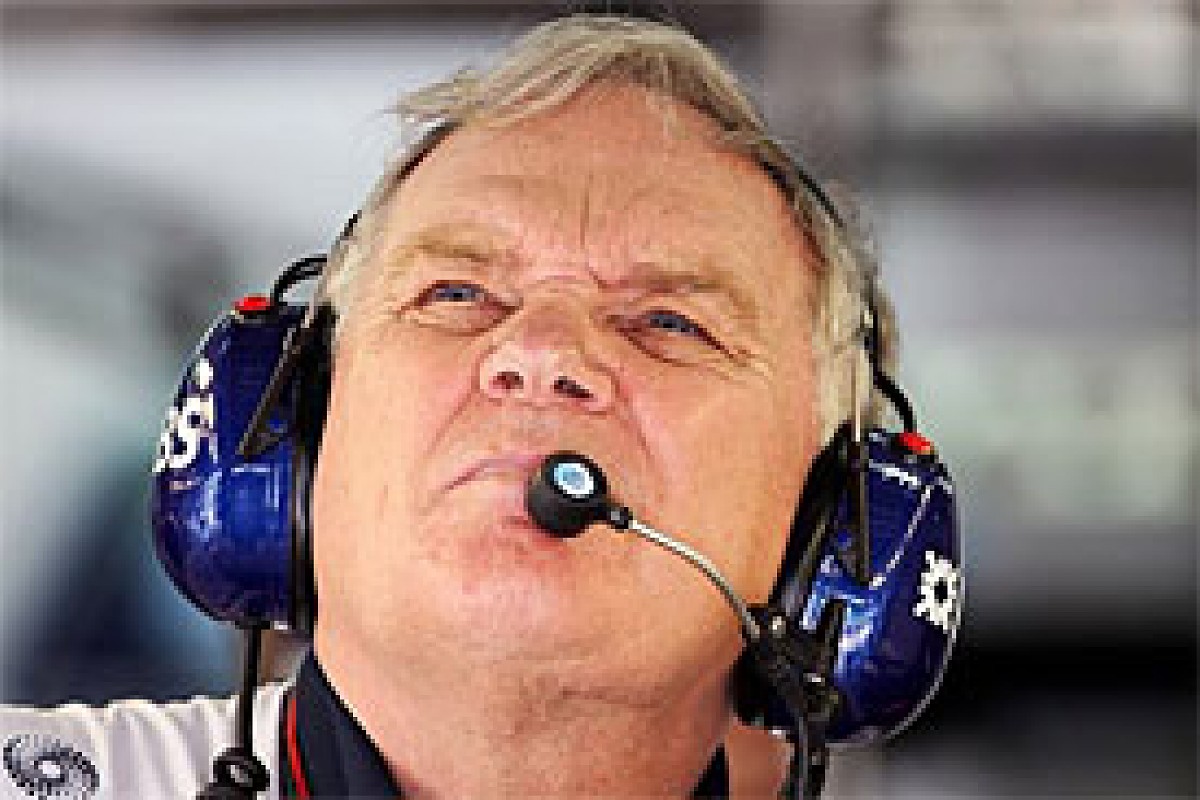 Patrick Head © Sutton
Which brings us neatly to the point, for this season has proven the team, unlike Tyrrell in its twilight years, very much has a future, with both the experienced Barrichello and rookie Nico Hulkenberg regularly making the Q3 cut before scoring valuable points despite the handicap of returning to paid-for, customer Cosworth engines. By their nature these are not a on a par with customer units supplied by Mercedes to McLaren/Force India, or those provided by Ferrari to Sauber and Toro Rosso.
The FW32 is a neat bit of kit, but a good car pedalled by the most experienced driver on the grid and ably supported by the reigning GP2 champion, do not alone for good results make, and it is clear Williams is on an upward trend after a major change in philosophy at the very top.
Where once Williams and Head ruled the company absolutely, with not even the teams' gifted then-chief designer Adrian Newey (1990-1998, during which period Williams won no less than 58 grands prix, and four drivers' and five constructors' titles) able to much influence policy, a gradual shift resulted in a situation where today Williams F1 has no less than seven board members and three shareholders.
The company structure, too, changed after Williams acquired Williams Hybrid Power Limited and established the Williams Technology Centre in Qatar. Williams originally purchased 40% of magnetically-loaded composite flywheel manufacturer Automotive Hybrid Power, then recently increased its shareholding to 78%, while WTC, based in the Gulf state's Science and Technology Park, plans to monetise technologies originating in F1 for applications in the greater automotive and other industries. Does this sound like a company on its back foot?
The first major change came in 2002 with the appointment of Alex Burns from the aerospace industry, originally as general manager before promotion to chief operating officer in 2005, while a year previously Sam Michael, chief operations engineer between 2001 and 2004, was appointed (non-equity holding) Technical Director to complement the tasks of Patrick Head.
However, it took the appointment in May 2006 of admitted barrister and corporate hotshot Adam Parr - whose CV lists senior positions with blue chips in countries as diverse as Japan and South Africa - as chief executive officer to really put the company, which now employs close to 600 people despite the pending arrival of F1's Resource Restriction Agreement, on a sound management footing.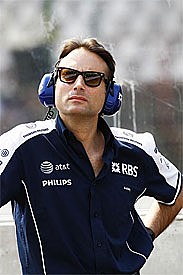 Adam Parr © Sutton
Parr (45), a graduate of Eton and Cambridge University, who has experience in international investment companies and mining operations, initially met Williams through mutual friends in 2000 whilst working in Australia, and from that day on the company founder was determined to get Parr on board. And, generally what Williams wants, Williams gets ... even if the next race win or world title is taking slightly longer than envisaged.
Virtually to the day four years after the 2006 appointment, Williams announced the promotion of Adam to chairman, saying "(Since joining Williams in 2006) He has taken the lead in putting the team on a stronger financial footing, developing new businesses and building our social responsibility programme. These initiatives have seen us partnering with such outstanding organisations as Porsche and Cambridge University Press respectively in hybrid technology and education. I have asked him to step up to chairman in my place to give him both the responsibility and authority to ensure the good running of all aspects of the team and company."
Williams, though, remains, in Parr's words, "controlling shareholder and team principal, and he will always be the name, the face and the inspiration of this team".
Given Parr's background and international reputation it is a sure bet he would have considered all the implications of accepting such a responsible high profile position. Concurrently Burns, a qualified aerospace engineer, stepped up to the position of CEO with direct responsibility for manufacturing and peripheral activities, including WHP and WTC.
The move was highly significant, for thus far Williams, with 70% of Williams stock, and Head (30%) had resisted all overtures, and although they refuse to divulge Wolff's shareholding, it is believed the Austrian, who has to date invested in, literally, hundreds of companies across the globe, including HWA (which runs the DTM series and Mercedes' efforts in the German championship), holds ten percent, made of seven acquired from Williams and the balance from engineering director Head.
The deal was massaged by Colin Kolles, a close friend of Wolff's and a "man of whom Frank thinks very highly," according to a team source, and it was Kolles, who, too, set in motion the WHP/Porsche partnership, which sees the German sports car manufacturer racing with hybrid power this year.
When interviewed in Germany a month ago. Wolff, who lives with partner and DTM racer Suzy Stoddart on the shores of Lake Constance in Switzerland, was filled with admiration for both Williams the man and his company, saying he had sent in a team of analysts to go through every aspect of the operation. "hen one single alarm bell goes off I walk away,' he said of previous experiences, "and the fact that I am here in the Williams hospitality talking to you tells you there was absolutely nothing to be alarmed about."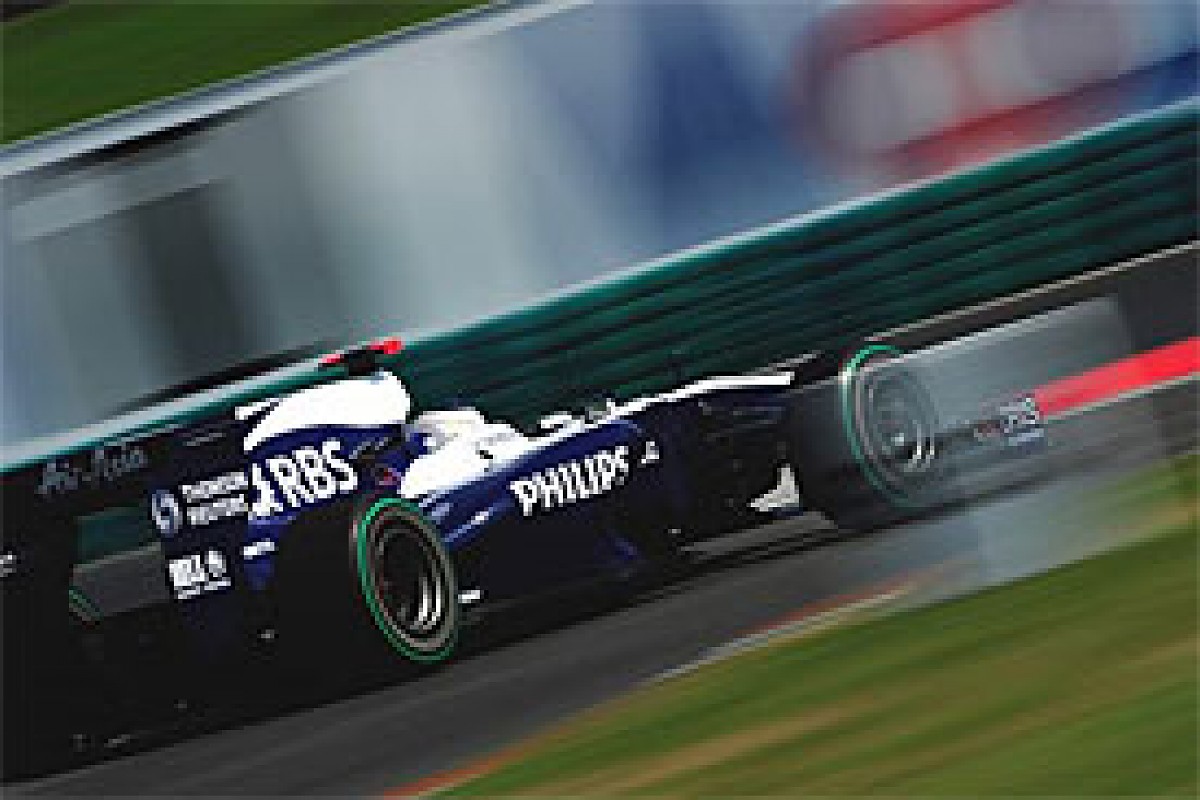 Williams is improving on track © Sutton
Wolff, too, declined to discuss his shareholding, saying only he holds options to purchase additional stock at certain times triggered by certain events, and "to divulge now what I have bought would be confusing because it could change at any time."
He did, though, concede the information would be public knowledge when Williams filed its latest company accounts with the British authorities...
Thus, unlike Tyrrell, Williams has moved with the times, not only making high-powered appointments, but also taking in outside investment bringing with it financial clout and international contacts to assist the team in attracting further investors and partners. Already there is talk of Williams helping Opel with a DTM project (remember the Williams/Renault touring car project or BMW's Le Mans-winning programme, which was effectively Williams run?), while Wolff is sure to persuade companies in his investment portfolios to consider investments in the blue/white team.
Most impressive, though, is the board's diversity: Williams and Head, as true racers, bring that instinct to bear; Parr, who freely confesses to having no interest in F1 prior to meeting Williams, is well versed in cosmopolitan matters after living on five continents and having a French wife; Alex Burns mixes passion for engineering with strong business sense, Sam Michael, an engineer from the Australian school, derives enormous stimulation from racing; Wolff, who was pleasantly surprised at how easily he slotted into this oh-so British company, considers himself "an optimistic pessimist with a passion for motorsport", while legal counsel Mark Biddle, who, believe it or not, experienced his first GP a year ago, draws on a strong financial background in addition to having been the RAC's in-house lawyer.
Thus, let there be no doubt that Williams, which exists purely to race, is in F1 for the long haul - as befits a team founded by the sport's only surviving team principal of old.