Michael and Rubens. It was difficult weekends that brought them together.
Schumacher was in all sorts of trouble with the Mercedes. He lined up 14th on the Hungaroring grid, 2.2s from the Red Bull pace in Q2 and eight slots behind team-mate Nico Rosberg.
The gap to Nico had been 0.015 seconds in the first free practice and Michael had actually been a couple of tenths quicker in FP2, when they ran different programmes. But the gap to Red Bull had still been 1.7s and Schumacher did not like the feel of the car. He made wholesale changes overnight. Not small things. Not what you'd call fine-tuning. Things like weight distribution and roll centres as he opted for a softer car.
Schumacher struggled in Hungary © LAT
But he'd gone the wrong way. In FP3 on Saturday morning he couldn't get within half a second of Rosberg. In Q1 the margin between them was out to 0.63s, then in Q2, which of course Michael didn't survive, it was a whopping 0.82s.
Ross Brawn could not truly explain why, at some races, Schumacher got the better of Rosberg while at others he was miles away and, the further into his comeback he goes, doesn't seem to be getting any closer.
"There's no clear pattern," Ross said. "When the tyre holds up well there's little difference between them but Nico seems to be making better use when they're more marginal. Michael struggled with a softer car in qualifying but it might be better in the race. So some of it was set-up and some of it was Nico getting more out of the tyres - he did a fantastic job today."
He added: "It will be interesting to see what happens next year with the Pirelli tyres." The day before, I'd spoken to Bridgestone's Hirohide Hamashima, who made interesting observations about his control rubber.
"I think if Michael had come back last year he would've been happier because the front tyre was stronger and everyone struggled with oversteer," Hamashima noted. "This year though, we adjusted the car balance by tyre sizes and this means an understeer tendency which is not suitable for Michael."
Hamashima knows of what he speaks. In the days of the Bridgestone/Michelin tyre war, the final year of which coincided with Michael's last season before stopping, 2006, it was logical that the companies developed their products around their most competitive teams and drivers. Bridgestones were tailored to suit Schumacher and Ferrari, while Michelins were designed around Alonso and Renault.
Schumacher likes a car with a 'pointy' aggressive front end that dives into a corner, leaving Michael more than happy to sort out the resultant oversteer.
"Generally," Hamashima said, "when you could have different tyres, if the driver prefers big oversteer we produced a bigger front tyre for him. If he prefers understeer we produced a smaller front tyre and the team tailored the car. Michael has very strong talent and still a passion for winning and for evaluating the car and tyres. He's still at the top level but I don't think today's one-make tyre is well-suited to him."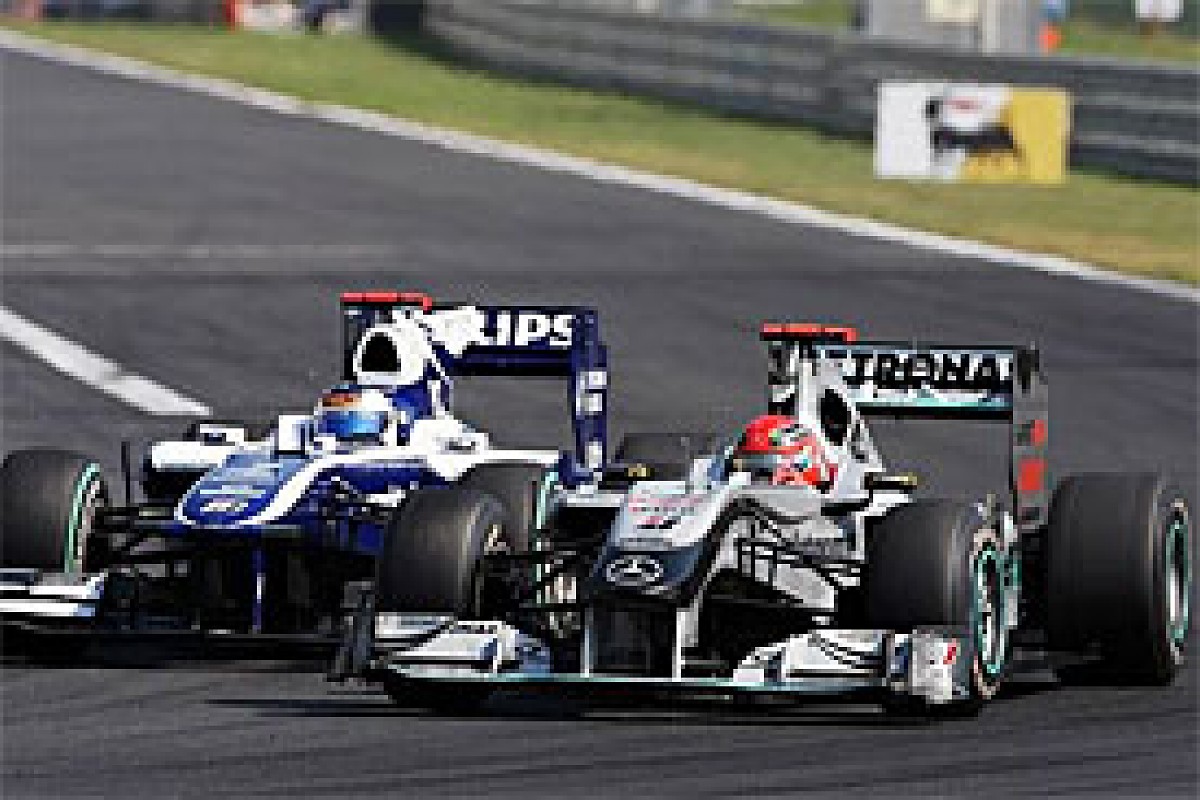 Barrichello attempts to pass Schumacher in Hungary © Sutton
Put another way, in days gone by Schumacher often enjoyed a car advantage as well as the fact that everyone drove Michael tyres. Today, neither applies.
Mercedes had also gone back on its blown diffuser in Hungary. "We put some extra instrumentation on the car and we could see areas which weren't functioning properly," Brawn explained. "At Hockenheim, exhaust heat was distorting some areas and so we left the floor at home this time and are redesigning it for Spa."
So, all in all, not a happy ship. Add in the current hot potato - Red Bull and Ferrari flexible front wings - and there was a 2.1s chasm between the Red Bull pace and Schumacher in Q2, on one of the shortest laps on the calendar. It led to Mark Webber lapping the seven times champion on Sunday afternoon.
"That felt good..." Webber said on the radio after he went by, enjoying the moment having been on the opposite end of it so many times in sundry Minardis and Jaguars.
Over at Williams, meanwhile, Rubens Barrichello has been liking his motor racing. The FW32 might not be a race winner like last year's Brawn, but Rubens is enjoying taking the car and team forward and being appreciated for his vast experience and set-up ability.
Hungary though, had not gone so swimmingly. He'd hit traffic in Q2 and, like Michael, hadn't made it to Q3, outdone by the other Nico for only the fourth time this season as 'The Hulk' started 10th with Rubens two slots further back.
That gave Barrichello freedom of tyre choice and Williams elected to start him on the prime tyre, which they later admitted was a wrong move. It might have worked but it left Rubens vulnerable to the safety car that duly came. It was too soon to pit for options and Rubens was on the back foot from then on, while Hulkenberg went on to finish sixth and score his best F1 result.
And so it came to pass that these two, Michael and Rubens, six years 'team-mates' at Ferrari, with Michael acknowledged king pin, encountered each other in the closing laps in Hungary.
When they did, Michael was on a set of medium compound Bridgestones that had done 50 laps. Relatively gripless, he was lapping in the high 1:25s. Rubens, having run his primes to lap 55, was on a brand new set of super softs. He was flying and would ultimately set a fastest lap (1:22.821) that was only 0.16s slower than Mark Webber's.
And so here these two were, with 560 grands prix between them and a combined age of almost 80, with a single point on the table, for 10th place. But it was about so much more than that. There's so much history between these two - those six long years at Ferrari: Austria '02, that last lap pass by Michael at Monaco, the dynamic that ultimately led to Rubens deserting the prancing horse for Honda and equal treatment. Here, today, with no orders, Rubens was going to have that point.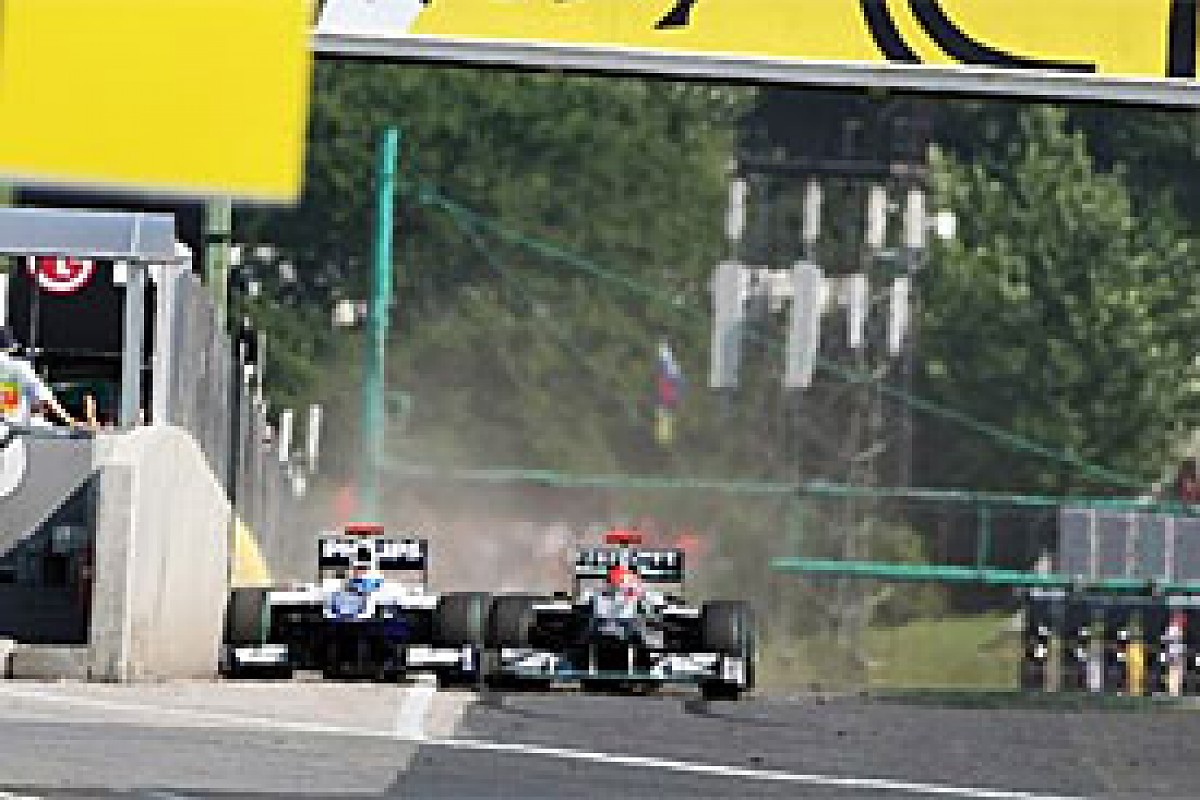 Rubens Barrichello, Michael Schumacher, Hungarian GP © Sutton
But this was Hungaroring, where Thierry Boutsen once held off Ayrton Senna for most of a grand prix. So long as Michael could get the car out of the last turn and rely on his Mercedes horses down the straight, he could hang on.
For five laps he did but then had a wobble out of the final corner. The Williams was tucked right under the Mercedes's rear wing and we got that horror show, with Michael all but putting Rubens into the pit wall at almost 200mph. If it had been a couple of rookies, Kobayashi and Petrov say, you might have understood, although that's doing them a disservice.
Immediately, Rubens went on the radio. "Black flag, black flag!" he shouted, "He should be black-flagged. That was horrible!"
And it was. As Barrichello said later: "I like wheel-to-wheel fights but this was not a fair fight. It was a go-kart manoeuvre. If he wants to go to heaven before me, please do, because I don't want to be there first! After a three year break he comes back and does something like that. We don't need it..."
Rubens was completely right. The margins were tiny and, given the speed involved, the outcome could feasibly have required a coffin. Maybe two.
I've been accused of being a Schumacher apologist over time and often Michael has either been a popular pantomime villain or has been attacked for simply doing what racing drivers do. But this was too much. It was right up there with the chop he gave a furious Mika Hakkinen at Spa 10 years ago, the lap before Mika's sensational pass.
Forget Kubica/Alonso at Silverstone, or even Michael's Jerez '97 stunt that so many got their knickers in a knot about. They were both in second/third gear stuff and no worry to anyone. It's this kind of high-speed intimidation that sets such a bad example and needs stamping on before someone is killed.
In his defence, Schumacher said: "I gave him enough room but obviously I wanted to make it as difficult as possible. Perhaps you have a different picture of what happened when you watch it on TV from when you are sitting in the car. I changed line once, as a suggestion to him to pass me on the other side, where there was more room."
It's entirely logical that you make someone go the long way around into Turn 1 but Rubens refuted that, explaining that Michael was watching his mirrors the whole time and knew precisely which side he'd gone. And as awful as it looked on TV, I hate to think what it must have looked like from Barrichello's cockpit. One point and a fresh pair of underpants please...
So, what would happen? Everyone agrees that it's a good initiative this year to have an experienced racing driver advising the three FIA stewards. Hopefully it achieves two things. You don't get silly penalties for nothing incidents because they know just how difficult it is to pass someone in F1, but by the same token, they know instinctively when something is OTT. The man in the hot seat in Hungary was Derek Warwick who, 20 years ago, had an altercation or two with a certain young Mercedes hot shoe while driving Jaguar sportscars designed and run by Ross Brawn.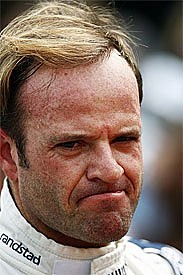 Rubens Barrichello © LAT
"I reckon Michael's going to be on holiday at Spa," an experienced journalist said in the press room while the stewards deliberated. "And actually, Ross might not be too upset. Given some of the struggles Michael seems to be having, Ross would probably be interested to see what Heidfeld would do with the car. In fact, he's got a couple of mates in there - Del Boy and Charlie (Whiting) - and he's probably putting the call through right now..."
It got a laugh but you did wonder what Warwick would think. Not a shrinking violet in any sense, you figured he wouldn't over-react but neither would he wimp out of taking action against a seven-time champion if he thought it necessary.
A mere reprimand would have been a nonsense. As things stand, a 10-place grid penalty at Spa will probably mean Michael starting very close to the back at the scene of his F1 debut and first win almost two decades ago.
It was good to see something finally being done but you still can't help but think that Schumacher escaped lightly. Rubens was absolutely right with his description. It truly was, horrible.